New 4-Year
Undergraduate Curriculum
"Adding wings to caterpillars does not create butterflies. It creates awkward and dysfunctional caterpillars. Butterflies are created through transformation." Stephanie Marshall (1996)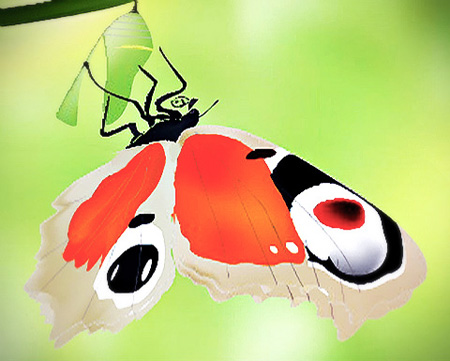 The University has set up the Steering Committee on the 4-Year Undergraduate Curriculum to lead the curriculum reform process. Extensive consultations are conducted with all stakeholders, including academics, administrators, students, alumni, professional organizations and employers. Recommendations are presented to University Senate for approval. Key features of the 2012 curriculum approved by Senate are outlined below.
The reform of undergraduate education under the "334" academic structure is a once-in-a-lifetime exercise for the University and for Hong Kong's higher education sector. The University is using this unprecedented opportunity to:
Revisit and critically reflect on the University curriculum
Renew our commitment to providing an outstanding student-centred learning experience
Promote a university education distinguished by its international outreach and outlook
---

HKU Educational Aims
The new undergraduate curriculum at HKU is designed to enable our students to develop their capabilities in:
Pursuit of academic/professional excellence, critical intellectual enquiry and life-long learning

Develop in-depth knowledge of specialist disciplines and professions
Maintain highest standards of intellectual rigor and academic integrity
Critique received knowledge from multiple perspectives
Sustain intellectual curiosity and enthusiasm for learning

Tackling novel situations and ill-defined problems

Respond positively to unanticipated situations and problems
Identify and define problems in unfamiliar situations
Generate and evaluate innovative solutions to problem

Critical self-reflection, greater understanding of others, and upholding personal and professional ethics

Maintain highest standards of personal integrity and ethical practice in academic, social and professional settings
Heighten awareness of personal strengths and weaknesses
Respect individual differences and preferences

Intercultural understanding and global citizenship

Heighten awareness of own culture and other cultures
Develop cultural sensitivity and interpersonal skills for engagement with people of diverse cultures
Perform social responsibilities as a member of the global community

Communication and collaboration

Communicate effectively in academic, professional and social settings
Work with others and make constructive contributions

Leadership and advocacy for the improvement of the human condition

Play a leading role in improving the well-being of fellow citizens and humankind
Uphold the core values of a democratic society: human rights, justice, equality and freedom of speech
Participate actively in promoting the local and global social, economic and environmental sustainability
---
Distinctive Features of the New Curriculum

(Inter)disciplinary inquiry
Multidisciplinary collaboration
Enquiry in multiple contexts
Diverse learning experiences
Multiple forms of learning & assessment
Engagement with local & global communities
Development of civic & moral values
---
Language Provision and Support

English is the University's medium of instruction and in order to support intercultural communications and understanding, the University's Senate has endorsed English as the campus lingua franca.

In the new 4-year Curriculum implemented in 2012, students are required to take 12 credits of English language (6 of which should be in the form of "English in the Discipline") and 6 credits of Chinese language courses.

Students who are native-speakers of languages other than Chinese, and students who have not studied Chinese language and culture in their secondary school curriculum up to S6 level can take an elective course in lieu.
---
New 3-Year Curriculum in 2010
To smooth out the transition to the full launch of the new 4-year curriculum (implemented in 2012) and to enable students to benefit from as early as possible from the key features of the new 4-year curriculum, University Senate has approved the partial implementation of the new 4-year curriculum from the 2010-11 academic year.
The new 3-year curriculum (implemented in 2010) models closely the new 4-year curriculum and features three years of full-time study (for a standard 3-year curriculum) leading to the completion of 180 credits (with 'standard' undergraduate course being 6 credits).
Component
Courses
No. of Credits*
% of Total No. of Credits
Compulsory Courses
Common Core
12 credits
11.7%
English
6 credits
Chinese
3 credits
Specialization
Major
60-96 credits
(including all intra-Faculty courses that may be required of a major of up to a quarter of the maximum credits for a major, i.e. 24 credits or 4 courses)
33.3% – 53.3%
Minor
36-48 credits
20% – 26.7%
Electives
Electives for all students
Remainder to complete 180 credits
8.3% – 35%
Total no. of required credits
180 credits
100%
*6 credits = 120 –180 student workload hours
---
New 4-Year Curriculum in 2012
The new 4-year curriculum has been implemented in 2012, under which students are required to complete 240 credits. Details are indicated in the following chart.
Component
Courses
No. of Credits*
% of Total No. of Credits
Compulsory Courses
Common Core
36 credits
22.5%
English
12 credits
Chinese
6 credits
Specialization
Major
72-96 credits
30% – 40%
Minor
36-48 credits
15% – 20%
Electives
Electives for all students
Remainder to complete 240 credits
17.5% – 32.5%
Total no. of required credits**
240 credits
100%
*6 credits = 120 –180 student workload hours
** Students are allowed to take additional credits up to 6 credits per semester and graduate with a total of 288 credits