The University of Hong Kong (HKU) aims to transform traditional on-campus education, removing the learning barriers of location and access. Besides providing the highest-quality MOOC learning experience, we also aim to launch outreach programmes to secondary schools to nurture future generations to engage in an active and self-directed lifelong learning. Starting from 2016, we have partnered with HKFYG Lee Shau Kee College (HLC) to organize a MOOC K12 learning campaign.
Empowering Secondary School Students through MOOCs
This project aims to address the needs of i) enriching students' multicultural exposure, and ii) equipping students with generic skills and attitudes at secondary schools (K7-K12) in Hong Kong.
Generic skills (e.g. critical thinking, communications, creativity) and attitudes (e.g. global citizenship, lifelong learning, self-directed learning) are not nice-to-have value-adds but in huge demand today. There are needs of helping students to develop these skills and attitudes in an integrative and experiential manner, and to become a self-directed and global-minded young thinker for future study and work. Although extracurricular activities and liberal studies can facilitate students learning generic skills and attitudes, we believe there are limited opportunities in local secondary schools in Hong Kong for students to enrich further.
Unlike a university curriculum, local secondary schools usually has a standardized secondary education examination curriculum (HKDSE). In this standardized curriculum, it is difficult for students to find their interested courses such as taking a cutting-edge STEM subject or doing a self-initiated humanitarian project as these are often not available at local schools. Furthermore, for classes comprised of students with diverse learning needs, teacher's support may be scarce and not timely. Therefore, students may not be fully aware or well informed about possible future learning opportunities or careers that can be pursued.
With this MOOC-based virtual exchange, we hope to provide a learning opportunity that is the most international available anywhere in the secondary school community. The project aims to achieve the following outcomes:
Facilitate students to gain exceptional learning experiences based on their own interests and outside their standardized curriculum;
Facilitate students to develop generic skills and attitude for nurturing globally-minded young thinkers.
MOOC Mentorship Programme has started since 2016. Students can have free access to quality education through MOOCs, which traditionally the courses can only be accessed by attending foreign institutions. One-to-one teacher-student mentoring is provided with continuous supervision and support throughout the academic year. The University provides MOOC learning workshops to students, and mentor training for teachers. Two MOOC Symposia have also been organized for recognizing students' MOOC learning achievement.
Starting from 2019, MOOC Scholar Scheme will be introduced to students. This Scheme provides curriculum acceleration measures in the form of grade-skipping as successful applicants will be promoted from S.1 to S.3 or from S.2 to S.4. For students who have attained excellent academic performance on both their schoolwork and MOOC learning as well as showing discipline and maturity in their characters, they can then apply this Scheme. The project team has reviewed the guidelines listed in Reference Manual for Implementing Gifted Education in School: Acceleration Programmes published by Education Bureau, and has found that no similar initiative has been experimented in Hong Kong before.. This MOOC project provides an alternative to students who are capable of performing at one or more levels beyond the current level and fulfilling the aforementioned criteria. They would most benefit from grade-skipping. Participation in the Scheme is entirely voluntary.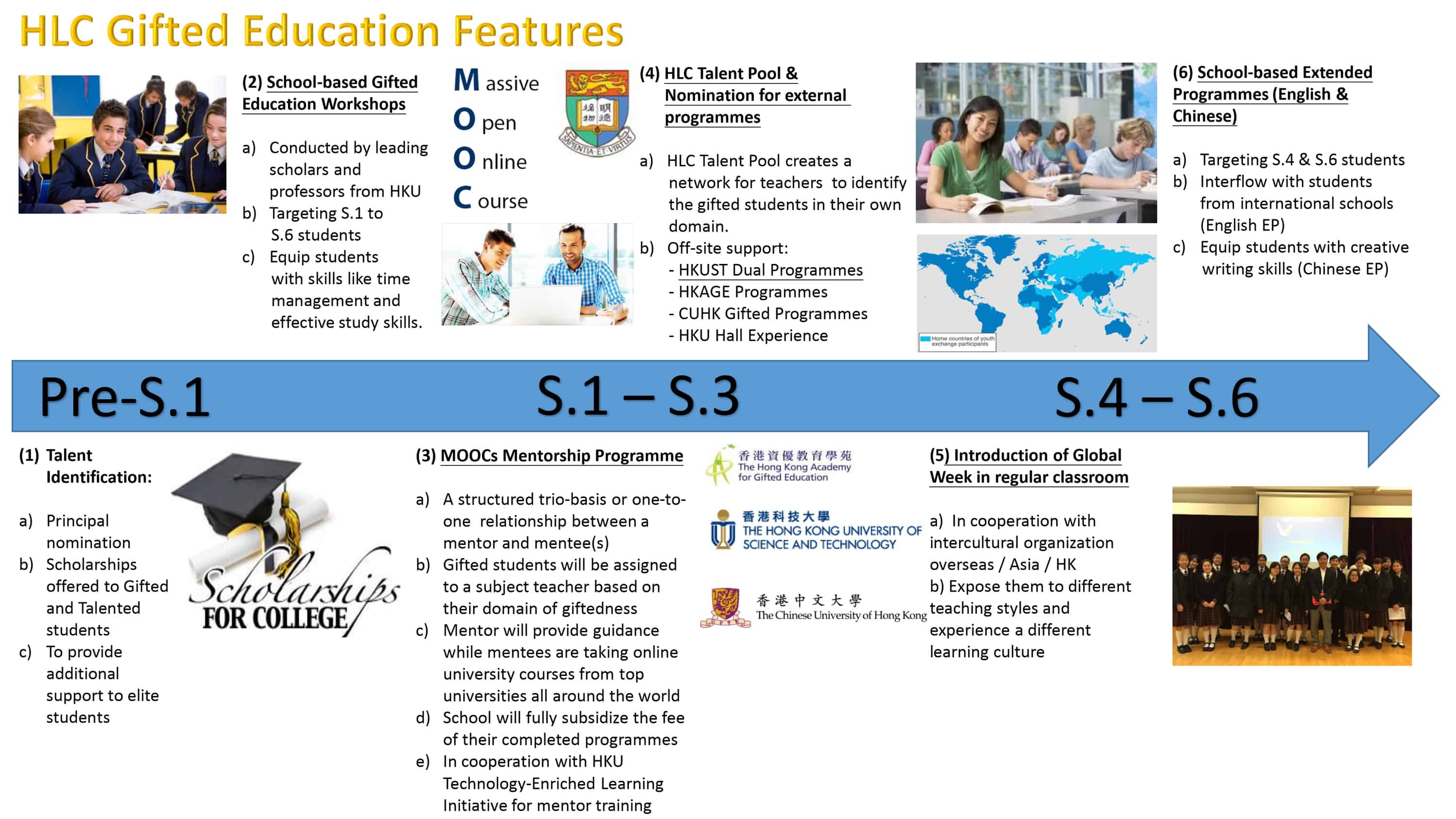 Courtesy: HKFYG Lee Shau Kee College
Cultivating Young Thinkers through Self-Regulated Learning
The project adopts a number of pedagogies to enrich learning:
Teacher-student mentoring – Mentors encourage and advise students in the early learning stage, such as helping students to believe that they have the ability to complete MOOCs. These mentoring help to build students' self-efficacy, and they can then take on more challenges in MOOC learning (e.g. taking more demanding MOOCs)) and persist a longer MOOC learning journey.
Self-directed/Self-regulated learning – Students can learn how to plan and control their learning process (content and pace of learning). They have to set goals, organize and self-evaluate their knowledge growth, which help to develop their high metacognitive skills. Prompt feedback through machine-graded assessments in MOOCs helps to guide students towards what they can do to improve and learn. Students can also attempt the questions several times until they master the concept, which is favourable to students who are less proficient in English.
Inquiry-based learning – The diversified scope and flexible schedule of MOOCs allow students to choose their own interested courses and have a different learning experience other than their standardized secondary school education. This helps to develop their own interests, nurture their curiosity, and regulate their attention and memory acquisition. MOOCs also provide students with opportunities to solve complex problems in a different context, which is an authentic approach to deeper learning.
Peer learning – Students can interact with learners all around the world in forum discussions. Through exchanging ideas with their peers (who are often professionals in the field) in the forum, students can construct their knowledge together and evaluate their prior knowledge to develop their critical thinking skills.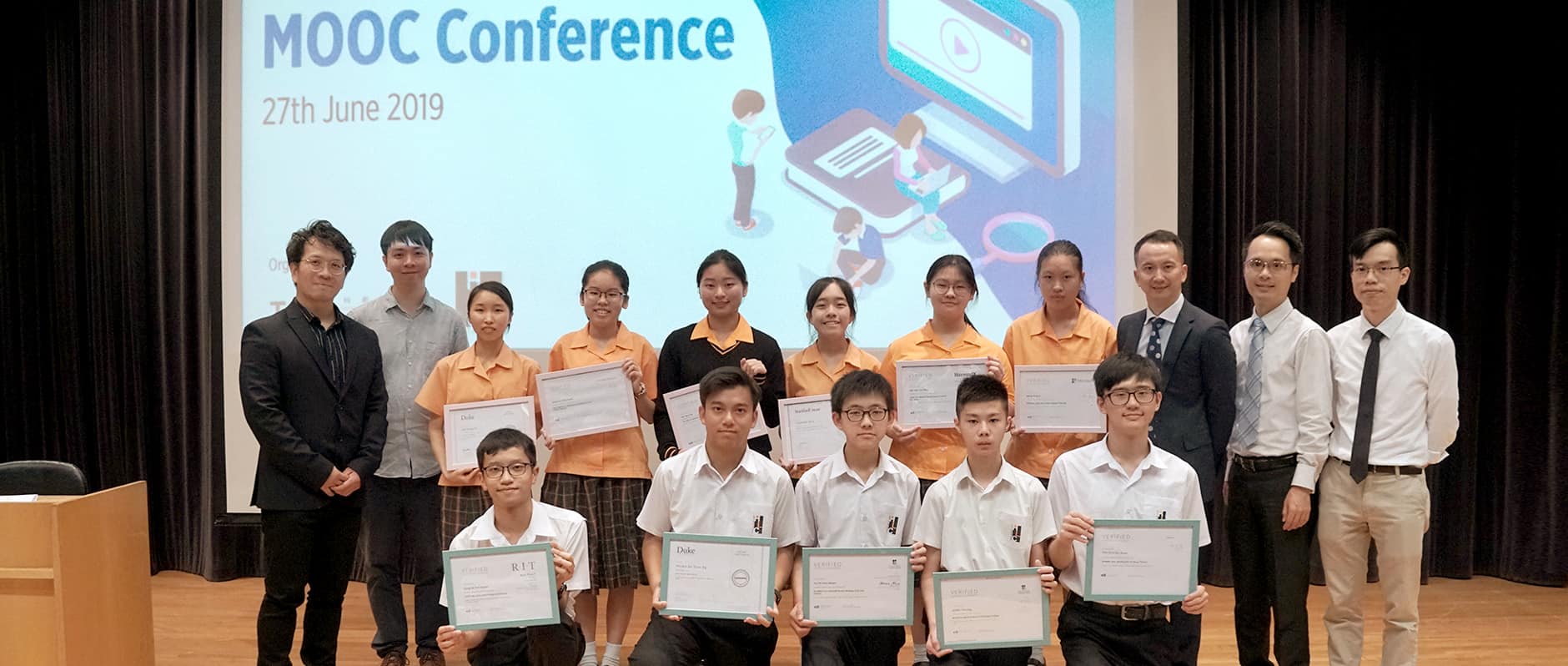 Significant Engagement among Students and Communities
Around 410 students have voluntarily participated in the MOOC Initiative starting from 2015, including 280 junior form students (S.1 to S.3) and 130 senior form students (S.4 to S.6, who need to take a public examination at S.6) joining. As English is used as the medium of instruction in the school, students generally have a higher English proficiency. Furthermore, according to the school's admission record in 2018, most of the students are considered as Band 1 to 2 (top 33% to top 66%) students. In the pilot stage, we only allowed students with good academic performance to participate in the Initiative through teacher's nomination. Later on, we have also allowed all S1 and S2 students to join the campaign through self-nomination. Furthermore, among the junior students, three of them are qualified to join the MOOC Scholar Scheme, and one S.2 student has decided to join the Scholar program. He will be promoted from S. 2 to S.4 in the 2019-2020 academic year.
Since the Project is still in its early stage, we have implemented this MOOC learning project in one secondary school only. However, the project team has also discussed with different parties, explaining the impact and mechanism of the Initiative for possible collaboration and project expansion:
The University of Bristol on educational research
The Hong Kong Polytechnic University on mentor training
Hong Kong SAR Education Bureau on educational policy and regulations
Hong Kong Association of the Heads of Secondary Schools on self-directed learning advocacy
Hong Kong Federation of Youth Groups (The largest youth service organisation in Hong Kong) on self-directed learning advocacy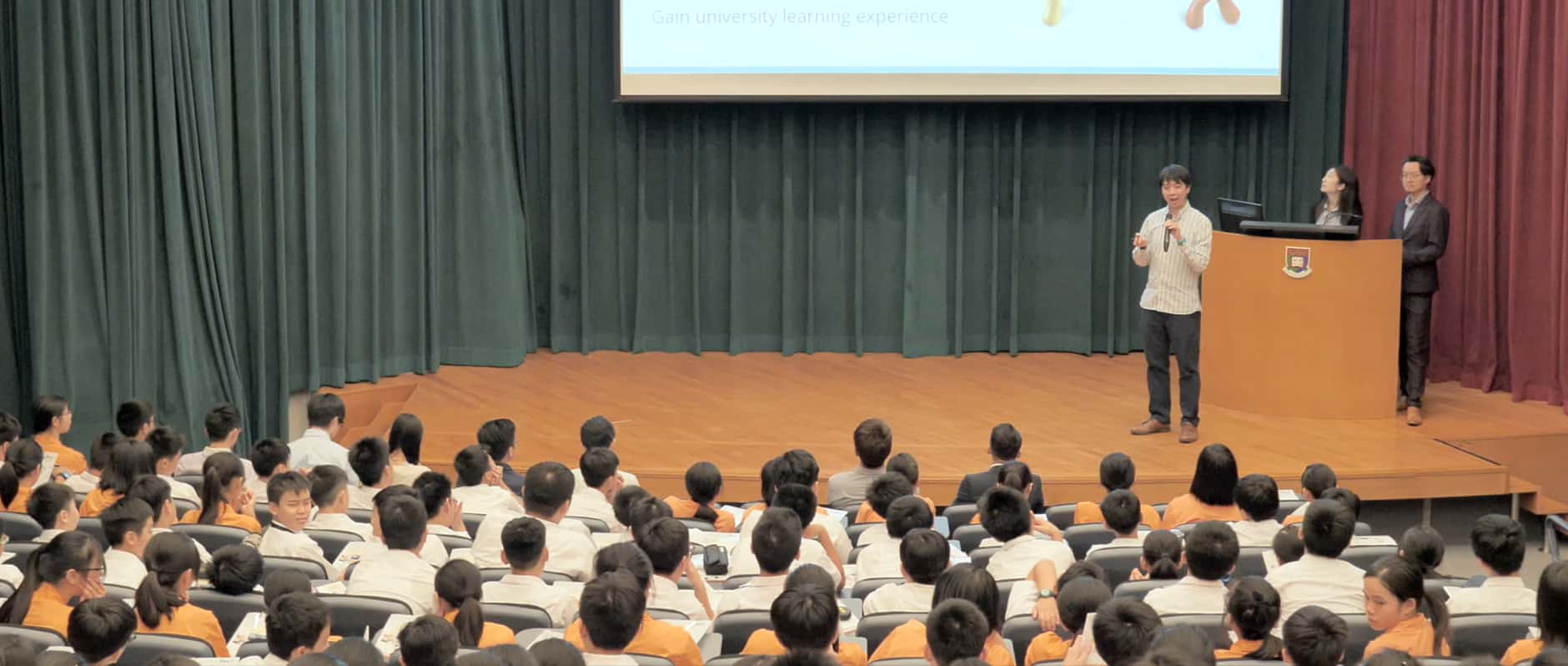 Life-changing Experience through MOOC Learning
Until June 2019, over 40 students have completed more than 130 MOOCs produced by world-renowned institutes, such as MIT, Stanford University and Johns Hopkins University, etc. We have conducted pre- and post-mentorship surveys to collect feedback from students. Results indicated that 77.5% of (31 out of 40) students agreed or strongly agreed that the advocacy and training support they received have provided a positive impact on their participation in MOOCs. Meanwhile, 52% (14 out of 27) of students would like to join the mentorship programme next year. Furthermore, there are more junior students and their parents interested in the project and have asked for more details.
93% (26 out of 27) of the survey respondents agreed that MOOCs have a positive impact on their studies. We have also interviewed some of the participating students, and students were satisfied with the Initiative. In particular, the stories of two outstanding learners are shown as follows:
Kitty is a MOOC enthusiast who has completed over 20 MOOCs in 2 years' time. In particular, her experience in taking a MOOC about Japan offered by one of the most famous universities in Japan, Wasada University, has given her advantage in interviews. It was beyond the imagination of the interviewers that a high school student can complete all these MOOCs in two years' time. As a result of her participation in this project and her MOOC performance, she has been selected to participate in a competitive exchange programme to Japan.
Crystal is also a MOOC enthusiast who has completed over 30 MOOCs in 3 years' time. She shared that her participation in these MOOCs has enriched her resume and given her the advantage in various university admission interviews. The outcome of her MOOC active participation is receiving a conditional offer of studying Engineering at The University of Hong Kong. She also pointed out that the MOOC certificate issued by MIT is highly recognized in the field, and added that one of her MOOC peer learners has landed a job because of the certificate. She also shared about the aspiration she drew from some of the professionals she met in the MIT MOOC alumni meeting. She believed that the MOOC she took has broaden her horizons and inspired her to continue to learn more from other MOOCs. After consolidating our survey findings and students' sharing, we believe that both students and parents are interested in experimenting with our MOOC learning project.
With the aim of nurturing students as lifelong learners in mind, HKU would like to continue bringing the MOOC learning experience to communities. If your institution or school is interested to partner with us to launch a MOOC high school learning campaign, please feel free to contact us.
Written by
Dr. Leon Lei, Technology-Enriched Learning Initiative, The University of Hong Kong
Mr. Tony Wei, HKFYG Lee Shau Kee College
Ms. Sharon Keung, Technology-Enriched Learning Initiative, The University of Hong Kong
Further Reading