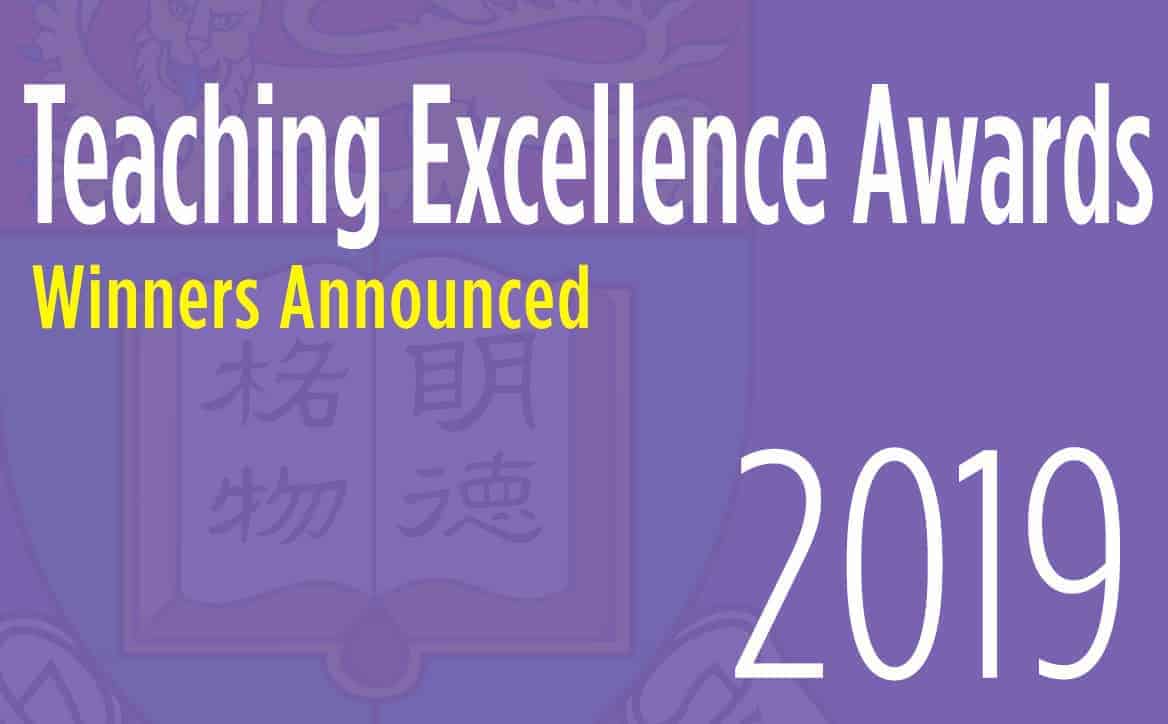 Message from Vice-President and Pro-Vice-Chancellor (Teaching and Learning)
Dear Colleagues and Students,
I am very pleased to announce the recipients of the University's Teaching Excellence Awards 2019. The Selection Panel was deeply impressed with the awardees' dedication to teaching, their tireless and creative efforts to make learning enjoyable and challenging, and the impact that they have made on their students' learning.
University Distinguished Teaching Award
Ms. Alice S.C. Lee, Department of Law, Faculty of Law
Outstanding Teaching Award
Individual awards
Dr. Sze-wei Ang, School of Humanities (Comparative Literature), Faculty of Arts
Professor Pauline Chiu, Department of Chemistry, Faculty of Science
Dr. Brian H.Y. Chung, Department of Paediatrics & Adolescent Medicine, Li Ka Shing Faculty of Medicine
Dr. Caroline E. Dingle, School of Biological Sciences, Faculty of Science
Dr. Wai-chi Ho, School of Chinese, Faculty of Arts
Ms. Julienne Jen, Department of Professional Legal Education, Faculty of Law
Team awards
Professor Janny H.C. Leung (Leader) of the Faculty of Arts, Dr. Marco M.H. Wan of the Faculty of Law, Dr. Daniel C. Matthews of the Faculty of Law and Dr. Anya M. Adair of the Faculties of Arts and Law for BA & LLB Programme Curriculum
Early Career Teaching Award
Ms. Daisy T.M. Cheung, Department of Law, Faculty of Law
Dr. Benjamin L. Moorhouse, Faculty of Education
Teaching Innovation Award (Team)
Professor Chak-sing Lau (Leader), Dr. Julie Y. Chen, Professor Gilberto K.K. Leung, Dr. George L. Tipoe and Dr. Gordon T.C. Wong of the Li Ka Shing Faculty of Medicine for Re-imagining Medical Education: An Enrichment Year in the Core MBBS Curriculum
Mr. David S. Lee (Leader) and Mr. David L. Bishop of Faculty of Business and Economics for FinTech Ethics & Risk (HKUx's FinTech Massive Online Open Course)
I would like to thank our external assessor Professor Anthony Smith (Vice-Provost (Education & Student Affairs) of the University College London) for providing us with expert advice during the final selection process. I would also like to thank the other Panel members: Professor Grahame Bilbow, Dr. Janet Borland, and Mr. Daniel Lei (student representative) for their assistance in this important exercise.
Please join me in congratulating the awardees!
Professor Ian Holliday
Vice-President and Pro-Vice-Chancellor (Teaching and Learning)
Chair, Selection Panel for Teaching Excellence Awards 2019