This blog post is part of the 'Flipped Classroom Professional Development Series'.
A flipped classroom constitutes of two components – learning online and learning in face-to-face (F2F) sessions. In this blog post, we will discuss the steps and considerations in preparing in-class activities, especially group activities, in a flipped class, with reference to ideas from academic literature. We will also introduce good practices of in-class activity design shared by practitioners in the Flipped Classroom Learning Symposium – Sharing of Pedagogies and Practices.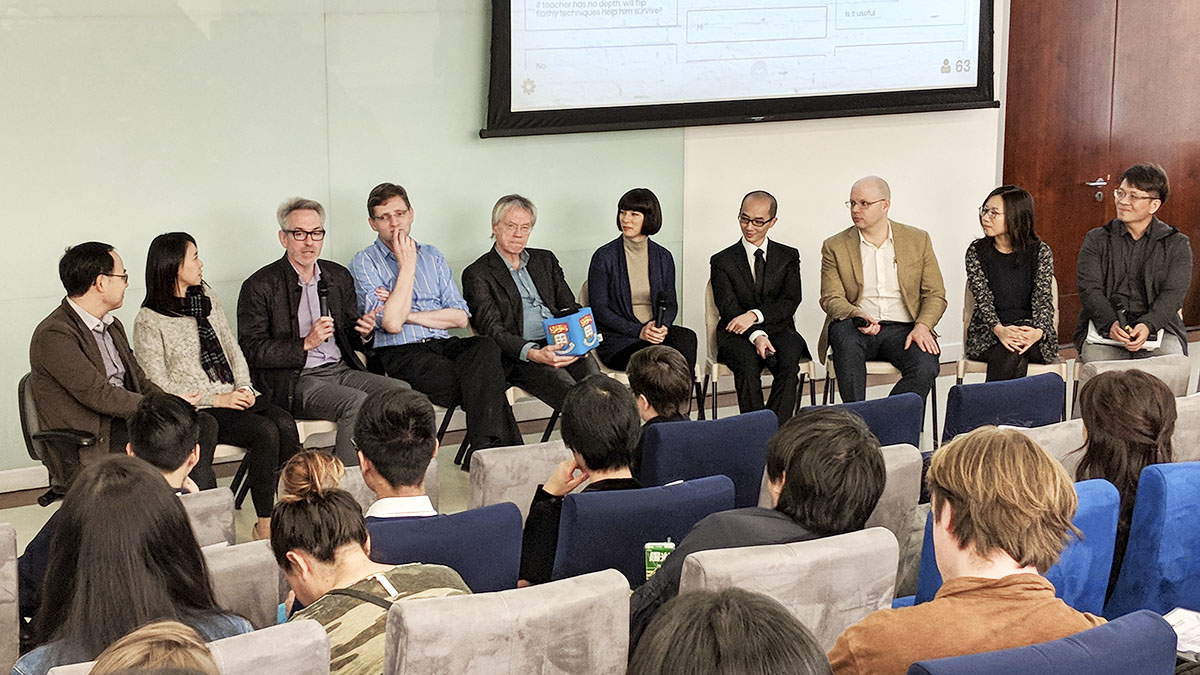 The Flipped Classroom Learning Symposium – Sharing of Pedagogies and Practices on December 6, 2017
The steps to preparing in-class activities are as follows:
Designing the activities
Setting up the activities:

How to form groups
Preparation before class
What should be done in class
Useful tools to support the activities
How to set up infrastructure to support the activities
Step 1: Designing in-class activities
Throughout your 13-week course, it is ideal to blend different modes of learning and include diversified in-class activities to constantly stimulate your students. Here are some examples of in-class activity design shared by our practitioners:
In-class collaborative writing – a case shared by the Centre for Applied English Studies (CAES)

In the pre-class stage, students have to access readings on Moodle, process the text, and make thorough notes on the readings.
In the in-class stage, the instructors will look for proof of notes. Only students with notes will be allowed to participate in the in-class activities. They will form groups of 3 or 4 and collaboratively draft a 300-500 word text based on the readings. They will have one hour of lesson-time to discuss how to produce the text.

Weekly mass workshop sessions – a case in Mr. Mathew Pryor's CCHU9001 Designs on the Future

In the pre-class stage, students need to watch a series of online videos.
In the in-class stage, students are expected to apply the content of online videos in problem-based activities and produce textual and visual responses. Examples of activities include:

Student-led discussions: Students are prompted to think about sustainability issues when given scenarios, or when given a role to emulate different stakeholders' view on the same issue. They are sometimes instructed to research on cases at home and bring it to class, then discuss with their peers to identify common themes or make a collective argument.
Video making: Students provide individual and group response on their views on sustainability topics in form of a short documentary-like video. They are expected to pick up skills of basic storyboarding and cinematography, guided by mock exercises before producing graded work.
Gallery review and presentation: Students are invited to stick their coursework on walls, walk around, look at each other's work and vote.

A gallery review of infographics designed by students.

Features of Mr. Pryor's activities:

Short (20 mins max): This is to ensure that there is a constant, strong dynamic in class.
Physically dynamic: Activities are designed in a way that require students to keep moving, post things on the board, and interact with their peers.
Many activities and output are internet-based. For example, in one activity, students are asked to sort a pile of words into categories based on a scenario prompt, take a photo of their sorting and upload it to an online forum. They will then compare their work in classroom discussions. Sometimes, students' coursework will be posted online anonymously to encourage peer learning and discussion.

Mr. Pryor prompts students to post a photo of their sorting activity results online, and immediately discusses with the whole class.


Advanced negotiations simulation – an activity designed by Dr. Courtney Fung, Faculty of Social Sciences, for teaching International Relations

In this activity, students are expected to simulate real-world political negotiations. Individual groups assume roles of different nations, construct arguments from the perspectives of antagonizing stakeholders, and understand the constraints of international politics.
Features of this activity:

Problem-based: The materials selected for the students in the course are ongoing real-world crises, such as the North Korean nuclear dilemma, and UN's intervention in the South Sudan famine.
The activity design ensures all students have a role to play in class.

Dr. Fung's received the HKU Early Career Teaching Award in 2016 for her success in teaching. Learn more about her teaching approach here: video, PDF (Pg 26).
By designing activities of different nature, we can ensure students receive multiple stimulus and varied learning experience throughout the course.
Step 2: Setting up the activities
How to form a group (group-size, group roles)
How do you group students in in-class activities? What is the optimal group size? These questions may be difficult for many.If there are too many students in one group, some unmotivated ones may free-ride, piggy-back on groupmates' effort and make minimal contribution; while a group too small would make the workload of individual students too heavy. The group size is critical in the design of in-class activities.


While there is no "magic number" regarding group size in designing activities, it is optimal for students' learning if there are fewer than 6 in a group, according to Mr. Patrick Desloge from CAES and Mr. Pryor. In CAES' course, students form groups of 3 or 4 during collaborative writing activities. In Mr. Pryor's weekly workshops, he arranges students into small, mixed groups – 3 in one group, 6 in one table.3 in a group allows room for each student to contribute their ideas without overburdening them.

The rule of thumb is that we need to make sure each student in the group has his or her distinct role and own task(s) in the activity. This arrangement ensures that all group members are actively engaged and have their own contributions to make. Students will not be idle and bored, hence minimizing the chance of free-riding. Moreover, the workload for all students will be more balanced. It is also ideal to arrange students with different cultural or academic backgrounds into groups, giving them a chance to learn from each other.

Apart from allocating roles and tasks for members within a group, teachers can also assign specific roles and tasks to individual groups. For instance, in  Dr. Fung's negotiations simulation exercise, all students are assigned into group teams. Each group assumes the role of a particular nation. Within each group, students identify individual roles. As all students have a role to play, they can make unique contributions to the discussion.

Preparation before class
Learning aids
Apart from forming groups, what should teachers do before class? Most of the speakers prepared learning materials such as worksheets to be used in class. This is to check and reinforce students' understanding of content delivered in pre-class materials, support in-class activities, and improve students' engagement during class. In worksheet design, most of the presenters chose to use problem-oriented or case-based content to structure the materials. These worksheets can also be used after class as homework.

Reminders before class
Another preparation that needs to be done in advance is to send out reminders to students to go through the pre-class materials in preparation for the in-class activities. Check out this article for more tips on how to prompt students to prepare for class.

What should be done in class?
The basic structure of in-class activities usually involves three stages:

The input stage, where teachers brief students of the background information,
The processing stage, where students process information and construct ideas, and
The output stage, where students present their work and obtain feedback.

Briefing
Teachers should introduce the topic and provide background information of the learning activities through a short briefing. In Dr. Fung's negotiations simulation activity, all students receive a one-page brief and a 10-minute presentation by Dr. Fung on the background of the scenario before they start working on their tasks.
Building ideas
After the briefing stage, students should be ready to process the information, explore the topic and generate ideas, in groups or individually. Examples of activities are case analysis, brainstorming, discussion, peer teaching, co-writing, and co-creating projects. This part should be led by students themselves, with teachers acting as facilitators and/or monitors. Teachers should take an active role in communicating with students from time to time, in order to provide timely support and suggestions.

Dr. William Man Yin Cheung, Faculty of Science, offering support to students in group discussions.

Presentation and feedback
Lastly, students are encouraged to present their work for feedback and suggestions from peers and teachers. The presentation can be conducted in class or online. The following are some examples showcased in the symposium:

In Mr. Pryor's course, students post their work on walls, transforming the classroom into a gallery. Students responded positively towards this approach – they enjoyed this activity as they were inspired by others' work in an intuitive way.


Reading each other's work and commenting using post-its and stickers.

Professor Ricky Kwok suggested that game elements can be included in this stage to excite students, such as competition among groups as "that is where learning happens". Find out how students learn in Professor Kwok's class in this video: https://youtu.be/pm-W_0f-bkE
Check also this article on the 4Cs principles proposed by Professor Kwok in creating engaging in-class activities.

Tools to facilitate in-class group activities
Our speakers recommended the following online tools to facilitate cooperation and collaboration among learners, as well as communication between teachers and students:

Google Docs or Google Drive: In CAES' in-class collaborative writing activity, students co-compose their work using Google Doc. This tool allows several students to work together simultaneously and to share individual input with teammates in real time.In Mr. Pryor's course, Google Drive folders and Google Docs are created as portfolios for each group. Students are instructed to post their coursework using these tools. This practice allows students to review their peers' work conveniently on one single platform and give honest feedback to each other.
Mentimeter: This is an easy-to-use, visual tool useful for assessment and presenting results. For example, it allows teachers to set Multiple Choice Questions (MCQ) and students to respond using their mobile devices. The results of students' choices will be shown to teachers immediately, so that teachers can know students' understanding of the learning contents and offer timely support and clarification. Teachers can also choose to display students' choices in real time to the whole class, prompting further discussions based on the presentation.

Mentimeter
Using Mentimeter in a large scale flipped class.

Setting up infrastructure to support in-class group activities
Most presenters in the symposium, including Professor Kwok, Dr. Fung, Mr. Pryor, Dr. Ming-Yen Ng, Dr. Michael Botelho and Professor Rick Glofcheski mentioned that the physical setting of the classroom is essential in providing a better flipped classroom experience for students. An ideal setting would be a cafe-style classroom, i.e., a flat classroom with movable furniture, and the classroom should also be adaptable for a workshop format. As there are a lot of group activities in a flipped class, such a setting allow greater flexibility in grouping students. Also, seat arrangement planned in advance is greatly helpful for classes with a large number of students, as in Professor Glofcheski's flipped Tort Law classroom with more than 200 students.
These are just some of the many possibilities of what you can do in class. Be creative and design your very own in-class activities. Contact us if you are interested in bringing technology into your classroom.
In the next blog post, we will discuss how to evaluate the effectiveness of your flipped class.

Trailer and sneak previews

About this course
"If history is our guide, we can assume that the battle between the intellect and will of the human species and the extraordinary adaptability of microbes will be never-ending." (1)
Despite all the remarkable technological breakthroughs that we have made over the past few decades, the threat from infectious diseases has significantly accelerated. In this course, we will learn why this is the case by looking at the fundamental scientific principles underlying epidemics and the public health actions behind their prevention and control in the 21st century.
This course covers the following four topics:
Origins of novel pathogens;
Analysis of the spread of infectious diseases;
Medical and public health countermeasures to prevent and control epidemics; and
Panel discussions involving leading public health experts with deep frontline experiences to share their views on risk communication, crisis management, ethics and public trust in the context of infectious disease control.
In addition to the original introductory sessions on epidemics, we revamped the course by adding:
new panel discussions with world-leading experts; and
supplementary modules on next generation informatics for combating epidemics.
You will learn:
the origins, spread and control of infectious disease epidemics;
the importance of effective communication about epidemics; and
key contemporary issues relating to epidemics from a global perspective.
Who is this class for
This is an introductory course suitable for all learners, with no prerequisite required.
Join the fight against epidemics now.
Don't forget to follow us on Facebook for more updates!
—-
(1) Fauci AS, Touchette NA, Folkers GK. Emerging Infectious Diseases: a 10-Year Perspective from the National Institute of Allergy and Infectious Diseases. Emerg Infect Dis 2005 Apr; 11(4):519-25.

"Knowledge Transfer" has long been described as the "third mission" of higher education institutions, with teaching and research being the first two missions. HKU TeLi has been actively engaged in the sharing of knowledge, including technology, expertise and skills with global, regional and local institutions in innovations in methods and pedagogies for the enhancement of efficient teaching for teachers and effective learning of students.
On January 25, 2018, 30 delegates of teachers, students and young professionals from the Anhui Medical University (AHMU) gathered at the Prince Philip Dental Hospital for an introduction to Massive Open Online Courses (MOOCs) and an intellectual exchange on MOOC-based learning and HKU examples of MOOC development.
MOOCs which make use of the concept of bite-sized learning, are efficient in sharing knowledge to a critical mass of learners, any time, anywhere and with any device; encouraging self-regulated learning, as well as, lifelong-learning. The global interest for MOOC's potential is on the rise, and China's MOOC market has expanded exponentially in recent years. Our team illustrated HKU's endeavours in e-learning with two of TeLi's professional MOOCs, Materials in Oral Health and Implant Dentistry, addressing how MOOCs couple innovation with technology and on-campus teaching pedagogy i.e. PBL brings global learning to the next level.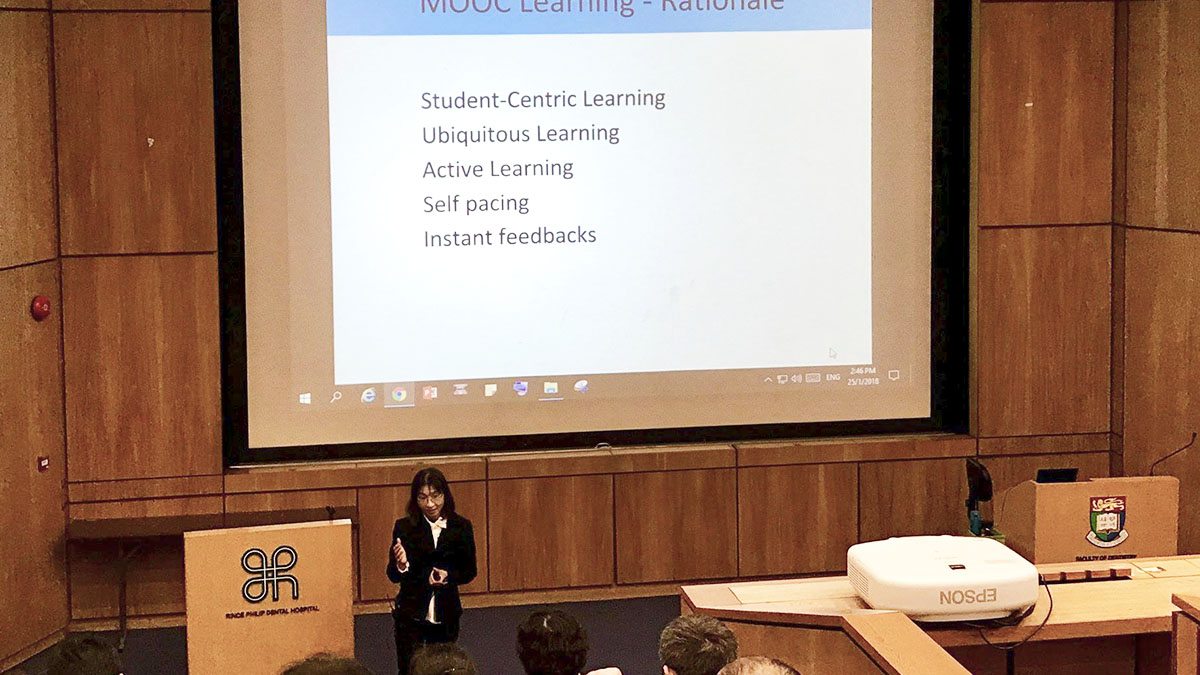 Explaining the advantages of MOOC over chalk-and-board education.
During the session with our guests, TeLi showed and demonstrated how MOOC videos serve as one of the core vehicles in delivering contents and information. We demonstrated how frontier technology can be incorporated into course materials to make learning more visual and effective. This includes 3D rendered scans of mouth cavities, 3D printing, stereo-photogrammetry, as well as, close range video demonstrations of step-by-step surgery techniques. Our guests were also guided through the MOOCs' online courseware on Coursera, navigating and observing the design of an online course and its integrated components. Some features new to our guests are prompting questions embedded in videos (used to check the learners' understanding), forum questions built by the learner community, and authentic clinical implant cases based on on-campus problem-based learning (PBL).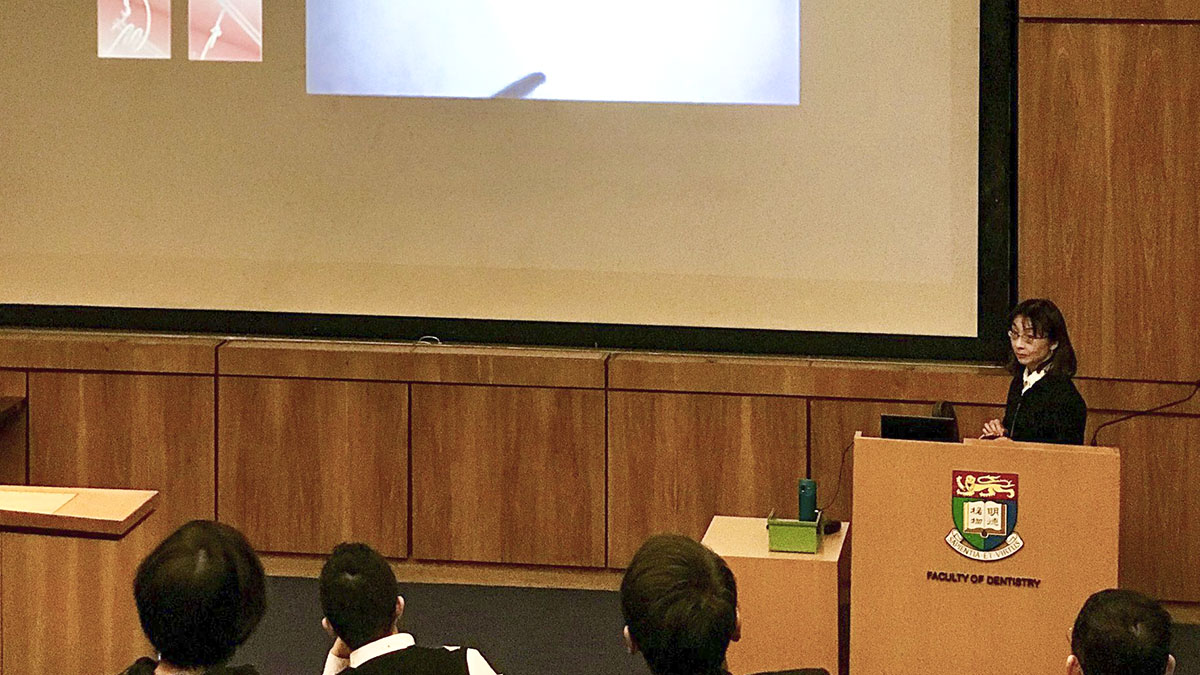 Showing our guests the use of close-range suturing demonstrations in MOOC videos.
The two-hour session was not only a great opportunity for us to share and showcase HKU's experience in professional MOOC development and production with dental practitioners and educators at AMHU, it was nonetheless, a meaningful intellectual exchange with mainland institutions. We hope that our visitors are empowered to build their own MOOC courses, and are encouraged to inspire others in China's teaching and learning community to explore MOOCs. May this exchange lead to a better teaching and learning experience for all.
Contact us if you are interested in learning more about MOOC production, MOOCs based learning or in producing your own MOOC!
This blog post is part of the 'Flipped Classroom Professional Development Series'.
For a flipped class to work, it is essential for students to prepare before class. Unfortunately, some teachers reported that some students did not prepare for class as instructed, no matter how much effort they made in designing pre-class activities. This lack of engagement can usually be attributed to (1) students' resistance to flipping, a non-conventional style of teaching, and (2) their lack of motivation to prepare for class. To overcome these challenges, various solutions were proposed by practitioners in the Flipped Classroom Learning Symposium – Sharing of Pedagogies and Practices on December 6, 2017.
The challenges of engaging students with the pre-class activities
Students' resistance to the new form of learning: Many students in Hong Kong are used to learning in conventional lectures. In traditional lectures, it is often possible for students to sit through a class without prior preparation. Therefore, the pre-class learning which is mandated in a flipped class may seem like an extra burden for some students. In extreme cases, some students even formulated a mistaken impression that the teaching staff who use flipped approach are for "not doing their job", according to Professor Rick Glofcheski from the Department of Law, one of HKU's flipped classroom pioneers.
Students' lack of motivation to complete pre-class activities: There are many possible reasons behind, for example:

Lack of assessments in-class to check whether students have done preparations;
Unclear connections between pre-class and in-class activities;
Repetition of pre-class materials in class.
A lack of engagement with the pre-class activities results in varied student preparedness, which greatly affects the flow of planned in-class activities. It is essential to ensure students understand the basic knowledge, without which class work and interaction with peers would be less meaningful. We have come up with a list of possible solutions to counteract these challenges and to ensure students prepare for a class.
How to minimize students' resistance to this new mode of teaching?
As shared by Professor Glofcheski, the first step is to "consult the students with the model." In particular,
Let your students know why you use flipped classroom approach;
"Explain it in terms of the outcomes, not only how this will help them achieve success in assessment, but also how this is relevant and aligned perfectly to what is needed in the future";
Explain the importance of taking ownership of their learning.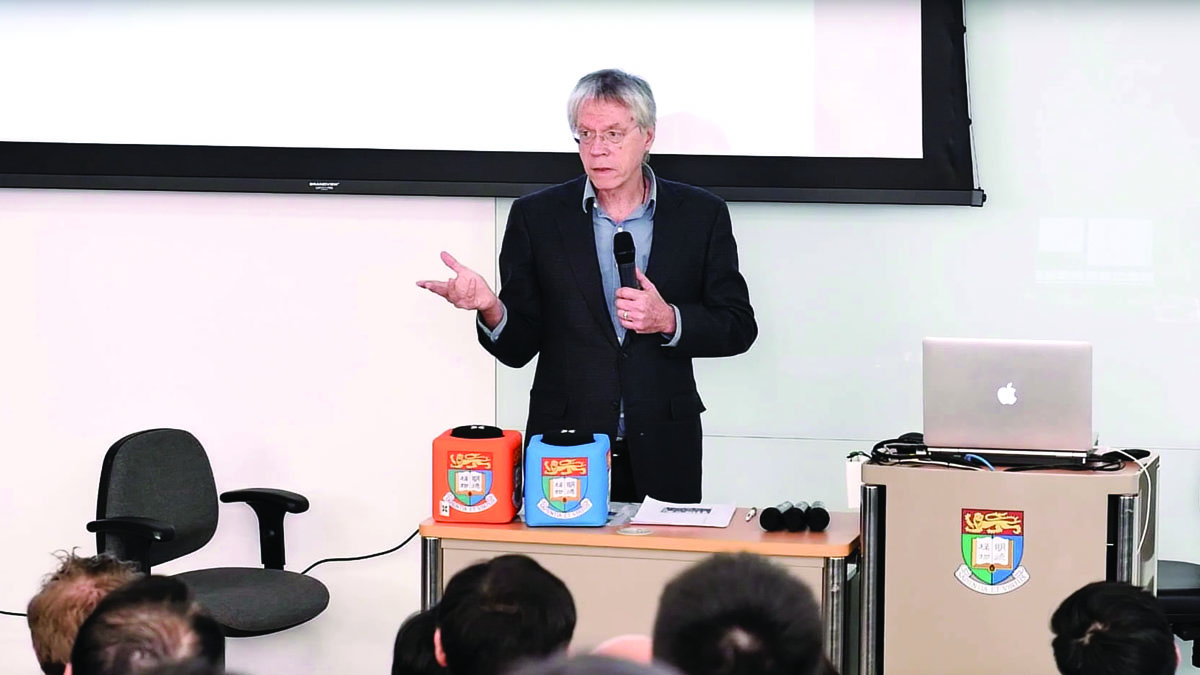 "For this to work, you have to consult the students with the model. Let them have input and they agree to go with this," says Professor Rick Glofcheski.
Before your flipped class sets sail, make sure your students are all on board with the new learning approach, and are well informed with the expectations for them to paddle with you.
Mr. Sam Cole from the Centre for Applied English Studies also suggested that teachers need to explicitly tell students about the consequence of not preparing for class, as this will severely hinder the learning progress of those who have prepared. In Mr. Cole's classes, students who have not prepared their notes as expected will be "separated" from their peers. "[They] won't be collaborating with others, and … won't benefit from that collaboration."
How to motivate students to complete pre-class activities?
Create incentives for pre-class preparations. In Professor Ricky Kwok's class, CCST9003 Everyday Computing and the Internet, the pre-class lecture videos are followed by knowledge check quizzes, which contribute to a small proportion (say 10%) of the final course grade. By using these formative assessments, students are not only incentivized to prepare for class, but also presented with the opportunity to test their own understanding of the video lecture content.
Use peer pressure. Mr Mathew Pryor said that peer pressure is a powerful tool to ensure online participation. To motivate students to watch videos before class, he arranged students to "work in small groups and … lead discussions based on the videos." Students may feel embarrassed if they did not complete the pre-class work that are required to accomplish in-class activities through collaborating with their group mates.
Utilize video analytics. On top of the number of students having watched the videos, video analytics can give teachers important information about student behaviour while watching the videos. For example, sections of a clip that records a significantly higher number of viewing reflects points of interest or confusion. Teachers can then follow up with students in class to identify the reasons behind and provide further clarification when necessary. This shows students that the teacher monitors their pre-class activities. When students see the connection between pre-class and in-class learning, they would feel more motivated to prepare for future classes. To learn more about video analytics, check out this article: Data-assisted instructional video revision via course-level exploratory video retention analysis (Lei et al., 2017).
Key underlying strategies for designing pre-class activities
Constructive alignment. It is essential to have a holistic planning to align the pre-class activities with face-to-face in-class activities, the assessment and learning outcomes. So that students would appreciate and adapt to self-learning and preparation before class (Wang, Su, Cheung, Wong & Kwong, 2013). One way to achieve this is to design in-class activities that require students to apply the content they have learnt from the video. This will create a washback effect that motivates students to complete the pre-class work beforehand. If students do not see how the activities are linked to or could help them to complete the in-class activities and assessment, they would be less motivated to prepare for class. If you are interested in further exploring the concept of constructive assignment and student preparation, check out the following video and our free online course University Teaching.
Create and implement a mechanism to assess students' understanding when they interact with online learning materials. Always follow up with students' online responses and check their learning progress in class to consider if further review or explanation is required for the whole class or individuals. Students are less motivated if they know that teachers do not check their pre-class preparation work.
When designing the pre-class activities, be realistic about what students can learn on their own, and also be considerate about the time and effort that students need to complete the work.
One step further
Interested in learning more about the topic? Here is a perfect opportunity for you to dig deeper and discuss with fellow teachers and researchers – On February 28, 2018, Dr Lily Min Zeng will talk about how to engage students in the pre-class preparation for flipped classroom and potential options from adaptive learning in a seminar organized by the Centre for the Enhancement of Teaching and Learning (CETL).
Dr Zeng is also running a Massive Open Online Course (MOOC) entitled University Teaching. New sessions start every month. Don't miss!
Got more ideas to share? Contact us.
Further reading
Wang, X., Su, Y., Cheung, S., Wong, E., & Kwong, T. (2013). An exploration of Biggs' constructive alignment in course design and its impact on students' learning approaches. Assessment & Evaluation in Higher Education, 38(4), 477-491.
If you are interested in learning more about Professor Rick Glofcheski and his experience in flipping, check out these two articles:
Flipping the Classroom (HKU Bulletin, May 2016, Volume 17, No. 2.)
EdTech Flips Out: The developing needs of students are at the centre of the expanding flipped learning model (Education Technology, Issue 30, Aug-Sept 2017)