Click here if you cannot access Youtube
Click here if you cannot access Youtube

The world-class quality Implant Dentistry MOOC will be launching its re-run on 27 May 2019! During its first run in October 2016, over 7000 learners from 50+ countries enrolled. Launched by the HKU Faculty of Dentistry, ranked No.1 in the world in 2016, this MOOC is the 1st of the world in Implant Dentistry, offering an important supplement for dental professionals, practitioners and students.
Why study an Implant Dentistry MOOC?
According to the chief course instructor, Dr Niko Mattheos,
"Implant Dentistry is one of the most dynamic and rapidly developing areas within oral health care, but is still a rather new discipline in dental education and is not quite often taught in undergraduate dentistry curricula."
This MOOC, led by Dr. Mattheos, is taught by a stellar dream-team of almost 20 international experts in dental implants and reconstructions. Each week offers specialized knowledge and evidence-based practices for learners to engage with.
What are the contents covered in the course?
The MOOC includes 5 modules and runs over a period of 5 weeks. We will begin the journey of Implant Dentistry by exploring how discoveries in biology and technological developments lead to the current practice of dental implants. Then, we will examine clinical cases, diagnose our patients' needs and expectations and learn the principles of treatment planning. We will learn step-by-step surgical procedures for placing implants and various restorative techniques, directed by current evidence and best practices. Finally, we will investigate major threats and complications of implant procedures and ways to ensure successful treatments and long serving implants.
Here are some highlights of the upcoming Version 2:
A New Lesson by Dr. Nikos Mattheos on Posterior Maxilla and Sinus Augmentations containing new video lectures, readings and assessment.
New Video Lectures and contents by dental surgeons and implant experts.
Alfred Lau's lecture on The Use of Autogenous Bone Graft in Implant Dentistry
Martin Janda's lecture on Ceramic Complications in Implant Supported Reconstructions (A Clinical Case)
James Chow's lecture on Life-like Simulations Using Digital Technology
New Clinical Patient Cases are added. You will meet two new patients, Tom and Lisa, and help them plan and execute the best treatment procedure for their missing teeth.
International Impact
The first run created ripples of impacts to international communities, at not only universities and dental schools, but professional communities alike. Passionate learners in the Arabic community even formed a Facebook group, with over 900 members, where members shared notes with peers and translated the materials to Arabic. We also had a large proportion of Chinese learners, as professional organizations in mainland China spread our MOOC.
This impact continues even after the end of the first run – where there are currently three volunteer groups translating the entire course into Chinese (supplementary materials), Russian and Arabic.
Seminars and Events
Colgate seminar on peri-implant tissues in health and disease (October 2016)
Community event in Bangkok (November 2016), conducted by two of the instructors, Dr. Chatchai Kunavisarut, Mahidol University, and Dr. Nikos Mattheos
The event was broadcast through Facebook live: Part 1, Part 2, Part 3, Part 4
Learner Feedback
Here are some testimonies from the learners: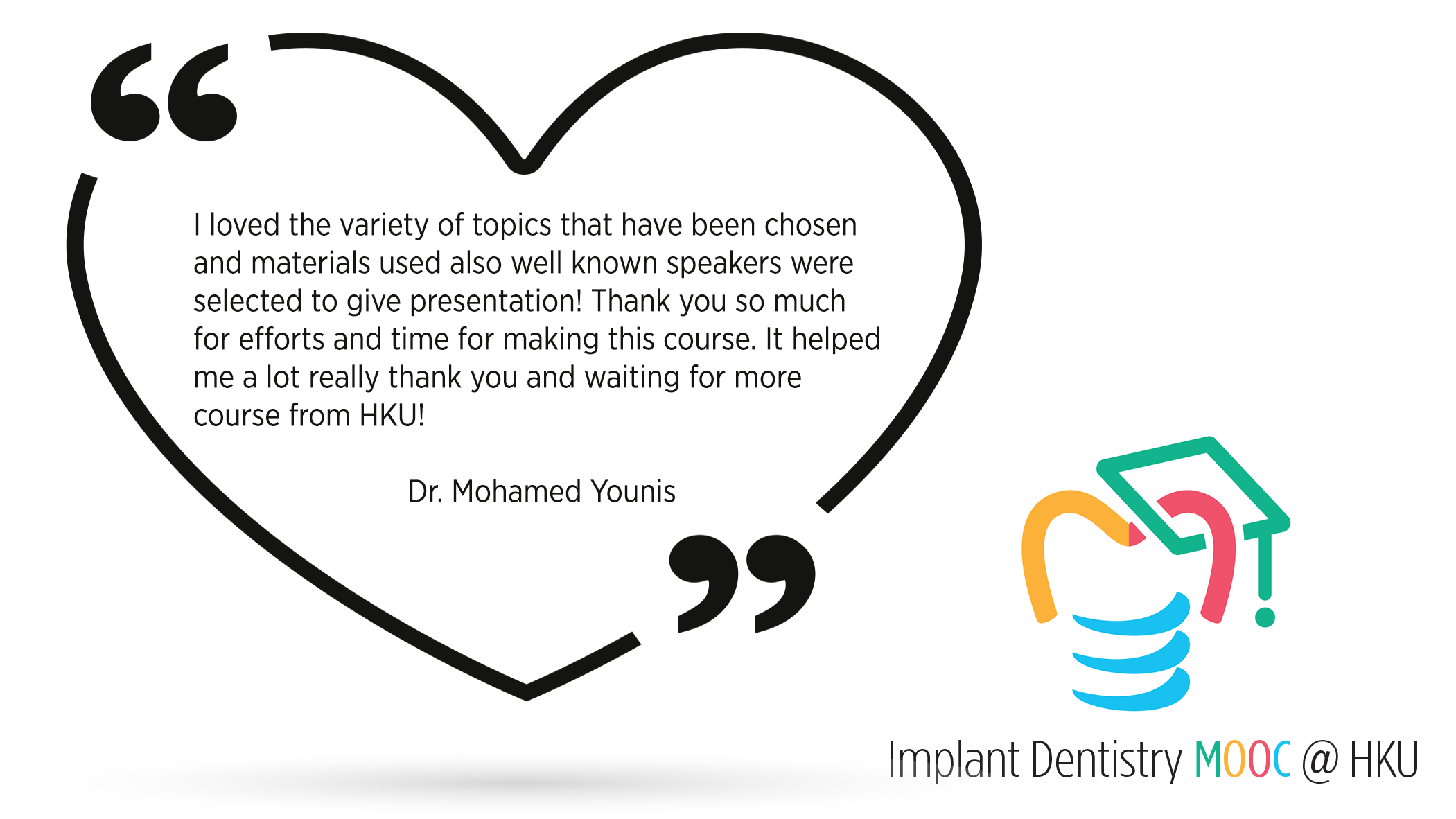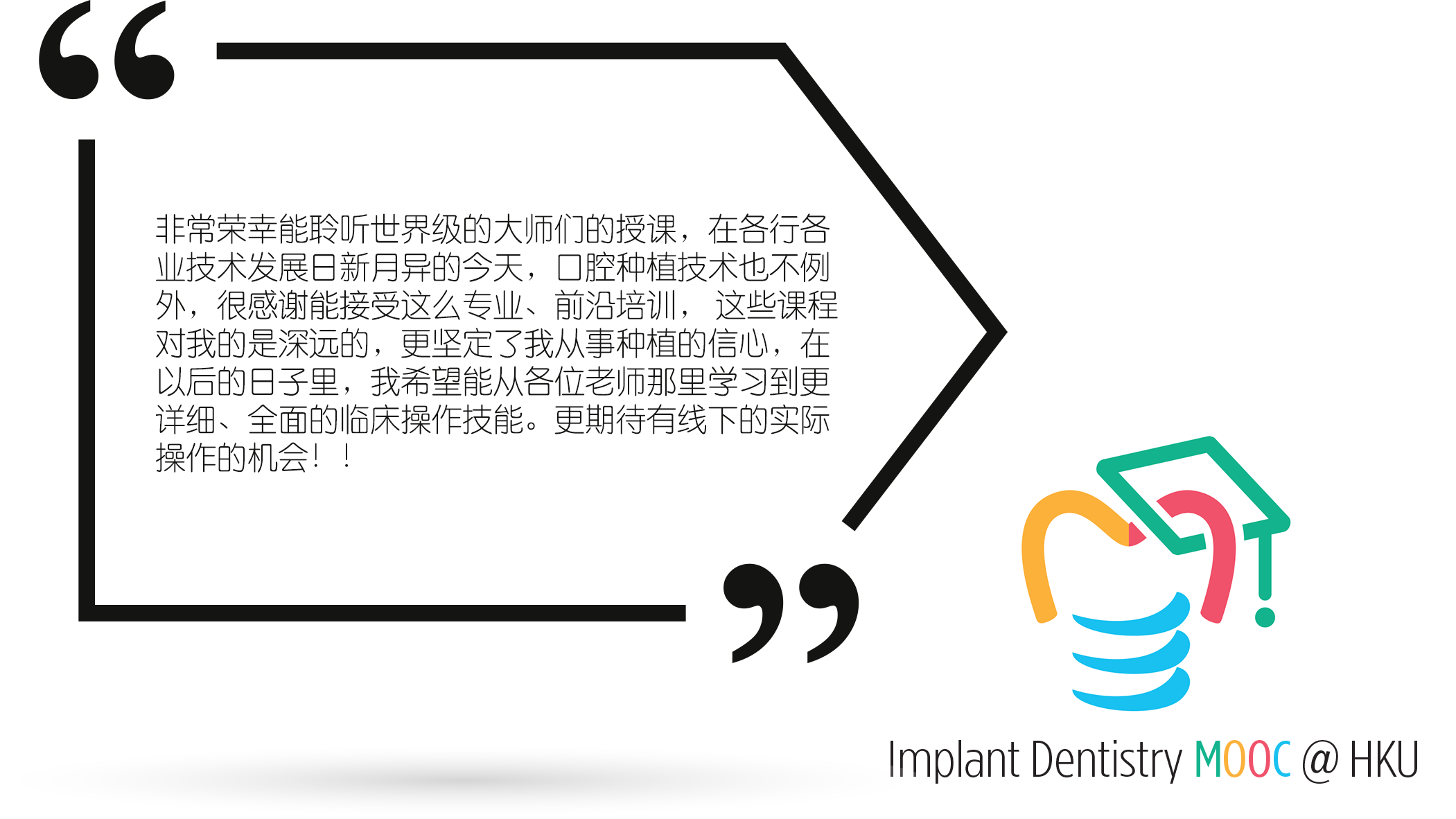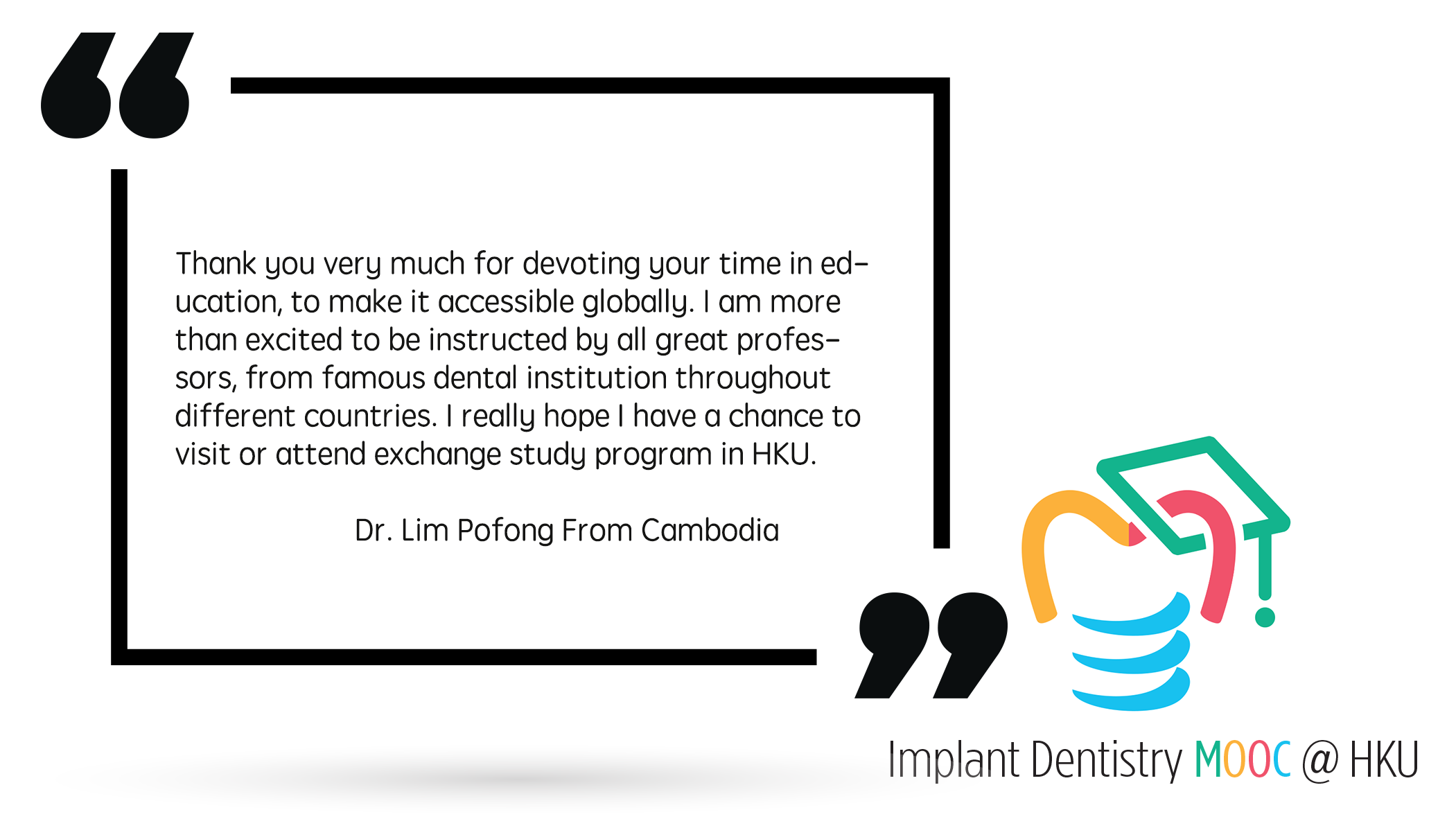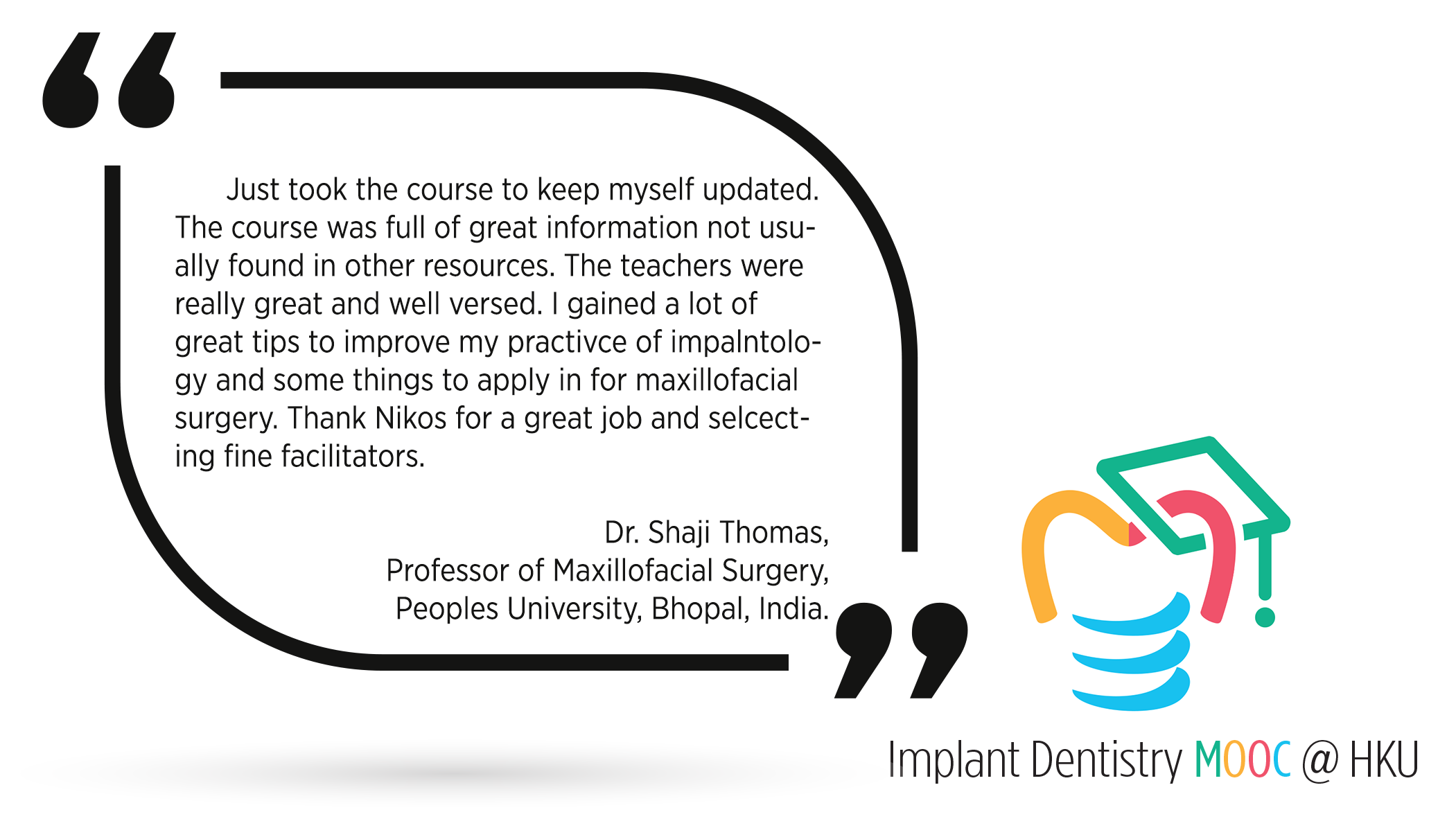 Listen to our students and find out how they like our course!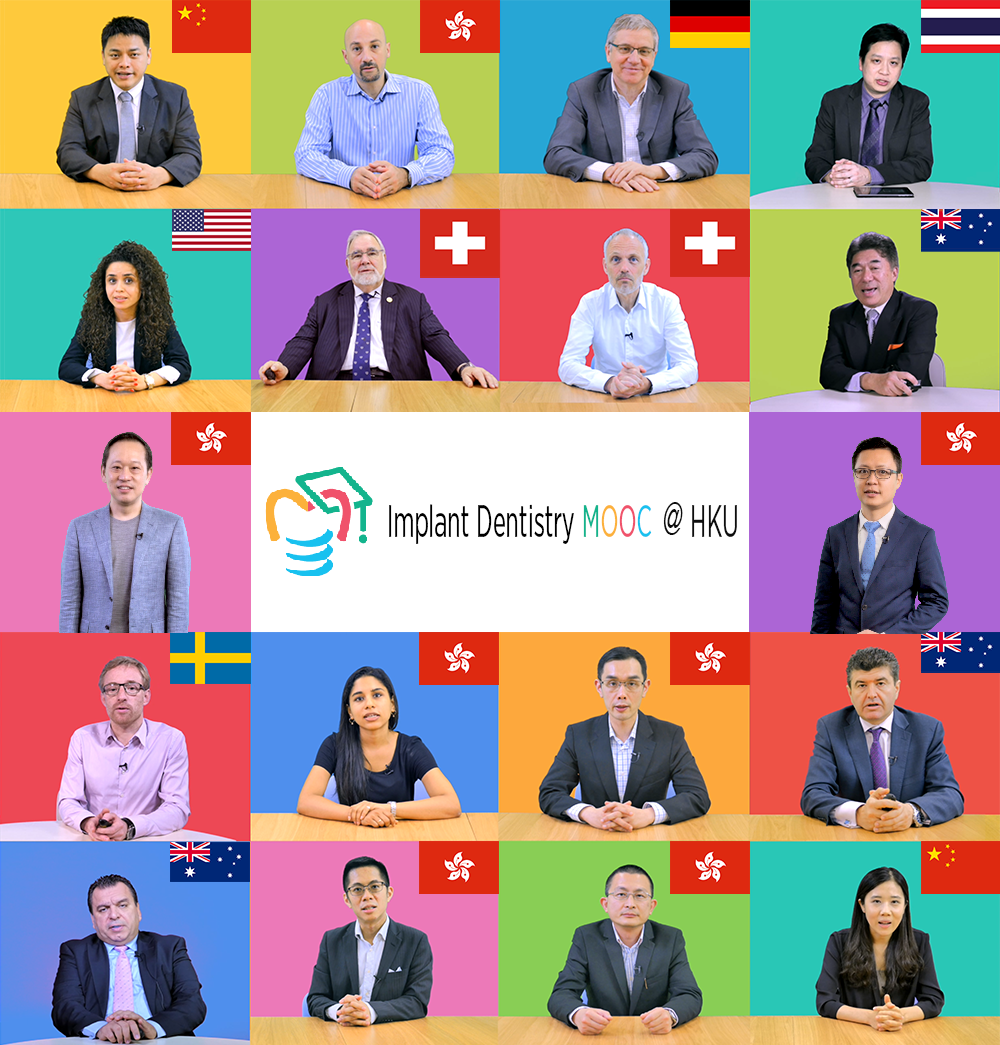 Sneak Previews
Below are some teasers of what you may expect in the course:
| | | |
| --- | --- | --- |
| How to become an Implant dentist | Minimally Invasive Surgery | Micro Surgery Instruments |
| The 3 main pathways | Suture Techniques | Implant Supported Provisional Restorations |
Register today to experience world-class Implant Dentistry education! Re-run begins on 27 May 2019.
Follow us on Facebook and Twitter to get the latest updates!

(This event is jointly organized by Technology-Enriched Learning Initiative, HKU and Knowledge and Education Exchange Platform, CUHK.)

Details of the event:
Date :
 30 January, 2019 (Wednesday)
Time :
 1:00pm – 2:30pm
Venue :
 CPD-LG.34, Centennial Campus, The University of Hong Kong
Speakers :
Mr Eddy Yet, Project Coordinator, The Chinese University of Hong Kong
Professor Ricky Kwok, Associate Vice-President (Teaching and Learning), The University of Hong Kong
Abstract
New technologies have been changing the way we teach and learn. While we are presented with numerous innovative pedagogies and tools, there are common practices that can be adopted to enhance engagement and teaching effectiveness. In the first part of this seminar, the Knowledge and Education Exchange Platform (KEEP) will present local examples of flipped classroom, online supplementary modules and content visualization in higher education, and discuss why more teachers are adopting these practices.
The second part of the seminar will focus on HKU's gamified flipped classroom practices. The University's Technology-Enriched Learning Initiative (TELI) has been trying to bring students a new dimension of immersive learning. In this presentation, Professor Ricky Kwok will introduce good practices in gamification in the classroom, and present TELI's work in this area to-date. The talk will address the challenges and strategies of balancing entertainment and education, driving competition in game-based learning to inspire achievement of learning outcomes, and creating a gaming space that brings learners closer.
About the Speakers
Mr. Eddy Yet, Project Coordinator
The Chinese University of Hong Kong
Working with teachers, instructional designers and developers among local universities, Mr. Eddy Yet, the Project Coordinator, participates in the development of the Knowledge and Education Exchange Platform (KEEP) to build a one-stop educational platform that facilitates teaching and learning.
Professor Ricky Kwok, Associate Vice-President (Teaching and Learning)
The University of Hong Kong
Professor Ricky Kwok assists the Vice-President and Pro-Vice-Chancellor (Teaching and Learning) in HKU's endeavors related to e-learning (e.g., MOOCs, SPOCs, blended learning, research, EdTech etc.). He leads the Technology-Enriched Learning Initiative (TELI) team, which consists of e-learning technologists, instructional designers, researchers in learning analytics, specialists in system development, and multimedia talents in developing e-learning solutions in HKU.
Enquiries should be directed to enquiry@teli.hku.hk.
Two professors from American universities, Larry Hedges from Northwestern University (NWU) and Anant Agarwal from Massachusetts Institute of Technology (MIT) won the 2018 First Yidan Prize.
The Yidan Prize Conference Series: Asia-Pacific was held at HKU on 11 Dec to honour the two Yidan Prize laureates. This is the first time the Department of Education at HKU partners with the Yidan foundation to host the Yidan Prize Conference. HKU TELI livestreamed the event for hundreds of viewers to watch this real-time.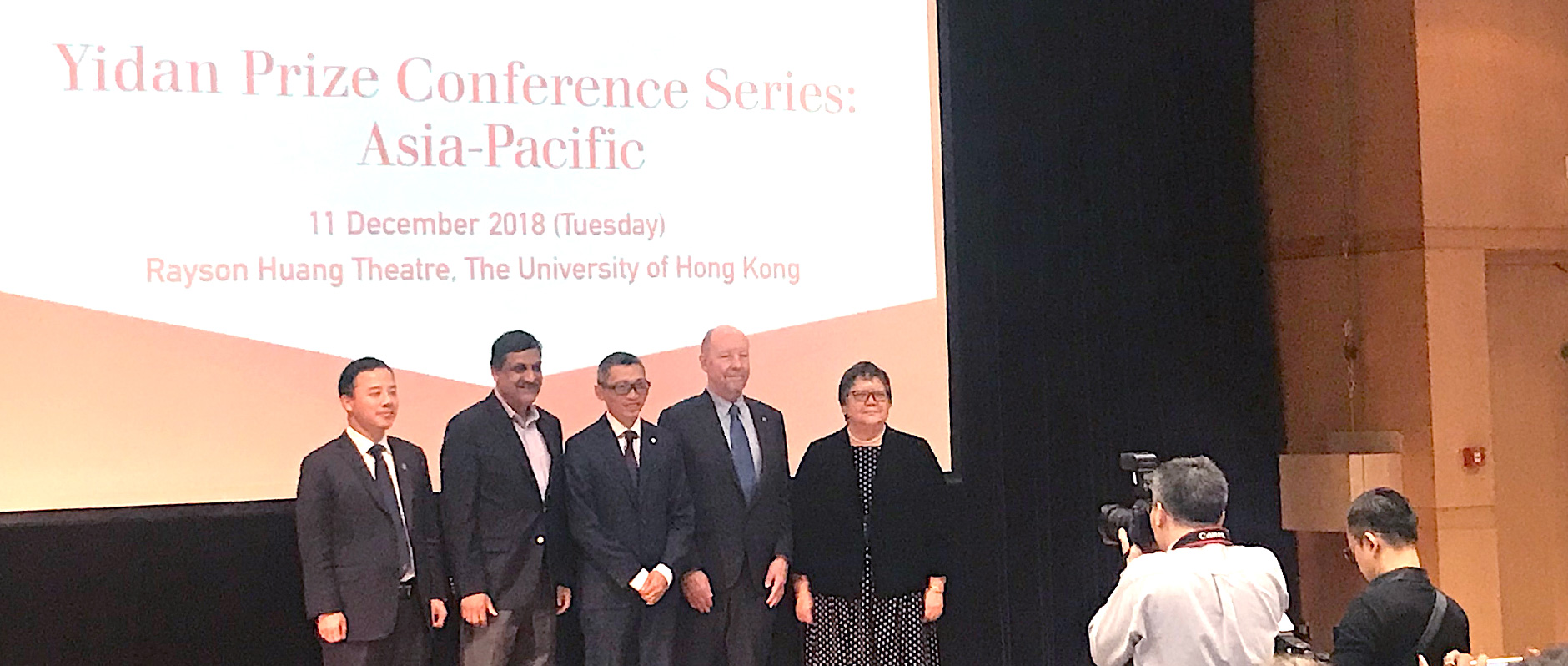 HKU hosts Yidan Prize Conference Series: Asia-Pacific – (From left to right) Professor Xiang Zhang (President and Vice Chancellor of HKU), Professor Anant Agarwal (Yidan Prize for Education Development Laureate 2018), Dr. Charles Chen (Founder of the Yidan Prize Foundation), Professor Larry Hedges (Yidan Prize for Education Research Laureate 2018), Professor Lin Goodwin (Dean of Education at HKU)

The Yidan Prize is one of the world's leading educational award, and some compare it to a Nobel Prize in Education. The Yidan prize was founded in 2016 by Dr. Charles Chen, the co-founder of Tencent. Every year, the prize is awarded to two individuals or organizations in recognition of their distinguished contributions to education research and education development and in particular, their forward-looking innovations that create profound impact on education for a better future.
Professor Xiang Zhang, President and Vice Chancellor of HKU addressed the mission of the Yidan Prize is to create a better world through education, "there are many pressing issues that we will be facing in the 21st century, what the world needs is a big idea, what the world needs more is a bright mind that creates many big ideas." Professor Zhang said, we at HKU share with the Yidan Prize foundation in creation of a better world with education.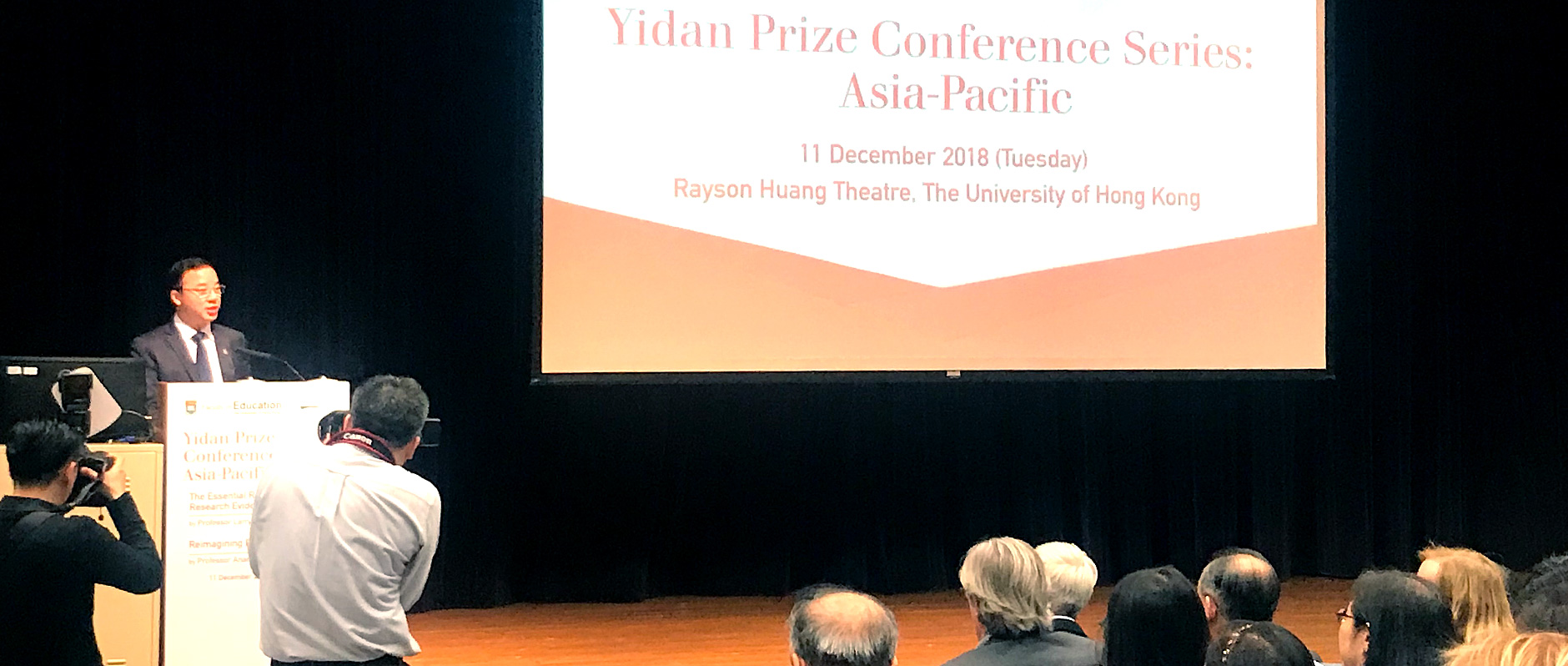 Professor Xiang Zhang (President and Vice Chancellor of HKU) addressed the mission of the Yidan Prize.
Make Education More Scientific
Professor Larry Hedges (Yidan Prize for Education Research Laureate 2018) said at the beginning of his keynote speech that, "I was particularly happy to receive the Yidan Prize as I am a living example of the consequences of education, that the power of education has that changed lives," he said, "the award shines a bright light on the life's work that I have chosen, in trying to develop a more scientific basis for education policy making and educational practice and trying to develop a field of evidence-based education research."
Professor Hedges said, "We know practically any students can learn practically anything that the best students do, we just don't know how to make this a reality for all students."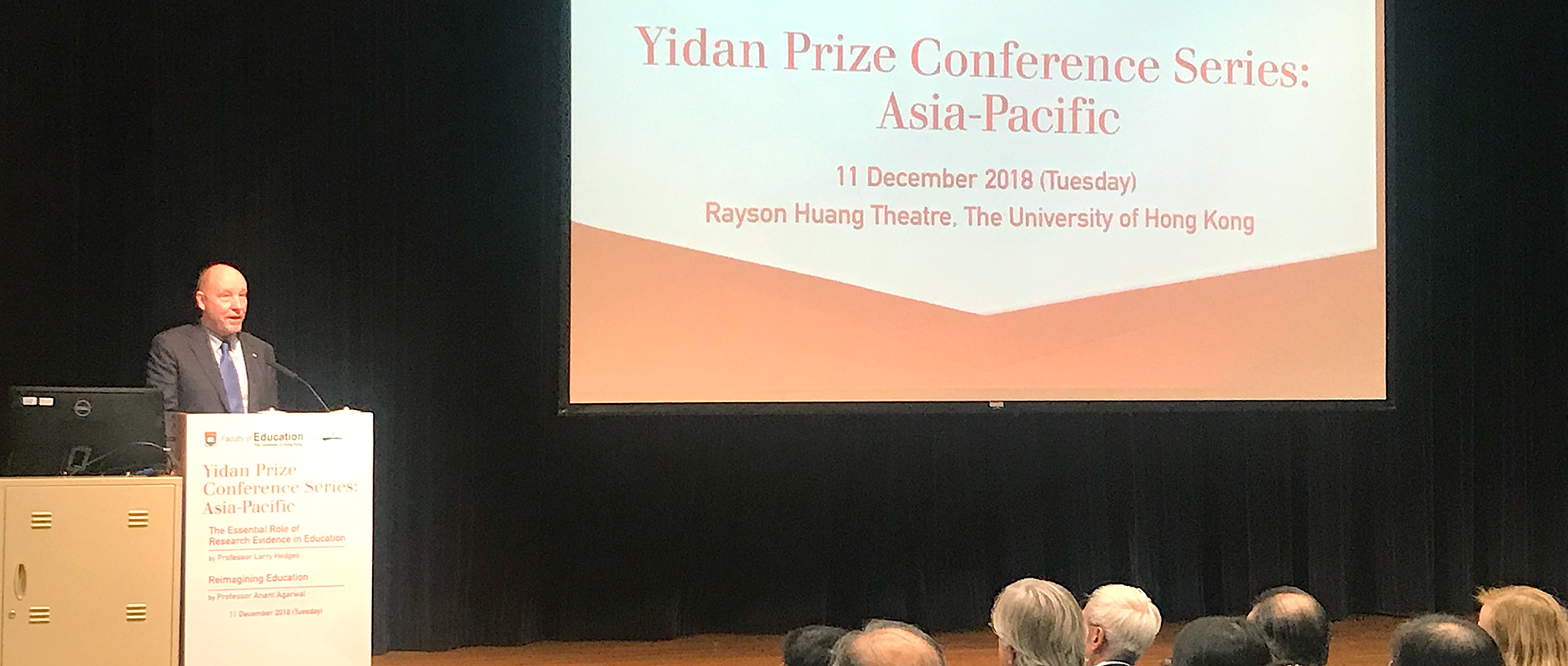 Professor Larry Hedges (Yidan Prize for Education Research Laureate 2018) talked about the importance of scientific evidence in education practice and policy making.
Professor Hedges explained that, "what was done in education in the past was fundamentally based on educators' experience of what worked and one applied those experience on places where we have no experience with. This is compared to a 'craftman's endeavor' based on experience and apprenticeship, and decision-making in education based on tradition, or politics, or individual experience."
He said, "in a society of rapid changes today, the craftmen's experience adapts too slowly to be of use to what our society needs and that the future of education is to rely on evidence that proves what works."
"To understand education, we have to pay attention to the system and all its interlocking features and we have to apply the best available scientific methods." He suggested education and the future system will be enhanced by a culture of scientific research evidence in education embraced by policy makers, teachers, investigators and administrators.
Technology Transforms Education
The Yidan Prize for Education Development Laureate 2018, Anant Agarwal, Professor at MIT and the Founder and CEO of edX, said in his keynote speech that, "few would argue about the statement: Education is a human right and all should have access to it." And true to his statement, he founded edX, an online platform that provided free learning and is serving 19+ million learners around the world today.
edX partners with the world's 140 leading institution partners, among many others, the University of Hong Kong, in offering 2400+ higher education courses to global learners. Apart from the edX platform, edX also offers an open-source platform Open edX and HK MOOCs to thousands of education institutions in the world. Professor Agarwal has an ambitious goal of reaching 1 billion learners in the future.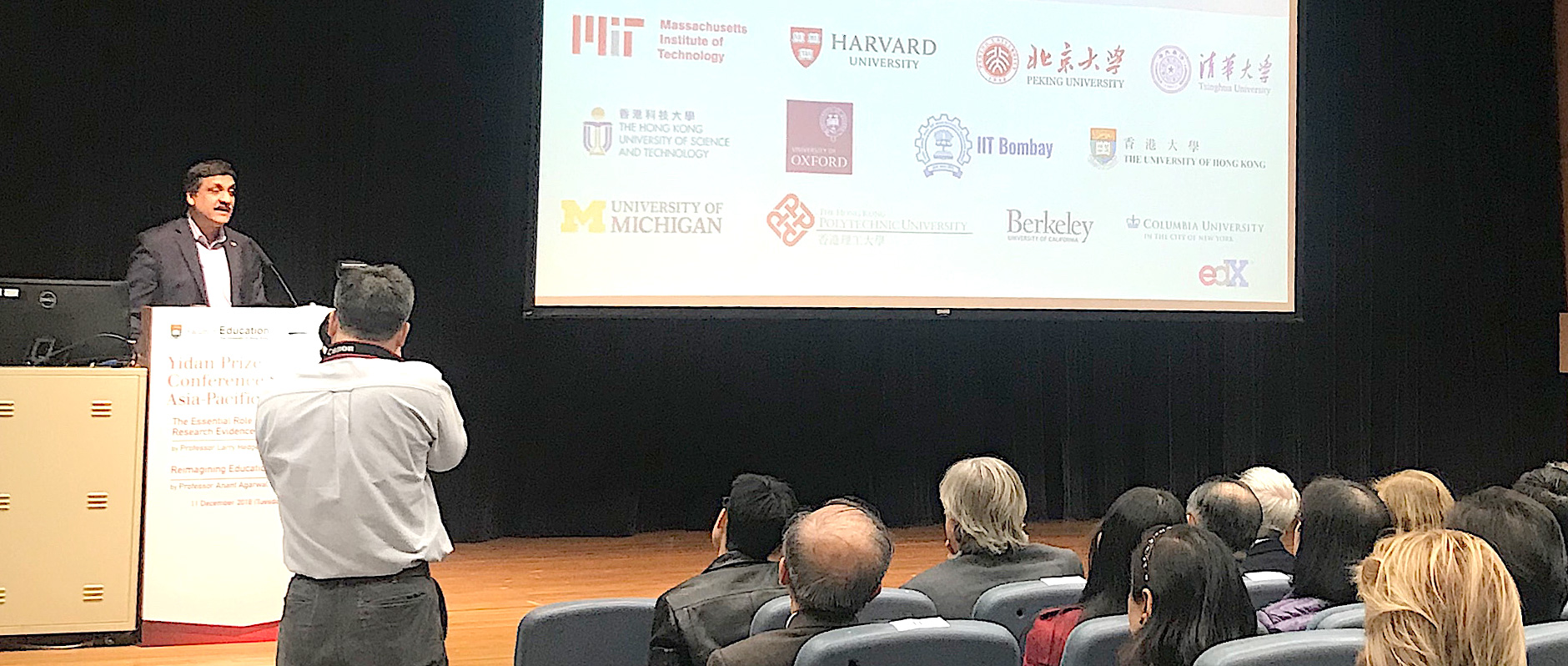 Professor Anant Agarwal (Yidan Prize for Education Development Laureate 2018) mentioned edX partners with the world's 140 leading institution partners, including HKU to provide global online courses.

Witnessing how education of this sort has transformed the lives of students living in developed and developing countries, remote villages and in refugee programs, Professor Agarwal who continuously strived to make education more democratized and more accessible said, "he would like to dream a little bit to what education could look like in the future through technology."
He said, "only we start talking about innovation as part of the whole process, that learners need to be lifelong learners as technology transform our work, and people need to learn throughout life, we are creating new credentials along with university partners so learners can benefit from them without necessarily having to come to university."
Professor Agarwal also highlighted some distinguished programs that made use of innovation and technology to provide continuous learning and professional development, among others, HKU's FinTech Professional Certificate Program. He gave a shoutout that, "In fact, HKU has an amazing professional certificate program on edX in FinTech, it's a Blockbuster!"
Watch the short clip of the speech:

What does Professor Agarwal think the future of education will look like? He showed the audience five 'Reimagine Education Goals for 2022' and challenged all partnering institutions to achieve those goals with edX.
The five 'Reimagine Education Goals for 2022' that Professor Agarwal presented at his keynote speech.
Watch the 2018 Yidan Prize Conference livestream (full version):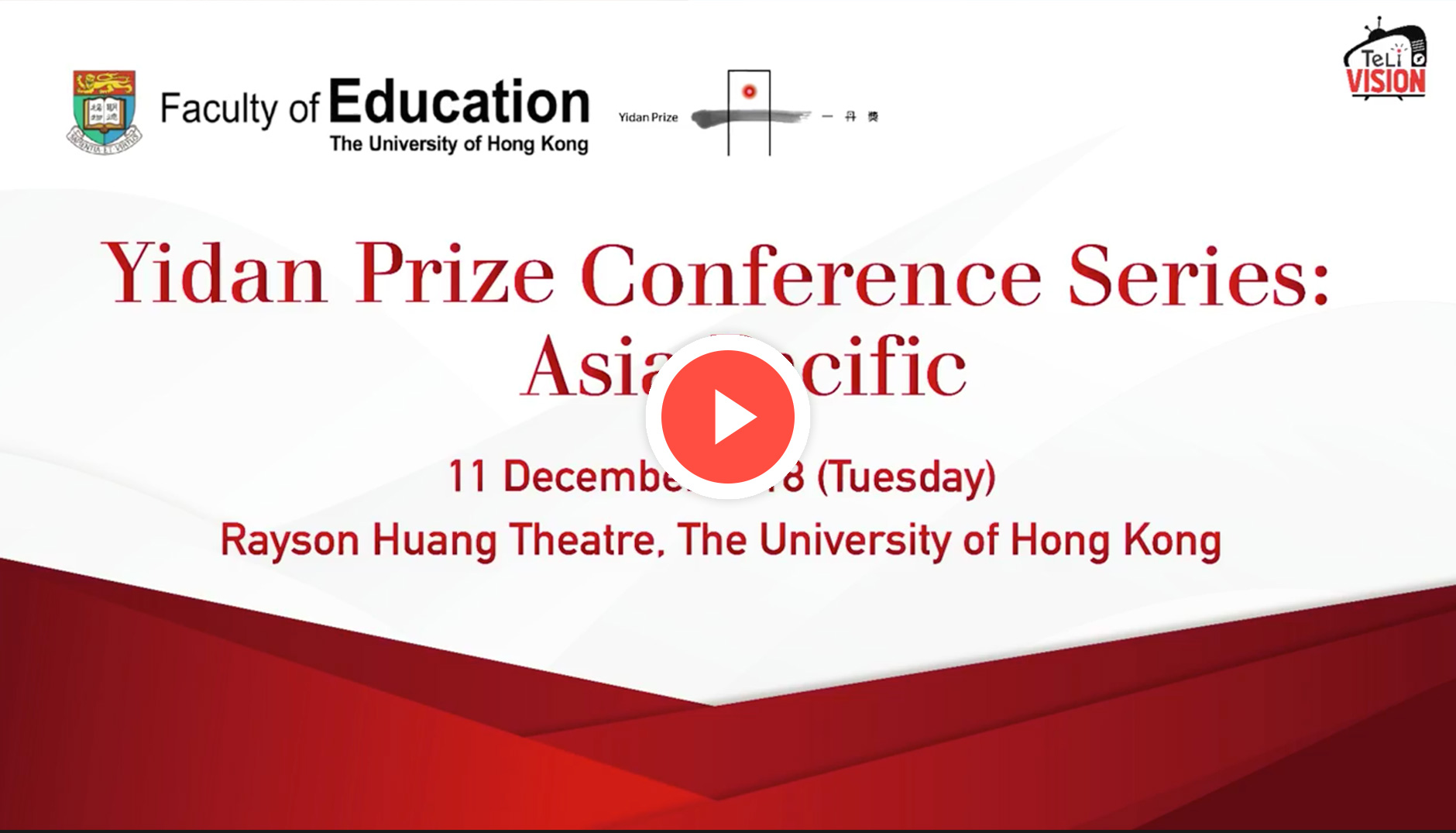 Click here if you cannot access Youtube.
About this course
How do electrical engineers find out all the currents and voltages in a network of connected components? How do civil engineers calculate the materials necessary to construct a curved dome over a new sports arena? How do space flight engineers launch an exploratory probe?
If questions like these pique your interest, this course is for you!
Calculus with differential equations is the universal language of engineers. In this 7-week course, "Engineering Calculus and Differential Equations," we will introduce fundamental concepts of single-variable calculus and ordinary differential equations. We'll explore their applications in different engineering fields. In particular, you will learn how to apply mathematical skills to model and solve real engineering problems.
This course will enable you to develop a more profound understanding of engineering concepts and enhance your skills in solving engineering problems. In other words, you will be able to construct relatively simple models of change and deduce their consequences. By studying these, you will learn how to monitor and even control a given system to do what you want it to do.
Techniques widely used in engineering will be illustrated; such as Laplace transform for solving problems in vibrations and signal processing. We have designed animations and interactive visualizations to supplement complex mathematical theories and facilitate understanding of the dynamic nature of topics involving calculus.