We all acknowledge the importance of feedback – a crucial element in learning, that it facilitates one's understanding of their own work, prompts reflection and provides pointers for further improvement. Despite the consensus of feedback being beneficial, an important question to ask is whether what we do is adequate and effective. What constitutes effective feedback, and how can we choose the right feedback to suit different contexts? In the Feedback for Learning Symposium, teachers from different faculties share their insights and experience in designing feedback mechanisms to improve students' learning.
What is Feedback?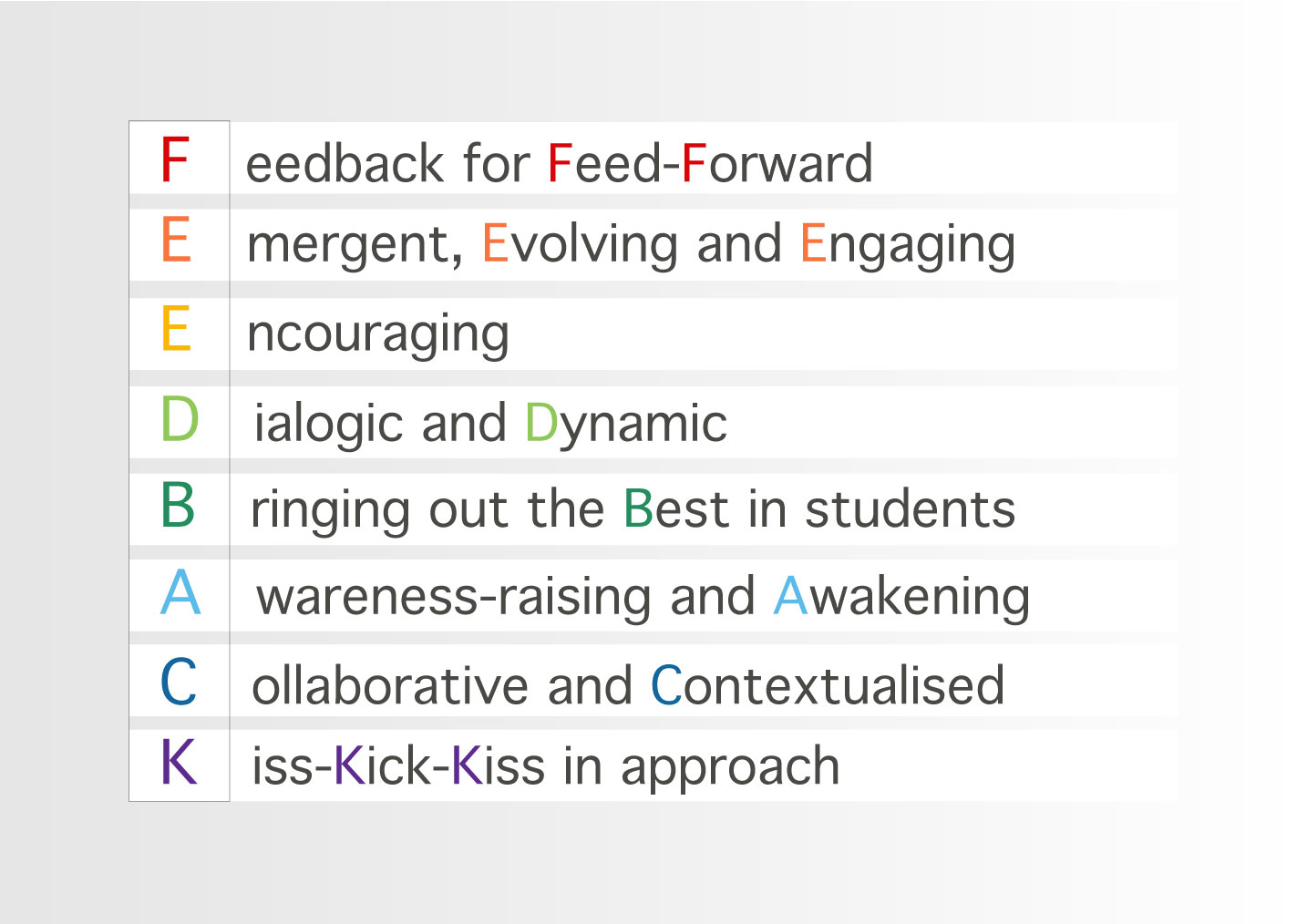 Ms Nicole Tavares sums up the characteristics of good feedback. [Image credit: Ms Nicole Tavares.]
Feedback can take many different forms, but the crux of feedback is to facilitate students' learning capabilities, strategies and development, as emphasized by Professor David Carless of the Faculty of Education. In the above picture, Ms Nicole Tavares, also of the Faculty of Education, sums up the characteristics of good feedback.
Ultimately, for feedback to make an impact, it has to be accountable, advancing, and most importantly, actionable. As explicated by Professor Ricky Kwok, Associate-Vice President of HKU (Teaching and Learning), feedback should be accountable so that both teachers and students can measure its effectiveness. Furthermore, feedback should enable students to take their learning progress to the next level. Last but not least, feedback by a teacher is only actionable when the receiving student is able to take direct actions based on it, making it practical and impactful.
What are students expecting?
Authentic assessment practices have been adopted across different disciplines in HKU, some of which are enabled by technology. Here are some examples:
Feedback on a draft/proposal by a student;
Short face-to-face consultation with the teacher to elaborate and comprehend the initial feedback;
Final feedback on an assignment submitted together with a mark or grade.
In addition, they also highlighted that feedback is of greater value if it were provided when the student is still in the process of doing an assignment, in form of further guiding prompts, directions or even motivation from the teacher, which are instrumental in helping them overcome the challenges in learning.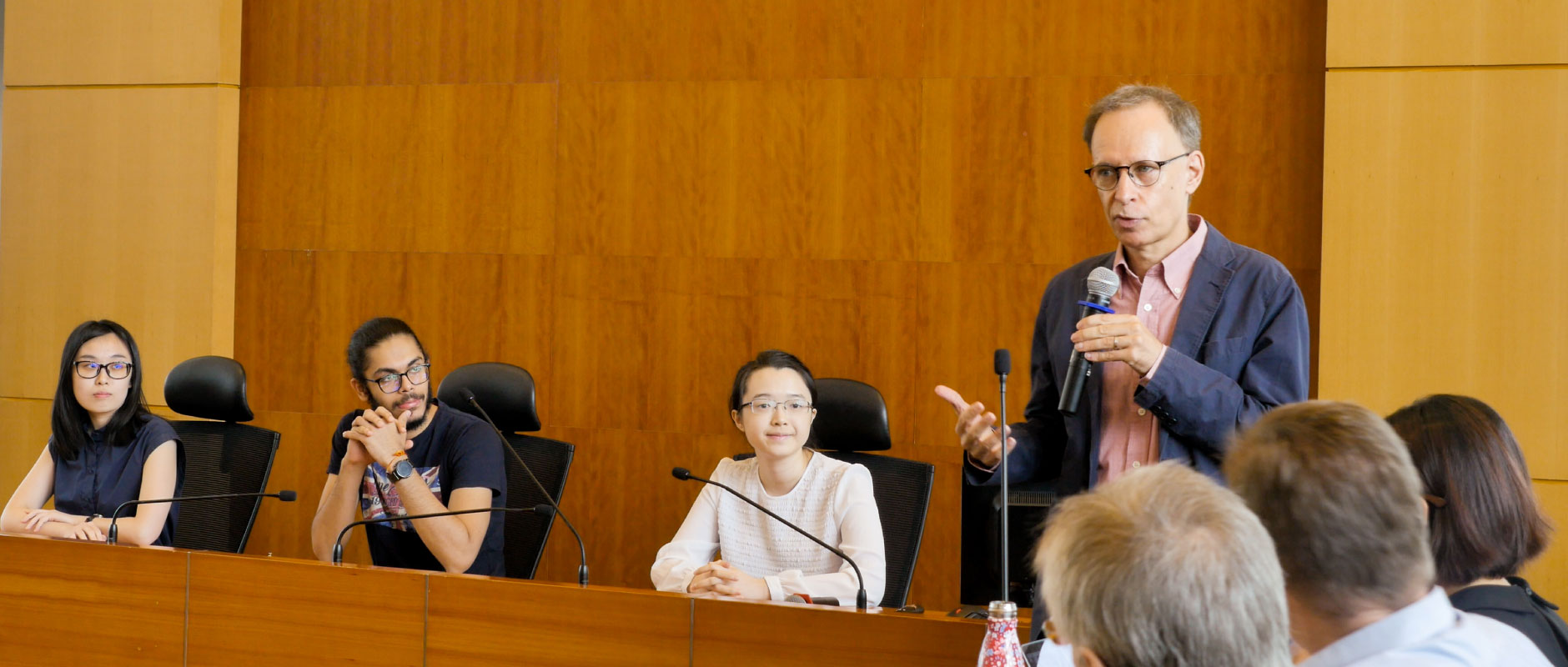 Professor David Carless and the Student Panel.
The students also gave examples of weak or ineffective feedback that influence student's learning:
Highlighting or underlining with no additional textual explanations in assignments
Indication of citation mistakes without suggesting ways of improvement
No explanation for correct and wrong answers in online quizzes
In general, students find simply knowing "what" is right or wrong with their work inadequate, and push for the reasons "why" and methods of "how" their work can be improved under their teachers' guidance. In response to these issues raised by the students, Professor Carless says that feedback processes should be more practical and student-friendly in order to avoid misunderstandings between teachers and students.
Here are some examples of feedback practices designed and practised by teachers from different faculties at HKU, that you may find useful in your teaching:
Injecting Dialogue into Written Feedback Processes
Professor David Carless' approach on actionable feedback on his students' assignments is by asking students to write on the cover sheet of their assignment what kind of feedback they would like to receive, with given structure below:
"I would most like feedback on …"
"The strengths are …", "The aspects for development are …"
"The previous feedback I have used to strengthen this assignment is …"
This dialogic writing helps finding out which aspects of feedback does a student want and needs help in. This also helps students reflect on the strengths and weaknesses of their submitted assignments. Furthermore, this reveals what kind of feedback that students received in the past helped improve the current assignment.
However, Professor Carless also points out the challenges he faced. For instance, more often than not students are not certain about what kind of feedback they need, and some are reluctant to reveal their own weaknesses. In response, Professor Carless helps students identify and explain them using assessment rubrics and criteria in detail.
Project Based Assessment and Feedback – Designing and Making Virtual Worlds
In a Common Core course that aims to get students from across various disciplines familiarized with the art and techniques of creating 3D artifacts, Dr. Nicol Pan employs many teaching assistants (TAs) who specialize in 3D technology and design, to help provide comprehensive and personalized feedback on students' final projects. The main significance of the feedback practice used in this course is that students receive detailed and constructive feedback at each stage of the final project as shown in the below chart: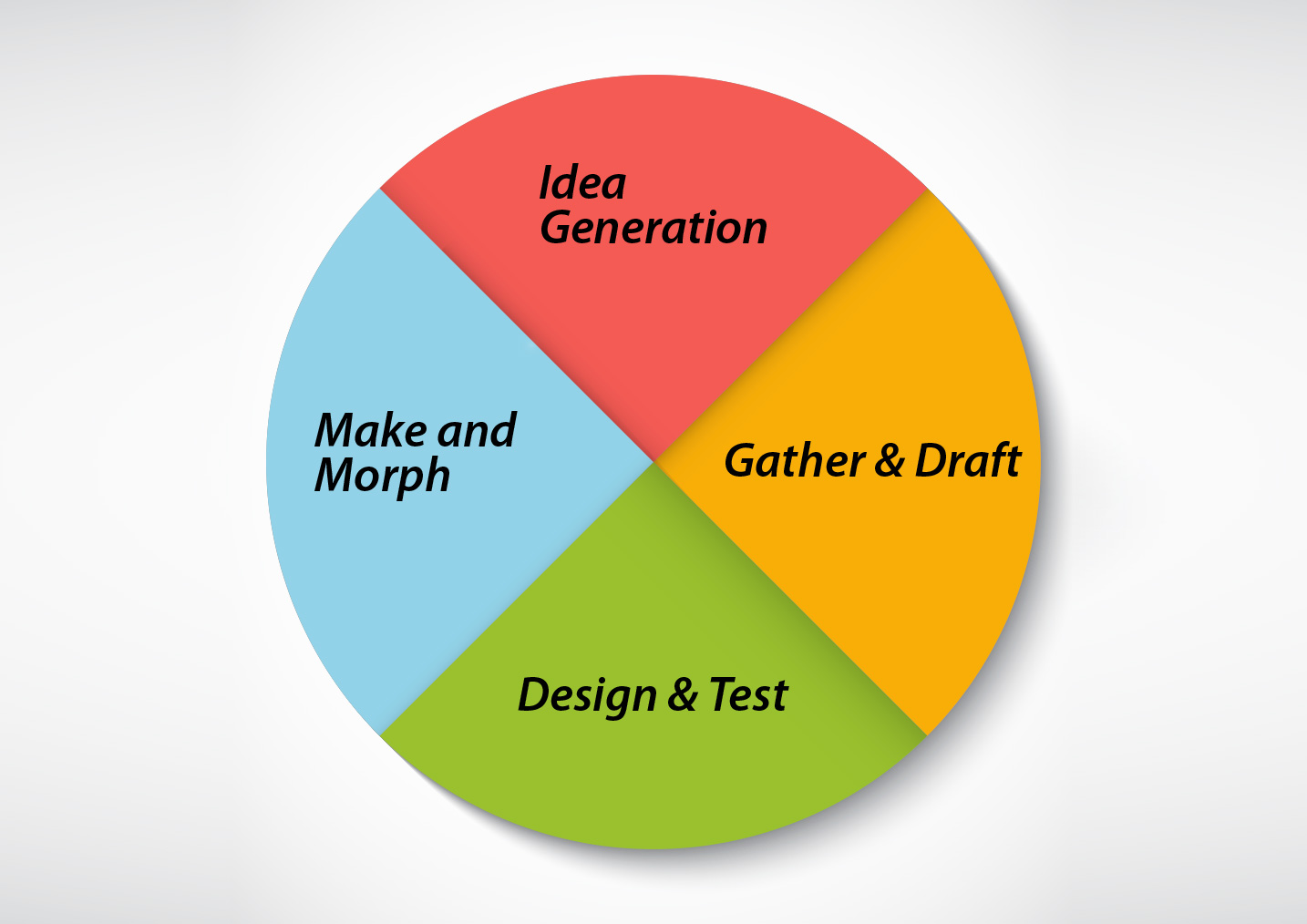 The four stages include idea generation, gather and draft, design and test, and make and morph. [Image credit: Dr. Nicol Pan.]
Dr. Pan agrees that feedback bridges communication between students and teachers, and this helps guiding students through every stage in a project. She also emphasizes the nature of feedback should be nurturing, but not hostile or makes students feel nervous.
Dialogic Use of Exit Slips to Promote Students' Reflective Capacity
Dr. Kennedy Chan, who teaches pre-service teachers, proposes the use of exit slips at presentations to enhance students' self-reflective skills, which help formulate their own teaching philosophies. The main concern in developing effective reflection among pre-service teachers is that they tend to produce self-speculations that are often too descriptive or superficial. Therefore, Dr. Kennedy Chan intended to a) provide timely and personalized written feedback on students' reflections, b) expose them to multiple perspectives of their work, c) compare and contrast works to define a quality reflection and d) self-evaluate their learning progress. The process involved students writing a reflection after each session, which the teacher gives feedback on, and selecting the best one as an exemplar to discuss further in class. Student reflections are assessed based on a reflection scale.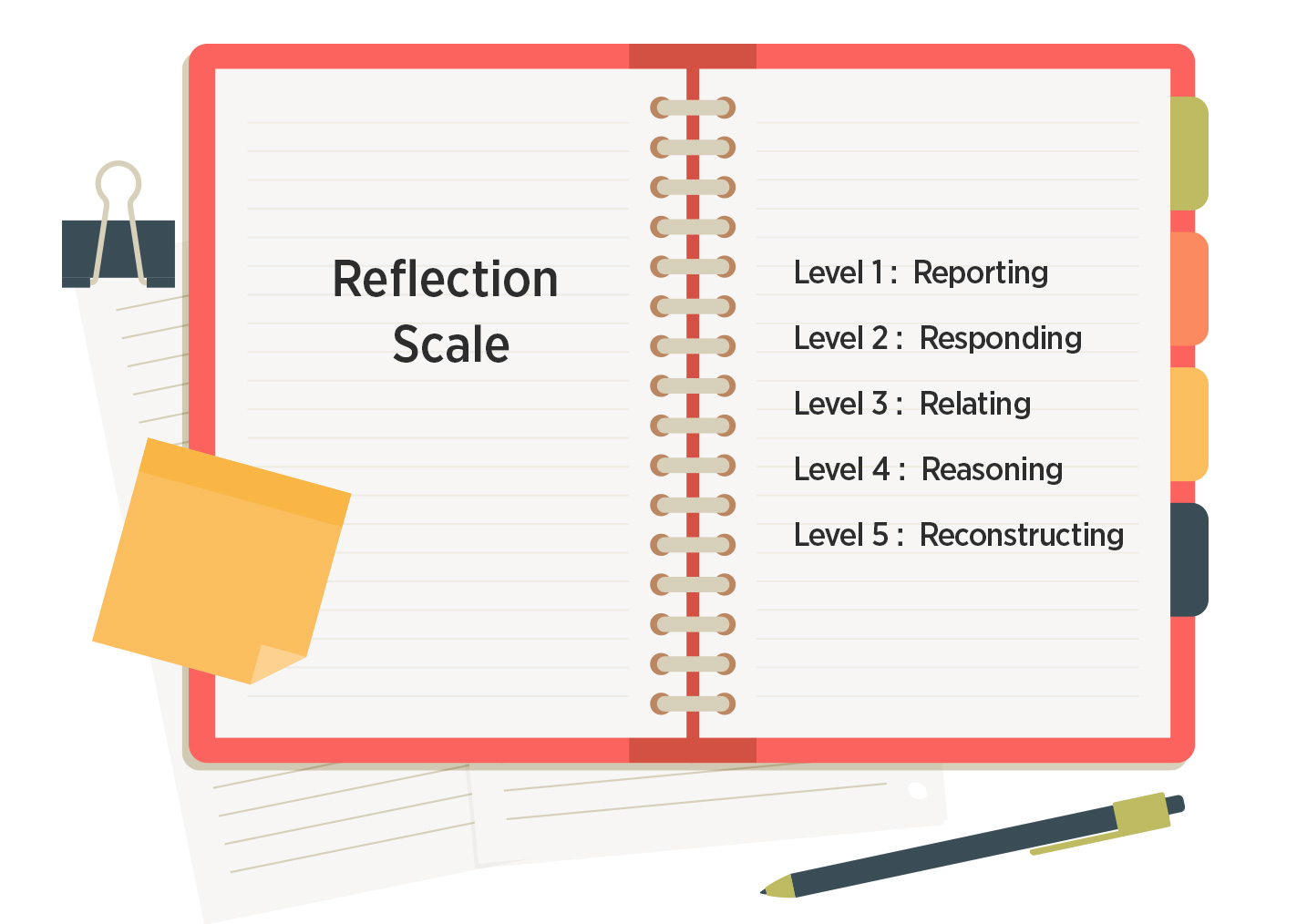 The process is finalized after 12 sessions, where students select their top 3 reflections they have produced. They are also required to self-evaluate their own reflections based on the same reflection scale. Dr. Chan also motivates students to submit reflections on Moodle for peer feedback. He believes these practices can help foster students' thinking and their sense making feedback effectively.
Full recording of the Symposium
Follow #HKUFeedback on Twitter to check out more event details! Don't hesitate to Contact us if you are interested in collaborating with us to enhance teaching and learning at the University!

On HKU FinTech Day, Professor Douglas Arner from HKU Law Faculty announced the milestone of the Introduction to FinTech course and the HKU FinTech Professional Certificate comprising three interdisciplinary courses from three different faculties at HKU.
The first course, Introduction to FinTech was launched by the Faculty of Law in May 2018, and the upcoming two courses FinTech Ethics and Risks and Blockchain and FinTech are currently under development by the Faculty of Business and Economics and the Faculty of Engineering, respectively.
Introduction to FinTech MOOC Milestone
Professor Arner said it has been an exciting year for Introduction to FinTech MOOC. Today, the course has over 32,000 enrolled learners from 198 countries, which means there are learners from literally every country in the world. The course has a far and wide reach to learners, bridging the gaps in fundamental knowledge of FinTech for practitioners in financial services, legal and technology industries, students, and interested learners across various disciplines.
We anticipate that the two new MOOCs will continue to bring exciting news when released in 2019.
The short video of Professor Arner's talk
Meet the Instructors of the Two New FinTech MOOCs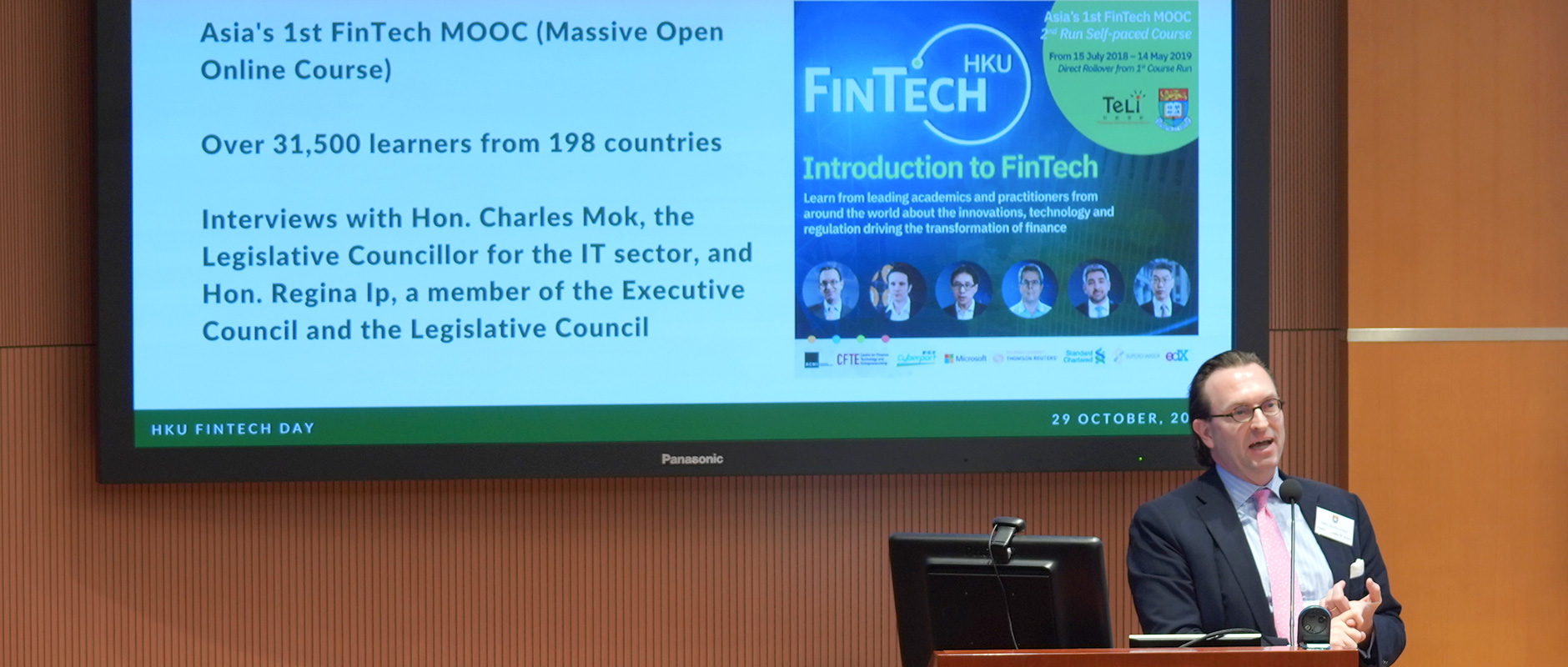 Professor Arner tells the audience about the upcoming new MOOCs
Professor Douglas Arner introduced the two new MOOCs, FinTech Ethics and Risks and Blockchain and FinTech, and the chief course instructors of the two courses, Dr David Bishop and Dr David Lee from the Faculty of Business and Economics, and Dr SM Yiu from the Department of Computer Science of Faculty of Engineering, respectively.
FinTech Ethics and Risks MOOC
Dr David Bishop and Dr David Lee presented the official course trailer of the FinTech Ethics and Risks course and talked about the ideas behind putting together the world's first course in FinTech ethics.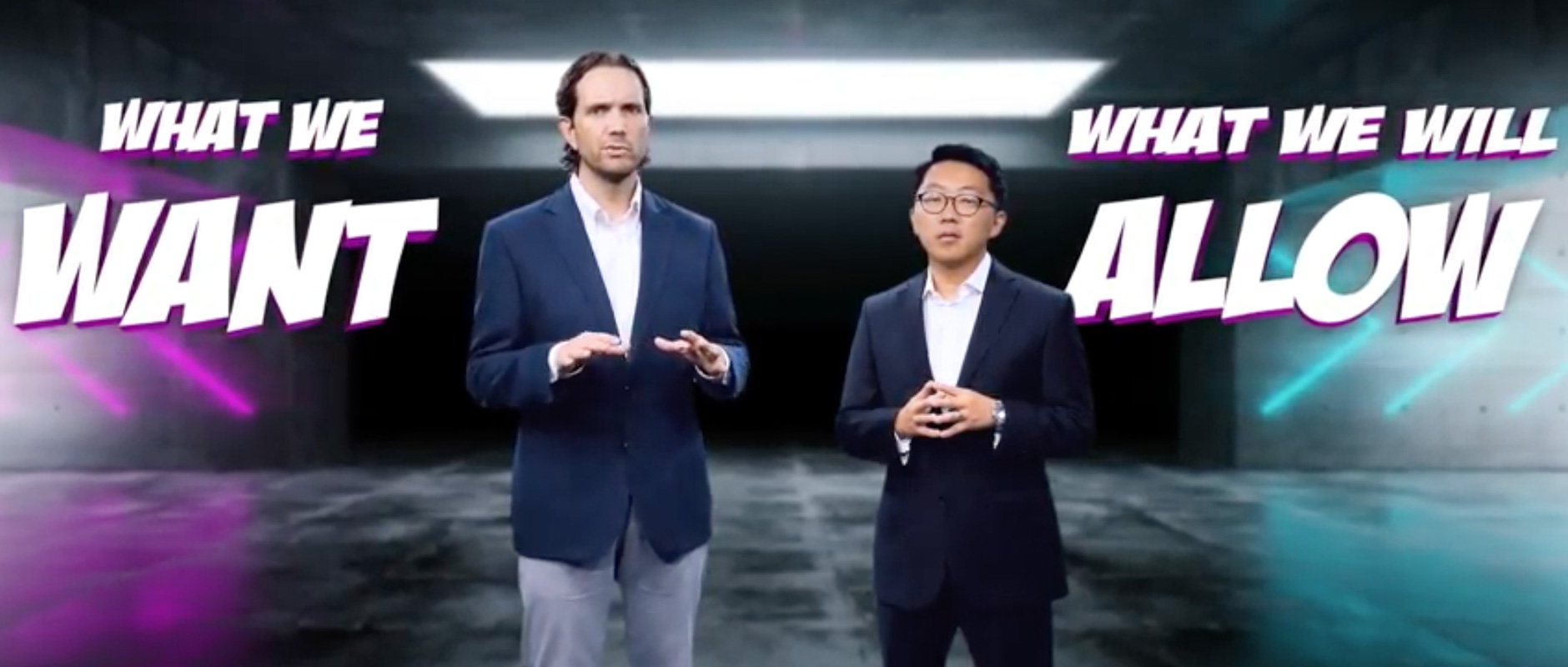 The Chief Instructors of FinTech Ethics and Risks MOOC, Dr David Bishop and Dr David Lee from the Faculty of Business and Economics.
Click here to view the official course trailer
David Bishop mentioned that some people perceive this MOOC as neither "Fin" nor "Tech" and stressed that "the way the course is going to be is to focus on the WHY; we have experts in the technology side and the legal side who will focus on the HOW, and explain the process, the nature and implementation of the FinTech technologies."
David Bishop said that he and David Lee approached the course not from the standpoint of experts: "This course for us is as much an intellectual journey as it is for those who have come along this ride with us. We will correspond with and put ourselves in the room with the experts and try to ask them really hard questions."
He supplemented that as far as he knew, "there isn't a website or a course in the world that focuses on FinTech ethics. In this course, we will ask the tough questions to ensure that they have a proper sense of morality, ethics, legislation and enforcement in place, so that we are able to unleash those tools in the most efficient and effective way possible while simultaneously reaching the goals that we have."
"The objective of the course is not to bring us to a specific set of knowledge but instead to carry a simultaneous journey together. Learners join us as we consider these tough questions that help shape our collective future," said David Bishop.
The short video of Dr David Bishop's talk about the new MOOC.
Blockchain and FinTech MOOC
Currently, Dr SM Yiu from the Department of Computer Science of the Faculty of Engineering is also driving efforts for putting together HKU's first Blockchain and FinTech MOOC.
Dr SM Yiu gave the audience 9 questions to decide whether they should join HKU's upcoming Blockchain and FinTech MOOC, which will be released later in 2019.
Let's try these 9 questions now and see whether the MOOC is for you too!
Dr SM Yiu gave 9 questions to the audience to test their knowledge on blockchain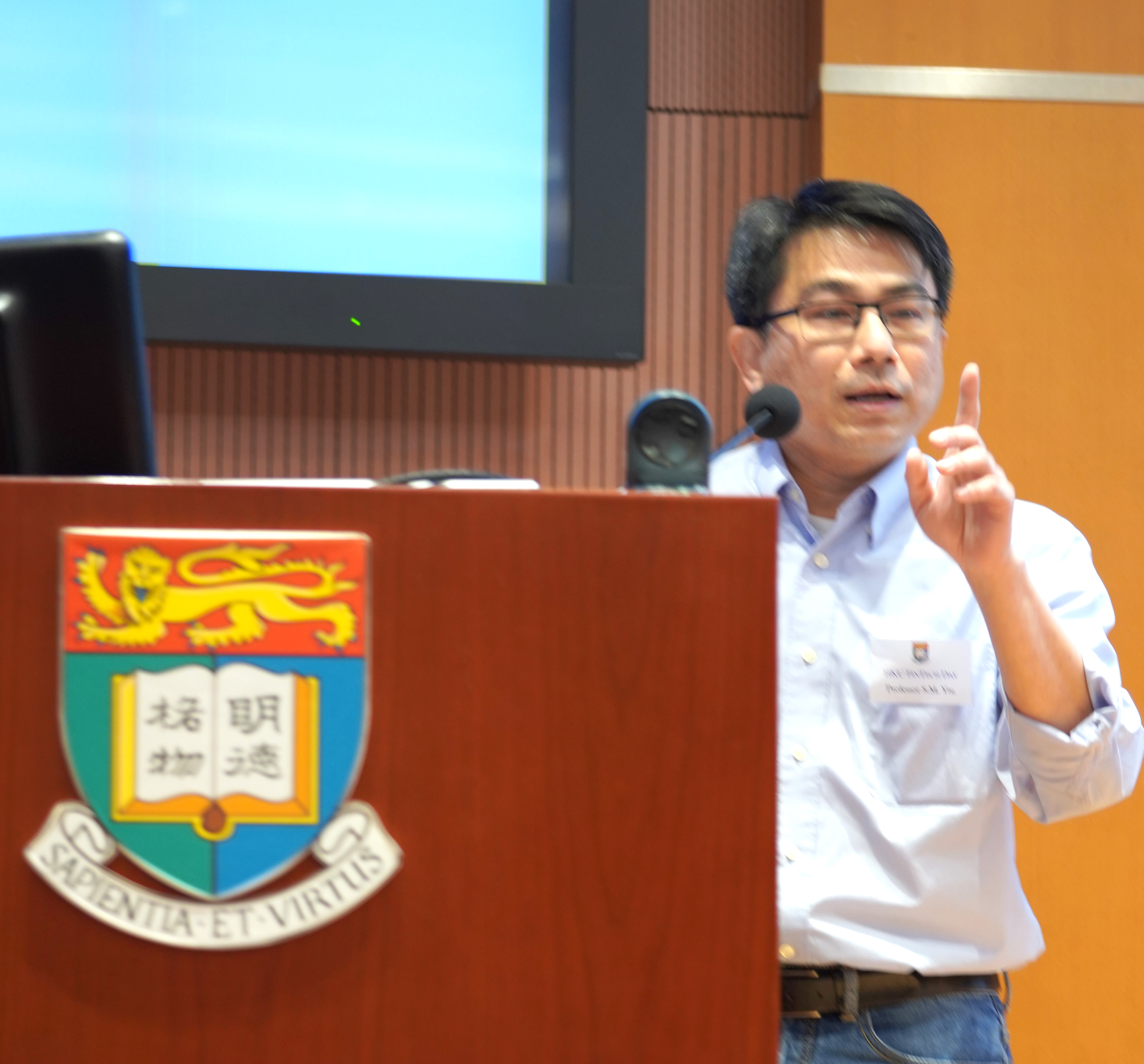 Q1: Blockchain = bitcoin (or cyber currencies)
Q2: A cyber currency exchange is necessary for blockchain to work correctly
Q3: What is the role of each cryptographic operation (e.g. hash)?
Q4: Why we want to chain the transactions together?
Q5: Who are miners and why we need miners?
Q6: Blockchain is very secure and can 100% protect your privacy?
Q7: Given an application, judge if it is best-fit for blockchain?
Q8: Do you know how bitcoin is used by criminals (the "evil" side)?
Q9: The differences between different blockchain platforms?
If you do not know the answers to any of the questions, you will find the answers in the 6 modules of the Blockchain and FinTech MOOC. You will also learn about blockchain design and architecture, industrial applications, as well as the new opportunities, security issues, and illegal activities.
Module 1: Blockchain Technology: Why, What and How
– Why we need blockchain and design issues: security, privacy, integrity
Module 2: Technological & Cryptographic Elements in Blockchain
– Introduce the technical components (suitable for layman)
Module 3: Blockchain Platforms
– The pros and cons of these platforms
Module 4: Blockchain Applications
– Characteristics of best-fit applications in the real case studies
Module 5: Limitations of Blockchain
– Uncover the limitations of blockchain
Module 6: The "Evil" Sides of Blockchain
– Examples of how criminals use blockchain in illegal activities
The short video of Dr SM Yiu's introduction of the new MOOC
Course trailer also available on Uvision
What is this course about?
| | | |
| --- | --- | --- |
| Week 1 Teaser | Week 2 Teaser | Week 3 Teaser |
| Week 4 Teaser | Week 5 Teaser | Week 6 Teaser |
What was it like being a dinosaur? Where did they live? Who did they live with? Were things anything like they are today? How do we even know all this?
Find out the answers to these questions and more in our upcoming Massive Open Online Course (MOOC) on Dinosaur Ecosystems! Starting from February 8th 2017, Dr. Michael Pittman of the University of Hong Kong's Department of Earth Sciences, together with Professor Xu Xing of the Institute of Vertebrate Paleontology and Paleoanthropology (Chinese Academy of Sciences), will lead you on an expedition to the Gobi desert to unveil a famous ancient ecosystem!
In this course, we will take you to Erlian, Inner Mongolia, and leading museums and institutions to explore:
dinosaur biology
how palaeontologists reconstruct ancient ecosystems using fossil and modern evidence
the traits and significance of a Late Cretaceous dinosaur ecosystem.
—-
Our milestones
Dinosaur Ecosystems is the first MOOC on dinosaur in Asia; also the first MOOC offered by our Faculty of Science. It is the first time that we send crew members to the desert and world-renowned museums to film. Our course was also featured on the edX homepage, edx newsletter and various media reports and the HKU Convocation Newsletter Summer 2016 (Pg 15, MOOC in the spotlight: Introduction to Dinosaur Ecosystems).


Our course featured on the edX homepage!
List of media reports:
—-
A Roaring Start
With the collaborative efforts from multiple parties, our course had a roaring start. The enrollment number jumped from 2,000 to 3,000 two days before launch, and even doubled on the next day. By the end of the course (as at March 27th), we had 8,996 learners from over 100 countries!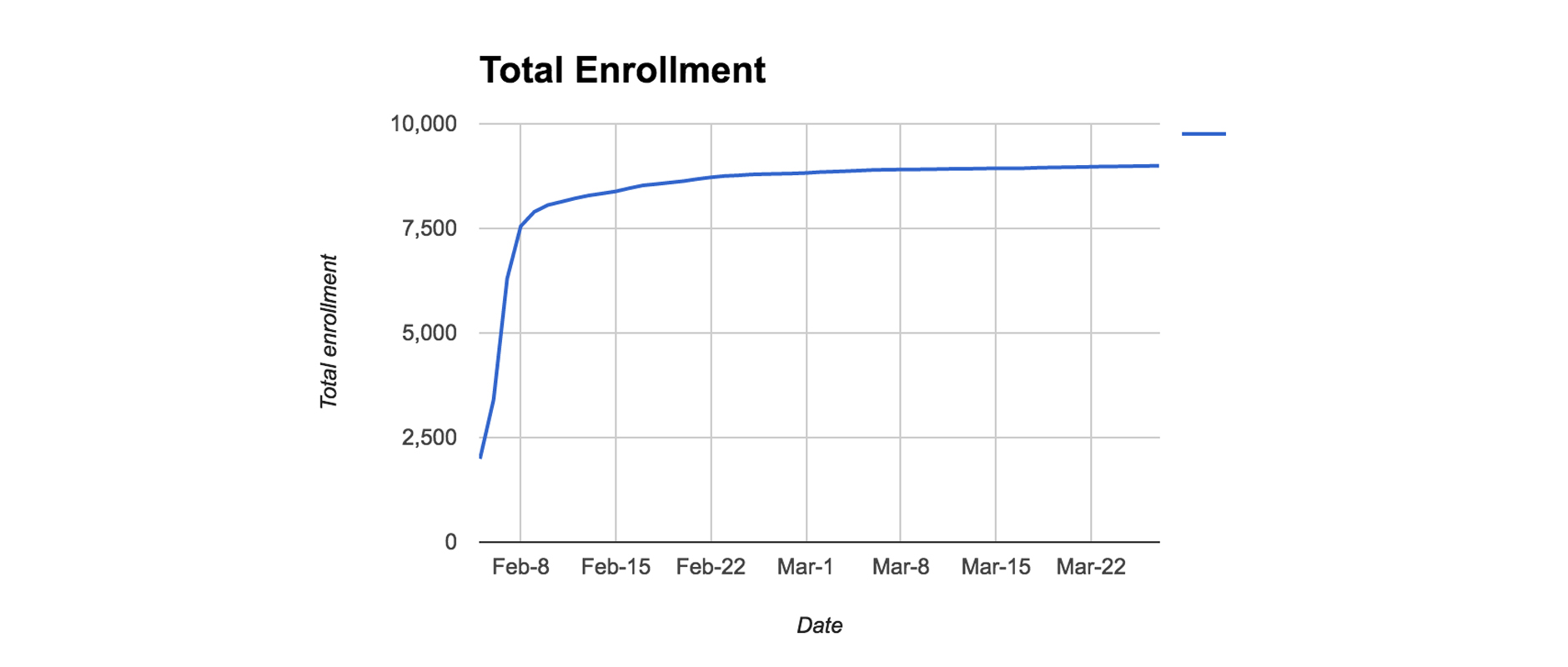 Learners' Comments
Check out what our learners said about our course: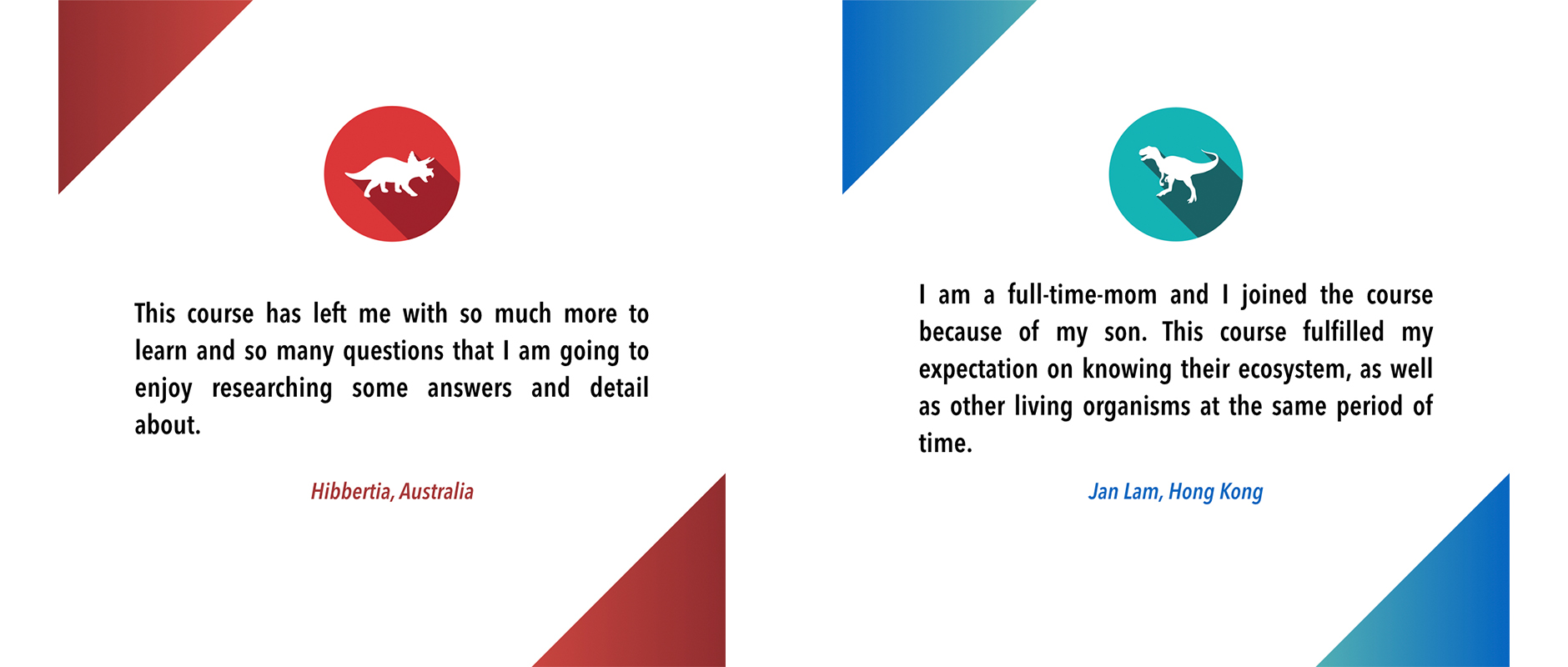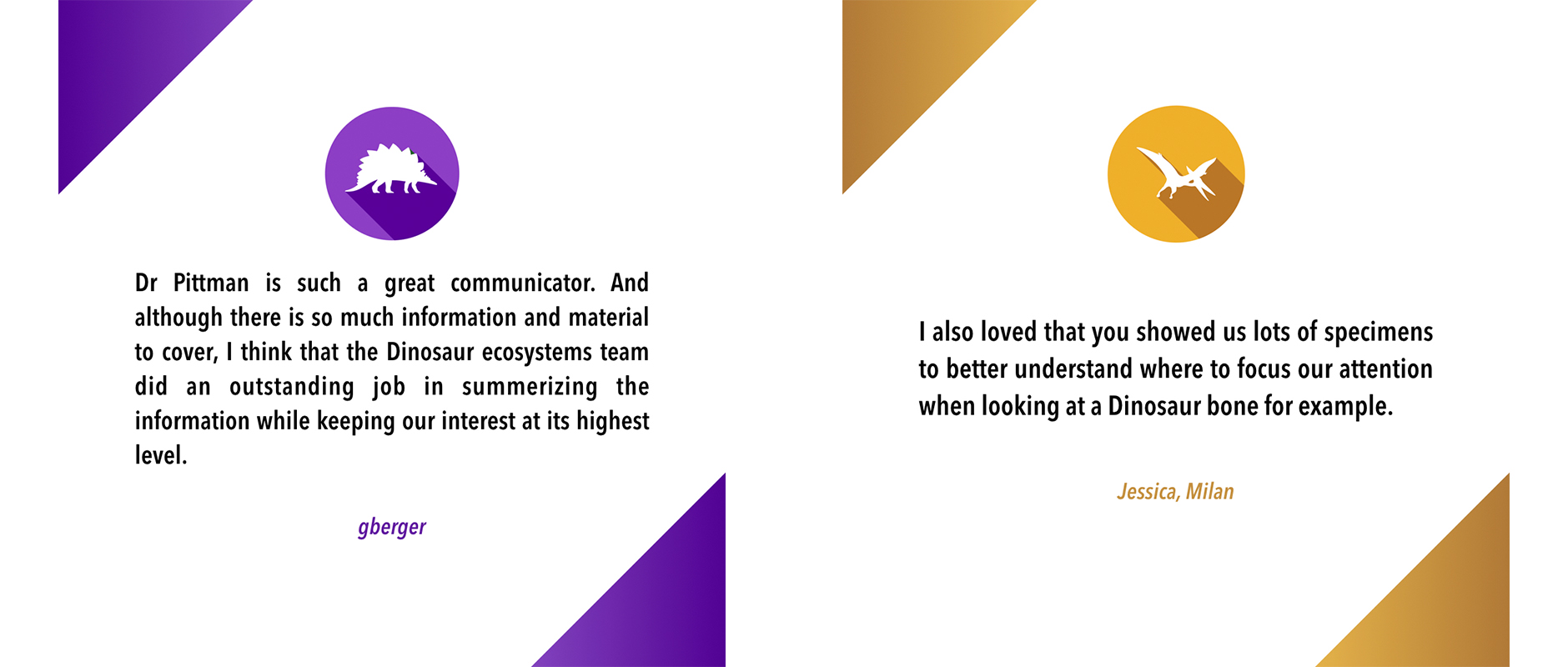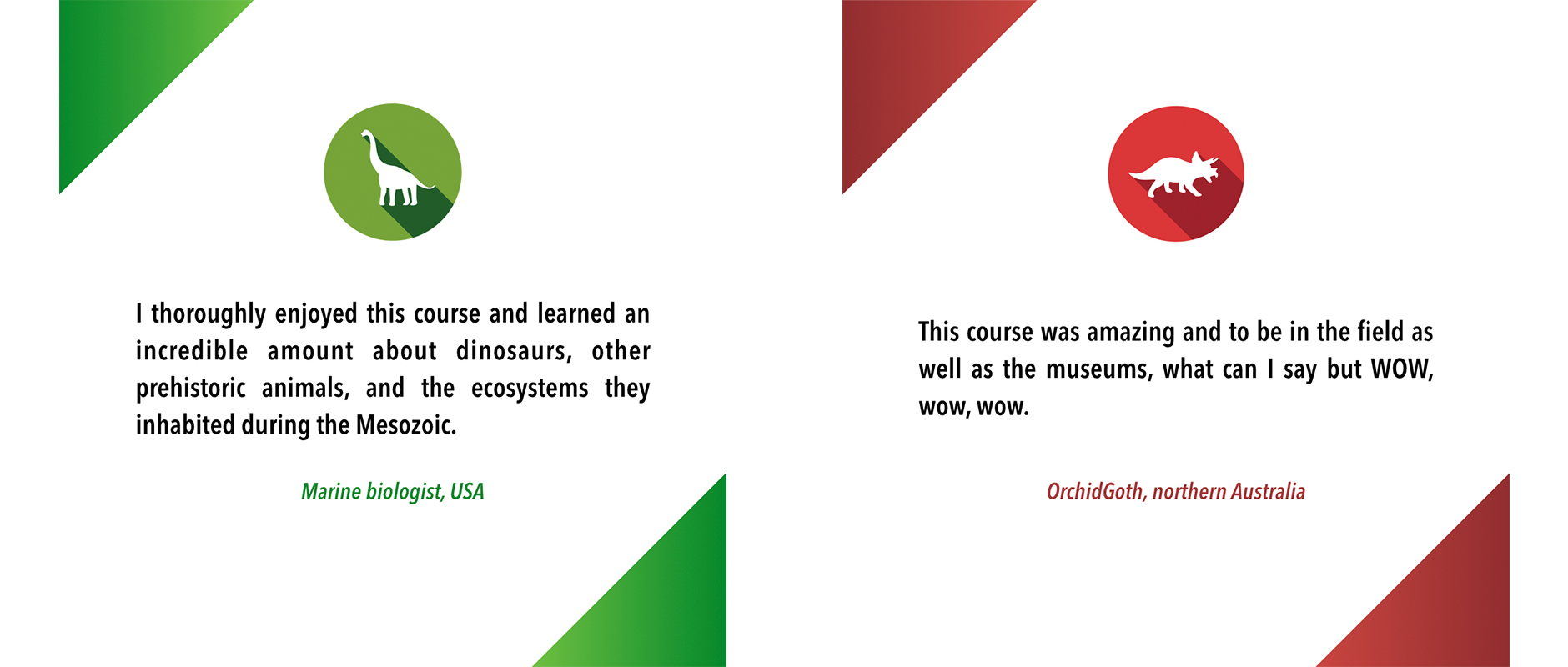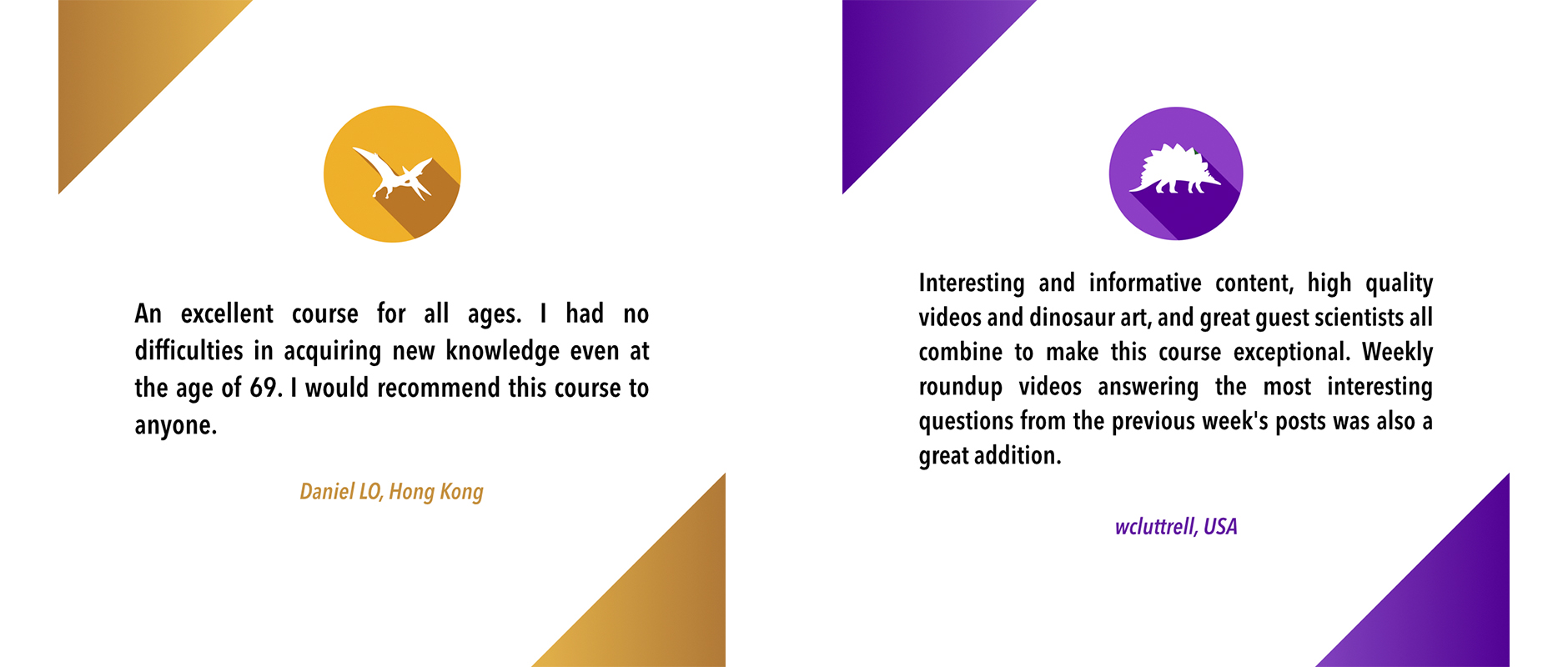 —-
Sharing Knowledge, Sharing Joy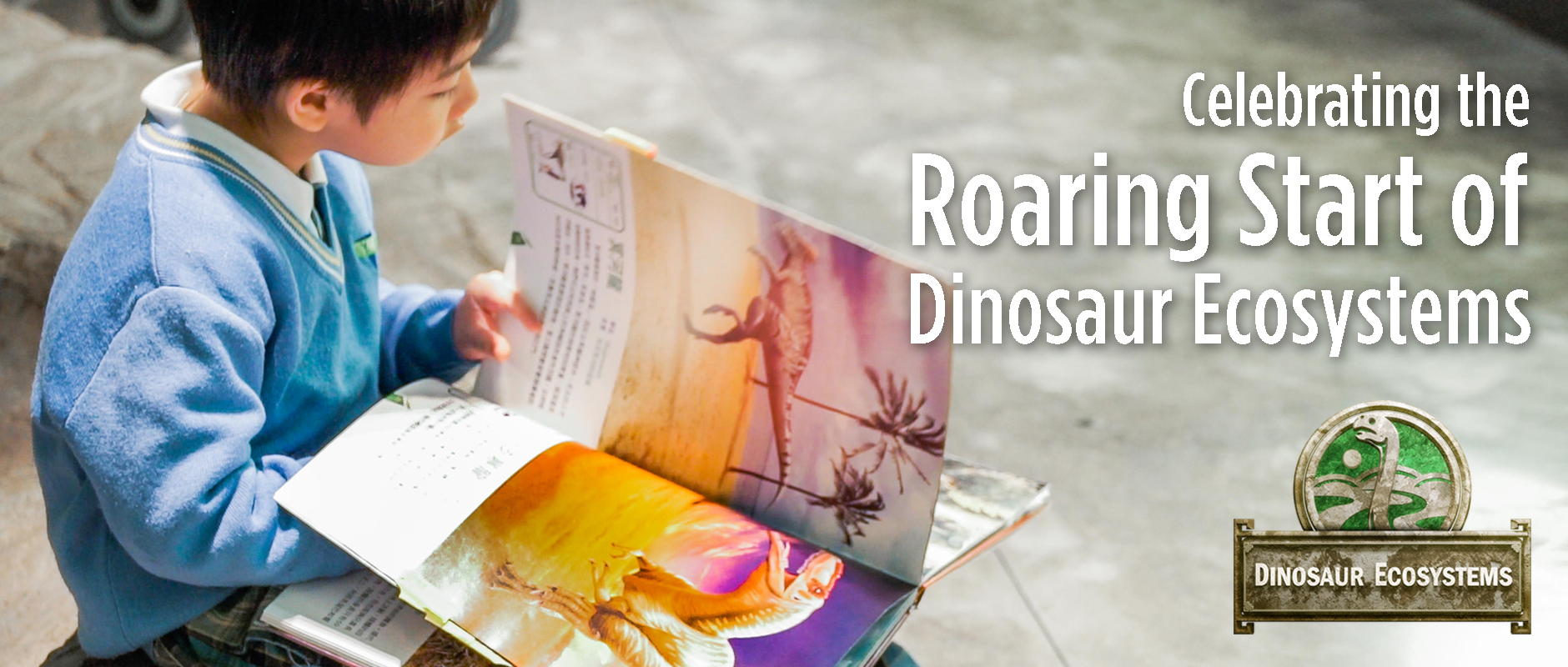 To celebrate the joyful success of our course, Dr. Pittman hosted a party on February 8th, 2017 with almost 50 HKU colleagues and members of the general public at Stephen Hui Geological Museum. More details here.
A fun drawing competition titled "The Year of the Dinosaur" was also organized to engage dinosaur lovers in the community. The following is a selection of fun dinosaur-themed Chinese New Year scenes designed by creative young minds: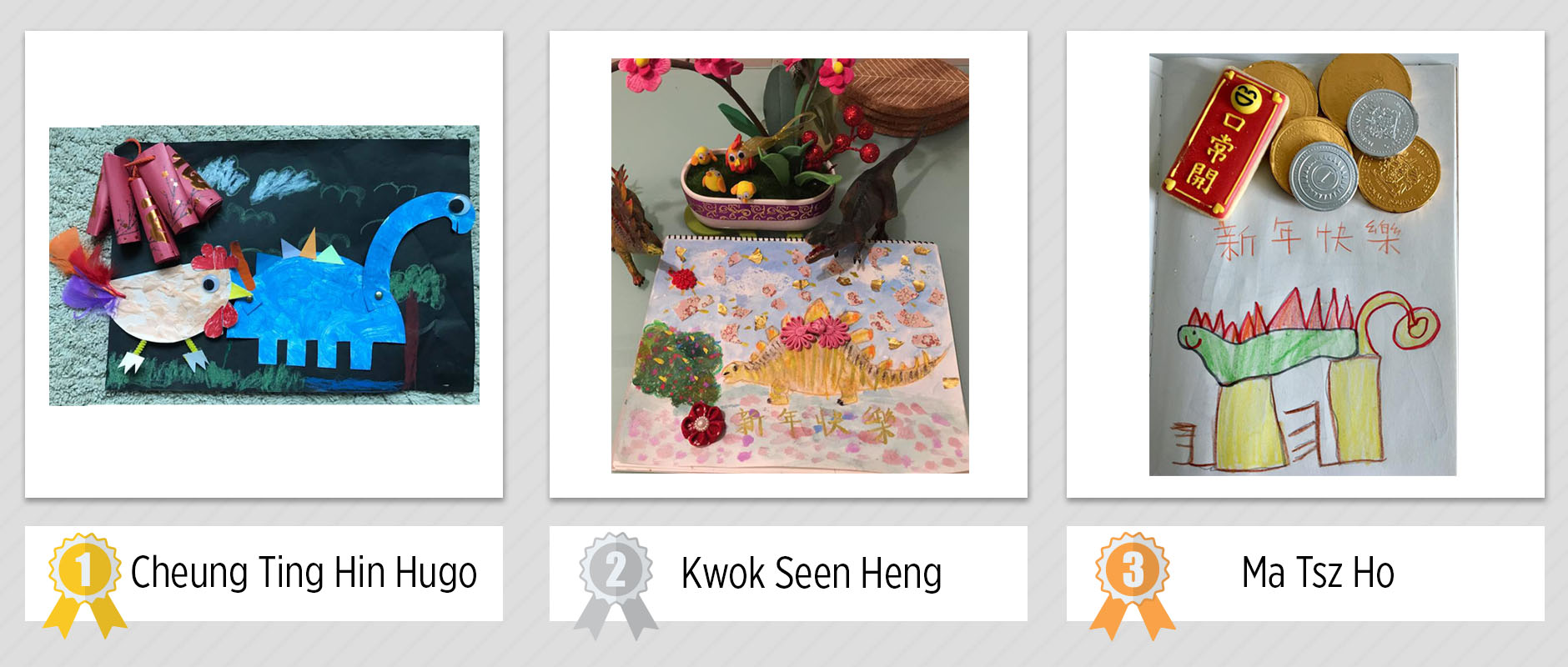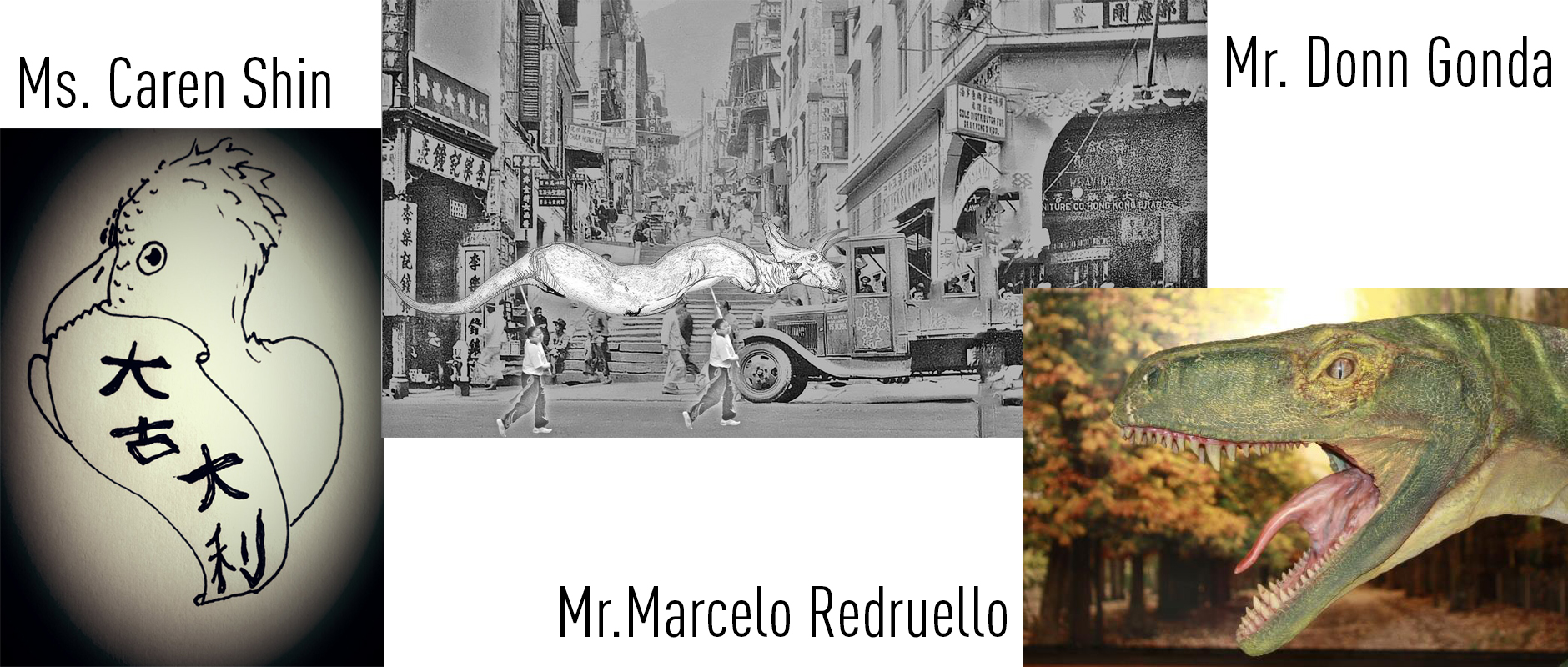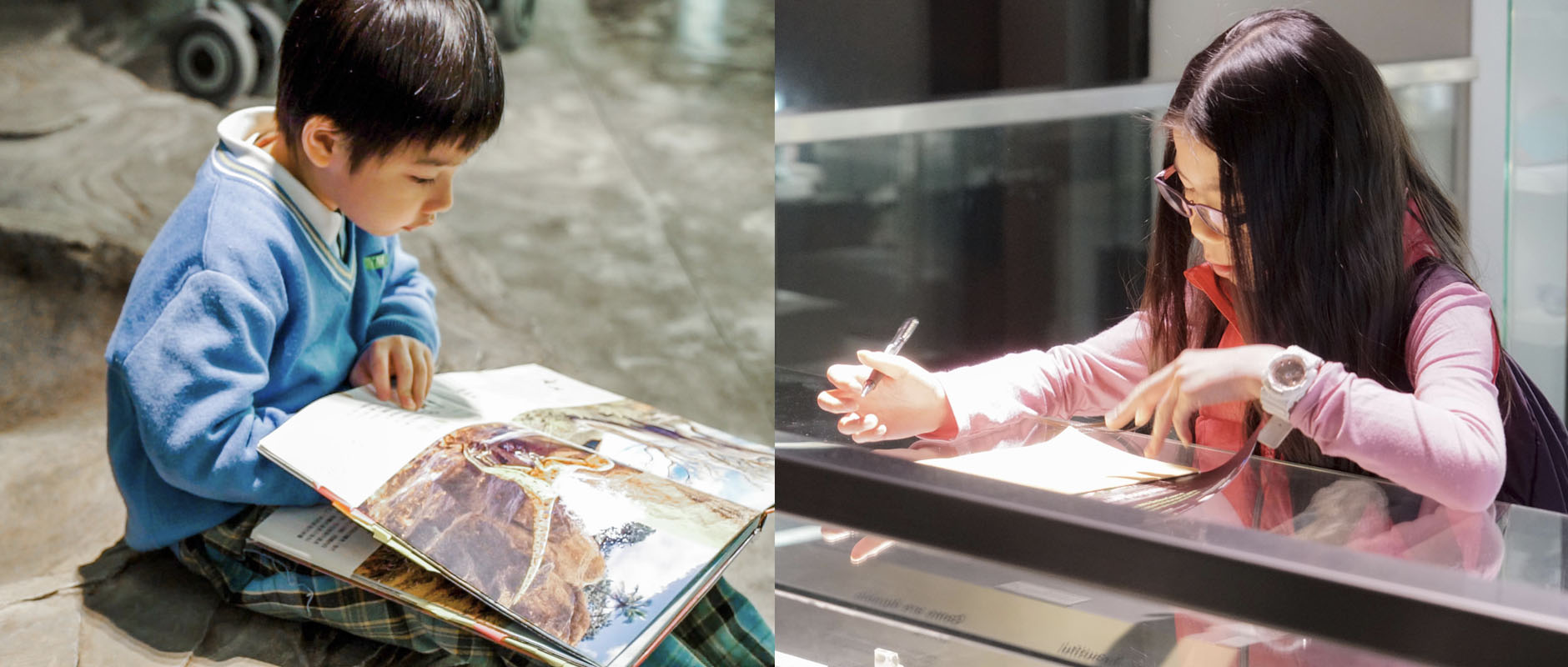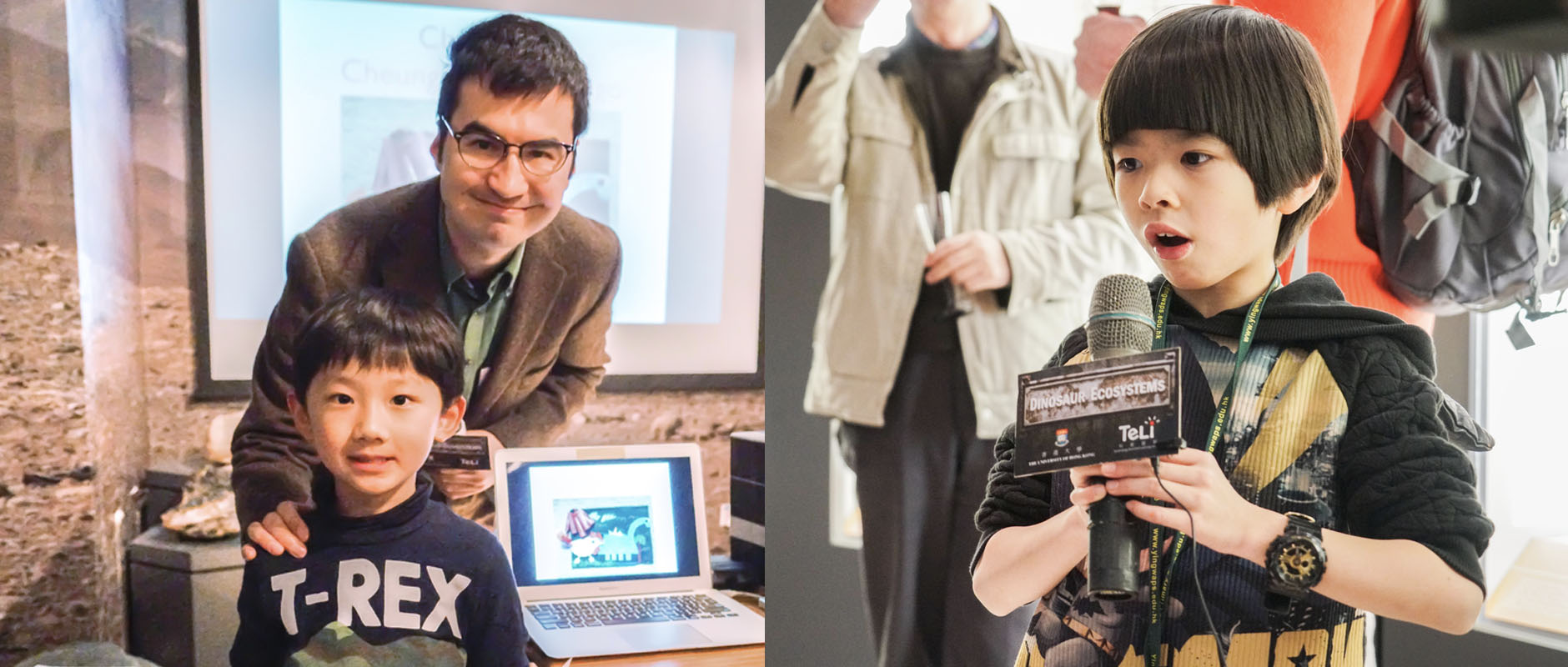 —-
Dinosaur Ecosystems @ Hong Kong Science Museum
To promote the course, we had set up, for the first time, a booth in the T. rex exhibition in Hong Kong Science Museum.
"T-Rex Revealed – The Augmented + Virtual Reality Experience" was a recent exhibition where you could interact with dinosaurs with Augmented Reality (AR) and Virtual Reality (VR) technologies. Our course instructor, Dr. Michael Pittman, was the advisor of the exhibition.
Dr. Pittman also brought along souvenirs of our course to Science Alive 2017 on March 4th and 5th at the Science Museum. He gave a lecture on "Dinosaur Appearance: New Discoveries" and set up an exhibition counter introducing his research and our MOOC to the general public.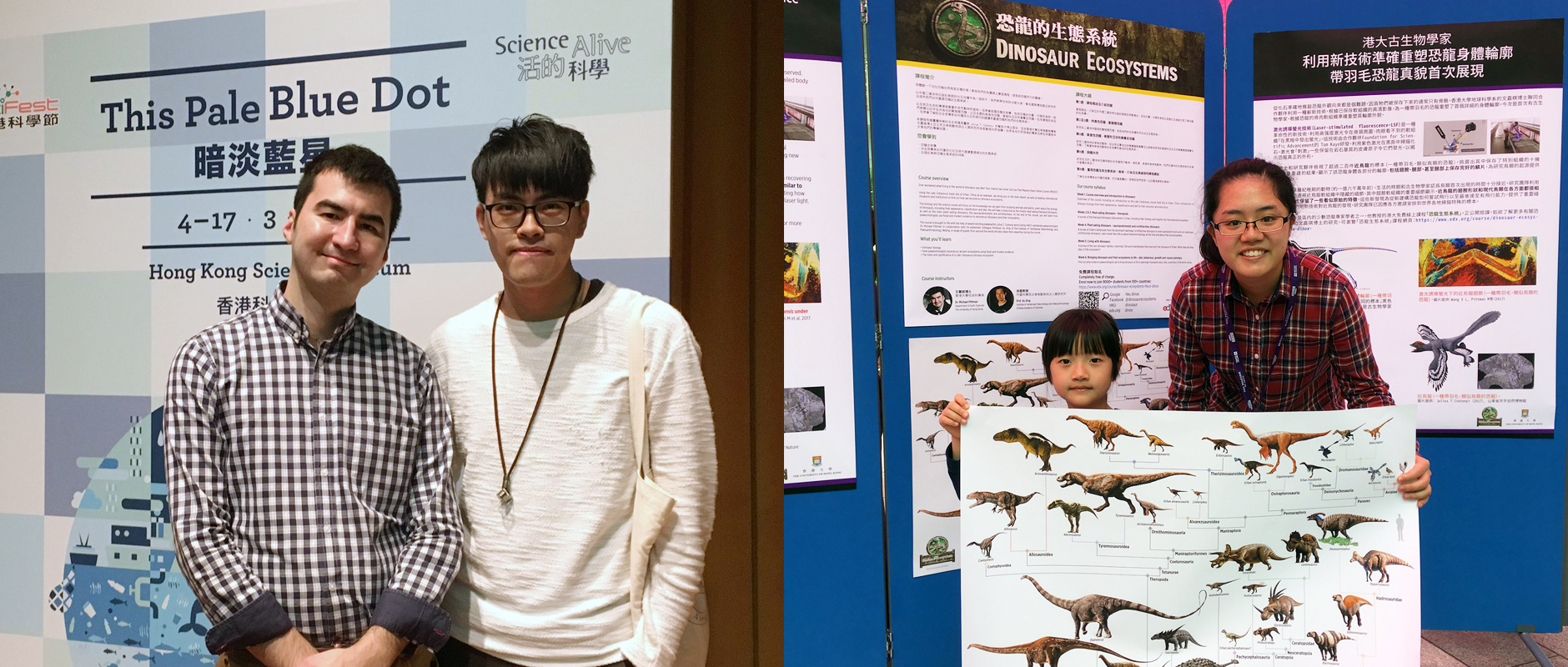 Left: One of our learners, Jason, travelled all the way from Macau (a 2 hour roundtrip) to meet Dr. Pittman!
Right: It was a delight to know that our young learners love our course poster!
For more photos, check out our Facebook photo album!
—-
New Discoveries: Reconstructing Dinosaurs with Lasers
These few months had been a busy time for Dr. Pittman, who had to simultaneously teach a huge class online and work on his research. In February 2017, he "and his collaborators reconstructed the first highly detailed body outline of a feathered dinosaur based on high-definition images of its preserved soft tissues". This important science discovery was published in Nature Communications and featured in various media outlets such as National Geographic and BBC News.
Dr. Pittman shared his discoveries in a press conference on March 1st, 2017.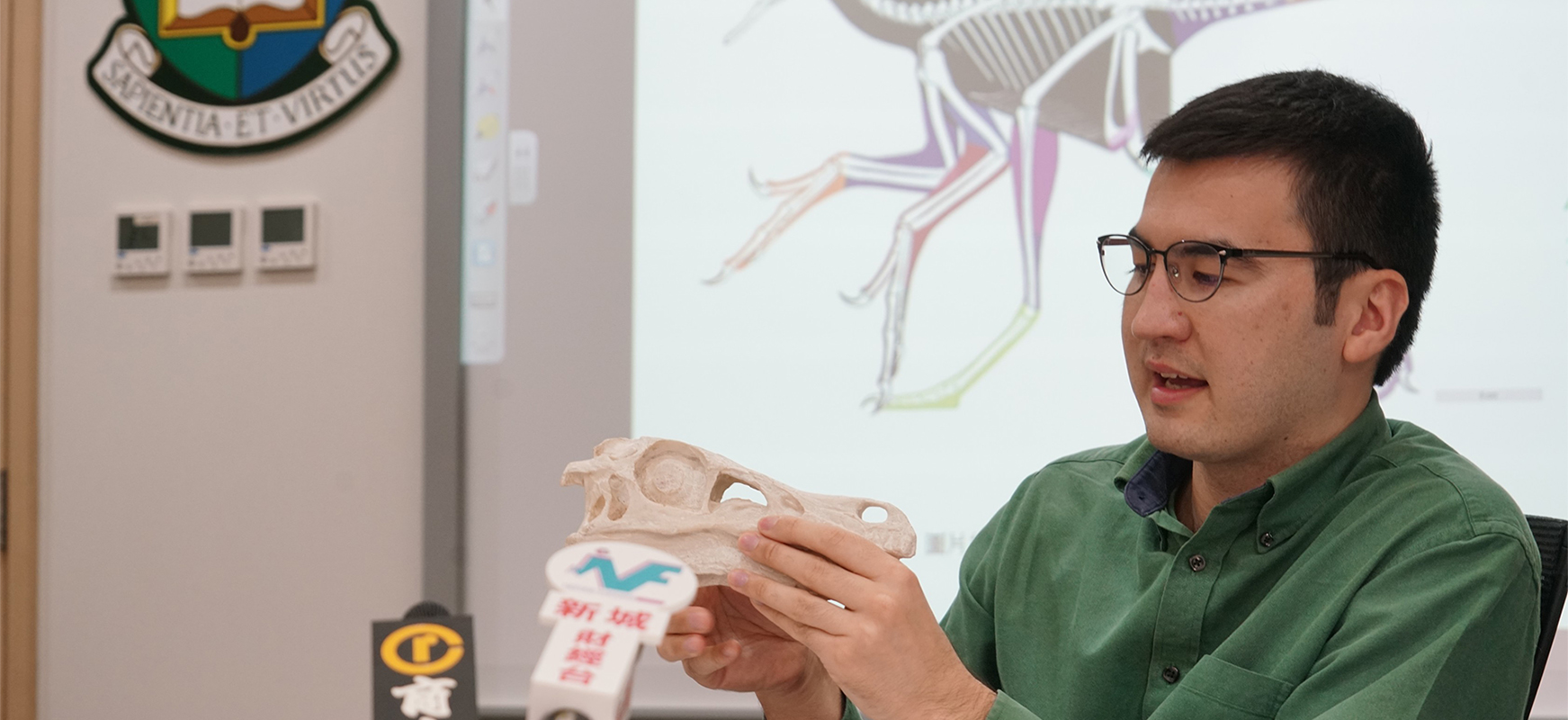 His discoveries were featured in the following websites:
—-
Dinosaurs on TV!
Dr. Pittman and his 3D dinosaur model even made it to TVB's Big Boys Club (兄弟幫) in April! In the two episodes titled "Unveiling the Secrets of Dinosaurs" (Part 1, Part 2), he shared fun facts about dinosaurs, his archeological experiences and how he uses lasers to reconstruct dinosaurs from fossils. In the latest episode titled "Precious Dinosaur Fossils", he brought along dinosaur eggs and teeth fossils and explained how fossils were formed.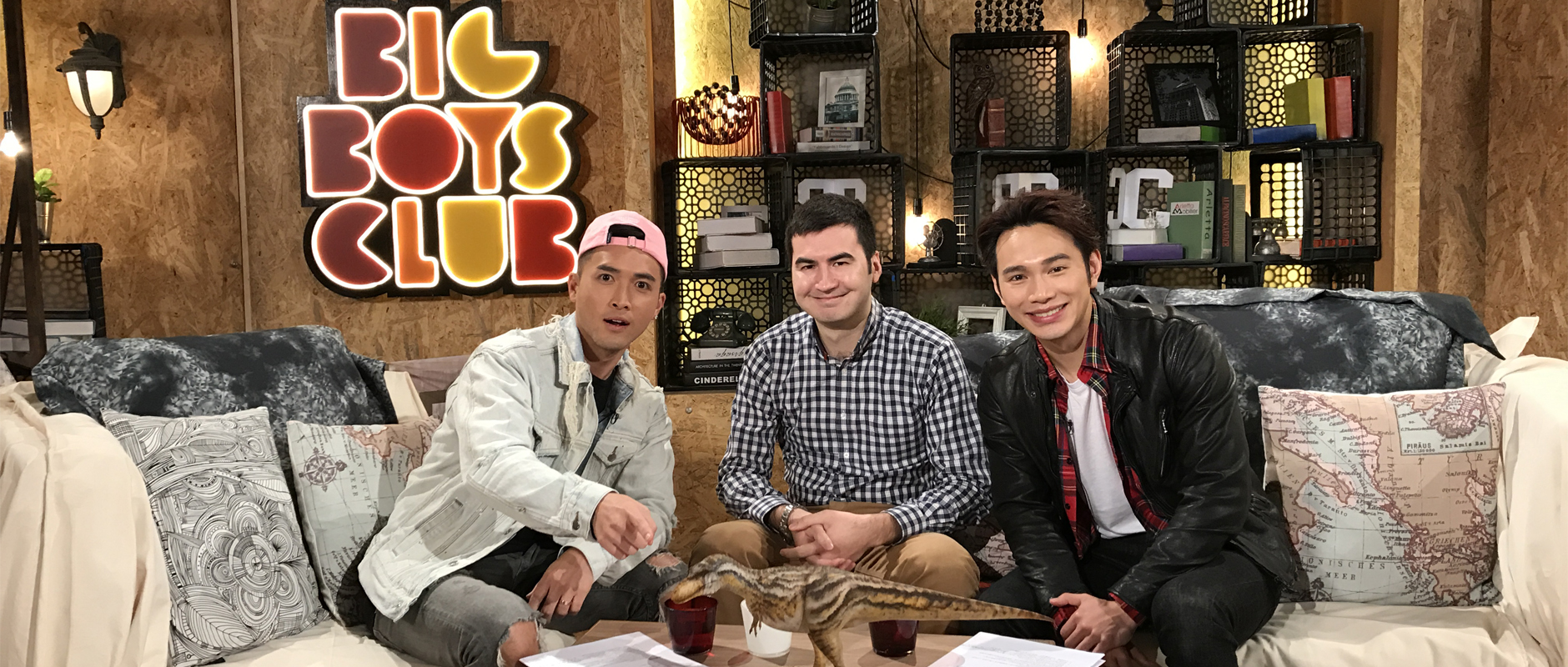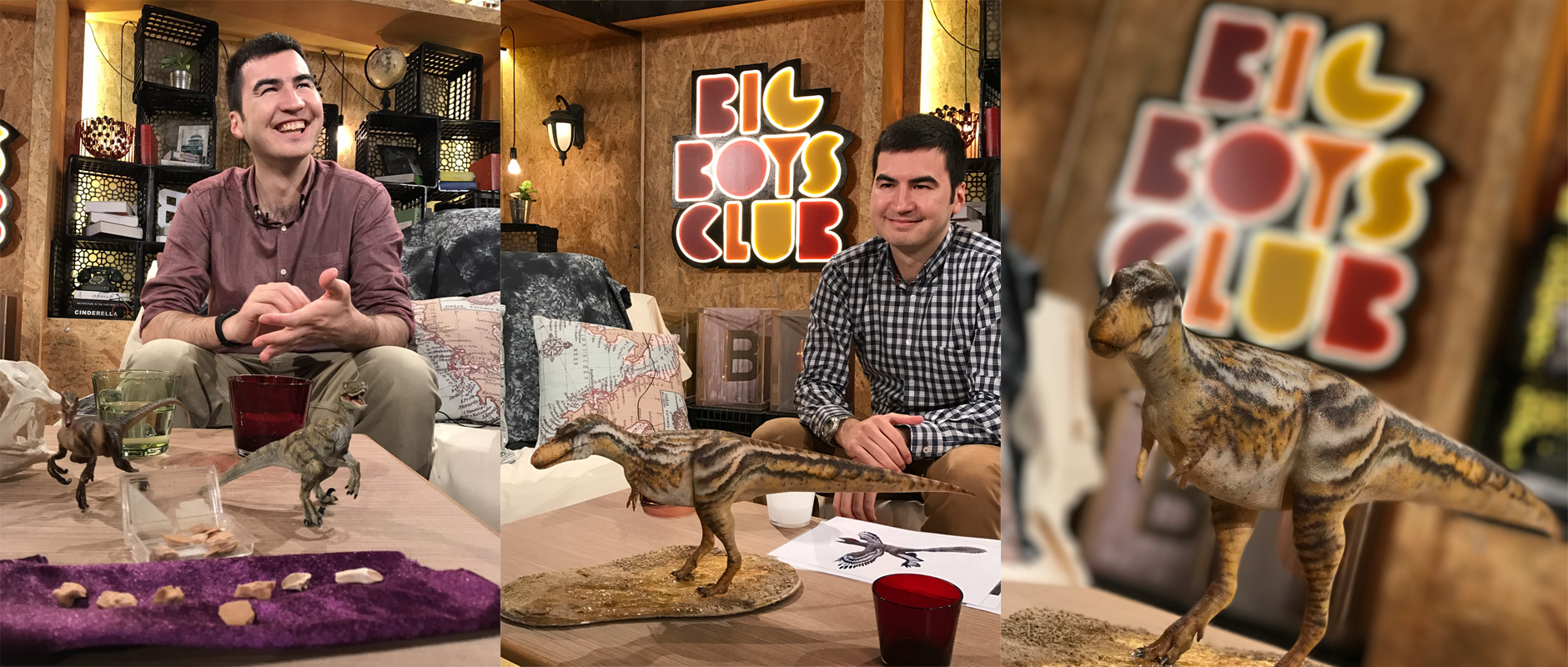 —-
Interested to learn more?
Check out this interview of Dr. Pittman where he explained the importance of studying dinosaurs and producing this course.
Don't forget to take a glimpse into the artistic process of crafting the MOOC.
This course is just the beginning of our exploration of dinosaurs. Stay in touch with us through our Facebook and Twitter!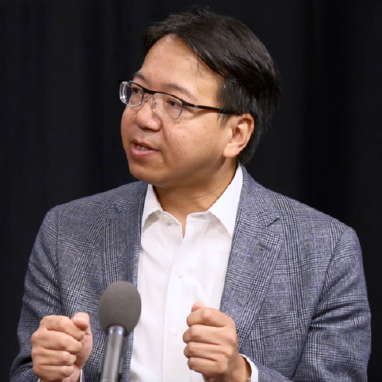 "It's very important, through the traditional curriculum to emphasise the importance of technology, not just because it is important for everybody to learn about programming, but to me, it's more about understanding the roles of technology, and where the technologies are the basic principles, and where they can be applied," Charles Mok
It was our pleasure to have Hon Charles Mok, Legislative Councillor for the IT sector to share his views on building ecosystems and nurturing talent in FinTech at TELI-vision with Professor Douglas Arner and Professor Ricky Kwok.
---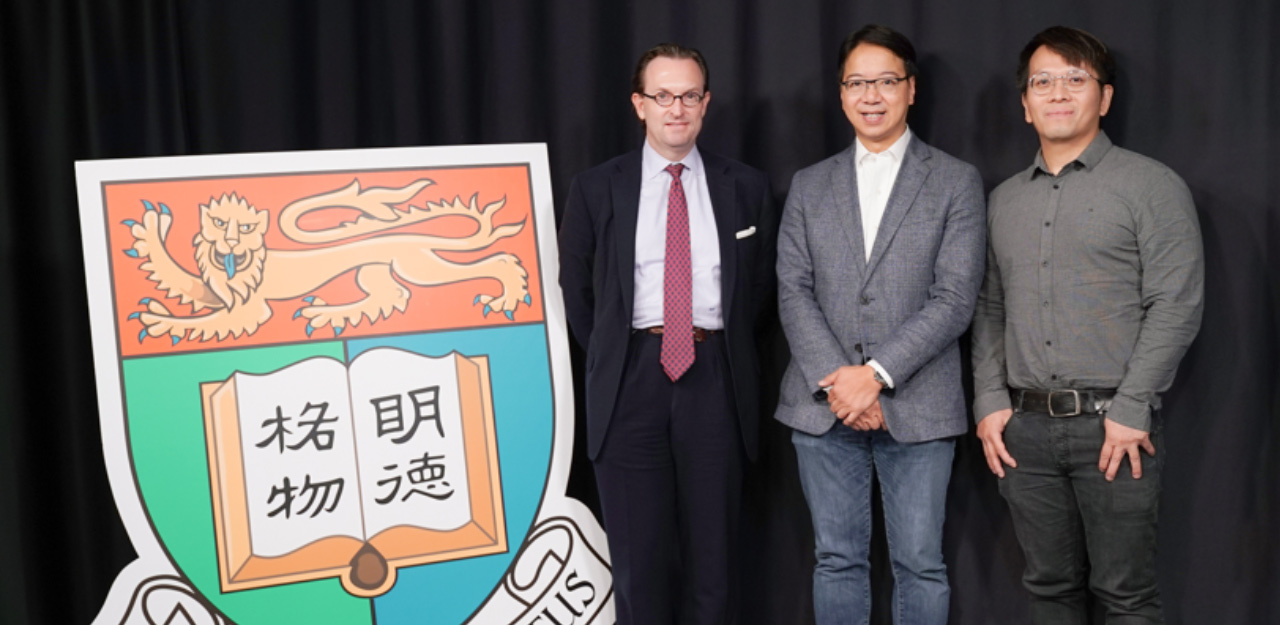 Be equipped with a broad spectrum of skills
In FinTech, technologies and the market change at a very fast pace. According to Charles, to meet the continuous transformation of the "Tech" and the "Fin", those in the industry as well as those aspire to be part of FinTech and related industries must be equipped with a broad spectrum of skills and knowledge to bridge between different interrelated disciplinary areas including finance, technology, law, data science, computer science and psychology, etc.
"Let's say if somebody is interested in the future of leveraging technology in various different areas – AI, financial services or even other areas, you need skill that is not just in finance, not just in computer science; but also in areas such as statistics obviously for big data for data analytics; in sales, psychology is actually very important, and many of the social sciences and so on."
"Because of the interlocking, interrelated industries and applications in FinTech, we are seeing many of the same kind and same magnitude of changes in different particular areas of our living", Charles suggested. "The pressure for professionals to upgrade themselves to keep up with all these developments is tremendous and is going to be increasing. I think young and new professionals have to get themselves ready using either their own time to take courses, including online courses."
Be international and interdisciplinary
Taking online courses is one way to broaden student's horizon and gain exposure to ideas and views from other countries through the digital media. Charles observed that, "it's a good sign that young people today are taking global courses and not just courses in our own economy", he iterated that one needs to be more international and global.
The role of universities today, in addition to providing interdisciplinary and international education to our next generation of university graduates, is to help develop digital literate citizens through integration of technology in university education. "It's very important, through the traditional curriculum to emphasise the importance of technology, not just because it is important for everybody to learn about programming, but to me, it's more about understanding the roles of technologies, and where the technologies are the basic principles, and where they can be applied," Charles suggested.
On one hand, universities bear the responsibilities to nurture future talents, on the other hand, it is also part of its mandate to educate the public and raise awareness of the needs to equip oneself with some kind of technological background.
The challenge in attracting talents
In Hong Kong, we have many bright and high achieving students, but why are univerisities not attracting many top students in science and engineering disciplines in recent years compared to decades ago?
Charles pointed out that, "we saw in the last 30 plus years, Hong Kong has transformed from a manufacturing economy to a service economy, especially including financial services. That particular transformation has turned Hong Kong into one of the world's top financial services centres, but at the same time it also led to our industry and our people overly focused on some of the shorter term gains."
This trend is not entirely local, and in order to break the vicious cycle, we must first change the mindset of the mainstream society. Charles remarked that, "in this environment, it had been quite difficult for the industry, for us to attract, to incentivize the industries to let's say, invest more in longer term endeavours, R&D and so on."
No matter what, people are the most important assets. "I think for us to try to attract people to come back into technology in Hong Kong or other economies, we have to be able to create the good jobs that pay well, give them opportunities for a career growth," Charles suggested.
There is no easy way in terms of how to build an ecosoystem and nurture FinTech talents, and it continues to be a challenge with roles for everyone from universities to students, government, industries and the general public.
---
To learn more about the FinTech discussion at TELI-vision from our special guest Charles Mok with Professor Doulgas Arner and Professor Ricky Kwok, please click the following links to view the videos.
The Role of Universities in FinTech and Online Education (Part 1)
The Role of Universities in FinTech and Online Education (Part 2)
Coming soon
• Research and Development (R&D) and Interactions with Industries
• FinTech Opportunities in HK – Regulatory Sandboxes and New Trends
• The FinTech Landscape in China – What's Next?