(This is an event co-organized by Technology-Enriched Learning Initiative and Faculty of Law.)
Live Streaming
Details of the event:
Date : 20 September 2018 (Thursday)
Time : 9:30am to 1:00pm
Venue : Academic Conference Room, 11/F Cheng Yu Tung Tower, Centennial Campus, HKU
(A LIVE streaming room (CCT-7.24-CCT-7.25) will be open when the main venue is full.)
Abstract
Issues around feedback, both formative and summative, require meticulous pedagogical considerations. While it is widely agreed that feedback should advance learning, as opposed to merely explaining and justifying grades, the reality does not always reflect such aspiration. Reasons may vary from ineffective feedback format and mechanism, delayed feedback with little or no relevance to further learning, lack of student engagement in the feedback, or sometimes feedback inconsistent with assessment and learning outcomes. Moreover, there is also such concern of too much feedback, creating teacher-dependent learners and learning style. In this symposium, speakers across different faculties and disciplines will share their experiences in addressing feedback issues with pedagogical strategies and technologies.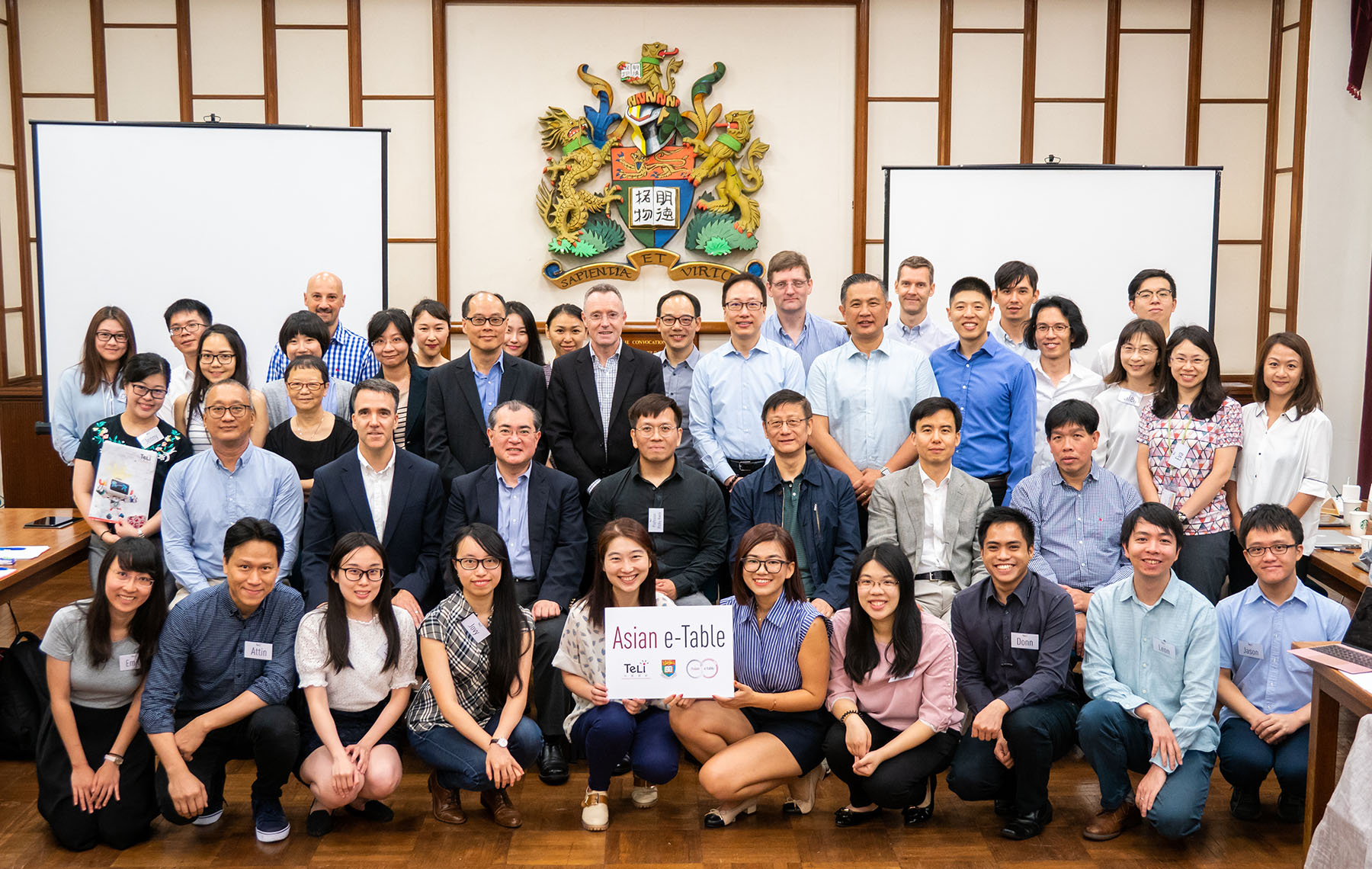 Aspiring to create a platform for inter-institutional collaborations among Asia's top universities, we welcomed our e-learning partners from Asia's top universities in the fourth annual Asian e-Table to exchange educational insights. This event is one of our major initiatives in realizing HKU's 3+1 I's vision – Internationalization, Innovation, Interdisciplinary and Impact.
This year, we are honoured to be joined by guests from the following Asian institutions:
Hong Kong University of Science and Technology
Kyoto University
National Taiwan University
National University of Singapore
Peking University
The Chinese University of Hong Kong
The Hong Kong Polytechnic University
The University of Hong Kong
University of Macau
Yonsei University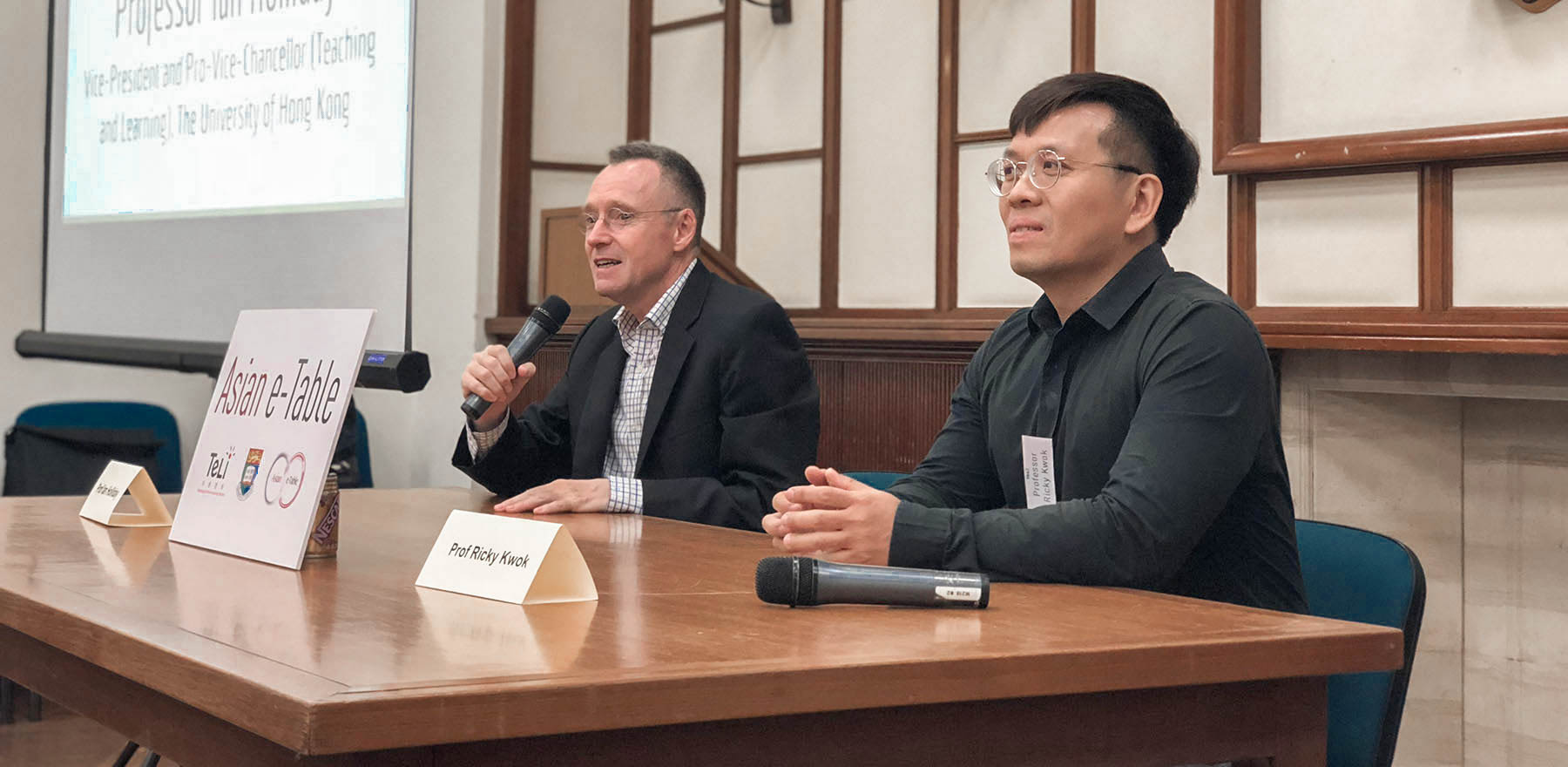 Professor Ian Holliday and Professor Ricky Kwok welcomed our e-learning partners from Asia's top universities in the fourth annual Asian e-Table.
In the interactive discussion sessions, our guests shared pedagogical innovations, teaching practices as well as frontier e-learning tools used to enrich teaching and learning. Some of the topics discussed included:
Addressing the needs of students: Flipped classroom and e-learning's role
Addressing emerging trends: MOOCs and campaigns
Addressing emerging lifestyle of learners: The role of e-learning apps, platforms, tools
Collaborations: Responsive Content Sharing
The Big Ideas of each institution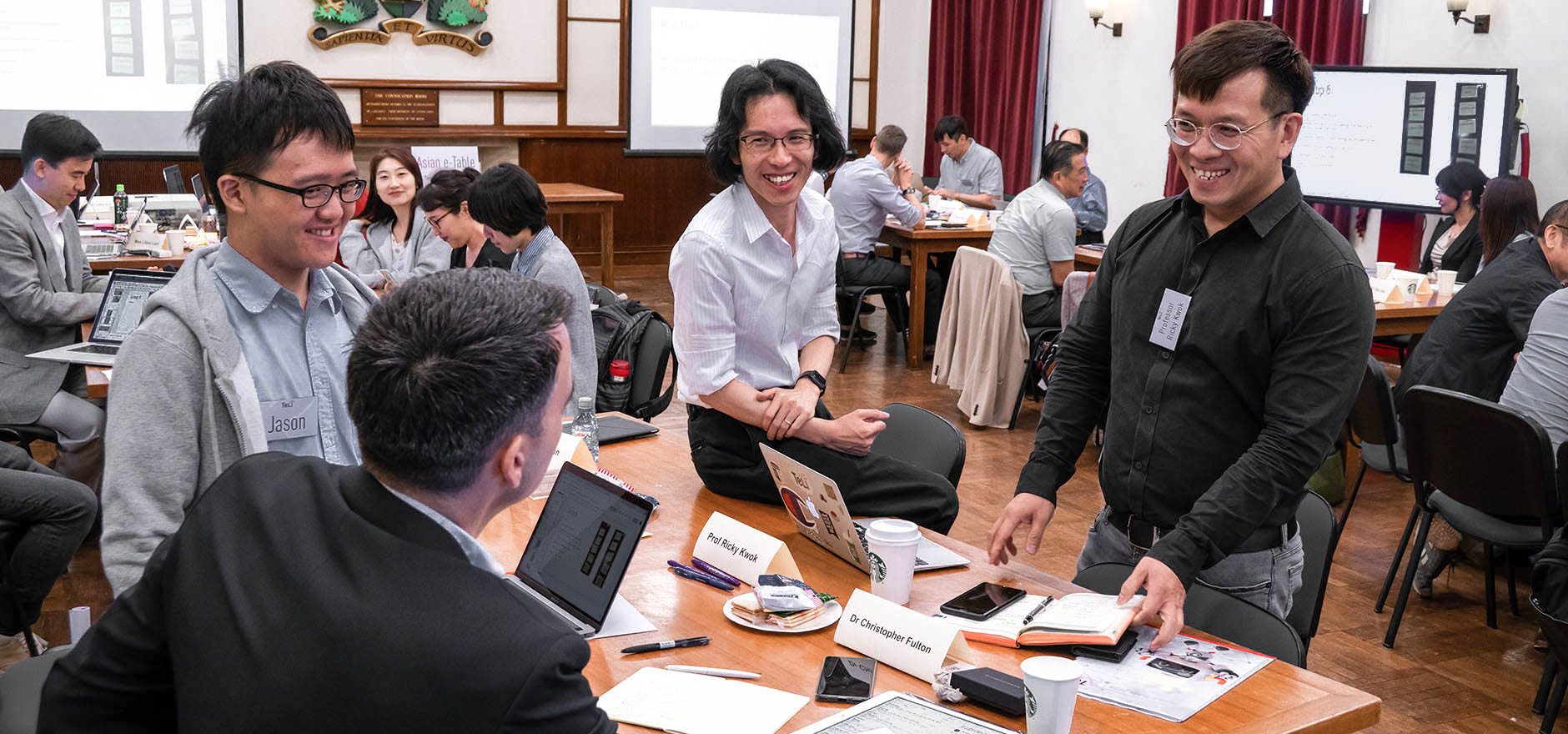 Exploring e-learning apps, platforms and tools together.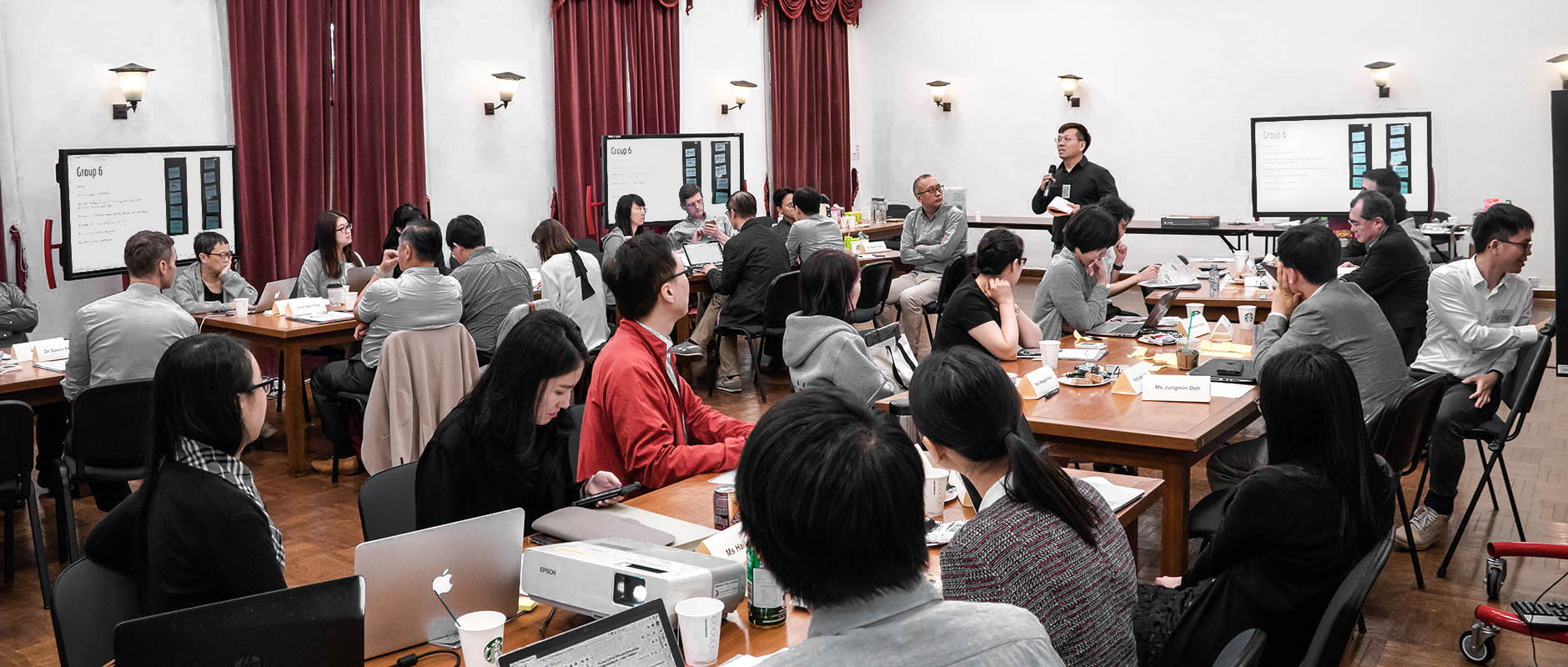 Addressing emerging trends: MOOCs and campaigns.
It was a great opportunity for educators to reflect on past experience, spark new ideas, conceive inter-institutional collaborations and plan for the future of Asia's higher education.
Interested in collaborating with us? Contact us!

Trailer and sneak previews
---
About this course
This course is about architecture. But it's not about grand structures such as monuments or royal palaces. Rather, it is about the built environment that the ordinary people live in. Instead of the architectural techniques, we use stories to understand the processes through which people make their building decisions.
We use Asia as the backdrop for the discussion of these topics. Partly because of Asia's rich heritage and diversity, but also due to the unique complexity that the people in the region face as they go through rapid economic, social, and cultural changes.
In this examination of the connection between vernacular buildings and peoples' cultural identities, we will review real-world examples and talk to experts in the field. At the end of this course, you will gain a unique perspective about the everyday environment that you live in – one perhaps that you've never had before. You will begin to understand and appreciate the value of the ordinary built environment around you.
Whether you are an avid architect or you simply just care about the built environment you live in, this course is for you.
What you'll learn
Throughout the course, we will examine a wide range of topics, such as:
what is vernacular architecture
how climate and the availability of building materials influence building decisions
vernacular architecture in rural and urban settings
cultural sustainability and the conservation of the vernacular built environment.

Technology is spinning the world faster everyday in tandem with rising expectations for education quality. It is crucial for educators to keep pace with such evolutions in order to maximize the impact of our work. In his talk "Promoting and Enabling Technology-Enriched Learning: Challenges and Strategies" on May 30th, 2018, Professor Toru Iiyoshi shared his insights on harnessing technology to create a better future for education.
Professor Iiyoshi is the Deputy Vice President for Education, and Director and a professor at the Center for the Promotion of Excellence in Higher Education of Kyoto University. He also serves as Executive Director of KyotoUx.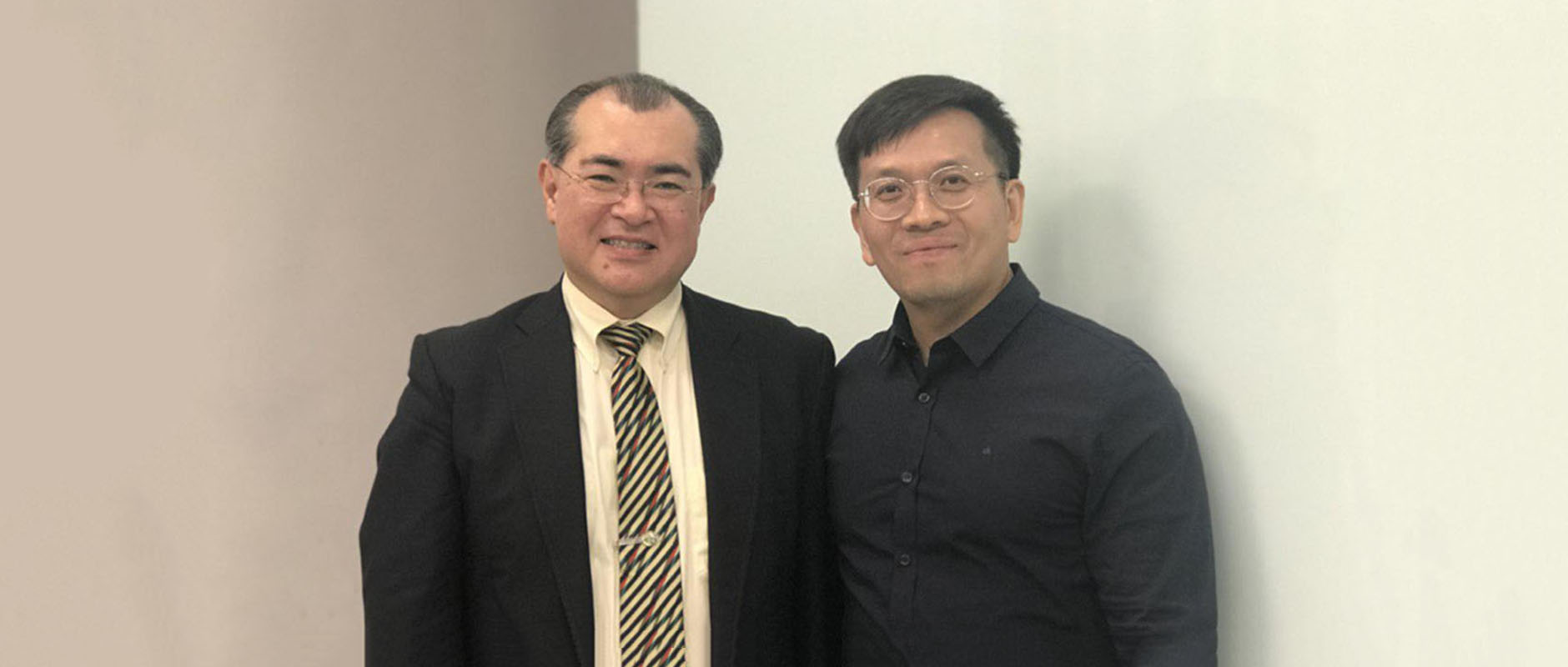 Harnessing technology to improve
Continuously improving education is the key to overcome lethargy. Quoting Professor Iiyoshi, "If we learn today as we learned yesterday, we rob ourselves of tomorrow." With more advanced and user-friendly technology at our disposal, obtaining data to quantify and objectively reflect on our work has become easier. The use of learning analytics to measure, examine and evaluate the effectiveness of teaching and learning can serve as important feedback mechanisms for teachers to review and improve their teaching. Also, institutions can make use of such information to design more effective curricula and manage resources more efficiently.
Educational tools, such as Mentimeter, Google Docs and Kahoot!, can also be employed to engage learners in class, such that they learn more actively and with greater effectiveness. Technology is the tool for educators to harness, enabling educators to create quality time in learners' learning experience, improve the quality of teaching and learning, increase efficiency, and ultimately drive cultural changes. Higher education should become more timely, data-rich, personalized, expandable and extensive, and technological advancements are giving us the means to achieve it.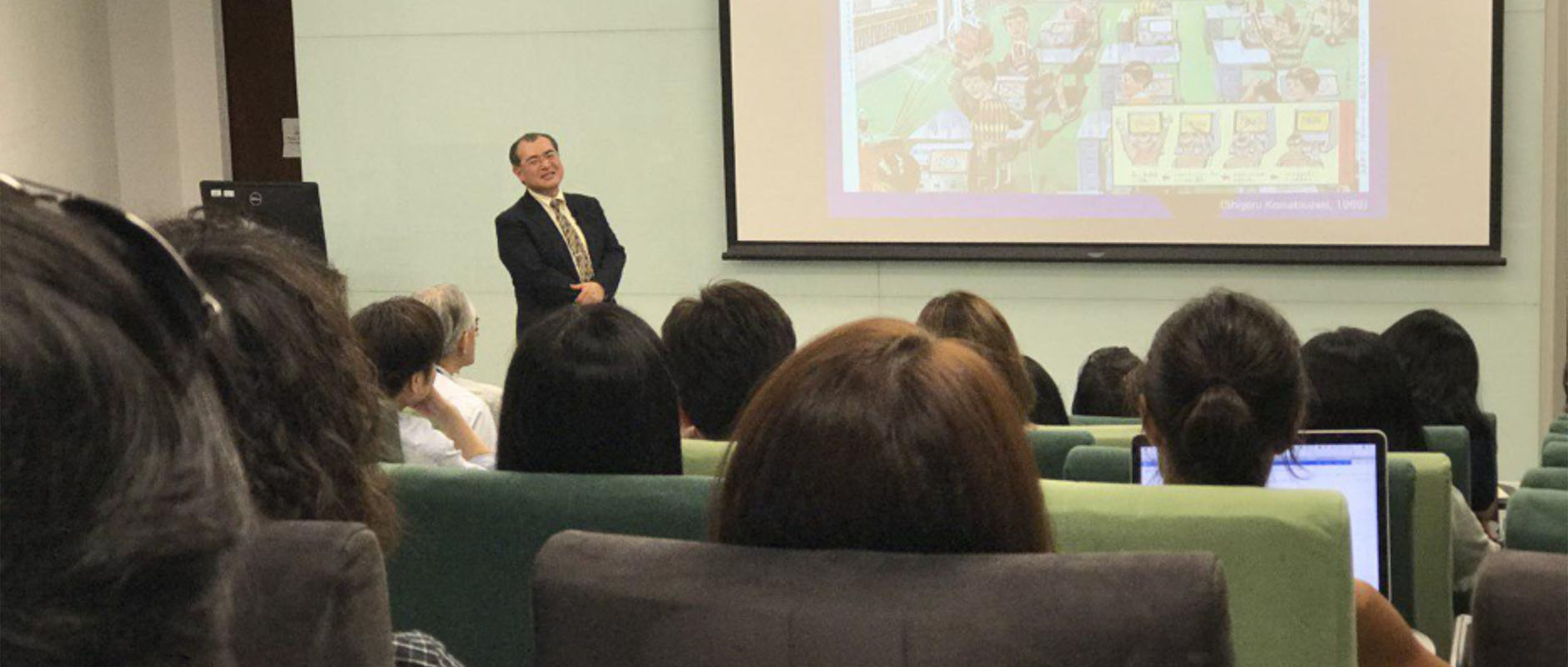 Open education – the door to sharing and collaboration
Thinking out of the box and attempting the unconventional is necessary in order to improve education beyond our current level. Professor Iiyoshi envisions Open Education to be the form of higher education by 2025 – instead of each tertiary institute being individually responsible for developing their own curricula, resources will be shared in creating courses, educational ideas will be proactively exchanged to facilitate collaboration, and even courses themselves will be shared. For example, by packing knowledge into short videos as online components, courses can become modular and stackable in form of micromasters and nanodegrees recognized by more universities, which when accumulated contribute to one's academic credentials like virtual currencies.
Broadening the pool of knowledge and resources to create more knowledge at the global level is beneficial to all, as more resources allow higher ceilings. Furthermore, technology helps disseminate knowledge globally with current information and communications technology, and facilitates educators to share and build practical knowledge and know-hows of educational resource development.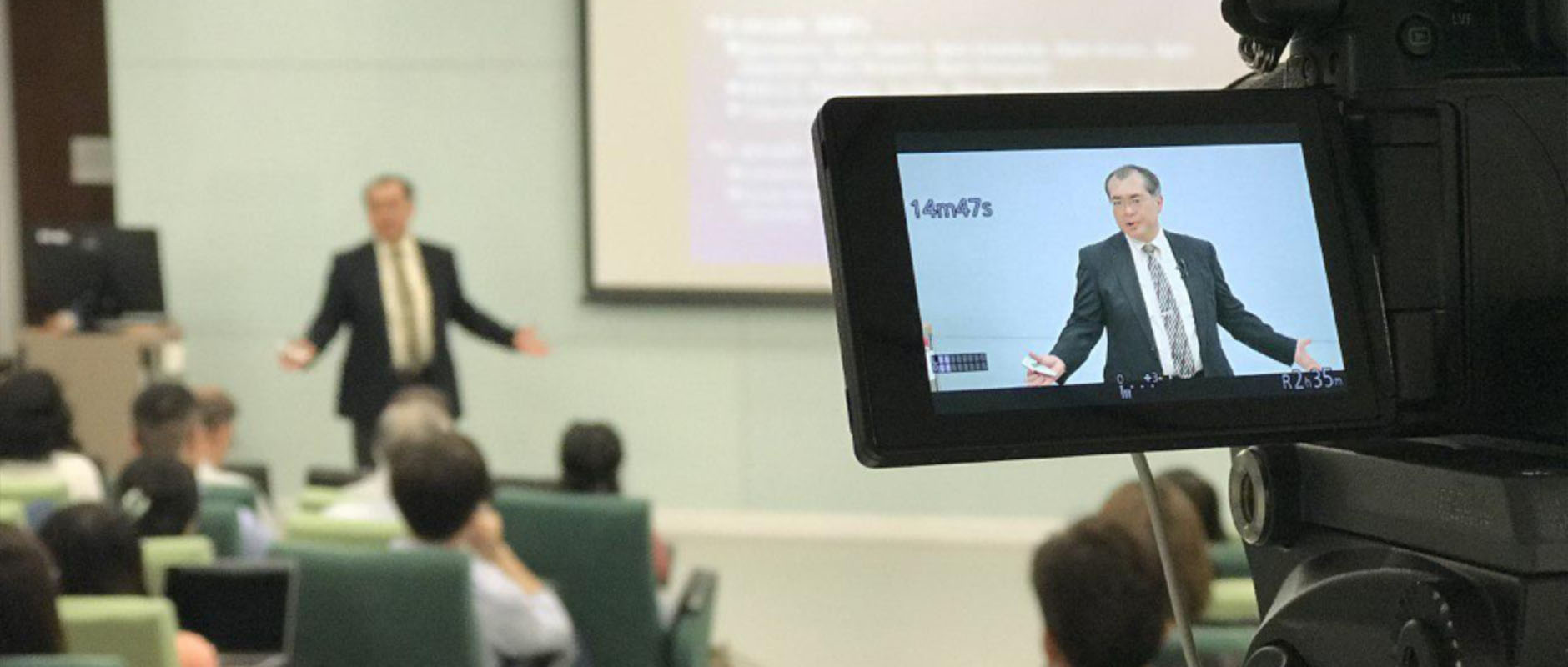 Food for thought
Towards the end of the talk, Professor Iiyoshi outlines a few questions for further reflection:
How can Open Education play out in this rapidly changing higher education landscape?
What is a university? Is it defined by its physical space?
What are the roles of teachers and students in learning in traditional view? Have they changed?
How does technology impact the traditional view of "higher education = degrees"?
Do these questions intrigue you? Let us know what you think.
Dive deeper
Professor Iiyoshi had an interesting conversation with a computer equipped with artificial intelligence (AI) in his TED talk in 2015. In his talk, Professor Iiyoshi engaged in a discussion about lifelong learning with the said AI, demonstrating the capabilities of the AI, and inspiring us what possibilities can be achieved by utilizing artificial intelligence.
Resources introduced by Professor Iiyoshi