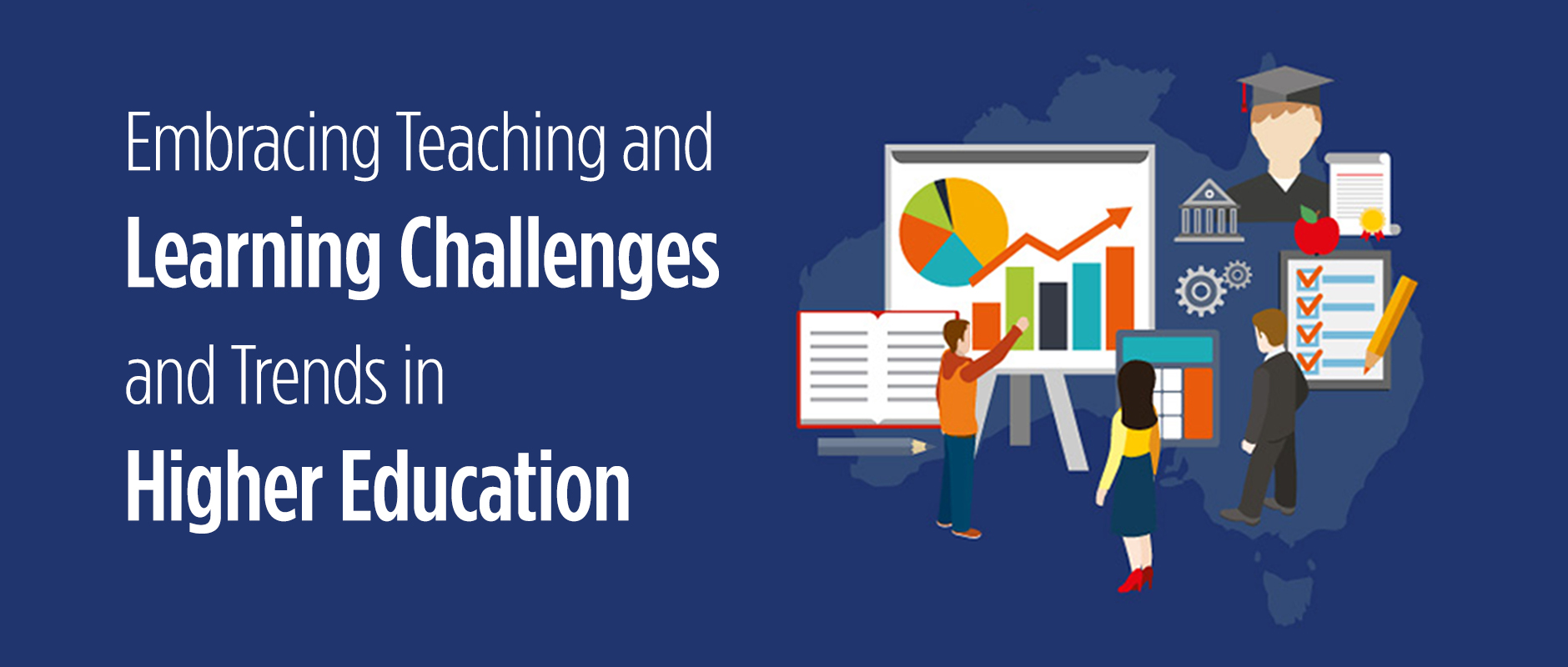 Educators, wherever we are, should keep up with the challenges and trends in higher education worldwide. One effective way to stay informed is to engage in dialogues with colleagues from around the world. On 20 June, 2017, we learnt about the top 10 challenges and trends in Australian universities in a seminar delivered by Dr Caroline Steel, Strategic Educational Consultant, APAC, Blackboard International ASCILITE Life Member Awardee and Past President Adjunct Academic, The University of Queensland.
The following is the list of key challenges and trends ranked by Australian academic leaders in a study led by Dr Steel:
10 Teaching and Learning Challenges
10 Teaching and Learning Trends

Student career development and employability
Student engagement and satisfaction
Assessment and feedback
Technology-enhanced pedagogical practice
Student attrition
Improving work-integrated learning
First year experience and transition
Personalized adaptive learning
Academic adoption of educational technologies
Academic misconduct

Learning analytics;
Unbundling qualification
(both items ranked number one)
Teaching quality standards;
Fully online courses;
Students as partners
Mobile-enabled learning;
Adaptive learning technology
Digital examinations
MOOC's;
Open Education Resources (OER's)
Key Challenges in Teaching and Learning
Student career development and employability is considered to be the biggest challenge in the Australian higher education context. In the past, universities mainly focused on training students into critical thinkers. In today's rapidly changing society, educators should take one step further to educate both the 'thinker' and the 'worker'. Given the rapid development of automation, AI and cognitive computing, some jobs may no longer exist in 10 years' time. Students may not be fixed to one career throughout their lives. To prepare students for this highly uncertain future, HE institutions should help them acquire various employability skills and develop cross/trans-disciplinary thinking.
The second challenge is student engagement and satisfaction, in both on-campus & online teaching. According to Professor Karen Nelson, an interviewee in the study, student engagement constitutes of three parameters: behavioural, cognitive and affective. The challenge for universities is to "create the educational conditions that will trigger emotion and motivation so that students are engaged."
Major Trends in Higher Education
The two most prominent trends in Australian higher education are learning analytics and unbundling qualification.
Learning analytics is a potential game changer in higher education. 'There is enormous potential in learning analytics,' said Professor Martin Carroll in an interview for the study. However, even though analytics have been used by lots of industries in Australia, high education is falling behind. It is necessary for institutions to keep up with the trend and look for ways to use analytics to improve teaching and learning.
Unbundling qualifications is another prominent trend in Australian higher education. Universities are now looking into the possibility of unbundling qualifications and micro-credentialing as alternative ways to provide learning, so that learners can obtain the skills they need as quickly as possible. For example, instead of completing an entire MBA programme, some professionals may only want to learn certain components of the degree. If universities are able to repurpose some of the content, then more choices will be available to learners. After obtaining skills and credits from various programmes and fields, learners can demonstrate their expertise in their e-portfolios.
Technology
It is worth noting that, among the top 10 T&L trends, 6 are tech-related, namely
Fully online courses
Mobile-enabled learning
Adaptive learning technology
Digital examinations
MOOC's
Open Education Resources (OER's)
This finding is certainly encouraging as the use of technology enhances teaching and learning and better prepares institutions for the challenges in higher education. Technology allows flexibility in learning and makes personalized learning possible. Learning management systems and grading tools such as Turnitin make it easier for teachers to assess students and provide feedback. The blending of face-to-face lectures with e-learning tools, such as Mentimeter and Kahoot!, caters for students' diversified learning needs, which potentially enhances student engagement.
What about Hong Kong?
We are embracing the same challenges in Hong Kong and are working along similar lines. Here at HKU, we strive to cultivate students' employability skills (e.g. cognitive flexibility, negotiation) and develop cross-disciplinary thinking through events such as Inter-professional Team-based Learning (IPTBL) and Girls4Tech. To enhance student engagement, we are constantly designing new in-class activities, apps and games. To ensure the best learning experience for our students, our efforts in course development is paralleled by research efforts in learning analytics.
More and more teachers are joining the ride in developing MOOCs (on edX and Coursera) and SPOCs to enrich students' blended learning experience. To further open up learning opportunities to a wider range of learners, we are also exploring the possibilities of e-portfolios. More initiatives will be in place to shape the T&L landscape in Hong Kong in response to challenges and trends in higher education.
What do you think? How will you respond to these challenges and trends? Share your views with us.
Further reading
"Learning and Teaching Challenges in Higher Education in Australia: A View from the Top", an Australian academic leadership study conducted by ASCILITE and Blackboard International in 2016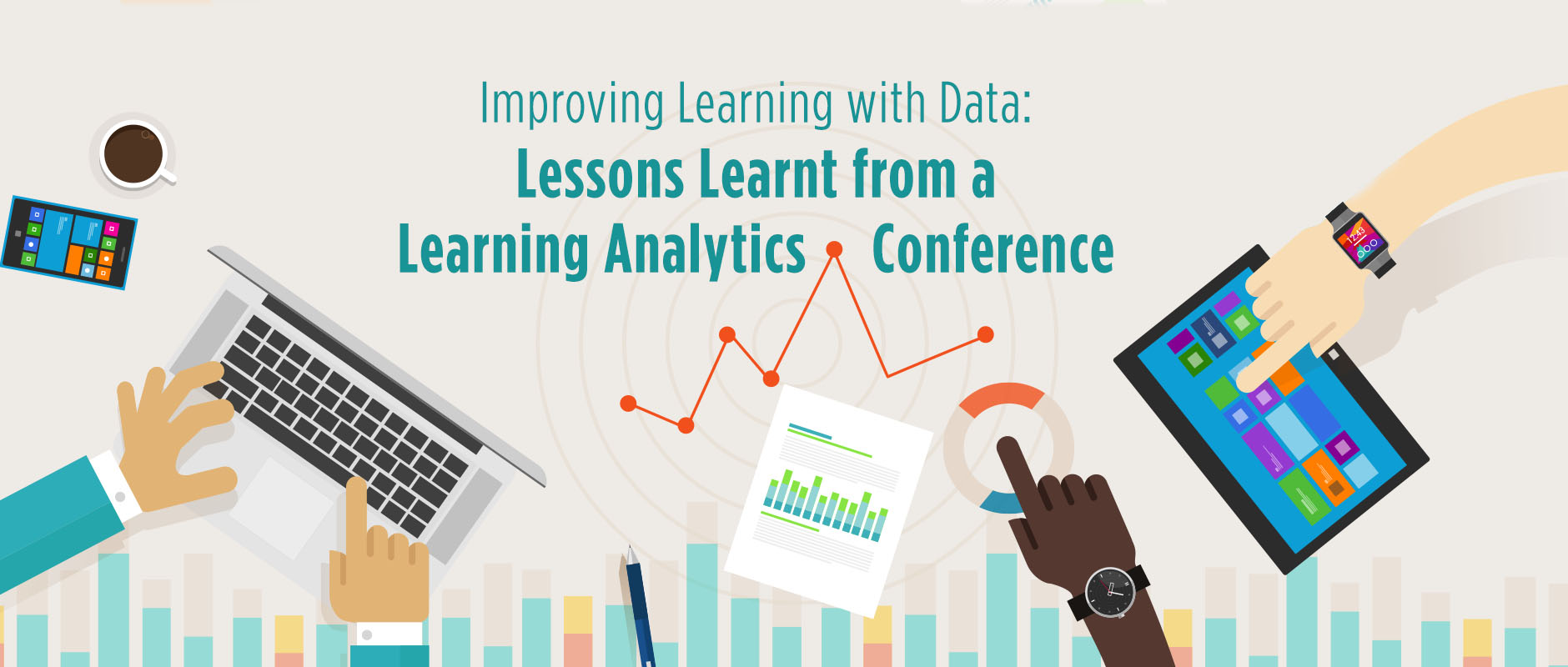 The use of technology in teaching and learning has generated learning data at a massive volume. But how can we maximize the impact of learning analytics (LA)? We explored this question in the 7th International Learning Design & Knowledge (LAK) Conference, themed Understanding, Informing & Improving Learning with Data. It was an exciting experience to find out how educators from around the world develop and deploy their LA tools. Some of our colleagues also presented their research on improving video instructions and their progress on developing learning progress dashboards in the conference.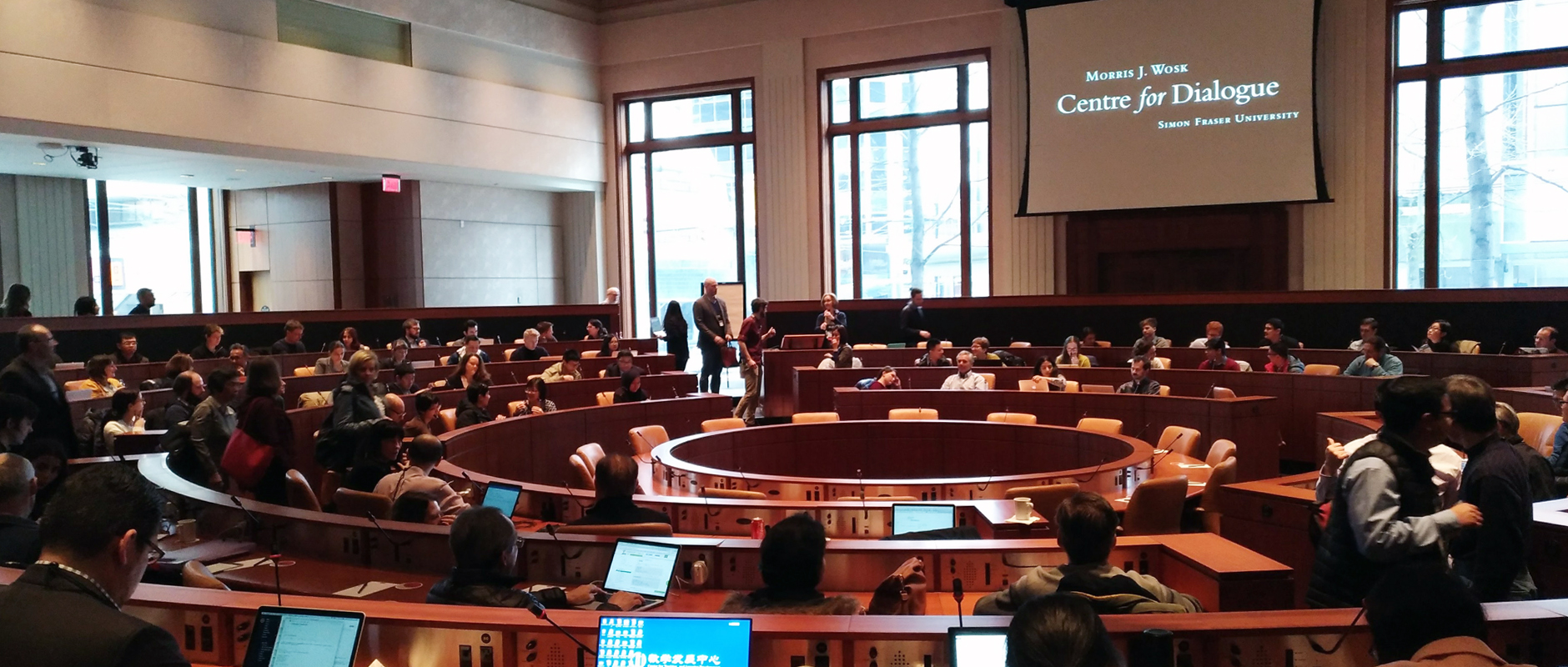 Discussions in the Morris J. Wosk Center for Dialogue
The conference featured 3 keynote sessions, 30 technical sessions and 16 pre-conference events. It covered various aspects of LA, from modeling students' learning behaviour to institutional deployment of LA in practices, gathering ideas from cognitive science, learning design, educational psychology, learning technology, data science and other related fields.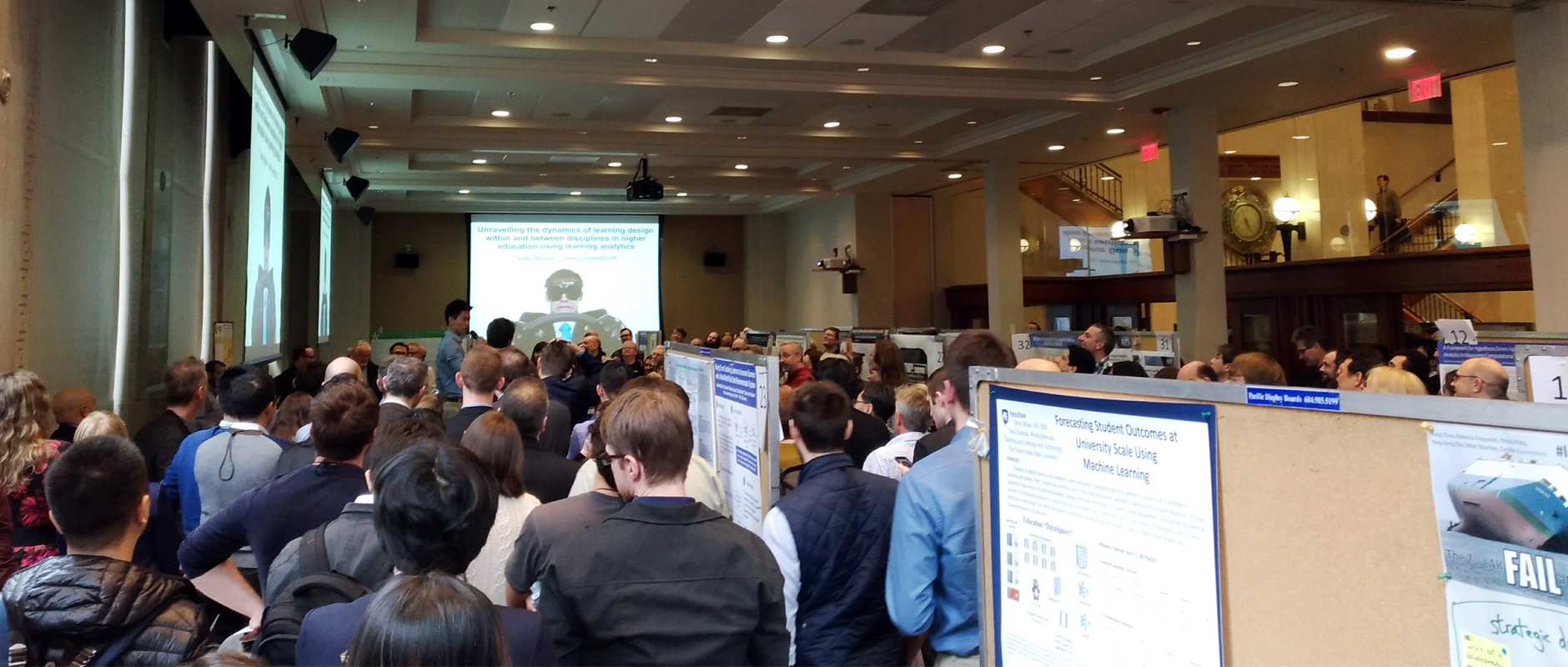 A highly engaging poster session where participants shared their ideas via 30-second pitch talks
Several major takeaways from the conference:
Students' learning behavior, triangulated with their physiological data such as pulse, gesture, eye movement and brain wave, etc., reflect the process of learning, said keynote speaker Dr. Sanna Järvelä from the University of Oulu, Finland. Her research focused on using multimodal data to support the inquiry of learning. With guidance of existing learning theories, learning scientists could understand better the process and product of students' learning, and provide suggestions for improvement accordingly.
To ensure effective analysis of students' learning processes, an adaptive data-driven learning ecosystem should be established, as pointed out by Dr. Timothy McKay, keynote speaker from the University of Michigan. To establish this adaptive system, learning data needs to be continuously collected and integrated. This informs both students and teachers of students' learning as an individual and in groups over an extensive period of time, throughout or even beyond their university life. In the University of Michigan, 10 years of learning data from different sources has been collected for establishing a learning system. This system advises teachers and students by providing relevant data to them. The purpose of putting data in people's hands is to support decision making, motivate actions and guide behaviour change.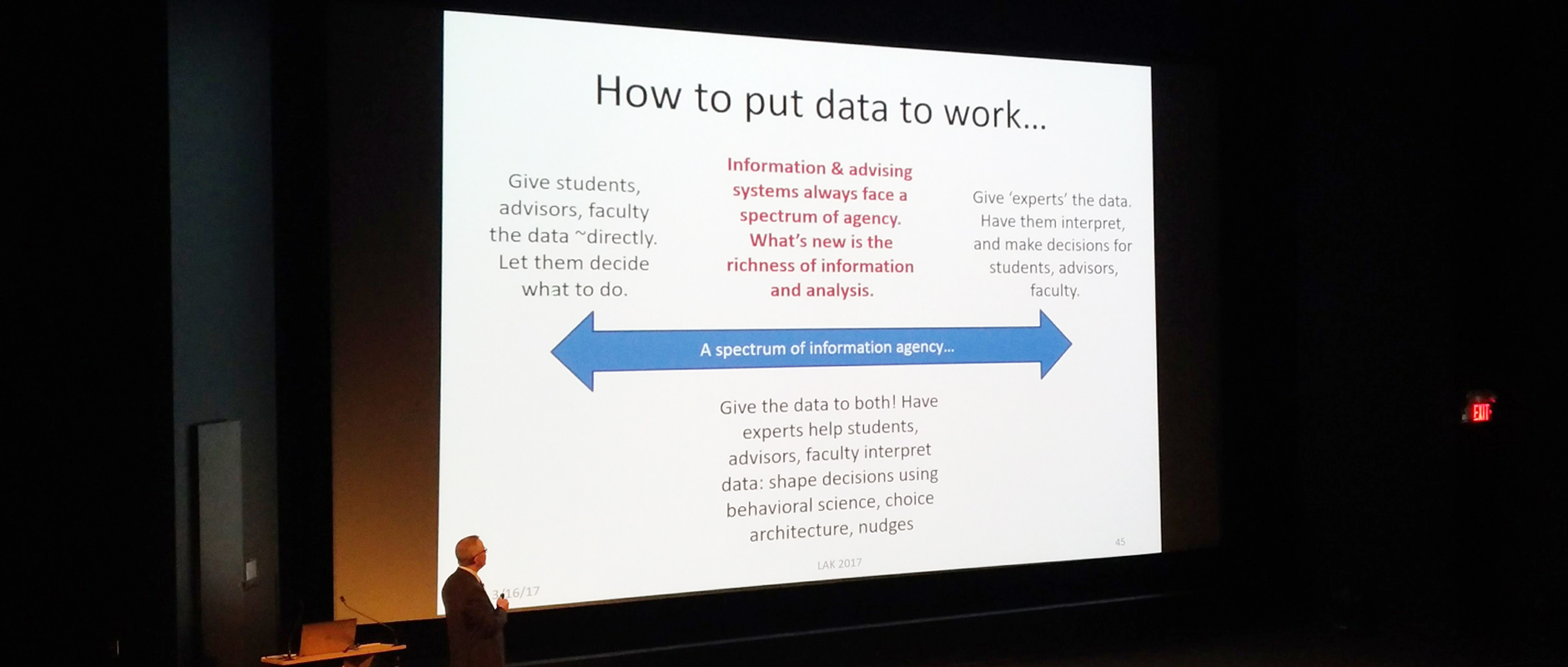 Dr. Timothy McKay illustrating how data can be used for decision making
Just as research tools are always guided by research methodology, LA tools need to be student-centered and pedagogy-considered. This requires trust and understanding among teachers, system developers, user interface designers and behavioral scientists, whose expertise could jointly contribute to the sense-making of learning data.
For analytics to work well, the data collected from prior experience must be extensive, accurate and relevant. Some classes tend to be more suitable for deploying LA, such as large introductory courses with relatively mature course contents and classes where teachers have a clear understanding of students' background and ability. The course should also involve a variety of instrumented learning activities, and the course team should constantly and gradually improve the course structure, content and assessments.
Finally, we must remind ourselves that data by itself is not all powerful until actions are taken in response to the analysis. We should also work to ensure that the collection of educational data and the use of LA tools are lawful and ethical.

Click here if you cannot access Youtube.
Introduction to the course (Course outline)
University Teaching is an introductory MOOC on teaching and learning in tertiary education, designed by staff at CETL and offered through Coursera. Whether you have just started your first university teaching post, you are thinking about becoming a university teacher, or you just have an interest in understanding the essentials of university teaching, this course is definitely for you.
University Teaching will help you to address the following questions:
What is it like teaching in higher education?
What does research evidence tell us about effective teaching in higher education?
How can we ensure that our instructional design helps our students achieve their intended learning outcomes?
What pedagogic options do we have to make our teaching successful?
What assessment and feedback practices can help our students learn effectively?
With input from instructors, guest speakers and interviewees, including teaching award winners, students and experts in the fields, you will be exposed to research evidence in relation to effective university teaching and instructional design. Throughout the course, you will learn from teachers whose teaching has been judged to be excellent, and you will see many examples of their teaching in practice.
After completing the learning tasks in this course, you will be able to:
Discuss the teaching and learning context in higher education and reflect on the challenges and opportunities you might encounter as a university teacher.
Explain key teaching and learning concepts and relevant evidence in relation to effective university teaching.
Analyse the relationships between various aspects of teaching and student learning.
Identify a range of instructional strategies to support effective student learning.
Apply key concepts to the structuring of course outlines and lesson plans in order to support successful student learning.
Join our professional development community on Facebook
Check out our University Teaching Facebook page for updates and extra content on teaching and learning!

"Statistics point that 5 million gamers in the US spent more than 40 hours a week playing World of Warcraft in 2010 – which is [almost like] a full time job…" said Dr. Benny Ng at the 'Benny and the Apps: Gamification and Student Learning' seminar.
If you were given a choice, would you rather go to class or play games? Games may be the majority's answer. Would a gamified curriculum motivate your learning?
Dr. Benny Ng gave a glimpse of why and how we can gamify teaching to engage students in 'Benny and the Apps: Gamification and Student Learning', a seminar held on April 5, 2017. The role of play and a 5-step gradual process to apply gamification were some highlights of the sharing.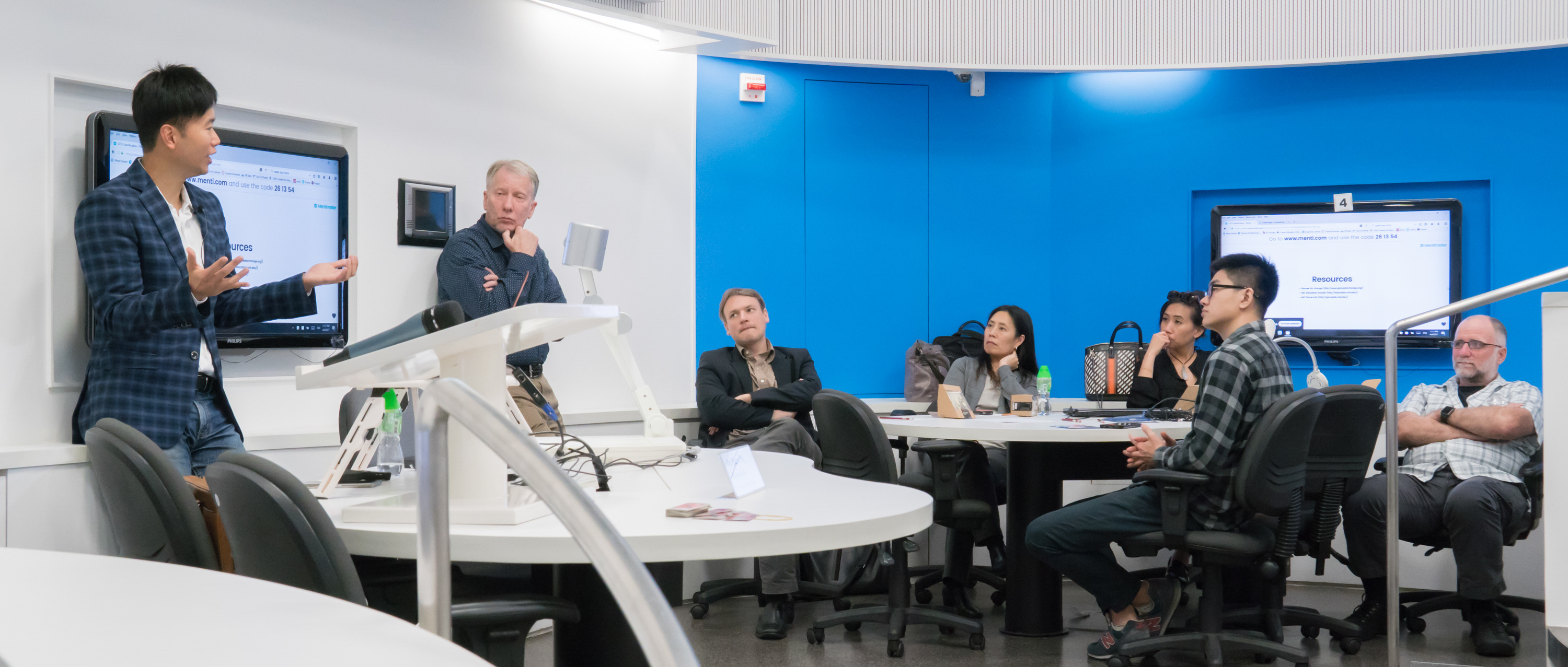 "How would you feel when facing obstacles in reality?" Participants in the seminar mostly gave negative answers. Yet, Dr. Ng believes that challenges can turn into a positive force in games, providing incentives for players to keep trying. After all, play provides a freedom to fail, experiment, fashion one's identity and put in continuous effort. The role of play facilitates better and enjoyable learning.

Answers by participants were directly reflected on a wordcloud through mentimeter
Participants were also asked what behaviours they hoped their students displayed in class, the most popular answers included 'attentive, engaged, listen, motivated'. These match with characteristics of a gamer's behaviour, such as persistency, risk-taking, attention to details, problem solving, urgent optimism, active learning, self-disciplined and resilience. In such a way, gamifying a class can motivate students to display the qualities mentioned by participants in the wordcloud.
A 5-step process to apply gamification was introduced:
Understanding the target players and the context
Age group? Existent skill sets? Location? Duration?
Defining Learning Objectives
Is the assessment rubric clear enough with actionable tasks?
Structuring the experience
How can your content be broken down to stages/milestones?
Identifying resources
What kind of gamifying resources may be needed?
Applying game elements
What kind of self or social elements may be applicable? For example;
Self: point, levels, time restriction; Social: leaderboards, interactive cooperation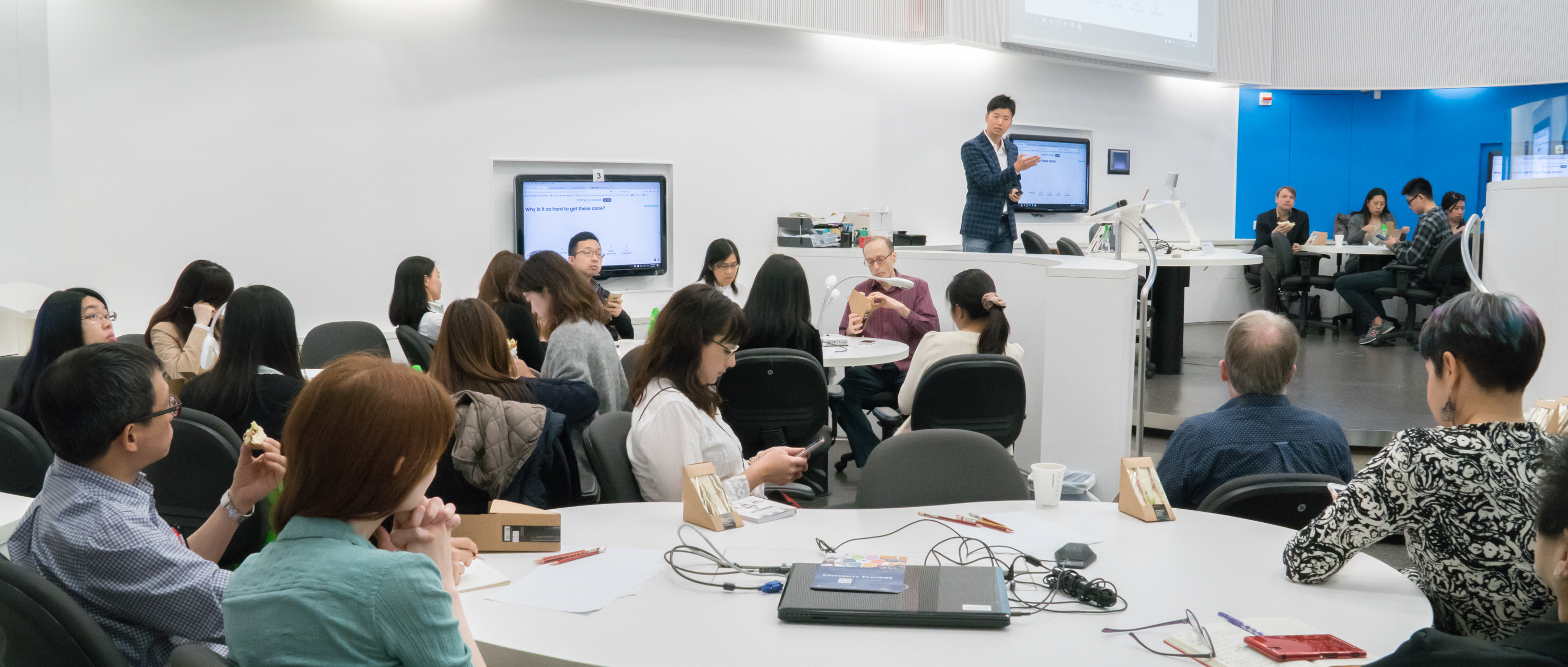 Changing the terminology of your syllabus can already be a start – what about gaining 'experience points' instead of 'scores/marks', completing 'quests' instead of 'courseworks', or 'mission' instead of 'instructions'?
Take the risk to innovate and test new ideas, find the fun element in what you teach. If education becomes a joyful experience, students will ultimately be passionate to pursue life-long learning.
Want to give it a try? Contact us.