Dr. Chi-Un Lei, Leon is currently an e-Learning Technologist in the Technology-Enriched Learning Initiative (TELI), HKU. He received his B.Eng. (first class honors) and Ph.D. in Electrical and Electronics Engineering from HKU in 2006 and 2011, respectively. He is a HEA Fellow and an IEEE Senior Member. He is also the Vice Chairman of IEEE Hong Kong Section Education Chapter (2017-present). He was awarded with the HKU Professional Services Individual Award 2018, the Best Paper Award in IEEE TALE 2017, IEEE TALE 2013 and IAENG IMECS 2012, Best Student Paper Award in IAENG IMECS 2010 and IAENG IMECS 2007.
As an e-Learning technologist at HKU, my role is to support university teachers from various departments to adopt online/blended learning in their teaching. In the past three years, I have worked with instructional design colleagues to provide consultancy services and trainings to teachers at HKU, and supported them to develop e-Learning content based on their teaching subjects and needs. Our collaboration with various teachers and units is quite successful.
Providing E-Learning Consultancy Services to Teachers
Give advice on educational resources development
One of the services I provide is to evaluate the educational resources development process led by teachers and give advice on how they can develop more effectively. I often partner with teachers and provide regular assessment of their e-Learning content development. In the evaluation process, specific and easy to understand advice on the instructional design and technological considerations would be given to the teachers. Specifically, the goal of this evaluation process is to identify at-risk designs that may hinder learners' learning, and I will then provide specific revision suggestions to teachers. This service can help to minimize learning hurdles. For example, I recommend teachers to use Mayer's instructional multimedia principles in reviewing their instructional videos. This set of principles provides a guideline for teachers in learning how to reduce extraneous content and pinpoint essential learning content in their videos. Supporting teachers in creating an instructional video is not the last step. I also help teachers to analyse students' video watching behaviour by conducting a course-level exploratory analysis. Abnormal watching behaviour can be identified and those moments can then be revised for a more effective learning in the next cohort. This practice has been adopted in MOOC and blended learning development and proven to be effective for courseware improvement.
Additionally, I have also worked with colleagues and teachers to develop a chatbot tutor and explore different gamification mechanisms such as a badge system. In particular, the chatbot tutor we have built helps to provide 24/7 personalized feedback tools for supporting large-scale class feedback. Based on these experiences, I have developed an automated learning design verification mechanism for teachers to conduct quality assurance process on their side.
Develop guidelines for online/blended course development


Besides providing consultation sessions to individual teachers, I have also worked with colleagues to develop guidelines for online/blended course development on an institutional level. For instance, we have developed an easy-to-use flipped classroom teaching package for implementing a DIY flipped classroom (https://hku.to/flipping_menu). The first version of this teaching package was well received by teachers and teaching support practitioners within and beyond HKU. After the first version was published, I observed that some teachers would like to know what kinds of classroom activities can be implemented and how they can be implemented, as well as what probing questions can be raised for discussions. Therefore, my team and I have revamped the package again and included examples on classwork activities and online/blended learning cases at HKU for teachers' reference.
In addition, my colleagues and I have studied three different technological courses that adopted the flipped classroom approach for one semester in HKU, according to the "Seven Principles of Effective Teaching" framework. The guidelines of good practices gleaned from the cases would be a useful reference for teachers who are interested in conducting flipped classroom.
A Reflection on How I Support Two Teachers on a MOOC Production
My experience on partnering with two professors, who are both new to online course development, on a MOOC production can demonstrate how the consultancy service provided by my team and myself can support teachers at HKU to adopt online/blended learning in their teaching. In the production process of this MOOC, I first reviewed the professors' teaching slides and developed several pilot videos with different visualisation formats. Students were then invited to watch these pilot videos with different visualisation formats, and their watching behaviours were collected and analysed. This video prototyping process is a great way to increase teacher's involvement and improve the quality of the videos as we are able to identify better video design in the communication process.
After launching the first cohort of the MOOC, I helped to review the courseware again and found that social engagement and learners' sense of belonging to the learning groups in this MOOC can be improved. Using both the frameworks of First Principles of Instruction and Community of Inquiry in analysing the course, I suggested the teaching team to make two improvements: 1) to create more section-level forums for stimulating discussions among students, and 2) include hints and detailed solutions for every MCs (150+ MCs in total). The teaching team agreed on the revisions, and the results have shown that the enrolment and learning retention in the second and third cohorts have been significantly improved. In addition, this MOOC development project was used as an exemplar in the Faculty for initiating their new e-learning pedagogy development plan.
Getting Teachers Out of Their Comfort Zone
It is completely understandable for us to feel nervous of trying something new. One of the major challenges I face in e-Learning development is to motivate teachers to start participating and experimenting. It can be challenging as e-Learning development requires teachers to apply both pedagogical and technological skills at the same time. I have collected showcase examples from various fields so that teachers who are new to e-Learning can learn from relevant course development in his/her own discipline. I would also introduce easy-to-use e-Learning tools and technologies with guidelines, training videos, showcase videos and templates in my consultation sessions and training workshops. For teachers who are more experienced and confident in trying more complicated tools, I would provide advice on teaching development grants application for further e-Learning development to them.
Collaboration is the key to educational development. At the end of the consultation meetings/trainings, I would always include a learning design sharing session where teachers can form into groups and share their own stories and teaching needs with colleagues. The learning design discussion facilitates teachers to identify their own goals in their e-Learning development. They found the discussion very inspiring and some of them even worked together in a cross-team project. In these learning design sharing sessions, I was also able to learn from teachers and better understand their needs and ambitions; some teachers wanted a small-scale pilot development while some aimed for an award-winning sophisticated development. Reflecting on what I have learnt in these learning design sharing sessions, I have suggested different teaching-support solutions; the proposals range from DIY production training for teachers and teaching assistants to large-scale e-Learning deployments supported by internal/external teaching development grants.
What's Next?


My collaboration with teachers and units has inspired me to work on building copyright awareness at HKU. I have worked with teachers and various units on different institutional-level projects and produced videos on the topic of research data management and academic integrity. These videos have been used for educating teachers, staff and students on research integrity and academic honesty. These collaboration projects have led me to incubate a learning development project on copyright education. The aim of this project is to raise the awareness of fresh students and teaching staff on copyright issues encountered in their teaching and learning. If you are interested in learning more about this project, please see https://hku.to/Copyright_Classroom.
The TELI team and I will continue to provide support to teachers at HKU, including individual consultations and training sessions on various topics. For enquiries, please contact us at enquiry@teli.hku.hk.

The teaching enrichment cluster is an 'innovation powerhouse' comprised of teaching support colleagues from multiple units, including colleagues from Technology-Enriched Learning Initiative (TELI) and 4 colleagues from the Faculty of Education, Architecture and Law. The cluster support teachers in revamping teaching and learning with innovative strategies and technologies, and offer services including instructional design, technology adoption, system development and big data analytics. To be specific, we provide responsive pedagogical and technical consultancies as well as development services to the Faculties and teachers in developing and implementing e-learning, presence learning and blended learning. Colleagues strive to create quality-time (e.g. learning support beyond classroom) and quality-space (e.g. engaging in-class activities) for teachers and students with the help of technology.
In this blog post series, we will introduce colleagues' key initiatives in the 2018-2019 academic year in terms of pedagogical development and system development.
We Aim to Establish Strong Links to Stakeholders

We see the high value of partnerships in driving teaching innovations. We aim to facilitate inter-disciplinary and cross-Faculty collaboration on education development which can make a greater impact on student learning. We worked side-by-side with teachers from different disciplines, thereby spreading the enthusiasm, discovering new perspectives in teaching development, and cultivating a new T&L culture.
Facilitating Sharing of Contents and School Credits across Universities
In the past, there were limited chances to experiment with the cross-institutional credit transfer mechanism. Yet, colleagues in the cluster have worked hard in overcoming this challenge and initiated a UGC-funded cross-institutional project titled "The Responsive University: Appreciating Content Sharing in General Education" in collaboration with PolyU, CUHK and HKUST. In particular, colleagues have engaged teachers and stakeholders to develop cross-institutional General Education/Common Core courses with innovative blended curriculum. In the 2018-19 academic year, a total of 10 shared courses from four different Hong Kong institutions were offered, and a total of 127 students joined the project. In this joint project, the four universities have also entered into an Agreement for Collaboration, under which eligible students in the participating institutions can enrol in one of the selected courses offered by other partner institutions respectively.

Teaching-Development Partnership for Introducing Mobile-Friendly Learning and Community Outreach
More often than not, teachers are not familiar with technical specifications of the process of developing educational solutions that bring about unsuitable learning strategies. During the academic year 2018-2019, we have worked collaboratively with colleagues from the School of Nursing to share the innovative pedagogical and technological solutions and seek out the potentials for immersive learning and community outreach.
The use of virtual reality (VR) and extended reality (XR) technologies can create experiences that educate, engage, and excite learners. A VR-based app on dementia care was developed to cultivate nursing students' clinical reasoning and clinical judgement in flipped classes in the University, such that students can experience situations that simulate the actual environments for medical training. Instead of advising disciplinary knowledge, we focus on creating a learner-relevant, effective and immersive learning experience, leveraging our expertise on user experience (UX), media design, system architecture and technical development.
Besides teaching and learning inside the classroom, we worked together to develop technologies for promoting tobacco control, HPV vaccination, and alcohol control. For example, we worked with teachers to develop mobile apps, AI-enabled chatbots and ecological momentary assessments supporting smoking cessation through different interventions. We also developed a simulation game to promote HPV vaccination for secondary school students.
We Aim to Show Great Enthusiasm for Continuous Improvements

Talents are important resources for a sustainable cluster development. Cultivating talents is crucial to stay responsive to the fast-changing needs of the University. Colleagues in the cluster are of diverse backgrounds coming from different countries/cities (including Uzbekistan, Egypt, Indonesia, Pakistan, Malaysia, Taiwan, Mainland China and Hong Kong), and with different expertise (e.g. psychology, language, information technology, etc.). Therefore, we often organize activities to provide opportunities for colleagues to learn from each other, as well as to build up trust and team spirit for a more cohesive cluster. We continuously help colleagues to expand their capabilities and adopt data-informed/closed-loop development for delivering wider and better educational development services.
Cross-Disciplinary Hackathon
Colleagues from different fields teamed up and attended a half-day internal Hackathon. The event was for brainstorming proof-of-concept solutions to existing issues in e-learning within higher education (e.g. AI-powered teaching-student interaction app). At the end of the Hackathon, colleagues were required to give a presentation with a mock-up. Colleagues, coming from different fields and have not had worked together, now have the opportunity to collaborate closely and come up with effective solutions (e.g. EdTech apps).
Internal and External Professional Development Events
Colleagues are encouraged to attend technical and pedagogical training for mastering their skills that will accelerate their professional growth. For example, one of our colleagues had attended a one-week professional training at Harvard University, which aims to train educators in developing a design thinking mindset. She applied what she has learned in a mobile game app project for a Common Core course to further enhance the pedagogical value of the project. A couple of other colleagues have also been given the chance to attend an internal training course on teaching and learning in higher education. They have successfully completed the course and have a deeper understanding of in-class teaching and learning activities in the University. Besides attending external and internal training, there are also cross-disciplinary seminars. For example, multimedia colleagues were invited to introduce cutting-edge computer graphics and interactive technologies, and external researchers were also welcomed to talk about teaching development and evaluation practices. These seminars help to broaden colleagues' horizons and inspire new ways of implementing teaching and learning.
Adopting Data-Informed/Closed-Loop Development
We constantly review and revamp our solution and development process through conducting stakeholder surveys and focus group interviews in projects. In particular, the cluster evaluated the quality of various technology-enriched pedagogies used in on-campus blended courses and generated insights to develop better pedagogical practices. Based on the findings, colleagues provide continuous assistance to teachers on creating new educational videos, collaborative classwork and assessment as well as revamping the existing ones for more effective teaching. Besides redesigning pedagogical practices, we have studied students' motivations and expectations in participating in a cross-institutional teaching and learning initiative through qualitative and quantitative means. The findings of the study highlight some of the concerns and needs of students, and based on these, we have designed new posters and videos addressing their needs and concerns to promote this initiative. As a result, more students are aware of the initiative and more than 100 students are joining it now.

The pedagogical development cluster is an 'innovation powerhouse' comprised of teaching support colleagues from multiple units, including colleagues from Technology-Enriched Learning Initiative (TELI) and 4 colleagues from the Faculty of Education, Architecture and Law. The cluster support teachers in revamping teaching and learning with innovative strategies and technologies, and offer services including instructional design, technology adoption, system development and big data analytics. To be specific, we provide responsive pedagogical and technical consultancies as well as development services to the Faculties and teachers in developing and implementing e-learning, presence learning and blended learning. Colleagues strive to create quality-time (e.g. learning support beyond classroom) and quality-space (e.g. engaging in-class activities) for teachers and students with the help of technology.
In this blog post series, we will introduce colleagues' key initiatives in the 2018-2019 academic year in terms of pedagogical development and system development.
We Aim to Use Resources in a Better Way to Benefit the University

The cluster deploy and invent cutting-edge development practices for a more effective education solution development. This enables us to support teachers and units to teach more efficiently by minimizing learning and administrative hurdles encountered by teachers and students.
Introducing Easy-To-Use Learning Tools for Collaborative Teaching and Learning Activities
To maximise quality class time, the cluster has been actively exploring pedagogical tools that best suit teaching and learning. The cluster has subscribed to online product services and shared the subscribed services with teachers who are interested in using them for lessons. Tools include Mentimeter (anonymous in-class polling), Flipgrid (video-based formative assessment), SurveyMonkey (class feedback surveying), G Suite (collaborative writing/presentation), GradeMark (rubric-based essay marking), Camtasia (screen-capturing and video editing), and Zoom (synchronous online discussion). These tools empower teachers to better engage students in class with significantly minimized logistics. For a more effective adoption, we also provide pedagogical advice on adopting appropriate e-learning tools and designing relevant face-to-face activities.
Developing Management Systems for Reducing Institutional-Level Administrative Efforts
The cluster also supports the University Teaching and Learning Quality Committee (TLQC) to develop technological solutions for achieving teaching-learning missions. For instance, the cluster has developed the teaching development grant (TDG) submission system (https://tdg.hku.hk/) and a TDG Resources Hub (https://tdg.hku.hk/hub/#/) for the University's Teaching Development Grant Scheme. The TDG submission system provides a standardized interface for submitting, endorsing and reporting applications. Meanwhile, the Resources Hub serves as a repository of TDG resources which facilitates the sharing of information and deliverables of TDG as well as the collaborations among teachers for cross-displicine teaching development. These two systems can significantly minimize the administrative burden for teachers, administrators, and Faculty-/Institutional-level management teams.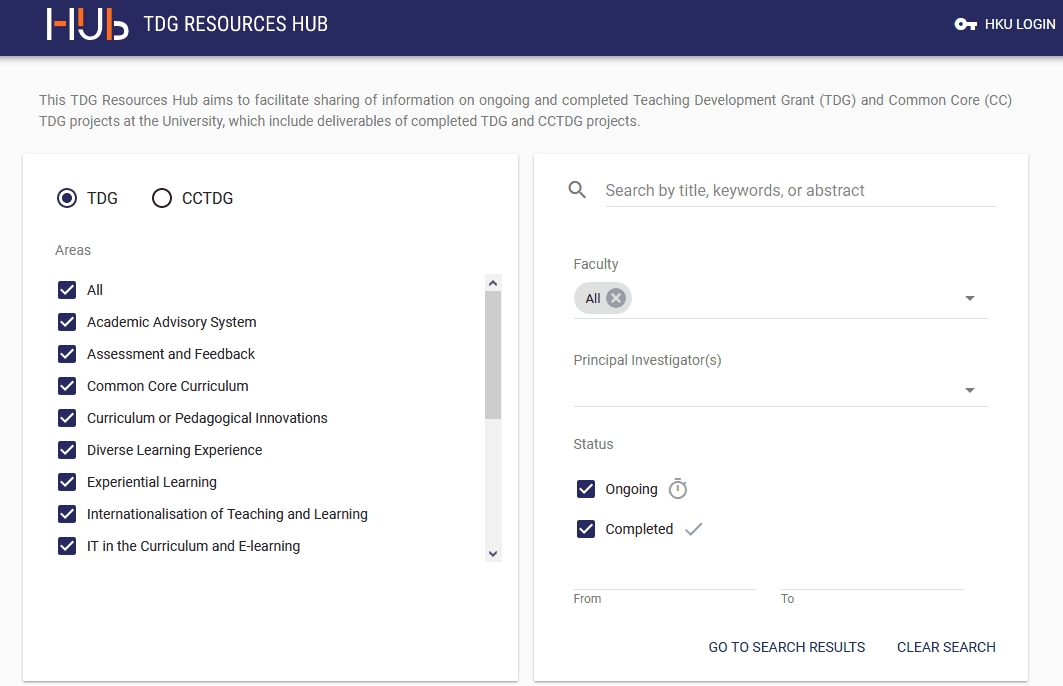 Introducing Asynchronous Video Screening Mechanism for Streamlining Admission Process
Previously, the admission process for the Postgraduate Diploma in Education (PGDE – English Teaching) by the Faculty of Education involved face-to-face interviews with applicants. However, it is a challenging task to arrange face-to-face interviews for large numbers of applicants within a short admission period. Colleagues have worked with teachers to streamline the initial stage of the admission process. Applicants can upload a 3-minute video to illustrate their perspective on teaching and learning. Then the admission board could review the videos and shortlist applicants for the face-to-face interview.
We Aim to Meet Challenges Head on
Colleagues in the cluster supported teachers in experimenting with innovative pedagogical practices and learning technologies. These allow teachers to free up valuable class time for more interactive classroom activities where students can develop higher-order thinking skills more effectively under the teacher's in-class mentoring.
Optimising Learning through Gamifying a Large-size Flipped Classroom
Colleagues have worked with teachers to address the most critical and long-lasting problem in large-class teaching: the one-way delivery of information in lectures and the passive learning style created by such delivery. Low attendance rate, lack of participation and interaction, and distracted students are often observed in such lectures. Most critically, the passive learning style hinders the development of critical thinking, problem-solving, creativity and collaboration – the most essential 21st-century skills for today's students.
Colleagues introduced a systematic design of a gamified flipped classroom series in "Electronic Technologies in Everyday Life" (CCST9015), replacing one-way lecture delivery with high energy, high bandwidth information transaction, and peer-supported knowledge co-creation. Specifically, students follow a "hybrid learning pattern" repeatedly throughout the course: online lectures – online knowledge check quizzes – small-class tutorials – large-class group work – online roundup video summary. In each repetition, students acquire, practice, apply, analyze and evaluate what they have learned, and co-create new knowledge with their peers. Colleagues also support the teacher to "spice up" face-to-face time with group-based gamified activities. Moreover, a course-based board game has been developed to connect the course content with daily scenarios that students often encounter, such that students can apply knowledge in solving real-life problems. Students become more vocal in asking questions, increasing their interactions with teachers. This pedagogical practice is unique with the first-of-its-kind board game ever produced. The project has also been shortlisted for QS Reimagine Education Award 2019, a global education competition with more than 1500 applicants. This indicates the gamification pedagogy has been endorsed by professional parties.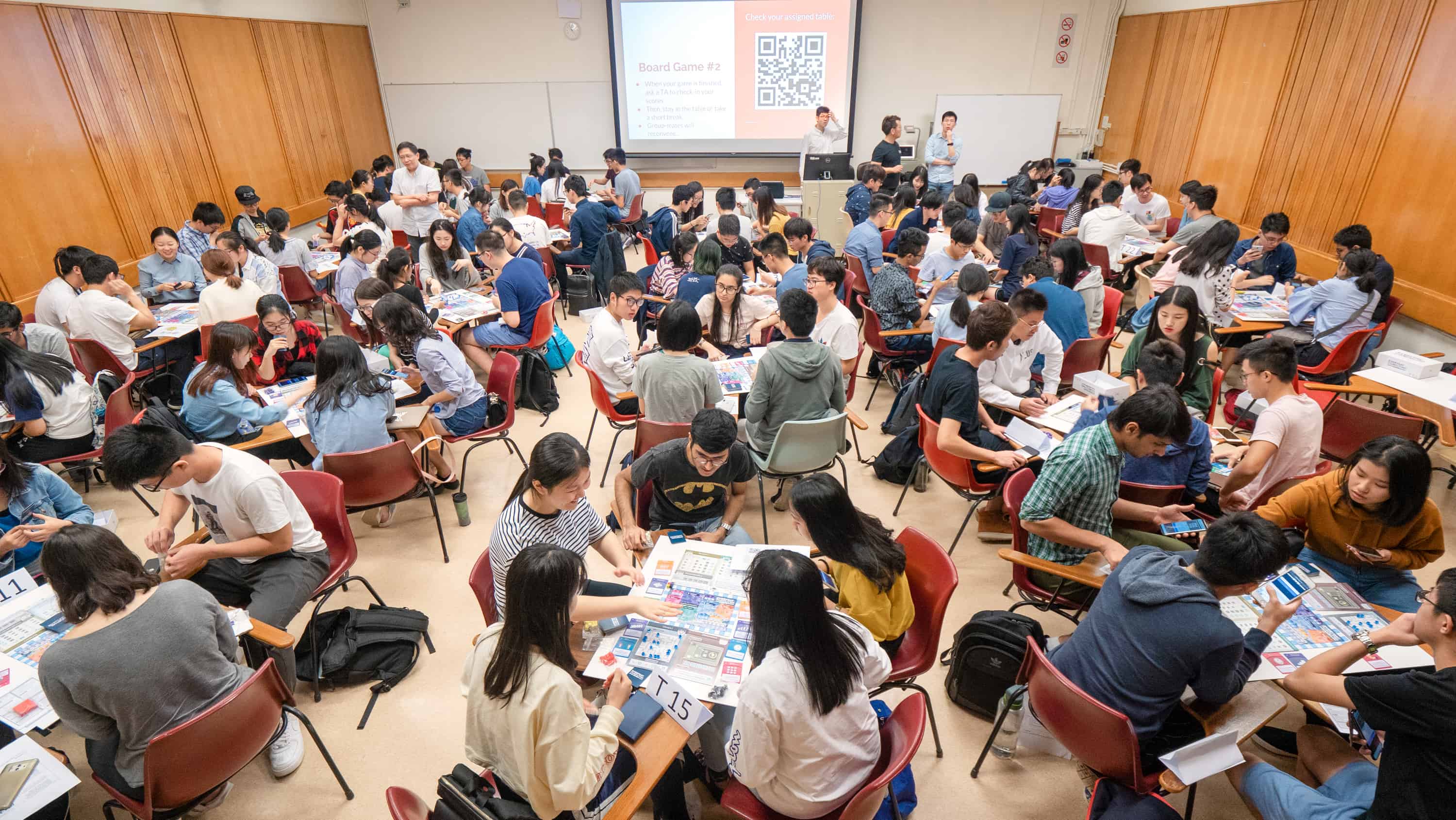 Developing Authority-Endorsed Educational Tools for Supporting Interactive Pedagogies
We continue to support teachers exploring and implementing innovative educational tools. In order to support video-intensive blended learning pedagogies and enhance the student learning experience, we have adopted the Open edX system (https://learning.hku.hk/), first developed by the Massachusetts Institute of Technology and Harvard University, with modifications for HKU. Using this system, teachers can design courses and update the content while interacting with learners. They can easily transfer and manage content across platforms, and adopt third-party tools for enriching the learning process. During the 2018-2019 academic year, 25 courses were hosted on this platform, reaching over 6000 users in total. Based on the experience gained, we partnered with Professor Michael Botelho on developing the "Video Vox" platform (https://vox.hku.hk) to inspire more meaningful peer feedback. Vox allows new interaction possibilities with video content, which facilitates students or teachers to start an asynchronous expert-student dialogue in a discussion thread format.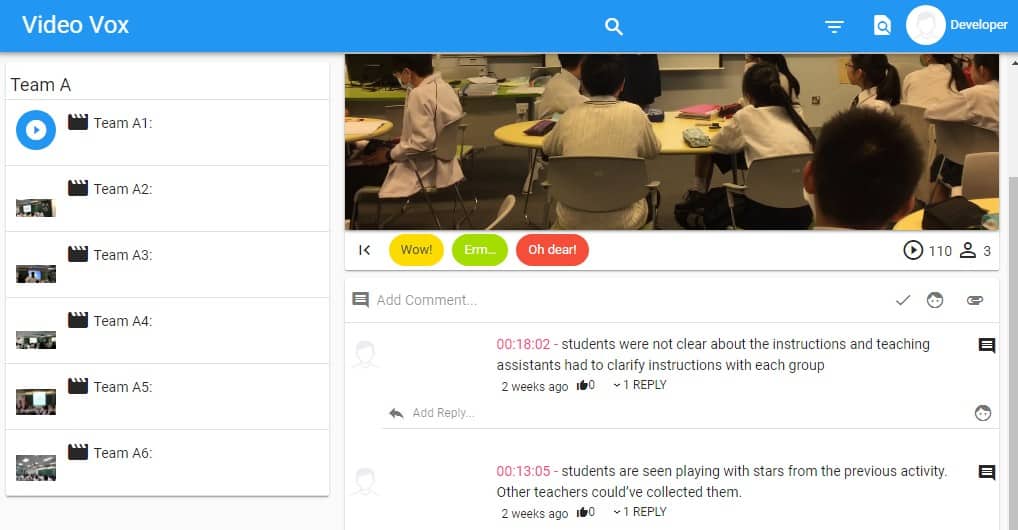 We Aim to Implement New Ways of Working
Colleagues make unremitting efforts to adopt a systematic, disciplined and quantifiable approach for the better development and delivery of educational solutions as a well-designed solution can benefit thousands of staff and students. We hope the developed solutions can be easily replicated and scaled, as well as respond to the dynamic nature of teaching and learning needs.
Improving the Quality of Solutions Holistically through Adopting Technical and Pedagogical Development Guidelines
The objective of the evaluation approach is to increase the educational value of the developed solutions while minimizing technical hurdles. With this in mind, we analyse the adoption of learning tools pedagogically (through Chickering and Gamson's learning design framework) and technically (through agile learning design framework). We have also adopted a rapid iterative approach, "Agile Learning Development", in the context of learning which allows the developers to modify each iteration based on teachers' feedback (a "sprint" concept). The adoption of all these practices help the developed solutions to be more learner-relevant. In addition, a case study based on this approach has been presented to and appreciated by professionals in an international meeting which indicates its potential in the development process.
Introducing Emerging Development and DevOps Methodologies for Automating System Development Process
We aim to increase developers' productivity and improve their efficacy as well as minimize development errors. To achieve all these, the cluster has recently deployed a cutting-edge DevOps methodology "Continuous Integration/Continuous Delivery" (CI/CD) for developing learning management systems (e.g. Vox https://vox.hku.hk/). CI/CD automates testing and deployment processes. Automated testing results and logs are accessible to all developers in the team. This greatly improves team communication while reduces the time spent on running and logging tests manually.
Instead of using conventional virtual machines, colleagues have also adopted a lightweight "Docker" container technology for deploying systems for staff and students (e.g. Vox https://vox.hku.hk/, TDG Resource Hub https://tdg.hku.hk/hub/, HKCPD Hub https://hkcpdhub.hku.hk/). This technology allows more flexibility for developing systems that cater a versatile learning environment with different learning and administrative needs. For instance, it allows an application to be deployed in almost any operating systems. This technology also increases the effectiveness of system testing on the production server, and creates a more responsive system deployment. It has been proven that the overall capability and scalability of the services have increased compared with the traditional deployment approach.
The cluster has also adopted other contemporary technologies (e.g. VueJS) for productive development. All these have resulted in: increased development speed and more software release iterations, fewer bugs, reduced overhead spending and hence more time to innovate, happier users and developers.

This is an event organized by Technology-Enriched Learning Initiative (TELI).
Details of the event:
Date : 4 December 2019 (Wednesday)
Time : 12:45pm – 2:00pm
Venue : CPD-2.58, Centennial Campus, The University of Hong Kong
Speaker : Dr Leon Lei, Ms Emily Leung, Ms Sharon Keung, Ms Louie Cheng
In this digital age, students are familiar with videos as they often learn through videos inside and outside the classroom. The challenge for educators is understanding and exploring how best we might produce teaching videos and use videos as a means of assessment effectively.
This workshop will give a brief introduction to the potential and affordances of videos in teaching and assessments. We will introduce:
examples of how videos have been used in HKU courses for teaching and assessments;
multimedia production support resources in HKU; and
tips on DIY production of videos and animations.
Upon completion of this workshop, participants will be able to:
identify the opportunities, challenges, and tactics of producing instructional and/or animated videos for teaching and learning;
use videos for teaching and assessment
reflect on practices and considerations in incorporating videos in their learning design.
For enquiries, please contact us at enquiry@teli.hku.hk.