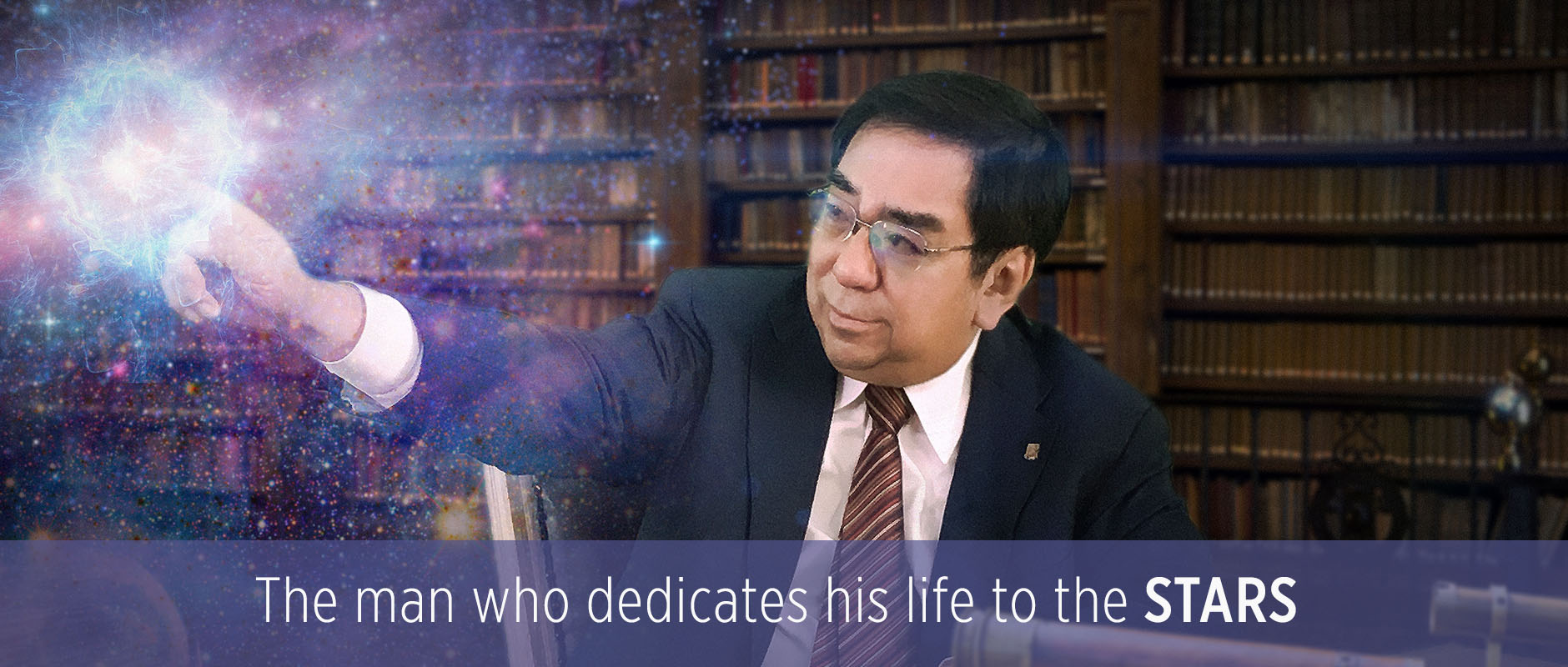 Professor Sun Kwok, a world-renowned astronomer, devotes his waking hours to exploring the wonders of the Universe. Why did he choose this path, and how did it work out for him? On 27th September, we visited Professor Kwok at the Laboratory for Space Research in Cyberport. In an interview with him, we got to know Professor Kwok as a scientist, an insightful educator, and an astronomy enthusiast brimming with passion.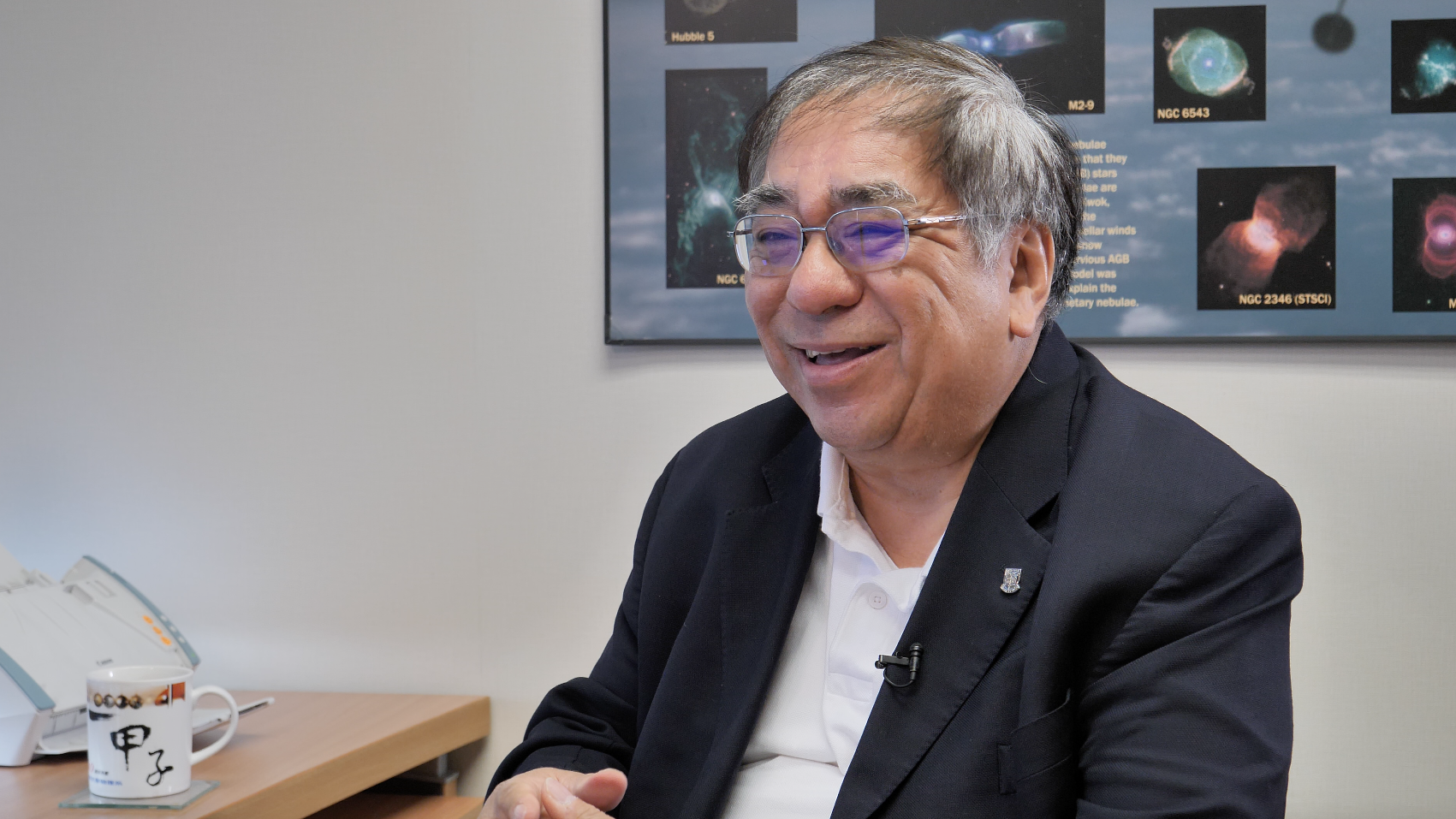 When did it all begin?
It was not Professor Kwok's childhood dream to become an astronomer. Instead, when he was studying engineering at university in Canada, one day, as he read Frontiers of Astronomy by Fred Hoyle, he found out that astronomy has much to do with physics, chemistry and biology. He realized that science are tools enabling him to understand the patterns and motions of stars, and the fascinating unknown of their composition, structure and evolution. The idea of investigating the Universe with physics was exciting, and he was inspired to pursue astronomy, eventually making important discoveries and leaving a legacy.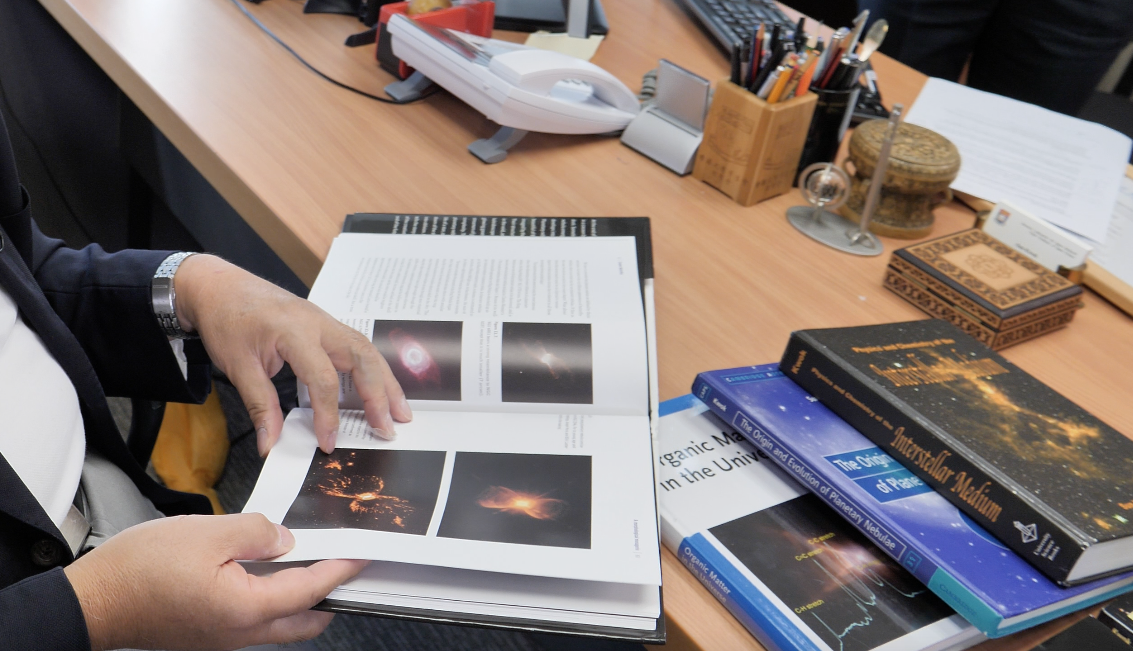 Curiosity and hard work paid off
For Professor Kwok, the Universe is still full of mysteries awaiting him to unveil. Despite hurdles, his curiosity and desire to solve mysteries drive him forward and help him overcome difficulties. Professor Kwok also adds it is all down to diligent preparation and effort, as one would never know when that eureka moment happens. His formula to reaching his goals is constant work, determination and hard work; not so much about natural talent or luck.
His efforts paid off. After countless ventures into deep space through telescopes, Professor Kwok is now the proud discoverer of many nebulae and stars. When asked how does he name his discoveries, Professor Kwok said, "it's usually because of what they look like. In the case of cotton candy (nebula), it's because of its shape!"
Places for stargazing
Professor Kwok has made a lot of professional observations on Hawaii's Mauna Kea. The telescopes on its summit stand 4200 metres above sea level, where the skies are clear and the clouds are well below the observer. It is the location that Professor Kwok considers his favourite to observe celestial wonders.
But is Hawaii the only good place to go stargazing? Many often complain that it is difficult to see stars in Hong Kong due to severe light pollution. Professor Kwok remarks that even in Hong Kong it is not impossible to see, but people just turn a blind eye to them. In fact, Professor Kwok adds, it is extremely easy to see a planet even in Hong Kong, and people are always bewildered when he points to Venus at twilight. Professor Kwok suggests us all to go to the countryside, far away from the city lights, and marvel at the gifts of nature to rekindle our interest for our environment, because "it is all what our ancestors did. Everyone should see the Milky Way once in their lifetime."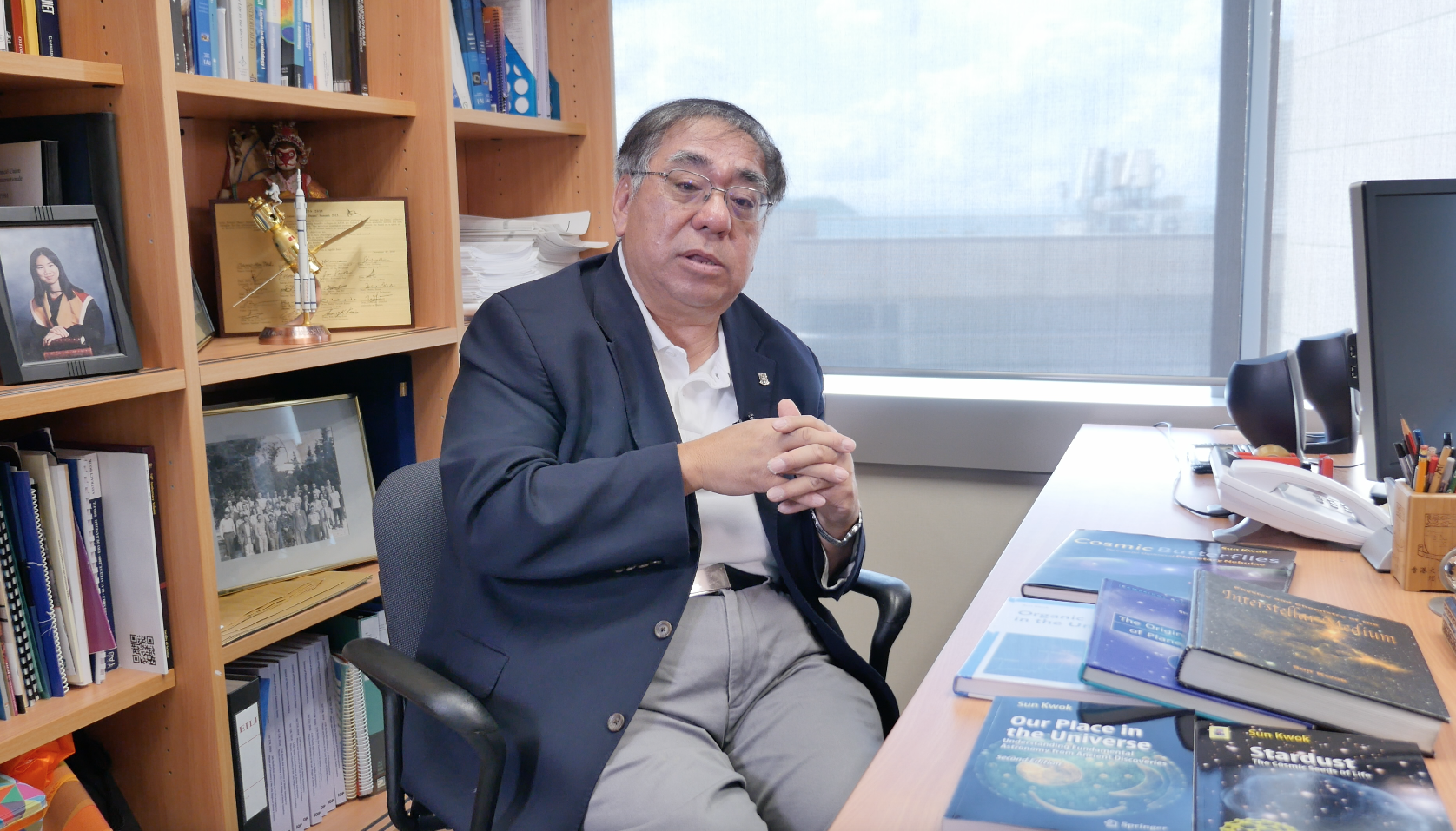 The next adventure
An inquisitive mind enabled ancient people to develop science and make technological advancements. Where is Professor Kwok's curiosity leading him next? Currently, Professor Kwok works on astrobiology and is studying organic matter in space. He also believes that the integration of different fields of knowledge, such as chemistry, biology and geology, will create a multi-disciplinary perspective and be the future of astronomy.
Professor Kwok always encourages young people to pursue their dreams. "Because at the end, it is your life, and you have to have a career that is fulfilling".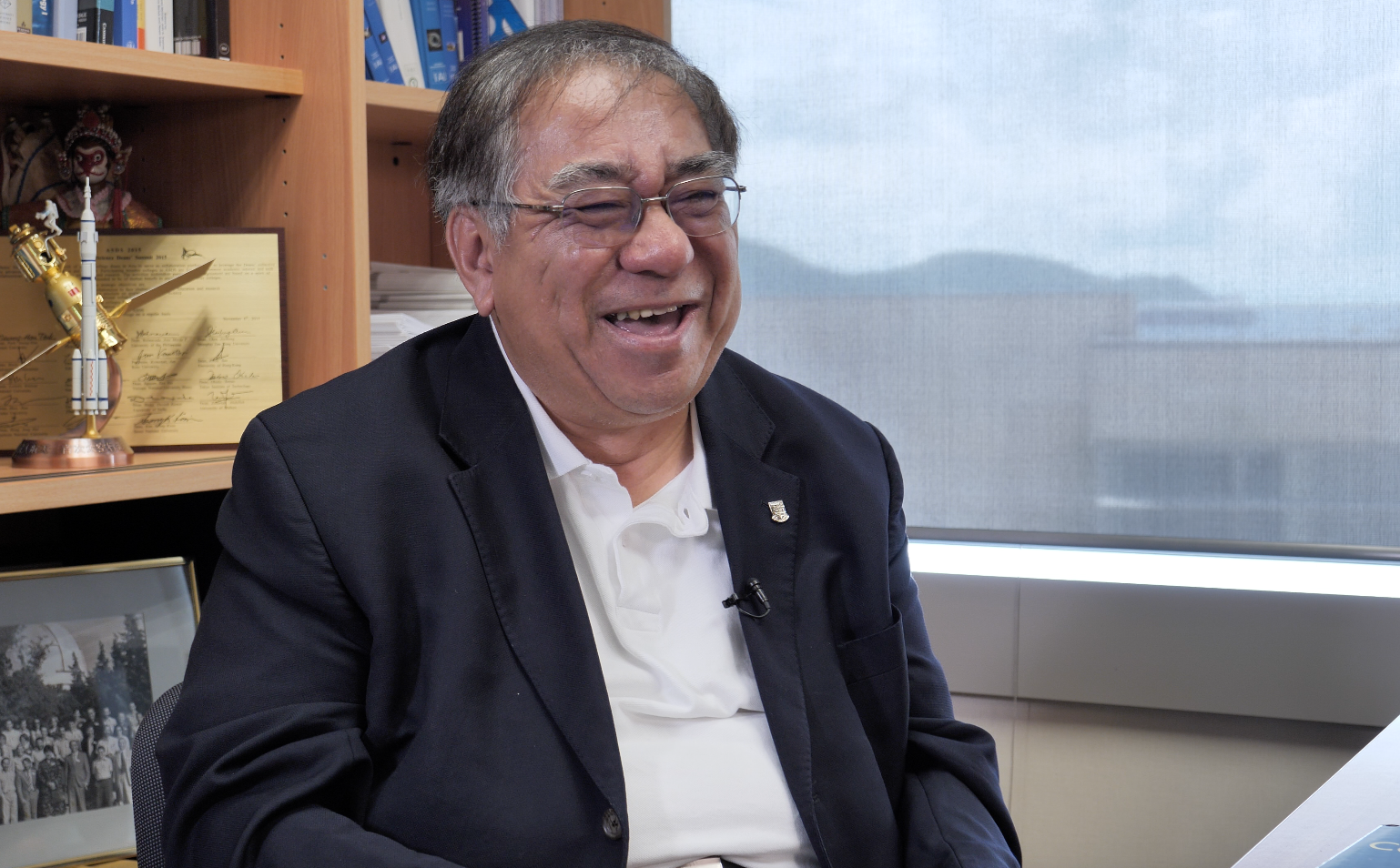 Professor Kwok was featured in the 5th episode of RTHK's series Our Scientists. It explores Professor Kwok's journey in becoming an astronomer, his visions in education, as well as his recent research in organic matter in space.
Follow Our Place in the Universe's Facebook page for video clips of our interview with Professor Kwok and other astronomical facts and interesting articles!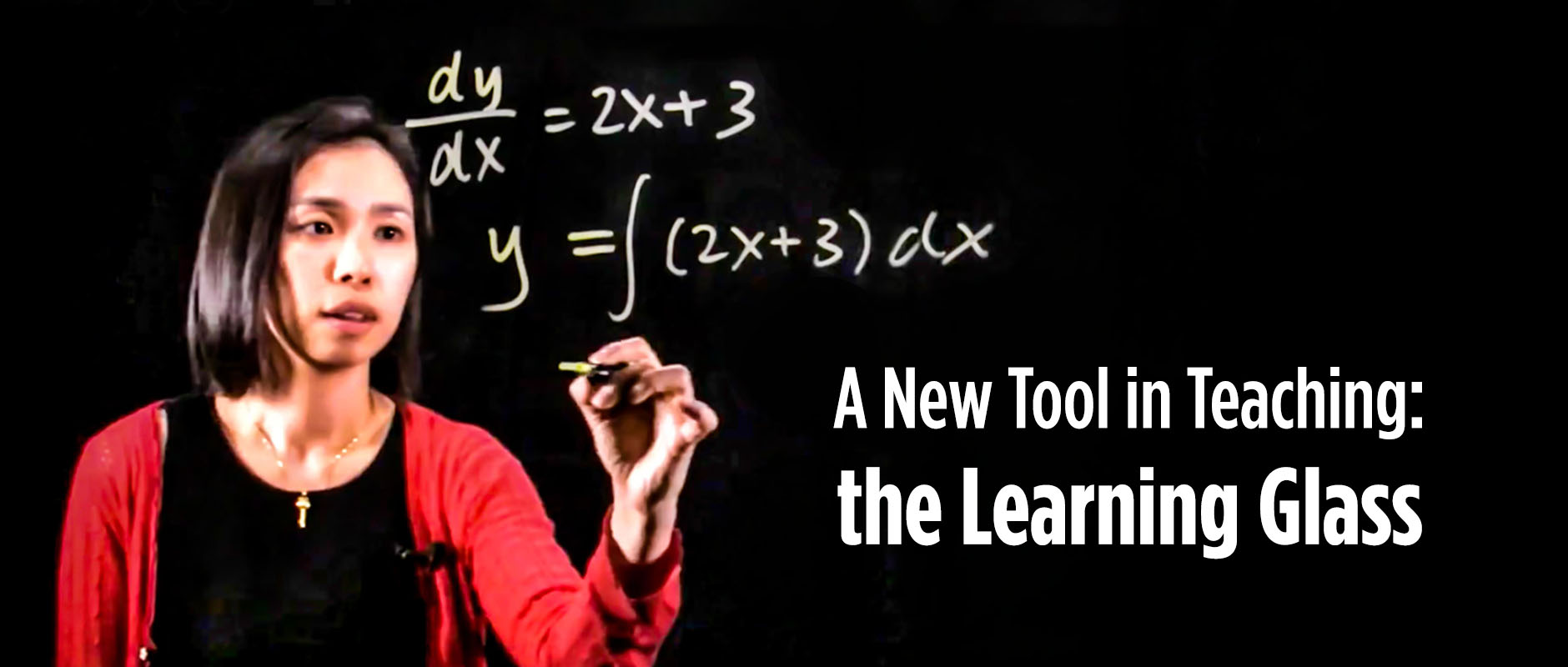 We are surrounded by promises about a technology-enriched learning environment – for example, how online education will supplement face-to-face lectures, how artificial intelligence will provide round-the-clock assistance to students who always work until the small hours. These promises are motivating some of our teachers to bring more innovations to their classrooms. Dr. Rachel Lui, who gave a sharing session last week, is one of them.
Thanks to the Teaching Exchange Fellowship Scheme (TEFS), Rachel was able to visit the University of California, Los Angeles (UCLA) in the summer of 2017 to investigate a new "medium of instruction" – the "Learning Glass". The tool is a video recording system with a transparent glass board in front of the camera. This allows teachers to maintain natural eye contact with the viewers while presenting the content. The purpose is to engage students in a constructivist process of learning. Rachel's sharing covered the following topics:
what "Learning Glass" is, and how to set it up;
why natural eye contact is important;
showing the thinking process in science education;
how "Learning Glass" is different from PowerPoint; and
whether we should invest in tools like the "Learning Glass".
As a result of her trip, Rachel produced 47 videos for SCNC1111 which are in use from this semester. Here are two samples (click on the image to access the original video):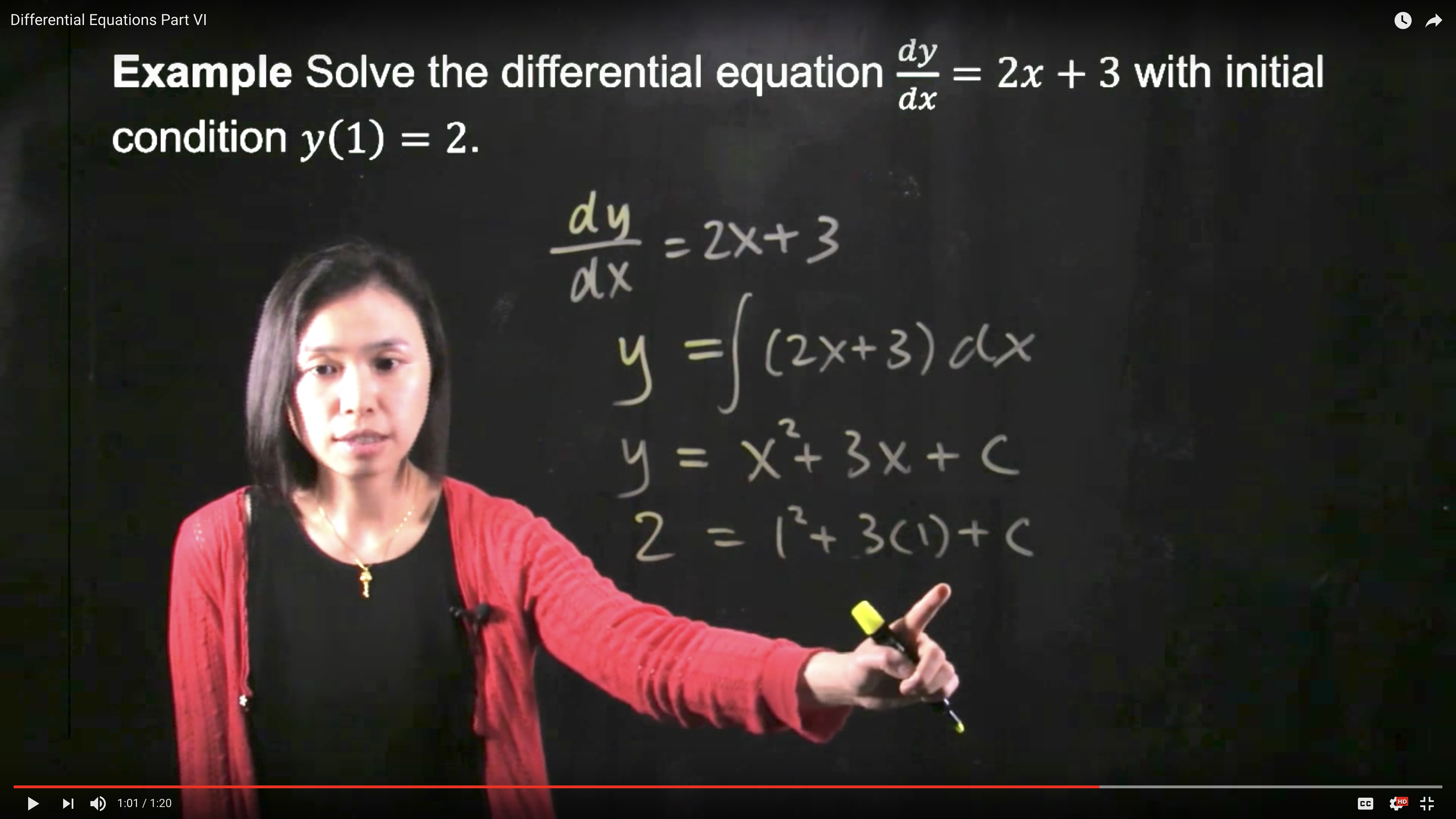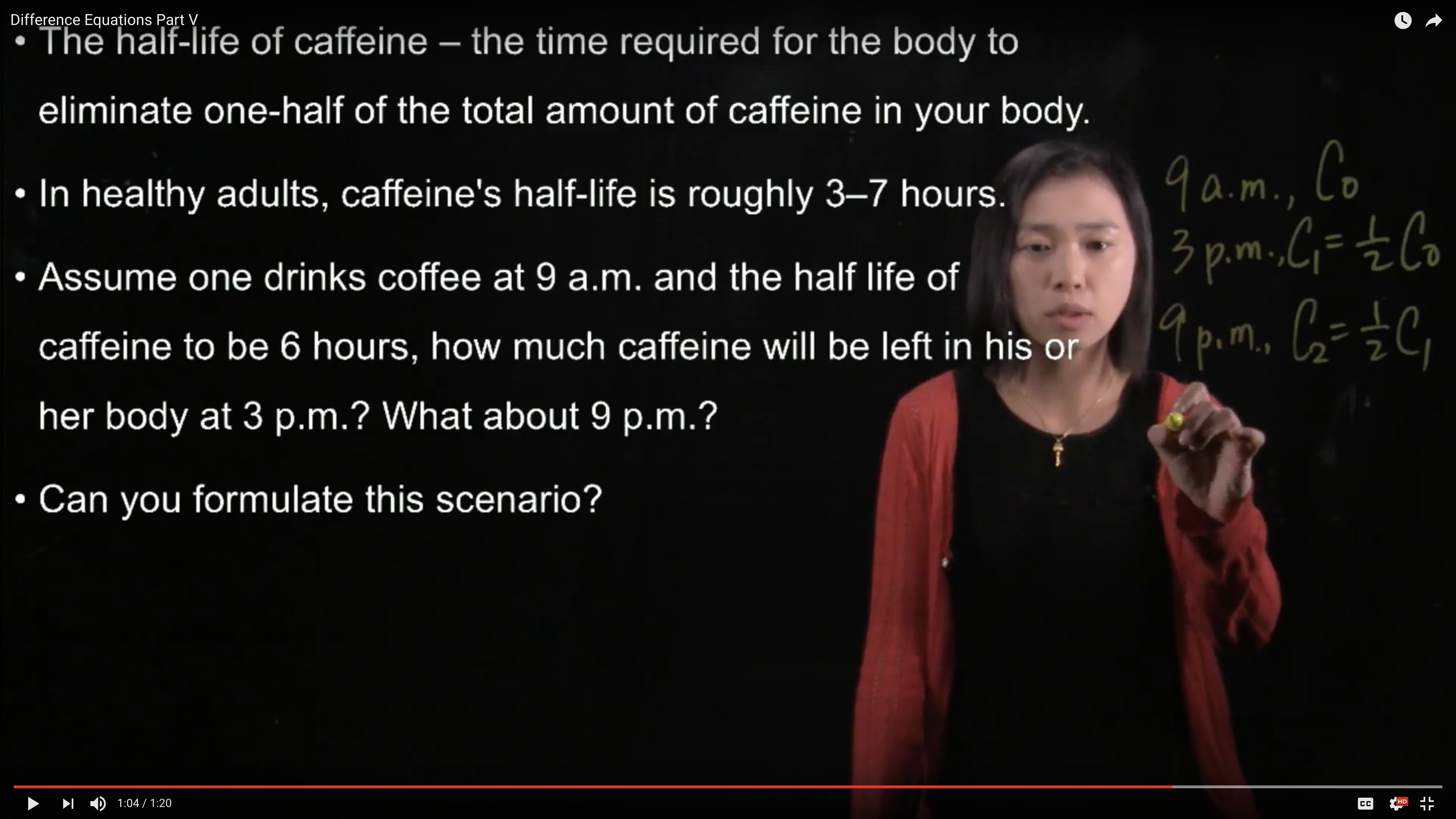 The informal conversations after the sharing were equally fruitful. "It was really encouraging to see that many teachers care about their courses, and are actively updating their pedagogies," Rachel said in delight. "Some of them would like to know more about the software that I used, and some were hoping to get to know more about what can be done in the face-to-face classes after lectures are moved online."
Rachel's work is one example of what is possible in video lectures. As a next step, she will investigate further how to transform the entire course experience.
TEFS aims to enhance the scholarship of teaching and learning at the university through sharing of excellent pedagogical practices between HKU and other prestigious higher education institutions. Full details of TEFS can be found at http://intraweb.hku.hk/reserved_2/cdqa/doc/TEFS/TEFS_2017-18.pdf.

Click here if you cannot access Youtube.
Introduction to the course (Course outline)
University Teaching is an introductory MOOC on teaching and learning in tertiary education, designed by staff at CETL and offered through Coursera. Whether you have just started your first university teaching post, you are thinking about becoming a university teacher, or you just have an interest in understanding the essentials of university teaching, this course is definitely for you.
University Teaching will help you to address the following questions:
What is it like teaching in higher education?
What does research evidence tell us about effective teaching in higher education?
How can we ensure that our instructional design helps our students achieve their intended learning outcomes?
What pedagogic options do we have to make our teaching successful?
What assessment and feedback practices can help our students learn effectively?
With input from instructors, guest speakers and interviewees, including teaching award winners, students and experts in the fields, you will be exposed to research evidence in relation to effective university teaching and instructional design. Throughout the course, you will learn from teachers whose teaching has been judged to be excellent, and you will see many examples of their teaching in practice.
After completing the learning tasks in this course, you will be able to:
Discuss the teaching and learning context in higher education and reflect on the challenges and opportunities you might encounter as a university teacher.
Explain key teaching and learning concepts and relevant evidence in relation to effective university teaching.
Analyse the relationships between various aspects of teaching and student learning.
Identify a range of instructional strategies to support effective student learning.
Apply key concepts to the structuring of course outlines and lesson plans in order to support successful student learning.
Join our professional development community on Facebook
Check out our University Teaching Facebook page for updates and extra content on teaching and learning!
With the rerun of Hong Kong Cinema Through a Global Lens, the course team decided to bring the discussion of cinematic culture back into a cinema once again. Professor Gina Marchetti, Dr. Aaron Magnan-Park, Dr. Stacilee Ford and over 30 Hong Kong movie fanatics gathered at the Broadway Cinematheque in Yau Ma Tei on September 9, 2017 to "look at how Hong Kong is defined by world cinema and how it pushed back against those definitions."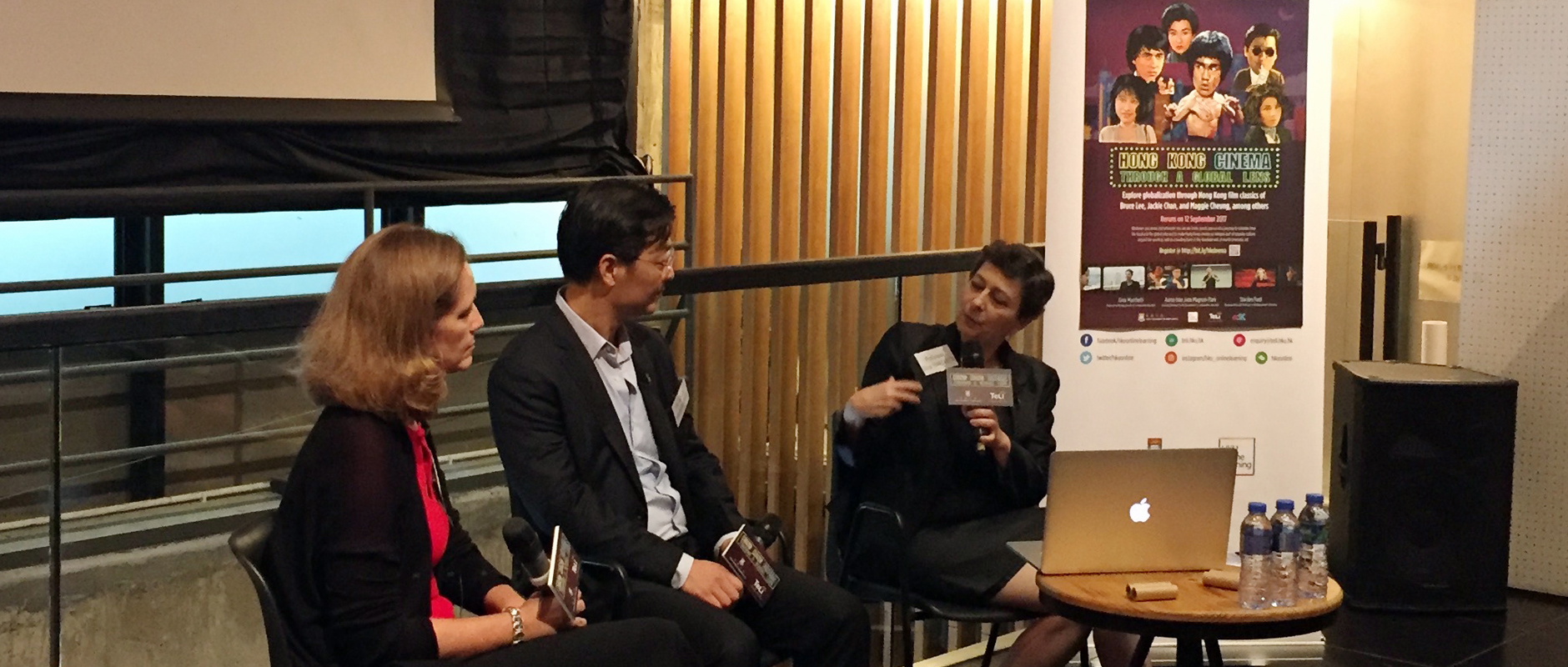 Globalization is one of the most important messages that the course team wants to highlight throughout the 6-week course. Through examining Hong Kong movies, the course team would discuss the triangle relationship between Hong Kong, Hollywood and mainland China, and how Hong Kong movies are digested and defined in Europe, particularly through film festivals like Cannes or the Venice film festival. Learners can expect to learn not only about Hong Kong films, but "what global issues are involved in Hong Kong cinema."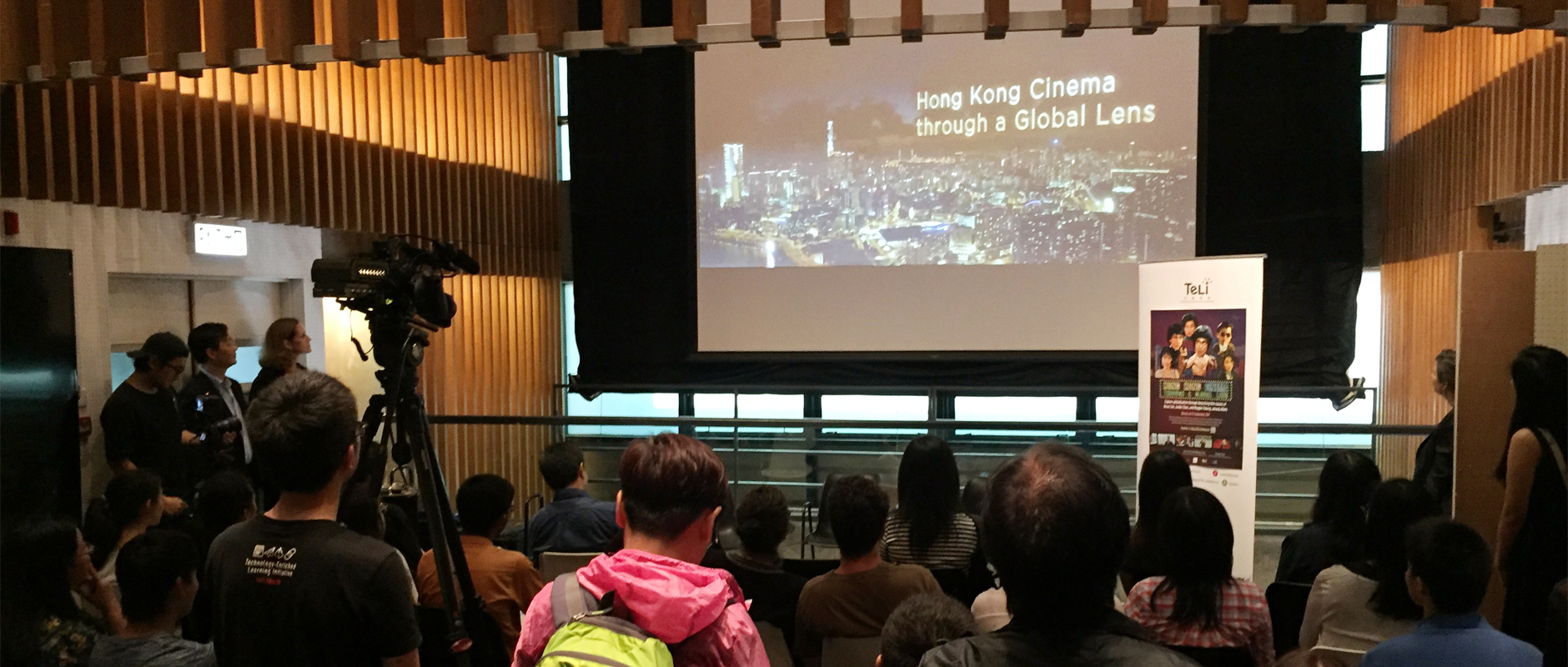 Among the audience were some that had experienced the golden age of Hong Kong film industry. With vivid reminiscence of the good old times, one audience member wondered why Hong Kong movie productions of these days cannot seem to match the quality in the past. Professor Marchetti explained that over the years, the Closer Economic Partnership Arrangement (CEPA) has made it much easier for Hong Kong filmmakers, primarily producers and directors, to make films in mainland China. As a result, filmmakers found it "much more lucrative to make movies across the border." However, Dr. Ford reminded the audience that "even if people are critiquing the film industry from an aesthetic standpoint or arguing that it has had to sell out to the mainland, as a historian these films continue to do really, really important work."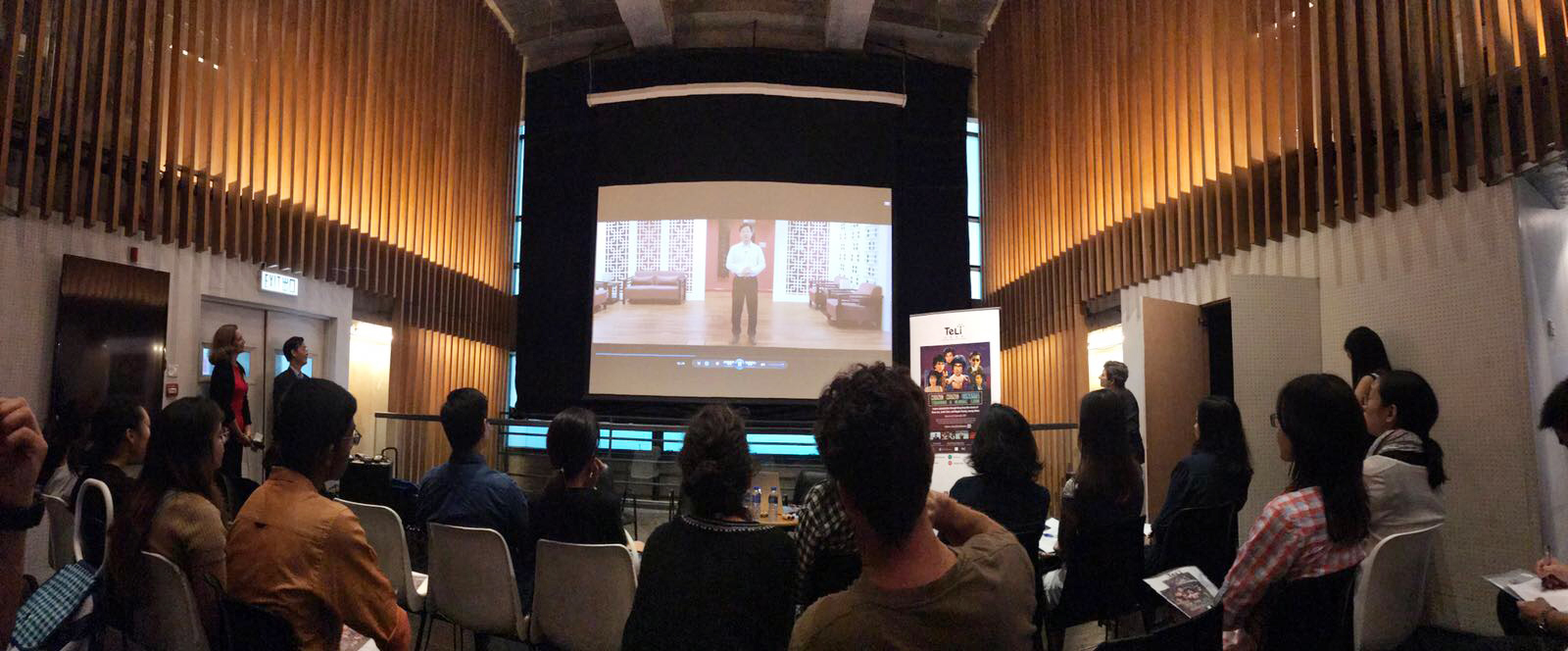 The course team was joined by over 30 Hong Kong movie fanatics
Let's see what the course team shared on each week of the MOOC:
Week 1: Jackie Chan
"Wonderful example of what Jackie Chan is known around the world for: spectacular stunts, timing, Martial Arts choreography…death defying…high wire [acts]. [They are] amazing and recognized around the world."
Week 2: Bruce Lee and the Global Kung Fu Craze
"For so long, Bruce Lee was the only non-white superstar. People who are used to seeing Hollywood action stars always being white men, they could finally see someone that was like them, not white. Even with Caucasians, they saw in Bruce Lee something as an alternative to the dominant ideologies that we were getting about masculinity."
Week 3: Melodramas of Migrations: Mabel Cheung Yuen Ting's An Autumn's Tale
"There is this proud tradition of women filmmakers telling…or building on their own stories in particular ways and it opens up the conversation of US history as well as global history…. The discussion of identity is not just about politics, it is about survival, it is about storytelling, it is about history."
Week 4: John Woo's Heroic Bloodshed Films: Hong Kong vs. Hollywood
"The triad films of John Woo emphasize this idea of friendship, especially this kind of an unexpected friendship because John Woo's gangster triad assassin becomes best friends with a police inspector. Technically they're on opposite sides of the law, they should never become friends, but they share a kind of a chivalric ethos that they recognize in each other and so they bond as friends that way. The argument I make is through these triad films we have the possibility of recreating Confucian virtue in Hong Kong society from the bottom moving up. As long as Confucian friendship remains, the Confucian virtuous project and social harmony still has a chance to happen in Hong Kong."
Week 5: Hong Kong on Postmodern Screens: Infernal Affairs
"To just give you a little idea of something else that makes the MOOC unique is the fact that we had the opportunity to talk to many of the filmmakers who actually produce these films. I was lucky enough to speak with Andrew Lau about the making of the film."
Week 6: Hong Kong Cinema as World Cinema: In the Mood for Love
"Now when we look at In The Mood For Love, in the film, I talk quite a lot about not simply the chemistry between Maggie Cheung and Tony Leung but also about the way in which it reveals a certain understanding of Hong Kong's position in the world, not just in the 1960s when it is set, but also in the years following the handover."
Sign up for the course here to learn more.