This blog post is part of the 'Flipped Classroom Professional Development Series'.
For a flipped class to work, it is essential for students to prepare before class. Unfortunately, some teachers reported that some students did not prepare for class as instructed, no matter how much effort they made in designing pre-class activities. This lack of engagement can usually be attributed to (1) students' resistance to flipping, a non-conventional style of teaching, and (2) their lack of motivation to prepare for class. To overcome these challenges, various solutions were proposed by practitioners in the Flipped Classroom Learning Symposium – Sharing of Pedagogies and Practices on December 6, 2017.
The challenges of engaging students with the pre-class activities
Students' resistance to the new form of learning: Many students in Hong Kong are used to learning in conventional lectures. In traditional lectures, it is often possible for students to sit through a class without prior preparation. Therefore, the pre-class learning which is mandated in a flipped class may seem like an extra burden for some students. In extreme cases, some students even formulated a mistaken impression that the teaching staff who use flipped approach are for "not doing their job", according to Professor Rick Glofcheski from the Department of Law, one of HKU's flipped classroom pioneers.
Students' lack of motivation to complete pre-class activities: There are many possible reasons behind, for example:

Lack of assessments in-class to check whether students have done preparations;
Unclear connections between pre-class and in-class activities;
Repetition of pre-class materials in class.
A lack of engagement with the pre-class activities results in varied student preparedness, which greatly affects the flow of planned in-class activities. It is essential to ensure students understand the basic knowledge, without which class work and interaction with peers would be less meaningful. We have come up with a list of possible solutions to counteract these challenges and to ensure students prepare for a class.
How to minimize students' resistance to this new mode of teaching?
As shared by Professor Glofcheski, the first step is to "consult the students with the model." In particular,
Let your students know why you use flipped classroom approach;
"Explain it in terms of the outcomes, not only how this will help them achieve success in assessment, but also how this is relevant and aligned perfectly to what is needed in the future";
Explain the importance of taking ownership of their learning.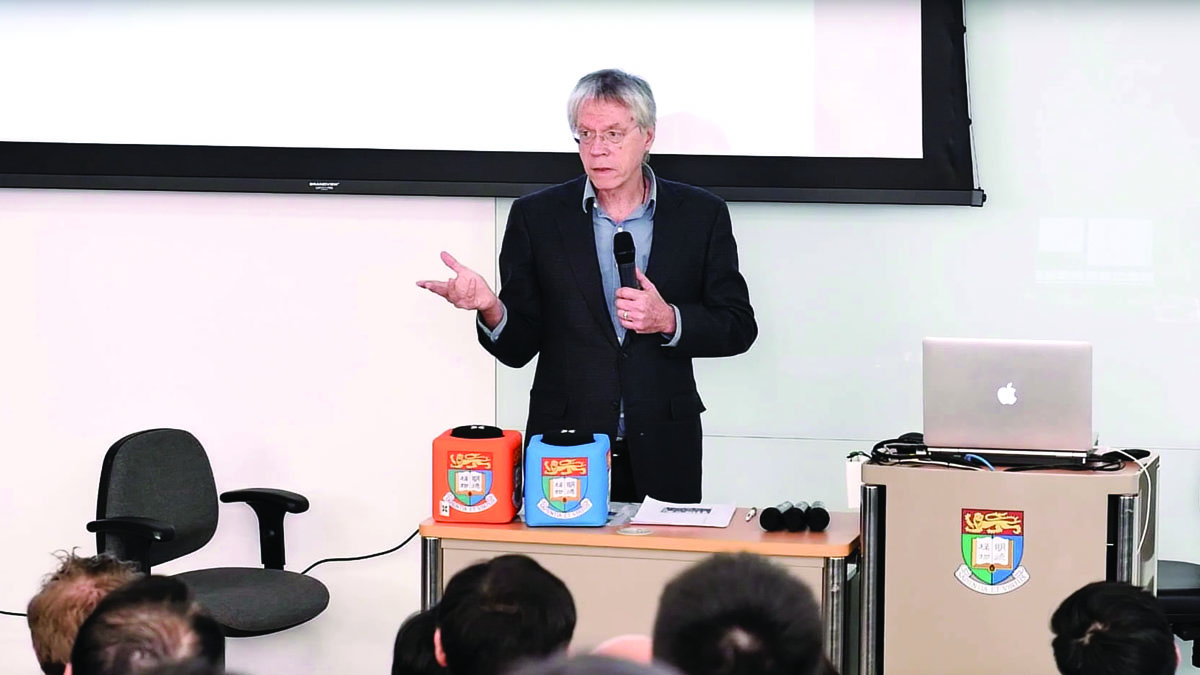 "For this to work, you have to consult the students with the model. Let them have input and they agree to go with this," says Professor Rick Glofcheski.
Before your flipped class sets sail, make sure your students are all on board with the new learning approach, and are well informed with the expectations for them to paddle with you.
Mr. Sam Cole from the Centre for Applied English Studies also suggested that teachers need to explicitly tell students about the consequence of not preparing for class, as this will severely hinder the learning progress of those who have prepared. In Mr. Cole's classes, students who have not prepared their notes as expected will be "separated" from their peers. "[They] won't be collaborating with others, and … won't benefit from that collaboration."
How to motivate students to complete pre-class activities?
Create incentives for pre-class preparations. In Professor Ricky Kwok's class, CCST9003 Everyday Computing and the Internet, the pre-class lecture videos are followed by knowledge check quizzes, which contribute to a small proportion (say 10%) of the final course grade. By using these formative assessments, students are not only incentivized to prepare for class, but also presented with the opportunity to test their own understanding of the video lecture content.
Use peer pressure. Mr Mathew Pryor said that peer pressure is a powerful tool to ensure online participation. To motivate students to watch videos before class, he arranged students to "work in small groups and … lead discussions based on the videos." Students may feel embarrassed if they did not complete the pre-class work that are required to accomplish in-class activities through collaborating with their group mates.
Utilize video analytics. On top of the number of students having watched the videos, video analytics can give teachers important information about student behaviour while watching the videos. For example, sections of a clip that records a significantly higher number of viewing reflects points of interest or confusion. Teachers can then follow up with students in class to identify the reasons behind and provide further clarification when necessary. This shows students that the teacher monitors their pre-class activities. When students see the connection between pre-class and in-class learning, they would feel more motivated to prepare for future classes. To learn more about video analytics, check out this article: Data-assisted instructional video revision via course-level exploratory video retention analysis (Lei et al., 2017).
Key underlying strategies for designing pre-class activities
Constructive alignment. It is essential to have a holistic planning to align the pre-class activities with face-to-face in-class activities, the assessment and learning outcomes. So that students would appreciate and adapt to self-learning and preparation before class (Wang, Su, Cheung, Wong & Kwong, 2013). One way to achieve this is to design in-class activities that require students to apply the content they have learnt from the video. This will create a washback effect that motivates students to complete the pre-class work beforehand. If students do not see how the activities are linked to or could help them to complete the in-class activities and assessment, they would be less motivated to prepare for class. If you are interested in further exploring the concept of constructive assignment and student preparation, check out the following video and our free online course University Teaching.
Create and implement a mechanism to assess students' understanding when they interact with online learning materials. Always follow up with students' online responses and check their learning progress in class to consider if further review or explanation is required for the whole class or individuals. Students are less motivated if they know that teachers do not check their pre-class preparation work.
When designing the pre-class activities, be realistic about what students can learn on their own, and also be considerate about the time and effort that students need to complete the work.
One step further
Interested in learning more about the topic? Here is a perfect opportunity for you to dig deeper and discuss with fellow teachers and researchers – On February 28, 2018, Dr Lily Min Zeng will talk about how to engage students in the pre-class preparation for flipped classroom and potential options from adaptive learning in a seminar organized by the Centre for the Enhancement of Teaching and Learning (CETL).
Dr Zeng is also running a Massive Open Online Course (MOOC) entitled University Teaching. New sessions start every month. Don't miss!
Got more ideas to share? Contact us.
Further reading
Wang, X., Su, Y., Cheung, S., Wong, E., & Kwong, T. (2013). An exploration of Biggs' constructive alignment in course design and its impact on students' learning approaches. Assessment & Evaluation in Higher Education, 38(4), 477-491.
If you are interested in learning more about Professor Rick Glofcheski and his experience in flipping, check out these two articles:
Flipping the Classroom (HKU Bulletin, May 2016, Volume 17, No. 2.)
EdTech Flips Out: The developing needs of students are at the centre of the expanding flipped learning model (Education Technology, Issue 30, Aug-Sept 2017)

New tech gadgets enable us to teach better. By using GoPro cameras, Google Glass and the Lightboard, Mr Fun Man FUNG from the National University of Singapore (NUS) transformed his Chemistry course into an exciting blended learning experience. As an enthusiastic instructor and a member at the Institute for Application of Learning Science and Educational Technology (ALSET) at NUS, Fun Man constantly experiments with different educational technology. He shared his successful pedagogies in a seminar entitled "Inspiring and Innovating with Technology-Enabled Blending Learning Experience (TEBLE)" on January 25, 2018.
Filming instructor's point of view (IPOV) videos using GoPro cameras
One key component of Fun Man's flipped Chemistry Course is his self-produced lab-instructional videos. These videos demonstrate laboratory experiments step-by-step, and are filmed by the instructor himself using GoPro cameras – one strapped on his chest and another on his forehead. IPOV means first person point of view – You will only see the instructor's hands, but not the person, on screen. As you watch these videos, you will go through the steps as if you did the experiment yourself. Fun Man borrowed this filming idea from first person perspective video games, and this filming perspective has been proven to be facilitative in learning by research (Green and Bavelier, 2006).
A demo video produced by Fun Man.
IPOV videos are also more realistic and engaging, compared to third person point-of-view videos where the instructor is filmed by a cameraman. Before switching to IPOV videos, Fun Man had a cameraman film him demonstrating laboratory experiments . The videos were staged and scripted, hence less authentic and relatable. The process of filming was also challenging – as the cameraman did not have a background in Chemistry, he did not know what to focus on while filming, and Fun Man had to go through an extra hurdle of giving him filming instructions. It is more straightforward and efficient for Fun Man to film the demonstration himself using GoPro. Thanks to this IPOV technique, the instructional videos became livelier and more authentic. They also served as a useful resource for students to refer to for after-class revision.
The videos were well-received by students. The table below summarizes students' feedback – all students agreed that the videos improved their confidence and skills in conducting experiments.
Students' Perception on GoPro Lab
| Questions | Disagree very much | Disagree | Agree | Agree very much |
| --- | --- | --- | --- | --- |
| I find the GoPro video on experimentals enhanced my learning. | 0 | 0 | 8 (38%) | 13 (62%) |
| I am eager to try the experiments after watching the videos. | 0 | 0 | 11 (52%) | 10 (48%) |
| I would have preferred to enter the laboratory without watching any video demonstrations. | 14 (67%) | 7 (33%) | 0 | 0 |
| The GoPro videos improves my confidence in conducting the experiments on the actual day. | 0 | 0 | 11 (52%) | 10 (48%) |
| The GoPro videos improves my ability to operate the instruments and machine in the actual lab. | 0 | 0 | 11 (52%) | 10 (48%) |
| Overall, GoPro lab teaching is more effective than direct instructions from the lab manual. | 0 | 1 (5%) | 9 (43%) | 11 (52%) |
A few tips from Fun Man when using GoPro:
The major challenge of using GoPro is movement and camera shake. Some footage may be blurred as a result, or the camera focus may not be what you intended. To minimize camera shake, you need to move very slowly during filming and have a sense of physical awareness. You may also need to spend more time editing your footage.
Footages filmed by cameras mounted on different parts of the body are good for different purposes – "GoPro mounted on forehead gives better capture for lab demonstration," but the view is shakier. "GoPro mounted on chest is excellent for tutorial capture," except in a dim classroom.
One limitation of GoPro is that it is mainly designed for outdoor filming. So the quality of indoor footages may not be as satisfactory as outdoor ones.
Live-streaming IPOV video using Google Glass
In addition to GoPro, Fun Man also uses Google Glass to conduct live demonstrations in class. The aim is to offer consistent teaching to all students within the same lab group.
Live-streaming IPOV videos using Google Glass.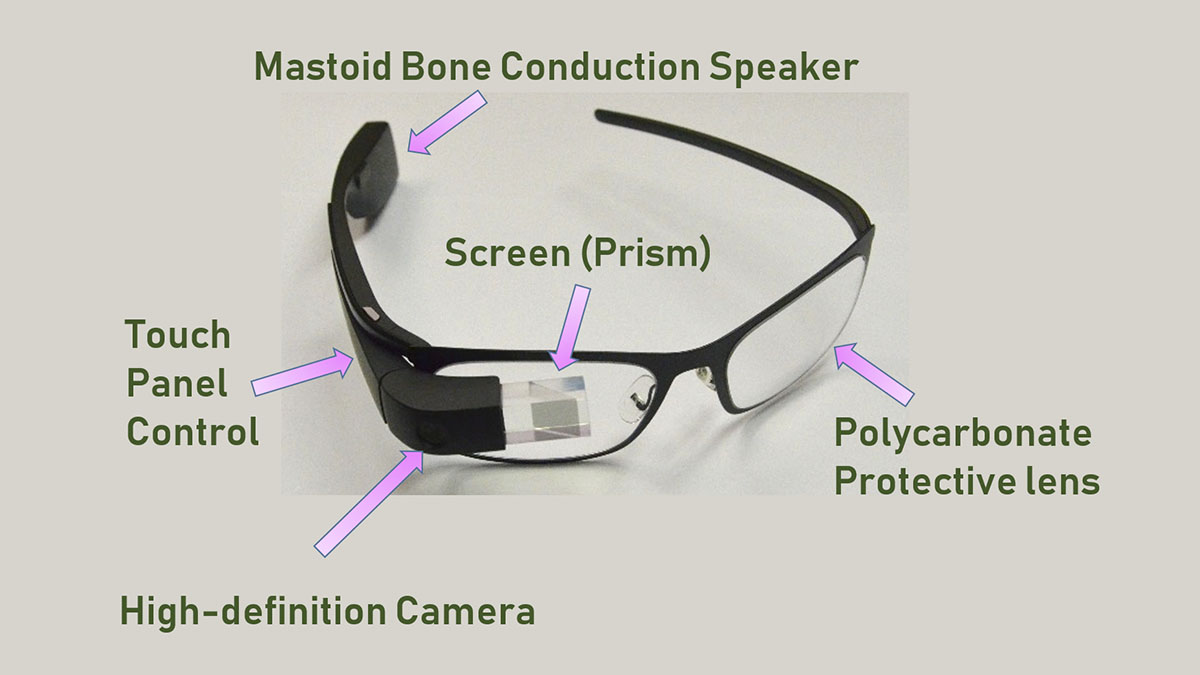 Google Glass. (Image credit: Mr Fung Fun Man)
Conducting live demonstrations facilitate learning by:
Allowing all students to observe the demonstration setup clearly, without being blocked by taller classmates. This also enables more students to observe in case of large classes, as students at the outer edge of a large huddle may experience difficulty in seeing the demonstration clearly.
Addressing students' common questions and offering early support to all of them: In the lab sessions, students work in groups and Fun Man walks around to respond to their questions. It is not uncommon for multiple groups to have the same questions. While the teacher is willing to respond to individual groups repeatedly, he can at most interact with one group at a time. The last group Fun Man attended to will obtain help way later than their peers. By live-streaming through Google Glass, students' common questions can be addressed at the same time.
Stimulating students to think about previously unconsidered points and/or raise more questions. This creates a constructive platform for both students and teachers to build knowledge upon each other's ideas.
Raising students' confidence and interest while working.
Having discovered the usefulness of Google Glass, Fun Man further suggests that it could be explored in real-time teaching for distance learning curricula.
Producing DIY videos using Lightboard
Apart from pre-lab videos, Fun Man also produced talking head videos for his flipped class using Lightboard. Lightboard allows teachers to write down notes and diagrams on a glass board before them, while maintaining natural eye contact with the audience. Fun Man believes that this is a dynamic and engaging way to convey knowledge. It is also a very convenient way to produce videos as there is no need for post-video processing. All you need to do is to simply teach in front of the camera and upload the recording.
The only minor problem with Lightboard is an inversion of your hand gesture since the video is a mirror image. For example, when you explain a clockwise movement with your hand movement, it will appear as anti-clockwise in the video.
Despite this minor drawback, Lightboard videos were popular among students in the 2016/17 cohort and "resulted in a significant improvement in overall student performance", compared to students in the 2015/16 cohort who did not learnt through Lightboard videos, comments Fun Man. Students who learnt using Lightboard videos achieved higher Average Grade Point. More students managed to reach A-grade standards, and fewer failed. They also commented more positively on the module and teacher effectiveness than their peers in the previous cohort.
| | AY15/16(Without Lightboard videos) | AY16/17(With Lightboard videos) |
| --- | --- | --- |
| Enrolment size | 641 | 456 |
| Average Grade Point | 3.51 (sd=1.1) | 3.85 (sd=0.86) |
| Students in Band 1 (A+/A/A-) | 26.05% | 29.17% |
| Failures (D+/D/F) | 7.96% | 2.85% |
| Overall opinion of the Module | 3.586 (response rate = 76%) | 3.8 (response rate = 90%) |
| Overall effectiveness of the teacher | 4.225 | 4.3 |
Listening to Fun Man sharing his experience and practical tips in using various filming devices was very rewarding. We would like to express our gratitude to him for inspiring us to further explore the ways to enrich students' blended learning experience with technology.
If you are interested in using technology in class, or simply want to try using GoPro or new gadgets, contact us.
Further reading

This blog post is part of the 'Flipped Classroom Professional Development Series'.
Successful lessons begin with intentional, detailed, and pedagogy-embedded planning. In designing your flipped class, it is important to think from students' perspectives right from the planning stage. This is to ensure they feel prepared for engaging in an active flipped classroom. In the Flipped Classroom Learning Symposium – Sharing of Pedagogies and Practices on December 6, 2017, practitioners from multiple disciplines in HKU shared their very own experience in designing pre-class activities. This blog post is a toolbox of effective pre-class activities and useful tips in planning a flipped class.
Benefits of Pre-class Preparation by Students
One of the key dimensions of flipped learning is the preparation students need to do before class in readiness for deeper exploration of the subject content and application of their knowledge and skills in class. This is the essential stage for students to acquire foundational knowledge.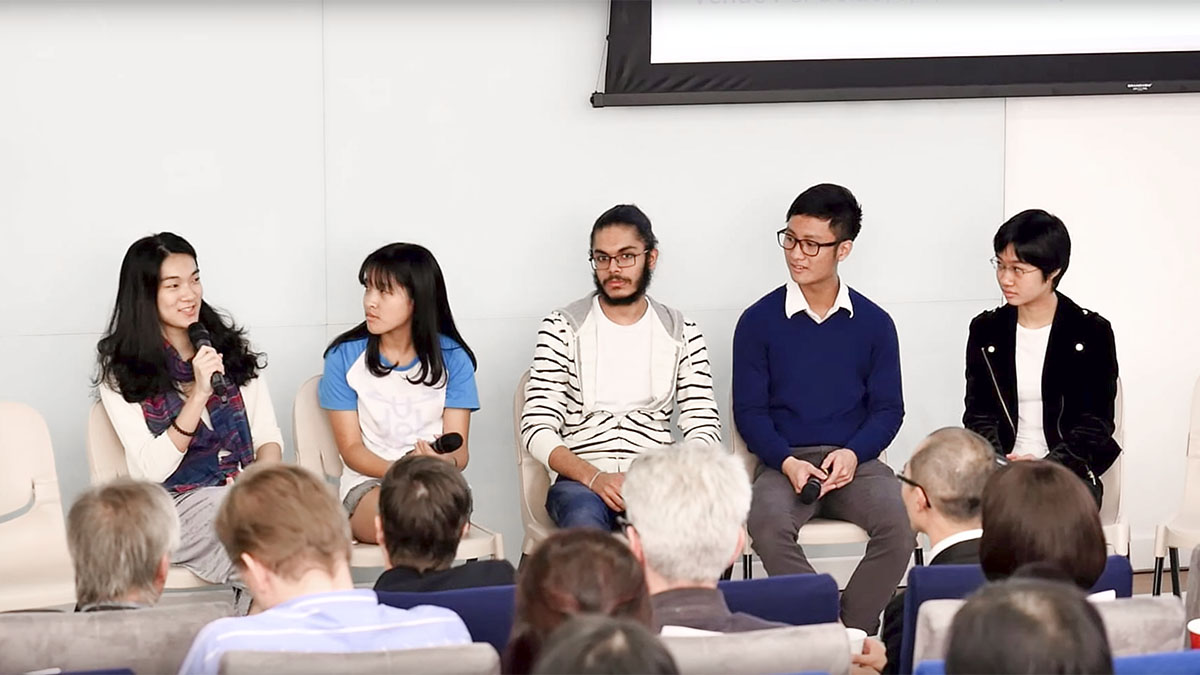 Yaya, a Year 5 medical student points out that, "If you do sit down and watch the video and you go to the flipped classroom, it's very rewarding because you know you can apply the knowledge. And when you can answer the questions, you know I've grasped some of the key knowledge."
One major benefit shared by the teachers at the symposium is the availability of pre-class resources and activities on the online platform that allow students to personalise learning. Students can access the content anywhere, anytime, and can study it at their own pace. They have the control and flexibility of when and how the learning materials are used to suit their learning styles. This mode of learning gives them an opportunity to learn to take the ownership of learning.
Furthermore, as students acquire the foundational knowledge before class, more class time can be devoted to interactive activities that requires actual application of knowledge and higher-order thinking skills. It allows more time for student-teacher as well as student-student interactions, which students and teachers greatly appreciated. Freeing up class time enabled teachers to go beyond fundamental concepts, run collaborative group activities and prompt discussions.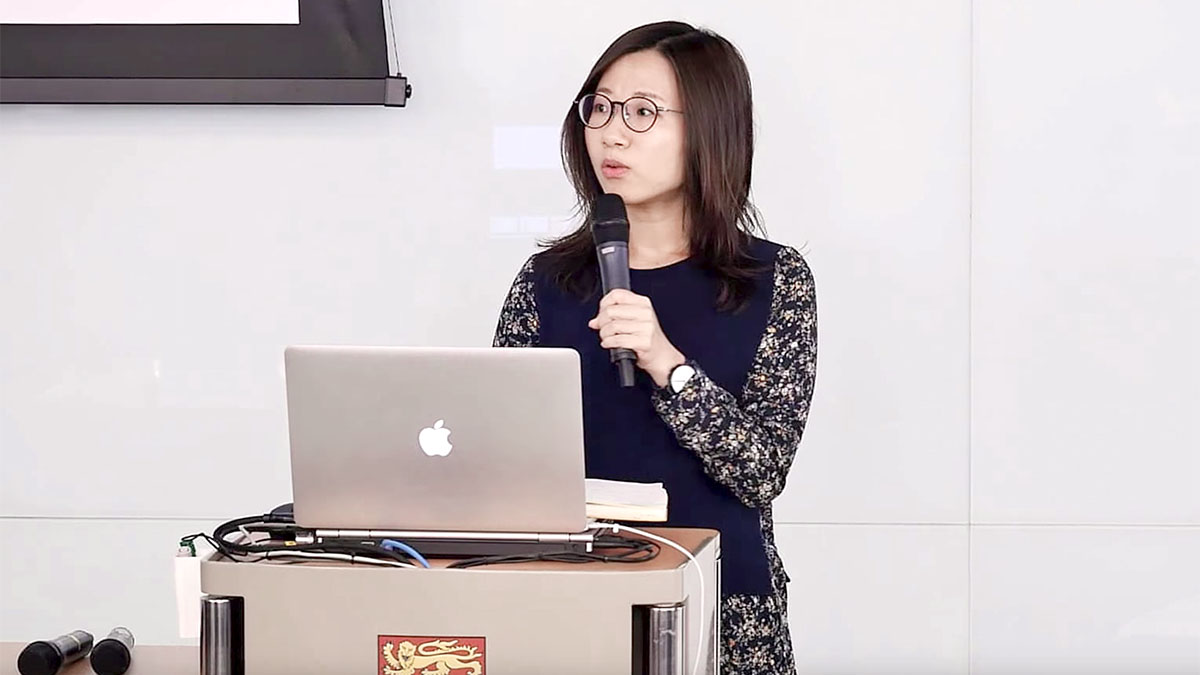 "It takes time in class to explain the abstract concepts to students There was no room for them to ask questions and to talk about what they understand… It can now be more flexible because students take their own time and complete it [pre-class activities] at their own pace and then in class there is real discussion happening. We focus on what students don't understand from the packages [pre-class activities]," says Ms. Heidy Wong, Assistant Lecturer, Centre for Applied English Studies (CAES).
Recommended Pre-class Elements: What to Prepare
Online learning platform
Create / Provide an online learning platform where students can have access to all learning materials. You may choose to use Moodle, a platform which has been adopted by most teachers in HKU. An alternative is Open edX, a newer, more flexible platform for blended learning, where teachers can host a wide range of file types, including videos, polls, and even code their own plugins to suit their teaching needs.
Maximize student interaction by embedding a tool or component to the platform that promotes multiple ways communication, either synchronised or real-time, such as a discussion forum. This encourages all students to share their thoughts and ask questions about the pre-class learning materials and activities. It also gets everyone involved in knowledge-building and cultivates a sense of belonging among students in the online community.
Go through the online platform with the students and teach them how to use the resources. Some students may need the demonstration on how to find and use the materials as they will need to adapt their learning strategies.
Pre-class videos
Flipped learning is often associated with the use of pre-class video as they can motivate students to learn and help them build their conceptual understanding (Long, Logan & Waugh, 2014). At the symposium, most teachers have used videos as the main vehicle to deliver course content before class.
Condense lecture content into short videos. Shorter videos are much more engaging than long explanatory videos (Guo, Kim & Rubin, 2014). In Mr. Mathew Pryor's experience, he redesigned his original 90 mins lecture down to two 8-10 mins videos for his course, CCHU9001 Designs on the Future. He commented that it is a "valuable instructional design exercise".
When speaking in the video, be concise, animated and enthusiastic (Guo et al., 2014). Along with meaningful audiovisual aids, this keeps students interested and focused while watching.
Use different types of videos (e.g., talking head, learning glass, whiteboard and tutorial demonstration videos) and integrate the videos with graphics and animations.
Add interactive components and knowledge checkpoints to the videos. Various forms of knowledge check questions can be embedded at the end or at any point of the videos. This increases students' attention span and provides better engagement (Santiago, Kasley, Guo & Phillips, 2017). Examples of interactive components introduced in the symposium include:

The SCORM package: Introduced by Mr. Sam Cole, Ms. Heidy Wong and Mr. Patrick Desloge from CAES, SCORM is an interactive online package which allows teachers to embed questions around the video. The short quizzes with instant feedback provide students with formative self-evaluation for their understanding of the content and learning progress.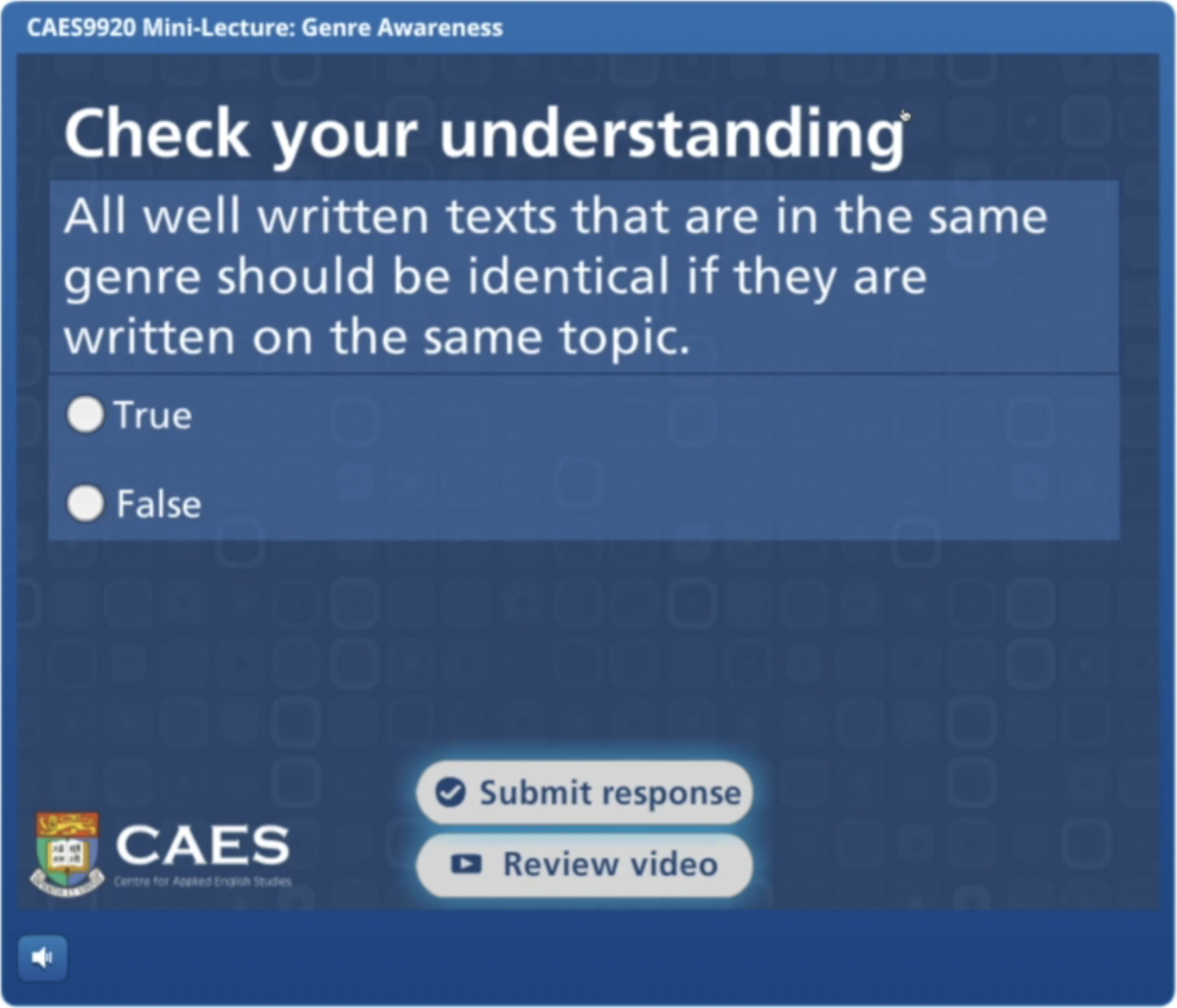 The SCORM package for formative self-evaluation.
Video commenting tool: Dr. Michael Botelho from the Faculty of Dentistry and Mr. Mathew Pryor are developing a video commenting tool where students can add reaction tags and textual comments directly at specific points of the video, which the teacher and fellow students can respond to. This also maximizes the learning experience by allowing students to share their opinions and ideas as they prepare for class, socializing the online pre-class stage.
Other online learning resources
While videos can be a useful resource, it is not the only way of engaging students in pre-class learning. Think about how best to engage your students before coming to class. It may involve using different digital media and activities, but the focus should always be on what the student needs to learn and not on what media to use.
Provide relevant and authentic reading materials. Besides getting students to read sections from the textbook, the teachers found that authentic reading materials (e.g., news articles, websites, blogs) can help students to better understand the topics and relate to their everyday life.
Look for open-source educational resources. Some examples include documentaries, infographics, websites, blogs, news clips, journal articles, Khan Academy videos, Youtube trending clips, movies and TV clips. Teachers can customise and integrate them into their curriculum, which help to widen students' perspectives and enhance their learning experience.
Utilise and integrate specific technologies (e.g. Kahoot!, Google forms, Google docs, mind maps) to engage students and create a cohesive learning experience.
Examples of Pre-class Activities
Below are some examples of pre-class activities that our teachers employed in their courses or planned on implementing.
Initiate short discussion before class. This can arouse student interest on the topics as they prepare for further discussion in class, which encourages deep learning and helps students work towards mastery of the content.
Get students to submit online polls and surveys. Not only can interesting pre-class polls and surveys arouse students interest for the content, but they also help the teacher to assess students' understanding and gauge their perspectives of the topics.
Design pre-class activities that require students to collaborate in groups before class. This encourages students to help each other to understand the materials and start building knowledge upon one another's ideas.
Ask students to do preliminary research or analysis for acquiring the basic knowledge of certain topics. Teacher can then dive into activities that develop higher order thinking for specific topics in class. Students may read different materials or do research on different assigned topics. Then they can share their findings in class with other students in small groups.
For a flipped classroom to work, both teachers and students have their part to play in the pre-class stage. Teachers need to plan pre-class activities carefully, and students need to make preparation accordingly.
In the upcoming blog post, we will share strategies as to how to ensure students prepare for class.
Reference
Guo, P. J., Kim, J., & Rubin, R. (2014). How video production affects student engagement: An empirical study of MOOC videos. In Proceedings of the first ACM conference on Learning@ scale conference (pp. 41-50). ACM.
Long, T., Logan, J., & Waugh, M. (2014). Students' perceptions of pre-class instructional video in the flipped classroom model: A survey study. In Society for Information Technology & Teacher Education International Conference (pp. 920-927). Association for the Advancement of Computing in Education (AACE).
Santiago Jr, J. M., Guo, J., Eng, D., Kasley, K., & Phillips, P. (2017, April). Introduction to Engineering Using Google Docs and Interactive Video in Support of an Online Flipped Classroom Approach. In 2017 ASEE Pacific Southwest Conference, Tempe, Arizona.

This blog post is part of the 'Flipped Classroom Professional Development Series'.
Flipped classroom encourages deep learning. In today's fast-paced world, students are confronted by an increasingly complex and uncertain future. How are we going to prepare them for these challenges? Flipped classroom might be the key.
What is ideal learning like? We may have different ideas in mind, but some key aspects of learning better include improving efficiency, effectiveness, quality, and perhaps satisfaction. One of our endeavours to ameliorate our ways of learning and teaching is employing the flipped classroom approach. "At HKU, flipping the classroom has been a grassroot movement of T&L change," said Professor Ian Holliday in the Flipped Classroom Learning Symposium – Sharing of Pedagogies and Practices on December 6, 2017. In this blog post series, we will introduce key concepts of flipping with real cases in HKU.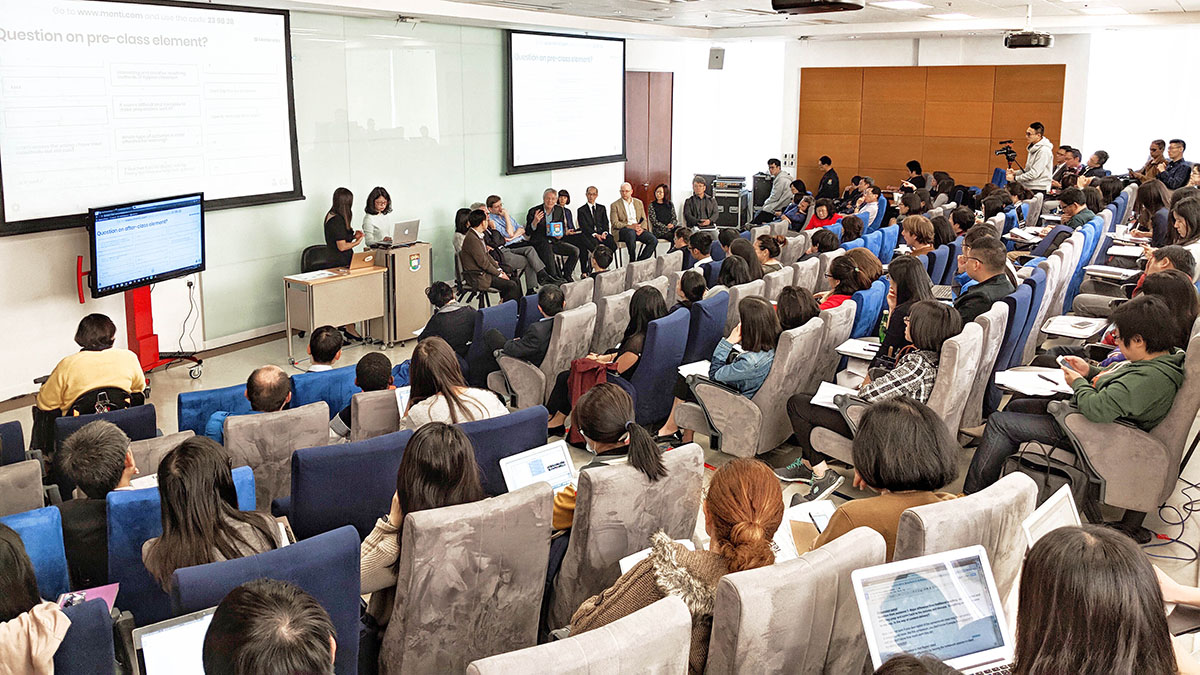 The Flipped Classroom Learning Symposium – Sharing of Pedagogies and Practices, December 6, 2017.
What is Flipped Classroom?
Flipped classroom is "the practice of assigning lectures outside of class and devoting class time to a variety of learning activities," (DeLozier & Rhodes, 2017, p. 141). Students take an active role in exploring new ideas, investigating complicated cases, constructing arguments, solving real-life problems, and creating a synergetic learning community with fellow learners. In a flipped class, "[students] are no longer recipients of just passive learning, but active shapers of their own learning and problem solvers in the class," said Professor Holliday.
Flipping in HKU: A Grassroot Movement of T&L Change
In HKU, flipping the classroom has been a grassroot movement jointly initiated by practitioners in a wide range of disciplines. These pioneers showcased their fruits of their endeavours at the Flipped Classroom Learning Symposium, with more than 200 teaching staff and researchers from various faculties and institutions attending. In particular, they shared the highlights of their courses, and discussed the effectiveness as well as scalability of the pedagogies used. Students benefiting from flipped learning also shared their views in the discussion panel.
The Symposium at a Glance
Welcome Speech
Professor Ian Holliday, Vice-President and Pro-Vice-Chancellor (Teaching and Learning)
What is Flipped Classroom and Why We Flip it?
Dr. Lily Zheng, Assistant Professor, Centre for the Enhancement of Teaching and Learning
Classroom Flipping in CAES
Ms. Heidy Wong (Assistant Lecturer), Mr. Sam Cole (Senior Lecturer) and Mr. Patrick Desloge (Senior Lecturer), Centre for Applied English Studies
Flipping a Science Foundation Course – Experience and Challenges
Dr. Rachel Ka Wai Lui (Lecturer) and Dr. William Man Yin Cheung (Lecturer), Faculty of Science
Common Core: New Approach – The (re-)making of CCHU9001 'Designs on the Future'
Mr. Mathew Pryor, Head of Division of Landscape Architecture, Associate Professor (Teaching), Faculty of Architecture
Flipping a Classroom like Solving a Rubik's Cube
Professor Ricky Y.K. Kwok (Associate Vice-President (Teaching & Learning)) and Ms. Andrea Qi (Honorary Lecturer), Faculty of Engineering
Flipped Classroom – Chest Pain
Dr. Ming-Yen Ng, Clinical Assistant Professor, Faculty of Medicine
Advanced Negotiations Simulation
Dr. Courtney Fung, Assistant Professor, Faculty of Social Sciences
Flipping a Dental Classroom
Dr. Michael Botelho, Clinical Associate Professor, Faculty of Dentistry
Flipping a Large Class with Authentic Materials
Professor Rick Glofcheski, Professor, Faculty of Law
Student Panel
Discussant Panel
All speakers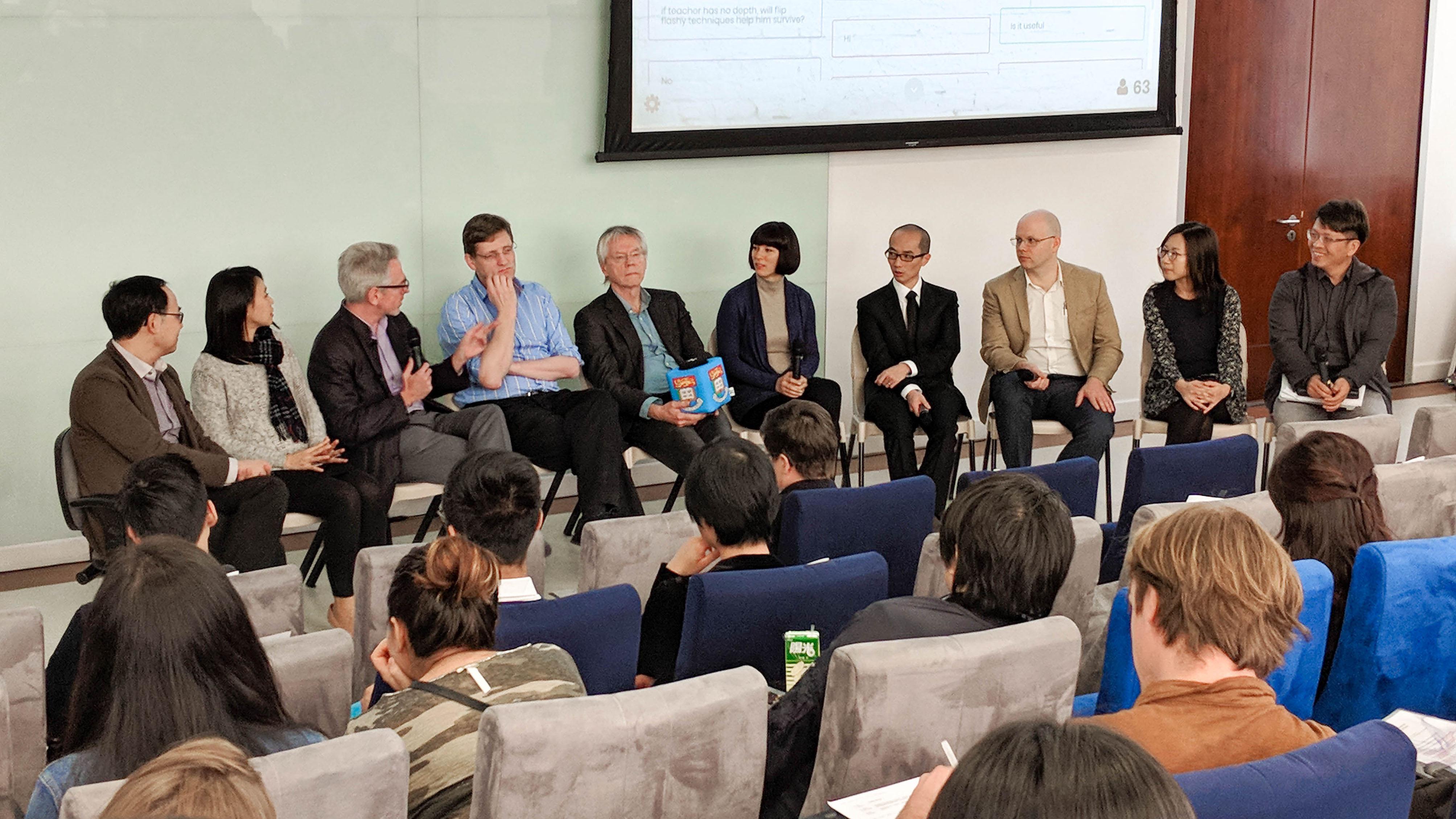 Discussant panel
Closing Remarks
Dr. Susan Bridges, Assistant Dean (Curriculum Innovation), Associate Professor, Faculty of Education
Flipped Classroom and Deep Learning
Flipped classroom encourages deep learning, in contrast to surface approaches – a recurring theme in all presentations. In today's fast-paced world, students are confronted by an increasingly complex and uncertain future. It is our responsibility as educators to prepare them for these challenges. Flipped classroom, an approach that facilitates deep enquiry, helps prepare our students for the future.
Speed, complexities and uncertainties are three major challenges that the current generation faces. In this digital age when information is at an arm's reach, many students want to obtain more information in a shorter time. However, this convenient access to information may numb the need to deeply engage with the content, causing a shallow acquisition of information and sacrificing quality for quantity.
In a world that is moving increasingly faster, the job market is also rapidly transforming. Despite alternate opportunities emerging, the fast evolution of market trends and new technologies makes the future of the working world less predictable. It will only become more difficult for students to foresee and prepare for the future by the time they graduate.
Critical thinkers and problem solvers, however, will adapt to changes and thrive in every field. Deep learning is the key to help students become good problem solvers. In particular, we should
prompt students to interact with content and engage in deep enquiry
generate ample opportunities for meaningful F2F interactions with peers and the teaching staff.
How can we achieve this? Flipped classroom might be the answer, due to its emphasis on deep learning. Unlike traditional lectures where the professor stands on stage to deliver content, students in a flipped class enjoy substantial opportunities to actively learn through discussing and exploring with their peers and teachers.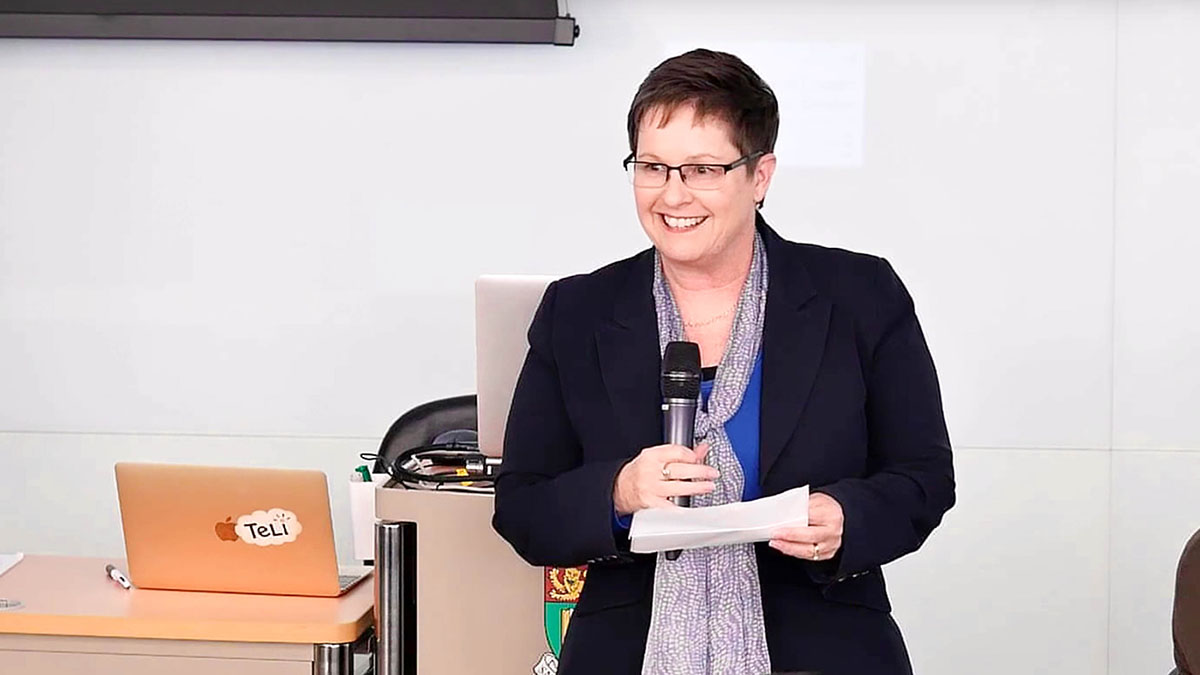 "Flipped classroom is reacting to the issues of speed, complexities, and uncertainties in this modern world", summarizes Dr. Susan Bridges in her closing remarks.
One step further
To further expand the flipped classroom movement within and beyond HKU, we have prepared a series of blog posts summarizing various key aspects of flipped classroom.
In-class activities
Measurement of effectiveness and student feedback
An online repository of case documentation, useful resources and research findings will be available soon.
Interested in flipping your class? Contact us.
Reference
DeLozier, S. J., & Rhodes, M. G. (2017). Flipped classrooms: A review of key ideas and recommendations for practice. Educational Psychology Review, 29 (1), 141-151. [Link]