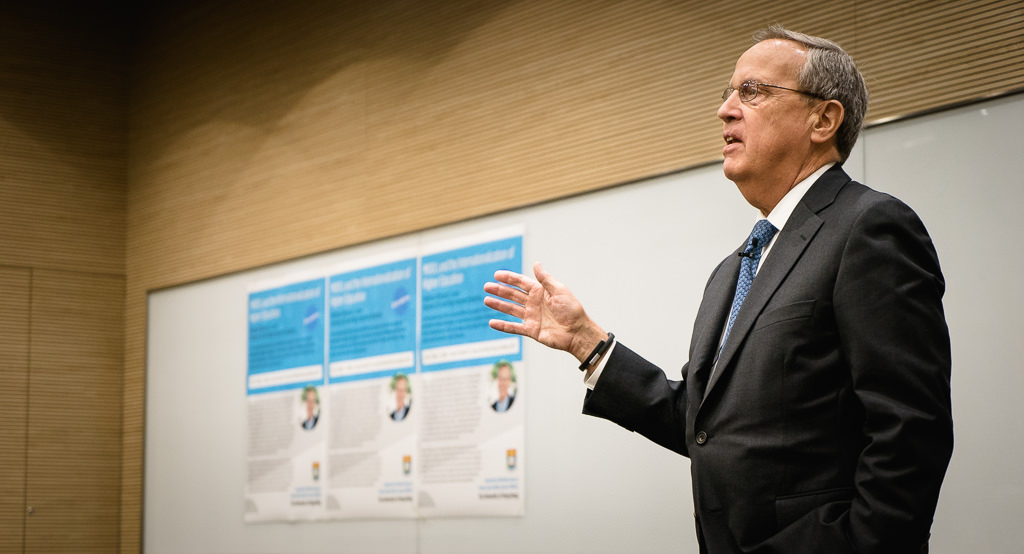 HKU had the fantastic opportunity to welcome the esteemed Professor Richard Levin (Coursera CEO and Yale President Emeritus) for a publically-open keynote speech on the 5th December. In this captivating and anecdotal talk, Professor Levin drew on his two decades of experience as a leader in higher education to discuss his common challenges and lessons from his time at Yale, his views on the state of higher education in Asia, and his recent decision to join Coursera.
Underpinning much of his discussion of the progressive internationalization of higher education was his view that cross-cultural communication is essential for anyone who aspires to leadership. Testimony to this belief is the work that Professor Levin undertook in Yale to establish a programme for undergraduates in Beijing and increase participation in international work and study programmes; his involvement on the board of the National Committee on United States-China Relations; and the creation of the first liberal arts college in Asia: Yale-NUS (National University of Singapore).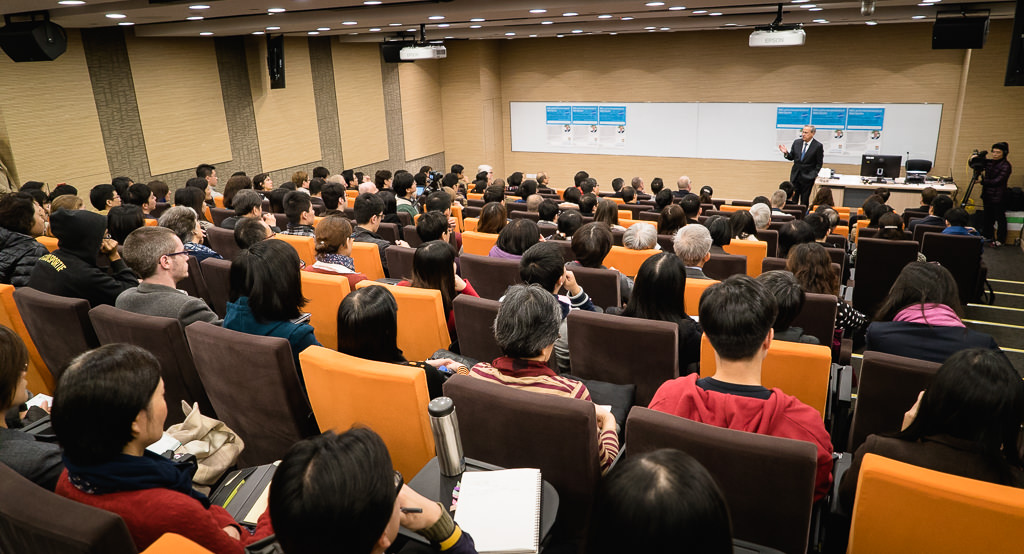 Alongside this growing need for cross-cultural communication as an integral part of the higher education experience are the changing assumptions about how the world works. He noted that international understanding is a core part of the 21st Century curriculum – a curriculum which has, to a large extent, become internationalized 'by itself'. He drew on the example of one of the initial courses which he taught in 1974 on the topic of Industrial Organisation in a North American context. He reflected that, from a contemporary perspective, the scope of this course would no longer be sufficient as industries rarely exist within one nation. Multinational communication and industry is central to many of today's workplaces. Perhaps this insight is one of the factors which led to Professor Levin's pioneering of online learning environments which enable learners to communicate across contexts and potentially across cultures, too.
After a fascinating exploration of several of his experiences experimenting with online learning spaces in higher education, Professor Levin discussed how he saw the role of Coursera in providing quality education to a global audience. With more than 10 million learners, 875 courses, and 115 partners, this platform is certainly not short of numbers and, by extension, is likely to embody a huge range of cultures, perspectives and areas of inquiry. It seems logical therefore that any discussion today on the internationalization of higher education mention MOOCs and the way in which they can leverage interaction and learning within and across cultures through the lens of subject areas scaffolded by reputable tertiary institutions.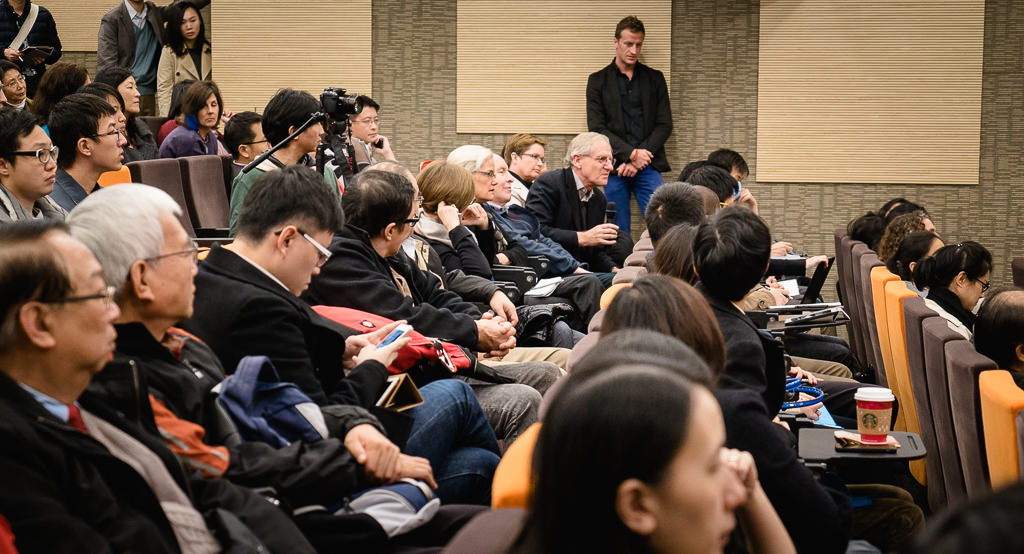 Professor Levin's passion for this exciting new space was clearly shared by the audience, which consisted of students, faculty, leadership alumni, UGC, school principals, amongst other stakeholders. Questions sparked discussions on how Professor Levin saw the future of Coursera; censorship and quality issues; the possible changing emphases of professoriate evaluation as a result of MOOCs; and considerations of assessment reliability for those considering offering credit-bearing MOOCs.
This inspiring keynote gave us all the opportunity to reflect on the world in which we live from the perspective of educators and learners. In order to gain insight into the scope and impact of MOOCs, one need not look past the experience of one of Professor Levin's colleagues who calculated that, in his first MOOC offering, he had a completion rate of 20,000 learners; around 2.5 times the number of learners he had taught in face-to-face mode over his career! A sincere thanks to Professor Levin and the Coursera team for so generously sharing your experiences and insights with us.
A post from the e-learning Pedagogical Support Unit (EPSU)
On a bright December day, we at HKU were lucky to have two opportunities to meet and talk to Mariel Reed, Coursera Partnership Manager and Co-Founder of Lean In Beijing.
In the first session, Mariel led a discussion with HKU academic staff in which she shared insights into what motivates faculty members to produce Massive Open Online Courses, what Coursera as a MOOC provider learns from its academic collaborators and how it takes advantage of this knowledge to improve and innovate on its platform. While Mariel shared some fascinating examples of Faculty motivations relating to MOOCs, three main areas emerged. Firstly, Mariel talked about professors making a social impact – for example, teaching more learners on one MOOC than in a lifetime of face-to-face lectures. A second motivation stems from a desire to improve teaching and learning with one famous example provided by Andrew Ng, a co-founder of Coursera, whose own teaching benefitted enormously from preparing and delivering his groundbreaking Machine Learning MOOCs. The third and final motivation that Mariel highlighted was the role that delivering MOOCs can play in academic staff's professional enhancement, with an example of an Ohio State professor whose tenure track progress benefitted from a higher post-MOOC profile.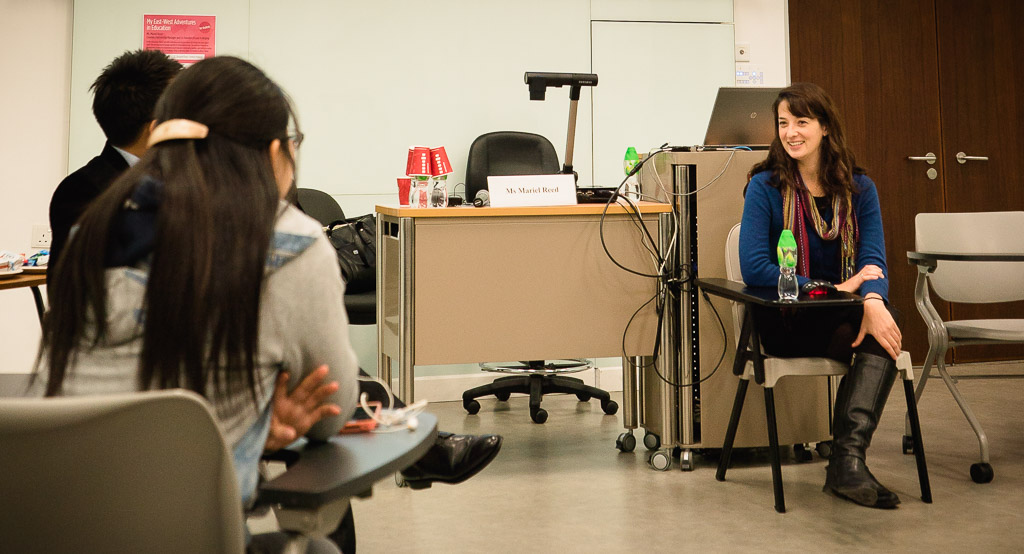 Along with these insights from faculty, Mariel also shared upcoming Coursera innovations, the highlight being 'courses on demand' which seeks to disrupt the current MOOC paradigm – in which the majority of courses mirror their face-to-face counterparts in having defined start and end dates – and replace it with students setting their own pace for study, perhaps finally evidencing the 'anytime, anywhere' claim that is often made for the benefits of e-learning. This coupled with Coursera's continued focus on mobile learning marks exciting times indeed for online learners.
Mariel's second session of the day was very different but equally rewarding. In 'My East-West Adventures', a talk primarily designed for students but with much of interest for faculty too,  Mariel reflected on the things she cares about the most and spoke of the lessons learned from her experiences. One guiding and thought-provoking principle in Mariel's life has been the idea that when considering your path in life, instead of focusing on what you want to do, focus on what problems you can solve. She applied this to her own life's journey, firstly the leap from Washington D.C. to teaching English and Business at Shihezi University in Xinjiang, in which the issue that was at the forefront of Mariel's thoughts was the importance of US-China relations. A second concern of Mariel is the development of people and she had a chance to work directly on this in her time in Beijing, co-founding Lean In Beijing which focuses on roles of professional women, and Beijing Commons, a volunteer organization that brings new ideas to life. The third guiding theme of Mariel's life is that of universal access to quality education, which provides a link between previous teaching posts and her current work for Coursera back in Silicon Valley.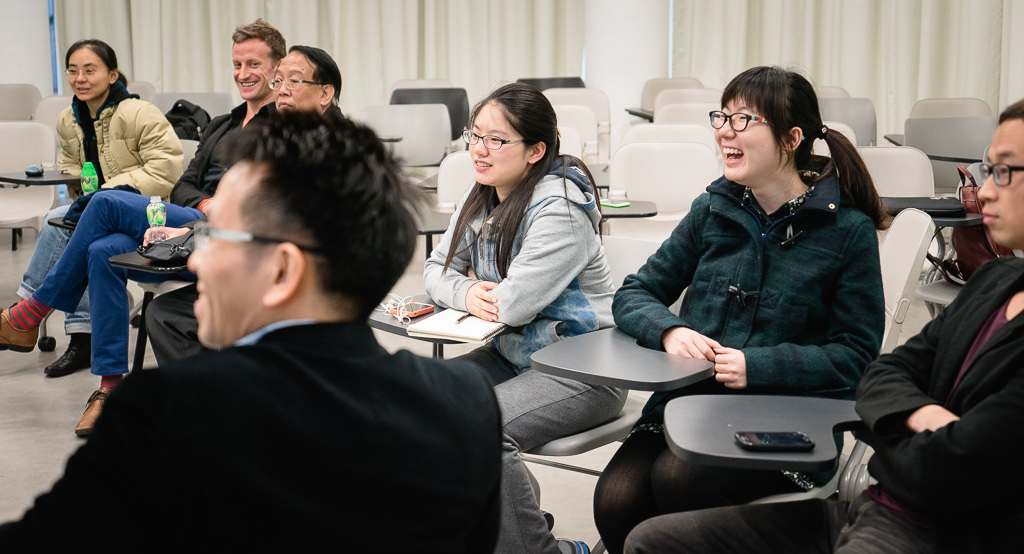 These ideas resonated with staff and students alike, who found Mariel's vision inspiring and shared their own problems, thoughts and views on future growth. This session was much more 'conversation' than 'presentation' and was a perfect counterbalance to the previous information-rich seminar; here, participants had time to speak and reflect, and their willingness to share the personally-held beliefs is testament to the relaxed atmosphere that was created. Overall, two highly engaging talks from Mariel – we hope she comes back to visit HKU soon.
A post from the e-learning Pedagogical Support Unit (EPSU)

On Thursday 25 November, Kathy Pugh (edX Vice President of Education Services) and Remy Mansfield (edX Education Program Manager) sat down with members of the HKU Working Group on MOOCs and the EPSU to discuss MOOC development – past, present and future. Kathy, spearheading Education Services globally for edX, enthusiastically explained how edX has been consistently strengthening its position in China. Remy, who was already known to the EPSU as the face of edX training webinars, announced that he would be assuming the role of HKU's edX Programme Manager and spoke about some exciting developments on course design and new features of the platform.
Firstly edX is preparing to roll out mobile device support which will enable learners to take their studies with them as they travel. Kathy and Remy also spoke of improvements in the learner experience for those based in China, such as consolidation of the video-delivery process which should enhance the Chinese learner experience and has the potential for opening up the platform. In addition to the learner-focused innovations, edX also pointed to how they will be streamlining the video production process for MOOC developers, good news for all of those involved in video production for courses. The EPSU took advantage of this great opportunity to discuss other potential improvements to the platform with Kathy, such as increased flexibility of activity types and more interactive exercises. A fruitful discussion ensued, leaving all parties positive about the developmental roadmap.
All in all, a positive discussion that was good for edX, good for HKU and great news for our online learners.
A post from the e-learning Pedagogical Support Unit (EPSU)
Message from Working Group on Massive Open Online Courses (MOOCs)

Abstract
During this discussion, Mariel will dig into the motivations for faculty creating MOOCs and the value of courses to faculty and students. She will share major lessons that Coursera as a company has learned from faculty, and how Coursera is using these lessons to adjust its platform. Finally, she will highlight some general best practices and areas for innovation and experimentation in MOOCs.
Speaker: Ms. Mariel Reed
Coursera Partnership Manager and Co-Founder of Lean In Beijing
Time: 5 Dec 3:00pm – 4:30pm
Venue: 230, 2/F, Knowles Building
About the speaker
Mariel Reed manages Coursera's university partnerships with schools in mainland China, Hong Kong, and Taiwan. She has many aliases; she's known as "Mari" in English, 李曼玉 in Mandarin, and "Mad Dog" from her pirating days on Cape Cod, Massachusetts. She was raised by the sea but after studying International Politics at Georgetown University, she headed to teach and trace the Silk Road in Xinjiang, China, through Princeton in Asia. From there, she navigated the international philanthropy and health education landscapes from Beijing and cut her teeth as a community builder. A co-founder of Lean In Beijing, she's passionate about women's empowerment. She has deep faith in the power of education and the development of people, and is excited to be at Coursera helping to push the boundaries of what is possible in education around the world.