Bachelor of Arts and Bachelor of Education in Language Education (English)
Faculty of Education
Mohammad Thair
"Overall, every year, I became a better teacher after TP compared with before TP. I learned a lot. If there were no TP, I would just rely on theories."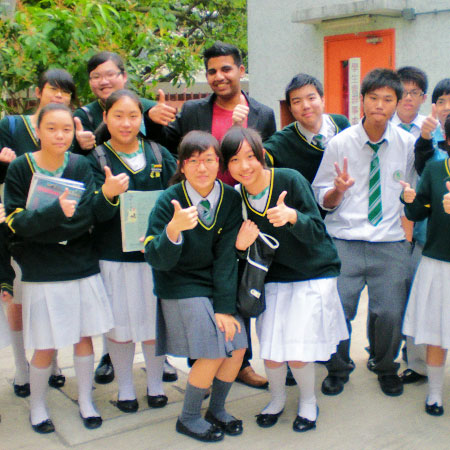 Professional Practicum: Teaching Practice in the schools of Hong Kong
Task Performed
I had three periods of teaching practice (TP). I spent two months on TP in Years 3 and another two months in Year 4 while three weeks in Year 2. I was assigned to teach in schools of different bands each year – Bands 1, 2 and 3.
In the Year 2 TP, my partner and I co-taught double lessons in a Band 3 school. At the beginning, I taught the first lesson and my partner did the second and vice versa. But towards the end, we became more independent, and one of us taught the entire double lessons and the other sat at the back of the classroom. We were provided with the content that should be covered in three weeks and were given freedom to plan lessons. Therefore, we prepared for the lessons week by week to achieve the goals for each week.
In the Band 3 school, some students were new immigrants from Mainland China and they were weak in English. One of the group activities was that we separated their desks so that they would not see each other's paper. My partner and I didn't know how we were going to make them understand the instructions. The solution was that we took pictures of two desks, put arrows there and made them as PowerPoint slides. We used arrows to ask them to move apart. We came up with weird ideas. Actually they worked because we didn't have to spend a lot of time on organizing all that. We wanted the students to learn something. We tried to save as much time as we could so that the focus would be on the content rather than classroom management. We had to use pictures and weird stuff.
Reflection
We were just introduced to theories before the first TP. The experience of the first TP was good in the sense that we went into the classroom and put some of those theories into practice. Theories of classroom management, for example, we were told that if somebody was misbehaving, it would be better not to put all the attention on that student. We should handle that indirectly. We experienced that and we tried to do that. It was good to see that some of them actually did work although some of them didn't work well maybe because we didn't implement them the way they should be done. Overall, it was an eye-opener.
Overall, every year, I became a better teacher after TP compared with before TP. I learned a lot. If there were no TP, I would just rely on theories. If we were put into the classroom after graduation, we would not be as a good teacher as we are right now.
By going into the classroom and interacting with students, I learned to apply different methods to cater the needs of students of different age groups as well as at different levels of abilities. For example, Form 1 students were very childish compared with Form 3 students. I realized that their needs, interest and everything were different. I went to three schools of different bands. I had a better understanding of the students' need in Band 1 school, and therefore dealt with more content and challenged the students intellectually and mentally. In Band 3 schools, on the other hand, I needed to come up with activities where teachers' talking time was to minimize students' very short attention span, and so on so forth.
I went out to have lunch with the teachers in the school and the mentor. When the mentor had a free lesson, we had long chats on teaching careers, what kinds of problem I may come to when I become a full-time teacher. So overall, I learned a lot from other teachers, my mentor, and the principal actually.