Assessment drives learning, and authentic assessment is key to producing better, deeper and more sustainable learning, said Professor Rick Glofcheski in the Authentic Assessment Symposium: The Transformation of Learning in Higher Education on May 3, 2018. In this Symposium, practitioners from various disciplines in HKU shared how they transform students' learning experience with authentic assessments and technology.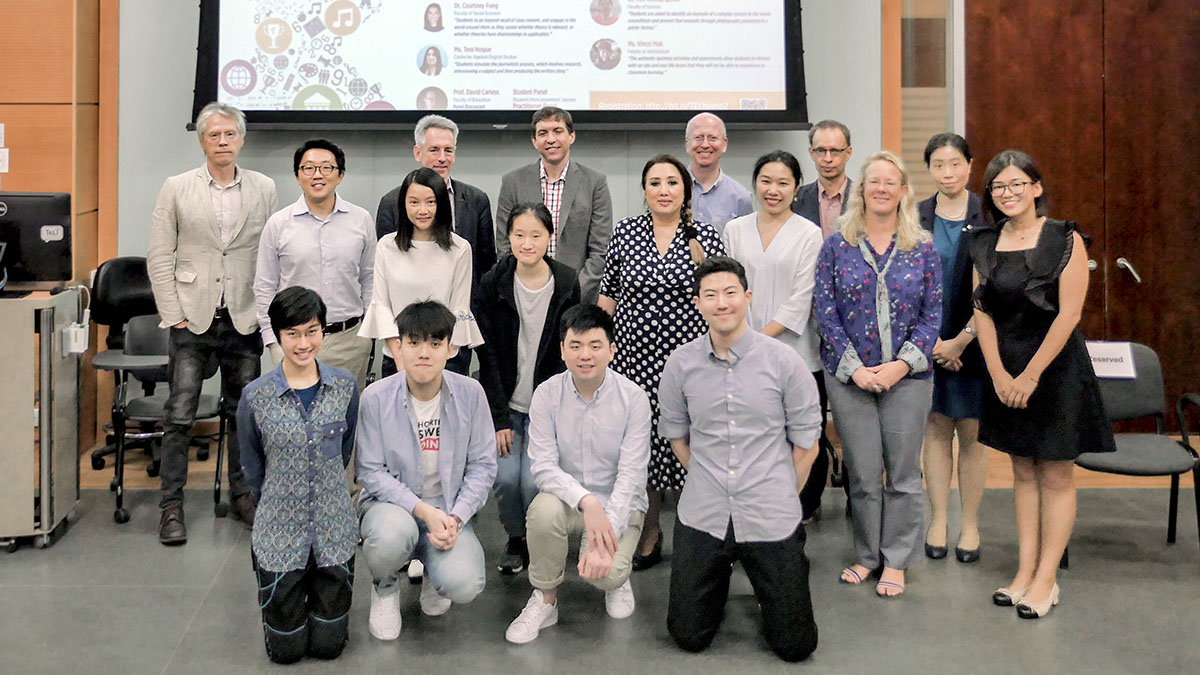 Group photo of speakers, panel discussant and student representatives.
What is Authentic Assessment?
An authentic assessment is one that requires real-world applications of learning. It often engages students in solving complex and ill-defined problems while taking into account the broad social context.
One of the fundamental goals of university education is to get students prepared for the challenges in the real world, and one way to facilitate their learning is to design authentic assessment tasks. As pointed out by Professor Glofcheski in his introduction, "students' learning habits are to a large degree driven by how they will be assessed", assessments are therefore vital in motivating students to make meaningful connections between doctrinal learning and the real world. This is where authenticity comes into play in assessment design.
Compared to conventional assessment, "[authentic assessment] produces better learning, deeper learning, and more sustainable learning", said Professor Glofcheski.
The Use of Technology in Authentic Assessment Practices
Authentic assessment practices have been adopted across different disciplines in HKU, some of which are enabled by technology. Here are some examples:
Engaging Law Students with Reflective Media Diary
Professor Glofcheski engages his students with authentic news stories. In his tort law class, students are expected to identify and analyze news stories from a legal perspective, and create their own online news diary.
Unlike conventional examinations which often consists of hypothetical, artificial, and sometimes exaggerated problems, the reflective media diary engages students with real-world incidents. More importantly, it pushes them to exercise their own judgement in evaluating whether a news story is relevant to the subject matter. News writers normally do not use words such as "tort" or "negligence", "this mimics how it will be in the real-world," said Professor Glofcheski.
Facilitating Learning with Video Exemplars of Key Skills Performances in Dentistry
Dr. Michael Botelho from the Faculty of Dentistry facilitates learning and prepares students for assessment with videos. He video-recorded authentic, in-the-moment, evaluations of individual students' performance and uploaded the videos to Moodle, an online learning management system (LMS), for all students to view. This gives students a clear idea about how they are going to be assessed and what clinical skills they are expected to develop, hence "opening the black box of stressful exams". Since the videos are available online, students can review them multiple times before the actual assessment.
Assessing Medical Students Real-time with E-portfolio
Dr. Pamela Lee from the Li Ka Shing Faculty of Medicine conducts real-time assessment of her students when they are practicing with real patients on-site. She observes students' performance in the ward, an authentic workplace, and assess their practical competences on an e-portfolio system. This is an effective way to evaluate students' competencies in practising in the real world.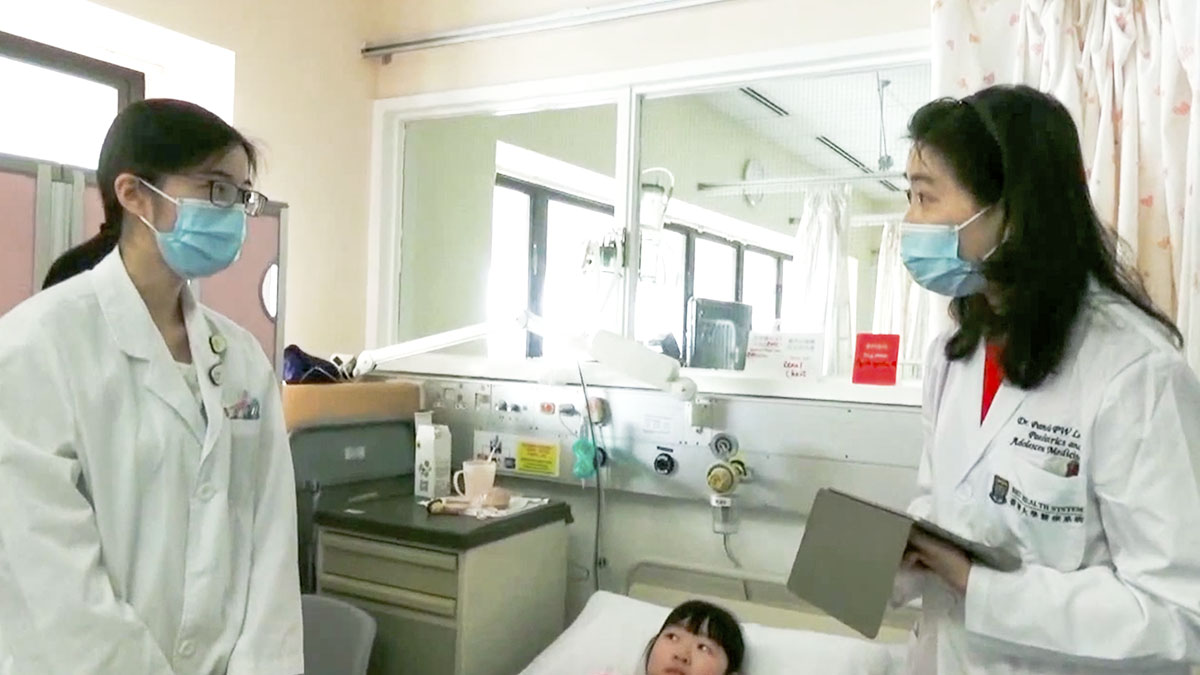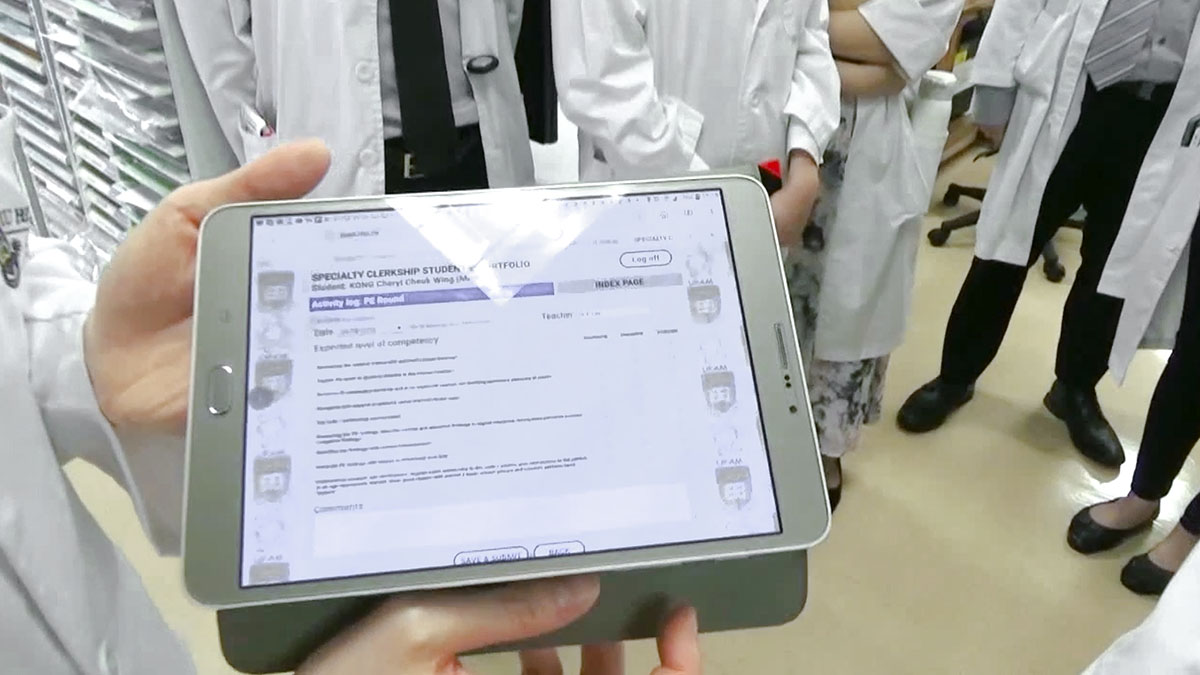 (Left) Dr. Lee assessing students' competence in examining real patients in the ward with an iPad.
(Right) The e-portfolio system for real-time assessment.
Facilitating Peer Assessment in Teaching Drama
"In authentic assessment, feedback is very important," said Ms. Tanya Kempston, instructor of the Common Core Course CCHU9059 Making and Appreciating Drama. In her class, students perform drama in groups and assess their peers using an online tool called TEAMMATES.
In order to "make the assessment a more authentic experience for our students", Ms. Kempston believes that assessment should not be unidirectional and carried out only by the course lecturer. Instead, students should be given the opportunity to provide formative qualitative feedback for their peers and grade them in terms of their contributions to the group.
Transforming Your own Teaching
Authentic assessments generate positive backwash effect on students' learning experience. Contact us if you are interested in enhancing learning with authentic assessment and technology.