From Centre for the Enhancement of Teaching and Learning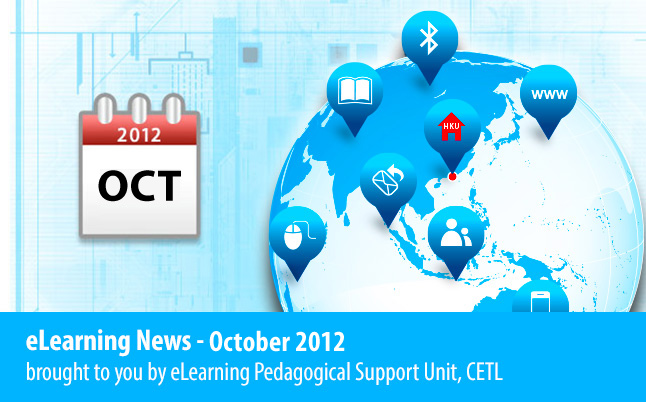 For the full version of the October newsletter, go to:
http://www.cetl.hku.hk/elearning-pedagogical-support-unit/elearning-news/.
e-learning Pedagogical Support Unit Services
The e-learning Pedagogical Support Unit (EPSU) exists to support Faculties with their e-learning needs. During August and September the EPSU ran Faculty level workshops for 6 out of the 10 Faculties.
New Staff Member
The EPSU is pleased to welcome Darren Harbutt to the EPSU team.
DOW – The Library Skills Tutorial on Moodle
With the collaborative effort of the e-learning Pedagogical Support Unit, Centre for Information Technology in Education and HKU Libraries, we are pleased to introduce DOW, the Library Skills Tutorial on Moodle.
Have Your Say With Moodle
The University e-learning Enhancement Task Force (EETF) has continued to manage the process around requests to enhance Moodle so that the system meets the specific needs of Faculties.
The Moodle Users Group
The Moodle Users Group meets most Thursdays at lunchtime for workshops on teaching practice using the Moodle LMS, including blended learning activity development. .
e-learning seminars by the Faculty of Education and CITE
The Faculty of Education in conjunction with CITE hosts seminars by speakers on a range of e-learning topics, with a focus on innovative use of technology to support teaching and learning.
Moodle Support Block
A Moodle support block is proposed to be established onto Moodle in early October.
Moodle Hands-on Training Courses for Staff
The Moodle hands-on training courses conducted by ITS in October 2012 are now open for registration.