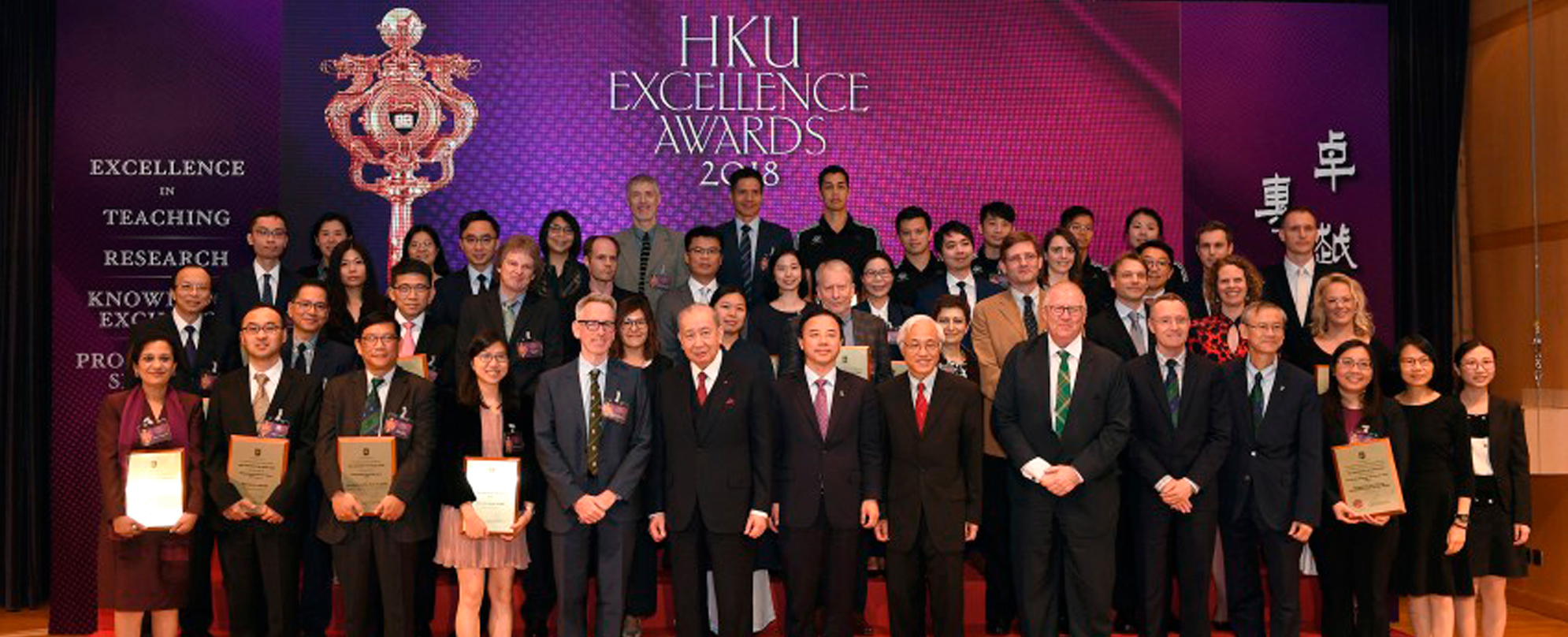 Congratulations to all winners!
Teaching Excellence Awards 2018
The Teaching Excellence Award Scheme aims to recognise, reward and promote excellence in teaching at the University. The Scheme comprises four categories, viz. University Distinguished Teaching Award, Outstanding Teaching Award, Early Career Teaching Award and Teaching Innovation Award.
Nominations for the different categories were considered by a Selection Panel comprising the following members:
Professor Ian HOLLIDAY (Chair), Vice-President and Pro-Vice-Chancellor (Teaching and Learning)
Professor Anthony SMITH, Vice-Provost (Education and Student Affairs), University College London
Professor Grahame BILBOW, Director, Centre for the Enhancement of Teaching and Learning
Professor Shahla ALI, Associate Dean (International) and Professor, Faculty of Law (Recipient of the 2017 Outstanding Teaching Award)
Mr Daniel LEI, University Affairs Secretary, Hong Kong University Students' Union
The Selection Panel was deeply impressed with the awardees' dedication to teaching, their tireless and creative efforts to make learning enjoyable and challenging, and the impact they have made on their students' learning.
Outstanding Teaching Award (Individual)

Dr Janet Lorraine BORLAND
School of Modern Languages and Cultures
I encourage students, as future leaders, to think about global problems such as recovering from natural disasters, reconstruction, and corporate social responsibility initiatives in society.
Read on

Professor Alice WONG Sze Tsai
School of Biological Sciences
I will continue to work on a holistic education through programme design, with taking students' interests into account to encourage them to be active, responsible learners as a key priority.
Read on

Ms Tanya Jacqueline KEMPSTON
Faculty of Education
Having been the beneficiary of dedicated teaching in my own education, I strive to evoke the same passion for and dedication to education in my own students.
Read on

Professor Daniel WONG Fu Keung,
Department of Social Work and Social Administration
Being a researcher-practitioner-teacher is a fruitful experience. I enjoy professional practice in promoting mental health of individuals in the community.
Read on

Dr Patcy YEUNG Pui Sze
Associate Professor, Faculty of Education
Last but not least, I believe that every student is unique, including his / her respective learning style, but all students have great potential to learn and to excel.
Read on
Outstanding Teaching Award (Team)
Nurturing Today's Students and Tomorrow's Teachers through Experiential Learning
Dr Gary James HARFITT (Leader), Ms Jessie CHOW Mei Ling, Ms Candace MOK Wai Fung
Faculty of Education

Through the establishment of creditbearing community-based experiential learning programmes, we promote a stronger sense of self-awareness in our students and see evidence of clear transferrable skills like collaboration, problem solving, leadership, resilience, global and civic awareness all emerging through this reciprocal relationship between our Faculty and the community in Hong Kong and elsewhere.  
Read on
Transdisciplinarity in Action: Creating Multiscalar Teaching and Learning Platforms in the Common Core
Professor Gray Meredith KOCHHAR-LINDGREN, Common Core Office;
Professor Gina MARCHETTI, Faculty of Arts;
Mr Mathew Robert PRYOR, Faculty of Architecture;
Dr Julian Alexander TANNER, Li Ka Shing Faculty of Medicine

The mission of the Common Core is to provide the highest quality crossdisciplinary learning for our undergraduates, and, as an essential aspect of this task, we also must provide a culture of effective experimentation that enhances the learning of our colleagues, our community and our partners around the world. Working along multiple fronts to create such a culture, the team has begun to more deeply explore transdisciplinarity as a framework for configuring teaching and learning as transformative acts.
Read on