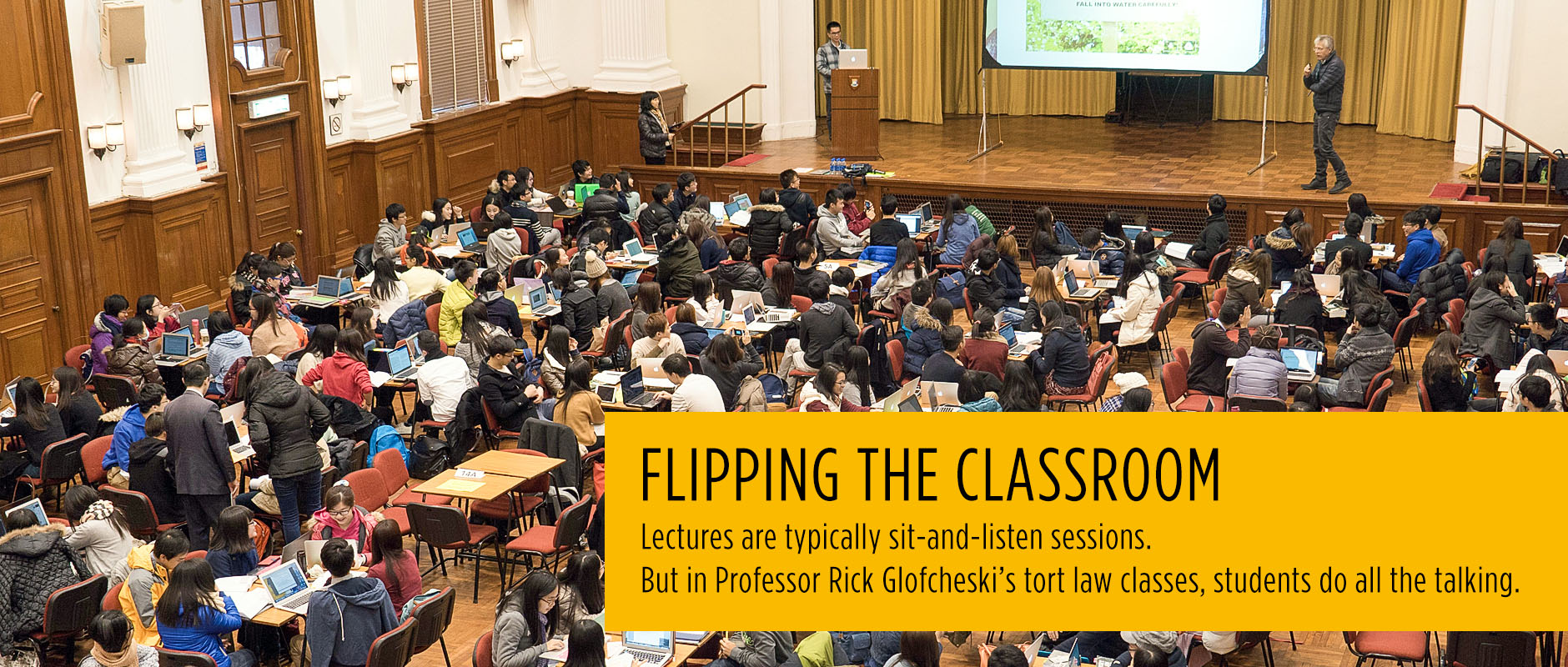 Flipping the classroom – a success story
Lectures are typically sit-and-listen sessions. But in Professor Rick Glofcheski's tort law classes, students do all the talking.
Date :
June 6, 2016 (Monday)
Time :
12:45pm – 2:00pm
Venue :
Room 321, 3/F, Run Run Shaw Building (Main Campus), HKU
Speakers :
Dr. Lap Ki Chan
Assistant Dean (Pedagogy), Li Ka Shing Faculty of Medicine
Associate Professor, School of Biomedical Sciences
Panelists :
Dr. Charlene C. Ho, School of Biomedical Sciences
Dr. Fraide A. Ganotice, Jr., Bau Institute of Medical and Health Sciences Education
Dr. Veronica Lam, School of Nursing
Dr. Law Ming Fai, Department of Social Work and Social Administration
Dr. Gordon Wong, Department of Anaesthesiology
About the seminar:
Interprofessional team-based learning (IPTBL) is an innovative teaching initiative which aims at promoting active learning and collaborations across disciplines. The students work in teams and learn how the various medical specialities resolve clinical cases together. IPTBL gives students from various disciplines an opportunity to develop friendship and work with pre-professionals of other expertise before they practice in the "real world".
In this seminar, Dr. Lap Ki Chan, the Principal Investigator of a UGC-funded project on IPTBL, will share with you the key features of this new pedagogy, as well as his pioneering experience in implementing IPTBL with 500+ students from HKU and PolyU across 7 different programmes related to medical health care.
Learn more about IPTBL here.
About Dr. Lap Ki Chan:
Dr. Lap Ki Chan, M.B.B.S. (HK), F.H.K.A.M., F.H.K.C.O.S. (Orthopedics), F.R.C.S. (Edinburgh), Ph.D. (Duke), is an associate professor in the School of Biomedical Sciences, the Deputy Director of Bau Institute of Medical and Health Sciences Education, and an Assistant Dean (Pedagogy) at the Li Ka Shing Faculty of Medicine, The University of Hong Kong. He has a background in orthopedics and physical anthropology and teaches gross anatomy to medical and other health professional students and is the coordinator of the Education Division of Anatomy in the School of Biomedical Sciences. His teaching excellence has been recognized by such awards as the Outstanding Teaching Award from The University of Hong Kong. He is the educator in the Asia Pacific region for the AO Foundation (Arbeitsgemeinschaft für Osteosynthesefragen). He serves as an associate editor for Anatomical Sciences Education and has co-edited the book "Teaching Anatomy – A Practical Guide" (Springer). His research interests include innovative pedagogies in anatomy education, teacher training, and interprofessional education.
For enquiries, please contact Miss Cherry Lai by email cherry.lai@hku.hk.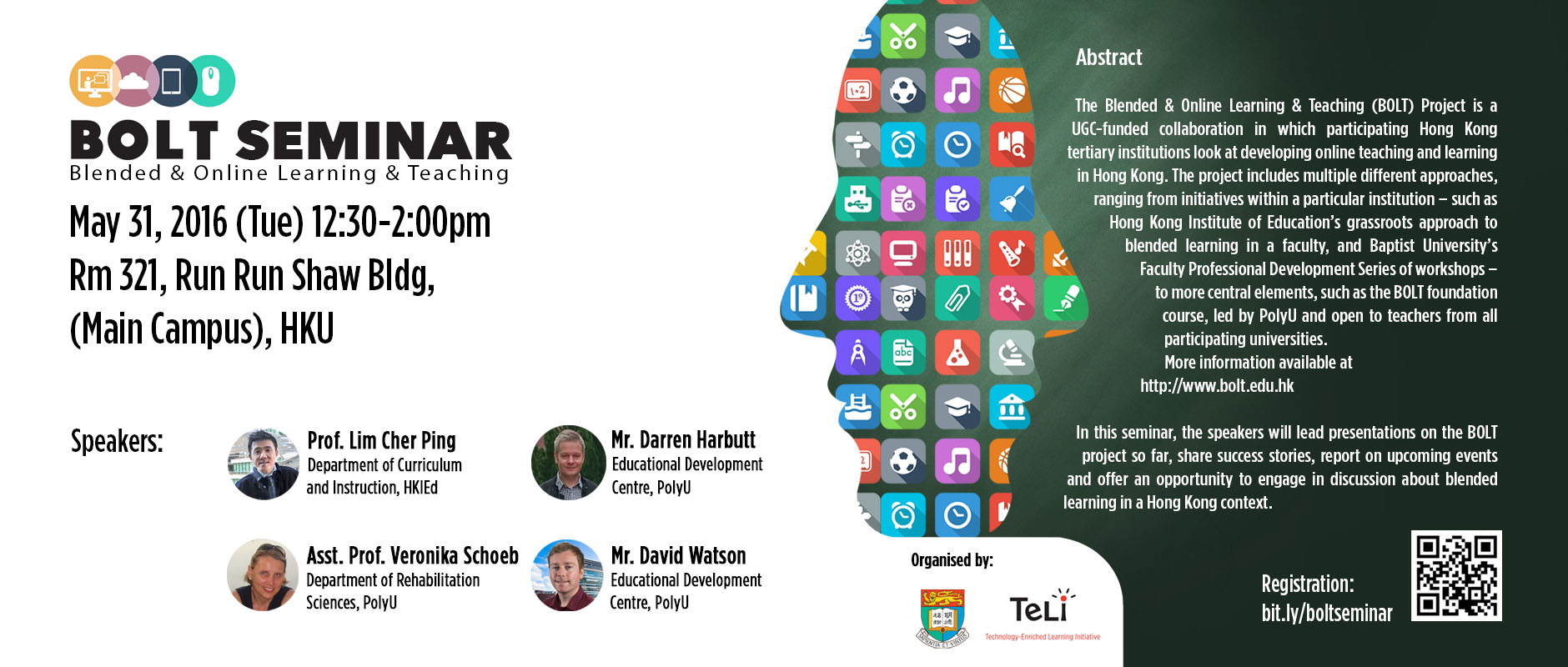 Date :
May 31, 2016 (Tuesday)
Time :
12:30pm – 2:00pm
Venue :
Room 321, 3/F, Run Run Shaw Building (Main Campus), HKU
Speakers :
Professor LIM Cher Ping, Department of Curriculum and Instruction, HKIEd
Mr. Darren Harbutt, Educational Development Centre, PolyU
Assistant Professor Veronika Schoeb, Department of Rehabilitation Sciences, PolyU
Mr. David Watson, Educational Development Centre, PolyU
* To be conducted in English
About the seminar:
The Blended & Online Learning & Teaching (BOLT) Project is a UGC-funded collaboration in which participating Hong Kong tertiary institutions look at developing online teaching and learning in Hong Kong. The project includes multiple different approaches, ranging from initiatives within a particular institution – such as Hong Kong Institute of Education's grassroots approach to blended learning in a faculty, and Baptist University's Faculty Professional Development Series of workshops – to more central elements, such as the BOLT foundation course, led by PolyU and open to teachers from all participating universities. More information available at http://www.bolt.edu.hk
In this seminar, the speakers will lead presentations on the BOLT project so far, share success stories, report on upcoming events and offer an opportunity to engage in discussion about blended learning in a Hong Kong context.
About the speakers:
LIM Cher Ping is a Professor of Curriculum and Innovations at the Hong Kong Institute of Education and the Editor-in-Chief of the Internet and Higher Education. He was a Professor of Education, Director of International Partnerships and Director of the Asia-Pacific Centre of Excellence for Teacher Education and Innovations in Western Australia before moving to Hong Kong in late 2010. Over the last two decades, he has engaged major stakeholders of higher education at the institutional, national and international levels. Organisations including UNESCO, Microsoft, BHP Billiton, World Bank, Sampoerna Foundation, and government agencies have become his partners for many of the education research and development projects that he has led. He is co-Project Leader of the BOLT Project.
Darren Harbutt is an Educational Development Officer in the Educational Development Centre of The Hong Kong Polytechnic University. Before this he worked as an Instructional Designer at the University of Hong Kong. Darren has worked in education for over 20 years and in the last few years he has also helped to design, build and run MOOCs. Darren is co-Project Leader of the BOLT Project.
David Watson joined PolyU with eight years of experience in the higher education sector, providing technological and instructional expertise in numerous online projects, with his development skills incorporating the pedagogical requirements and alignment in eLearning and online teaching. Supported by Postgraduate Certificate in Teaching in Higher Education (PGCTHE), CMALT and Masters in Web Development, his current role focuses on areas such as Augmented & Virtual Reality (AR/VR), Professional Development Delivery and the development of various funded instructional technologies.
Veronika Schoeb currently performs as Assistant Professor in the Department of Rehabilitation Sciences at PolyU. She holds a first degree as a health professional from Switzerland, and received her PhD in Sociology from the University of Nottingham, UK. Prior to joining PolyU in February 2015, she was a Lecturer at the University of Applied Sciences in Western Switzerland. She teaches qualitative research courses (in a very quantitative environment) and tackles this challenge by trying out different teaching modalities. Her research interests lie in communication as well as interprofessional collaboration, and she investigates topics related to social interaction, both in health care as well as in education.
For enquiries, please contact Miss Cherry Lai by email cherry.lai@hku.hk.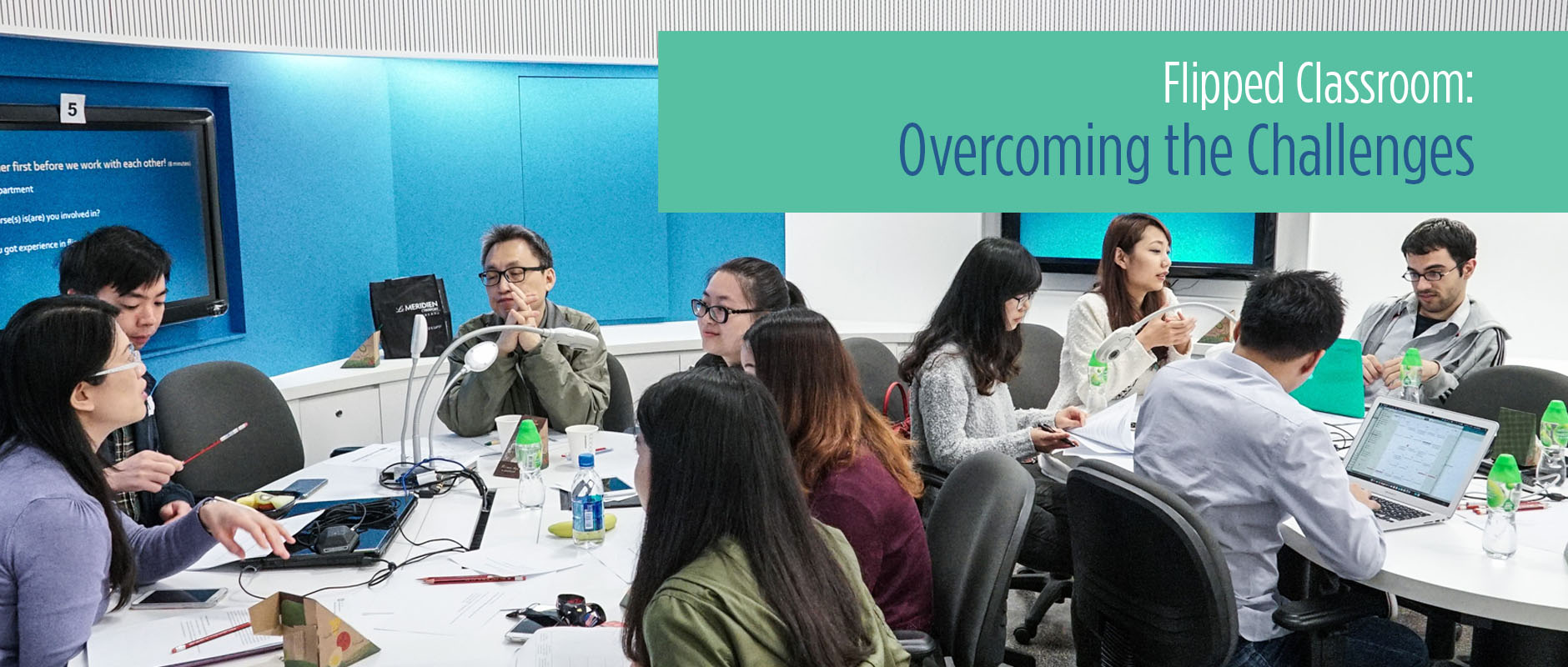 Despite the growing popularity of the flipped classroom approach, many teachers are concerned about students not watching online videos before class. Dr. Lily Zeng addressed this common concern in a seminar on 8 March 2016.
Major challenges in flipping
Over 70% of seminar participants had not flipped a class before, but were considering to do so. They anticipated the following challenges in flipping: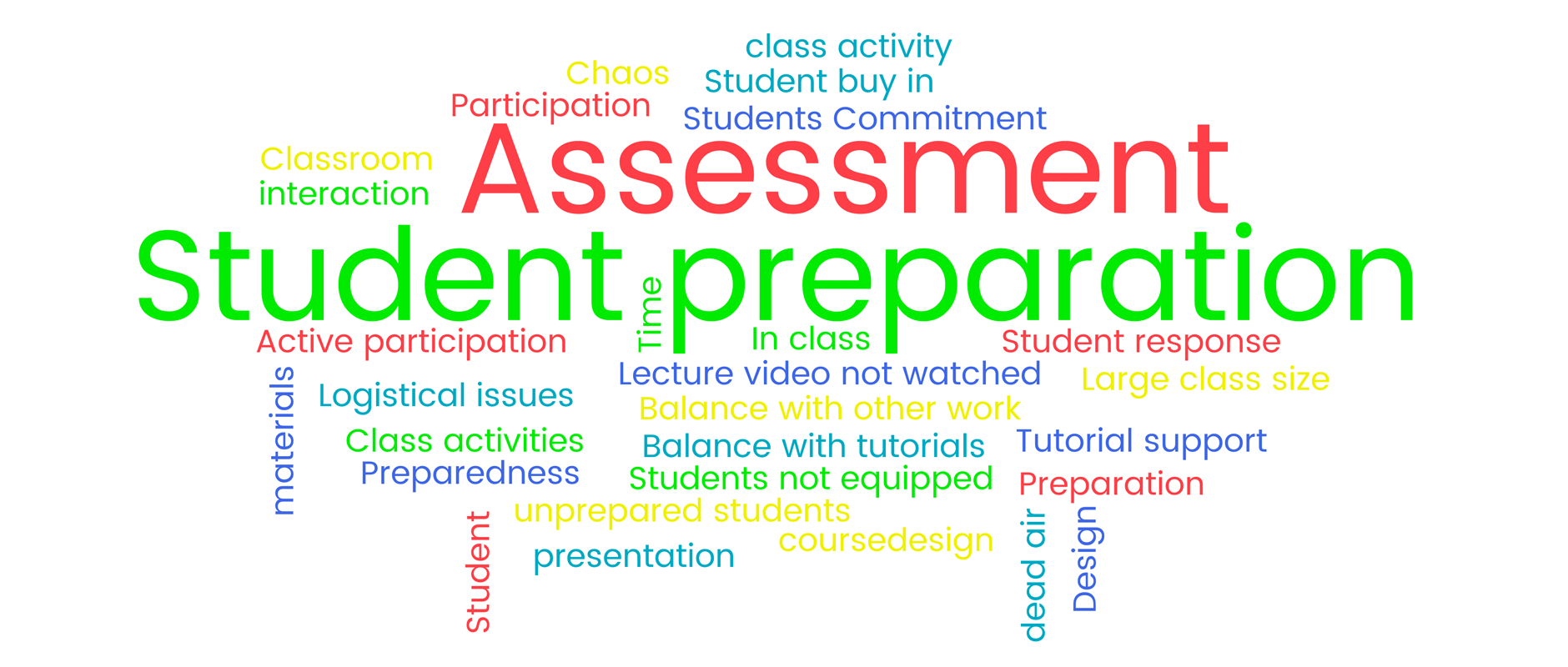 Student preparation was an obvious concern. Related items include "lecture video not watched", "students not equipped", "unprepared students", "preparedness", "preparation" and "student commitment".
What should teachers do?
To overcome this challenge, Dr. Zeng recommended that teachers ensure the alignment of pre-class, in-class and after-class activities. In designing a course, they should always keep in mind the intended learning outcomes and make sure that concepts covered in the short videos are related to the in-class activities and assessments. This will create a backwash effect and push students to get prepared for class, or else they will not be able to participate in in-class activities where everyone else is engaged.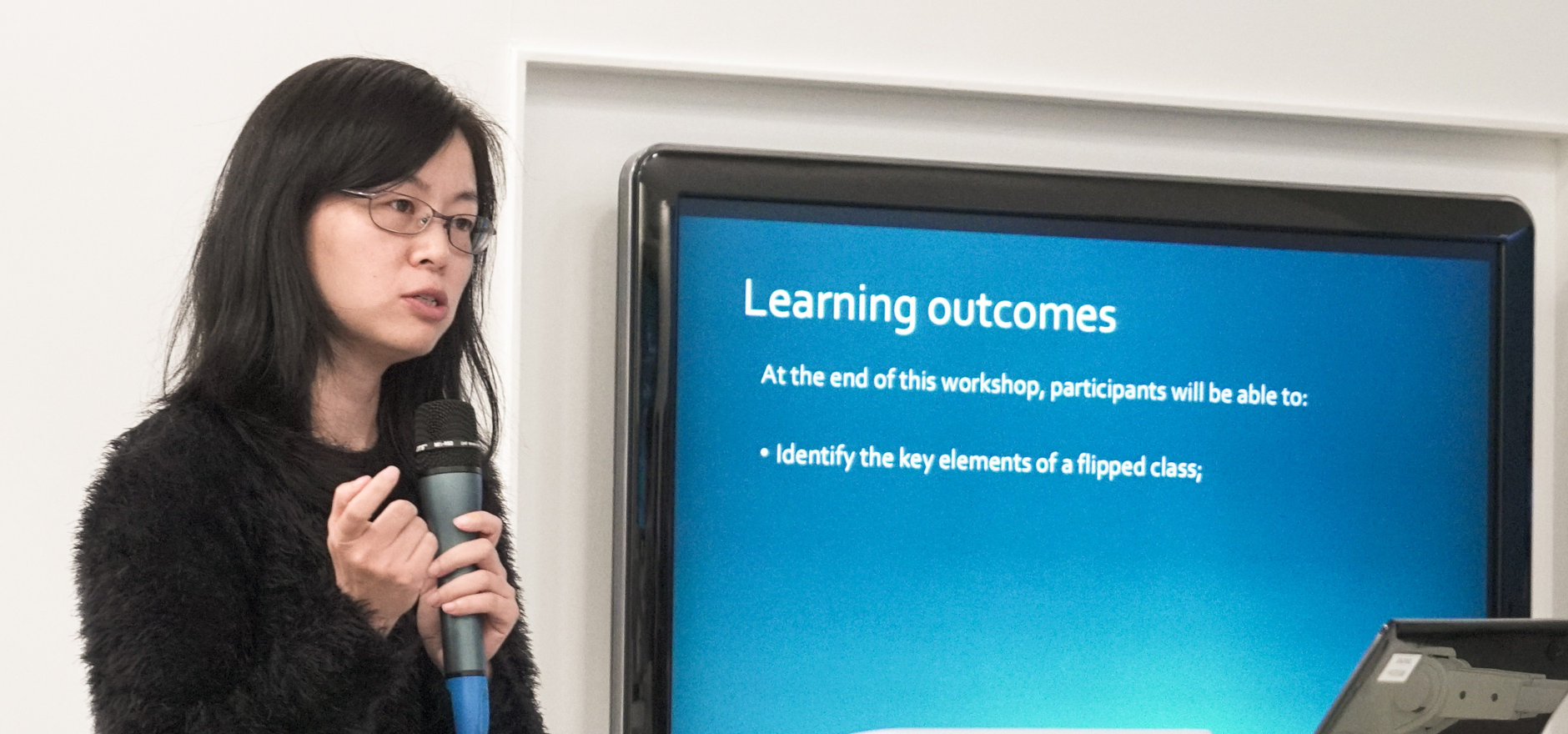 When asking students to watch videos before class, consider giving:
extra credits as incentives for those who watch the videos and complete knowledge check questions before class;
clear expectations, i.e., explain to them why they should watch the videos; and
guidance about what to take note of in the videos, such as a short "curator's message", some highlights and key questions to think about while watching.
It can be frustrating to know that some students did not do preparations for class. However, we can make use of this opportunity to teach students the importance of doing preparations as a "pre-requisite" of a deep learning experience.
Further reading