HKU Dentistry is ranked No. 1 in the World in 2016. Known for its world-class quality undergraduate and postgraduate and research programmes and clinical dental specialties, HKU Dentistry moves to the forefront in using creative technology in teaching and learning. On 25 October this year, it launched the World's 1st MOOC (Massive Open Online Course) in Implant Dentistry on the Coursera platform.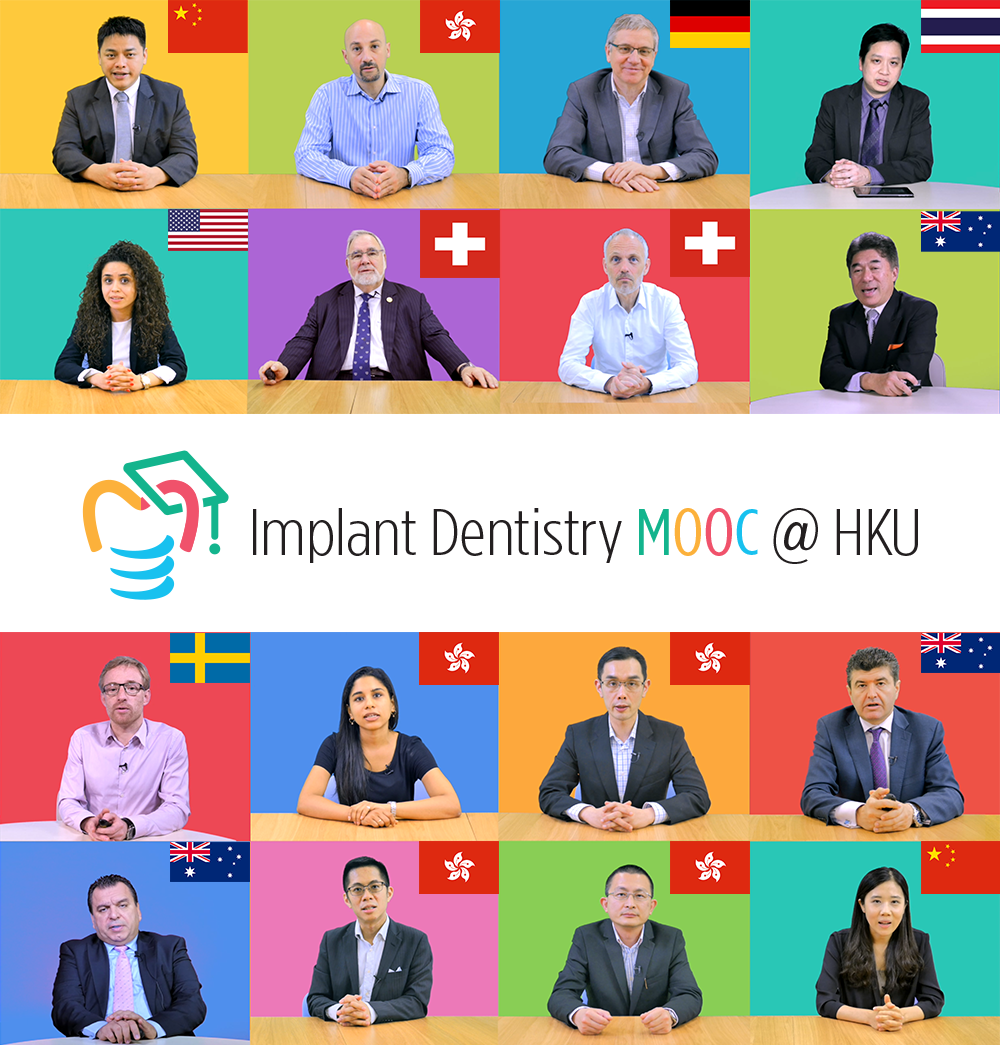 Up-scaling learning and teaching, from solo to global endeavor
The Implant Dentistry MOOC successfully captured 7000+ enrollees who are practicing dental practitioners and dentistry graduates and students from more than 50 countries around the world. The MOOC gives students more than an option and convenience to a self-paced curriculum on an individual device; students are engaged in lively forum discussions with instructors, TAs and fellow online peers anytime, anywhere.
Engaging students in an interactive MOOC learning experience is not the work of one but many instructors – the course is taught by a dream-team close to 20 renowned international experts in dental implants and reconstructions led by HKU's Dr. Nikos Mattheos, Clinical Associate Professor in Implant Dentistry. Each teacher on the team contributed specialized knowledge and evidence-based best practices on the same platform to multiple-levels of dental professionals and multi-national learners.
The vision and mission
Why an Implant Dentistry MOOC? According to the chief course instructor, Dr Niko Mattheos,
"Implant Dentistry is one of the most dynamic and rapidly developing areas within oral health care, but is still a rather new discipline in dental education and is not quite often taught in undergraduate dentistry curricula."
Earlier this year, researchers from the Department of Oral Rehabilitation conducted a small-scale survey on postgraduate dental education to practicing dental practitioners in Europe, Asia, North America, Oceania and South America. The study showed that the most frequent period that dental practitioners placed the first dental implant was 3-5 years after dental school graduation and 82% of the respondents reported the need for further education, however, among the group, only 29% actually pursued further education in an academic setting, i.e. post-graduate 2-3 year full-time programs in accredited universities.
HKU Dentistry, with the vision to provide a top-notch dental education programme to the training of future dental professionals, endeavored to bridge the gap of knowledge in Implant Dentistry and diligently worked with HKU's TELI team to produce a world-class MOOC in Implant Dentistry to offer an opportunity for dental practitioners and dental students to learn about this specialized subject.
Creating impacts to international communities
The MOOC has reached beyond national borders, language and professional boundaries. We are excited to see that the MOOC has gained endorsement not only from universities and dental schools, but also from other professional communities. Among them are Ukrainian Academy of Periodontology and Canadian Dental Association. There are also strong incentives among learners in building learning communities in Implant Dentistry. Enthusiastic Arabic learners started a Facebook group, where they translated the course materials to Arabic and shared notes with their peers. There are currently 900+ learners and counting. We are also delighted to have established strong connections with professional organizations in mainland China that bring us 1500+ Chinese learners.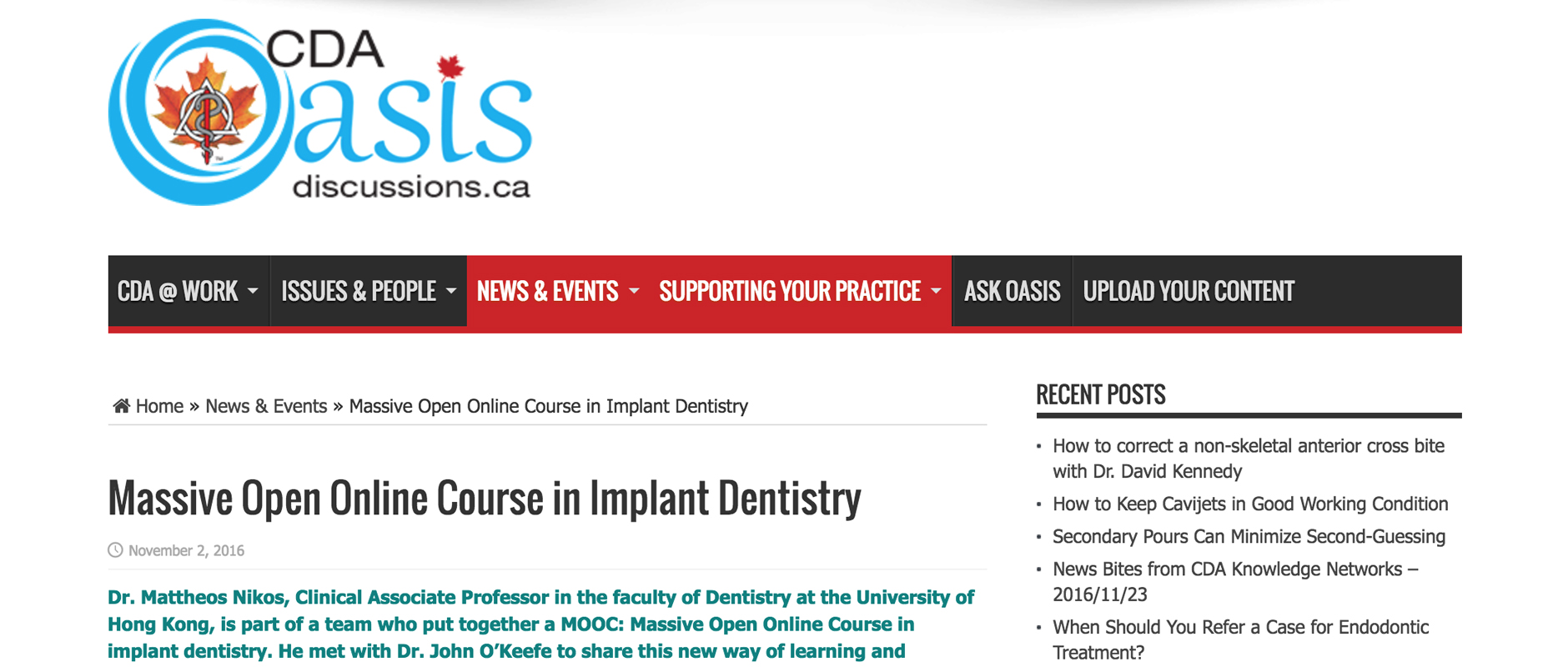 Learners' stories
Here are some testimonies and learners' sharing from the MOOC: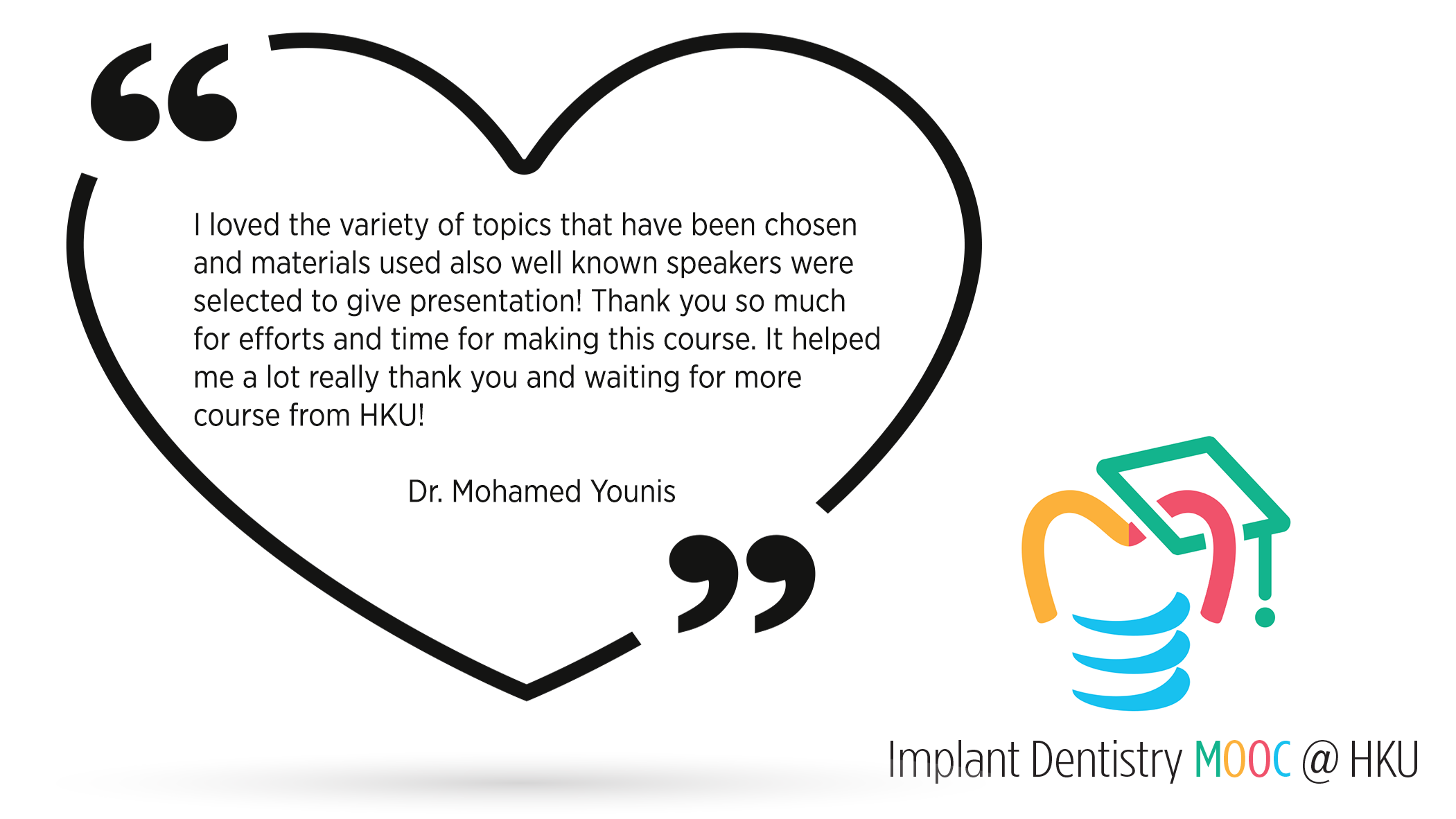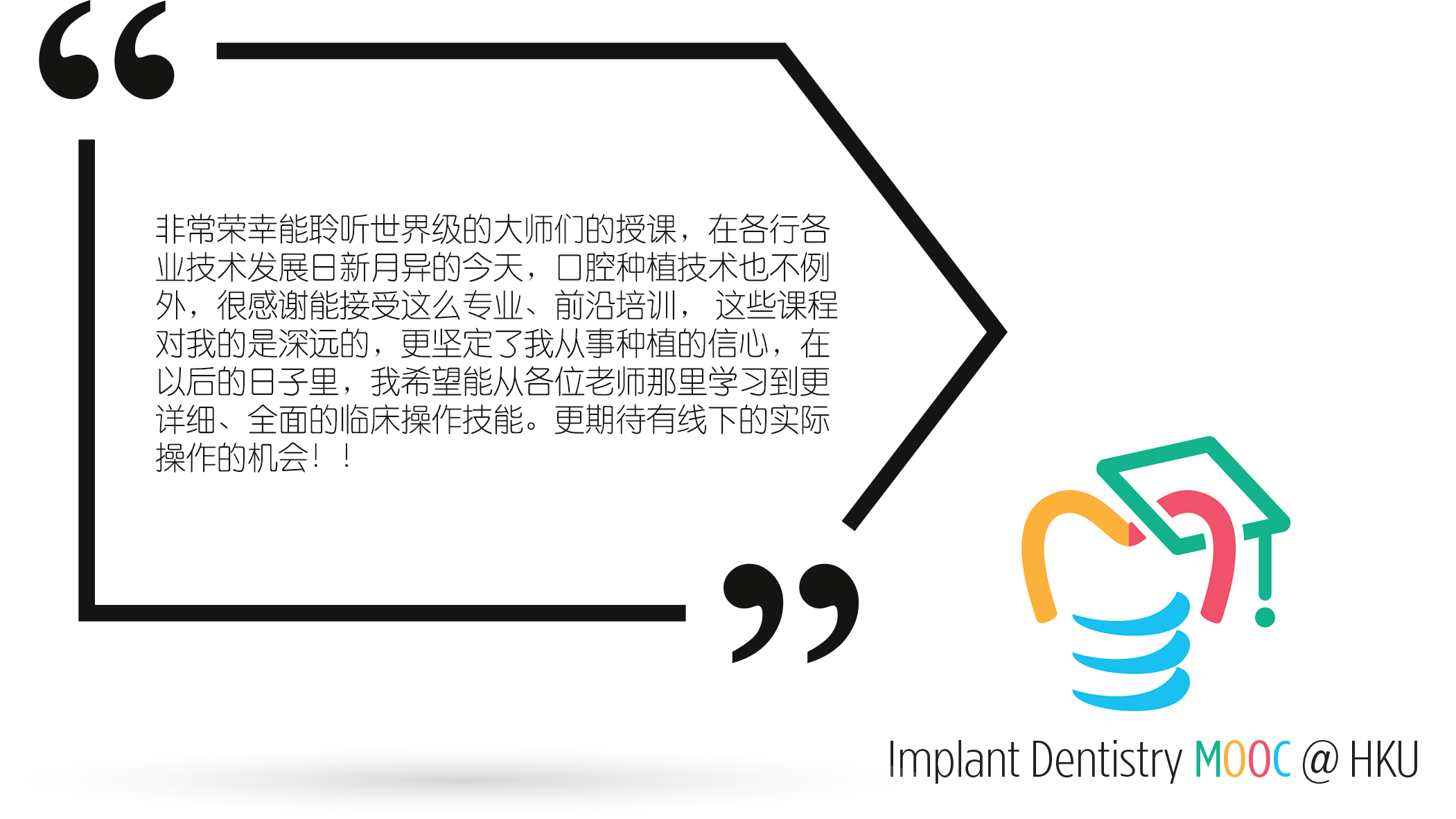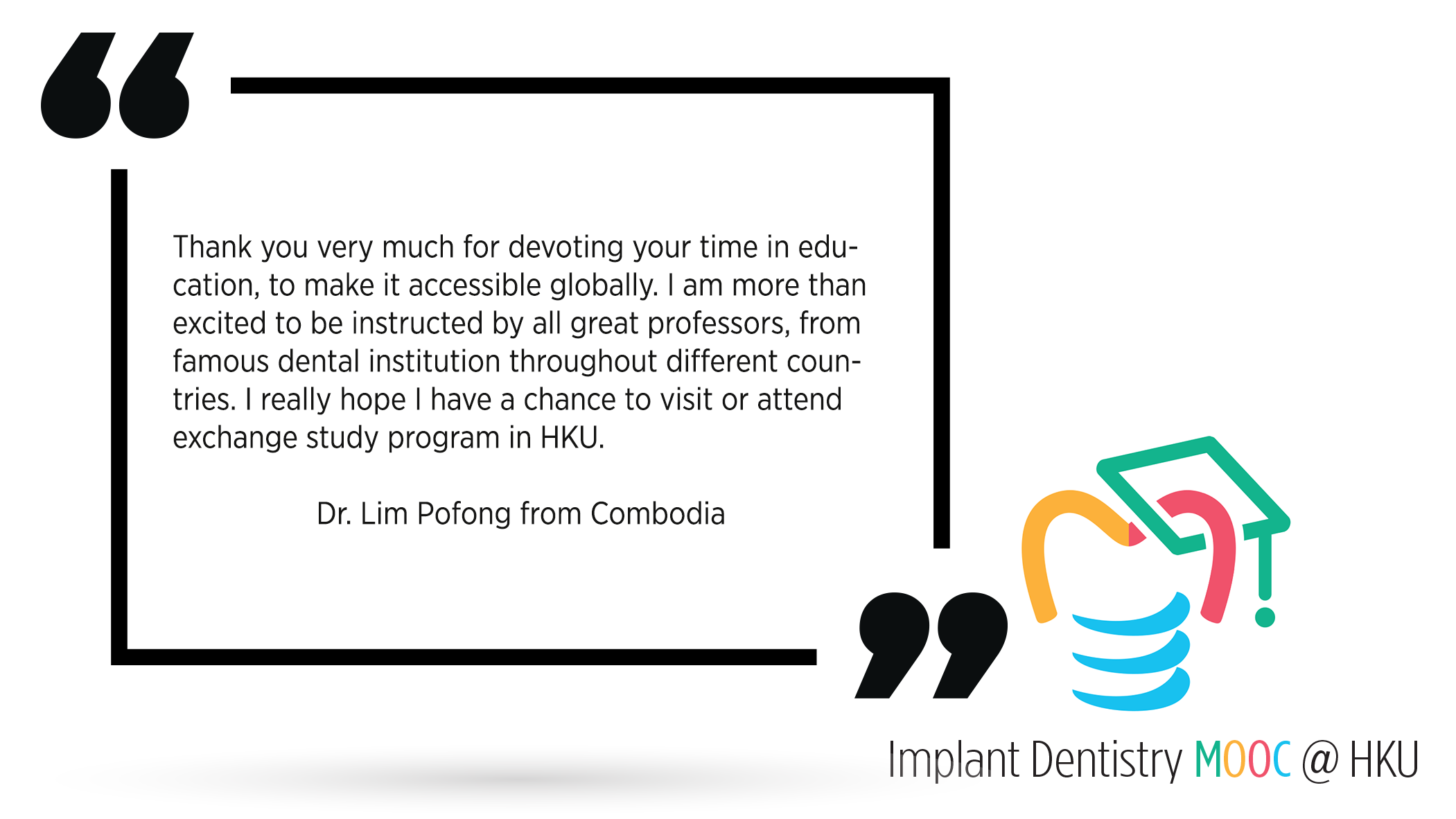 The course will be completed by 4 December 2016, but the second round will start soon from 27 February 2017. Join us now, to experience the world-class MOOC brought by the world-class dental school!
Further reading: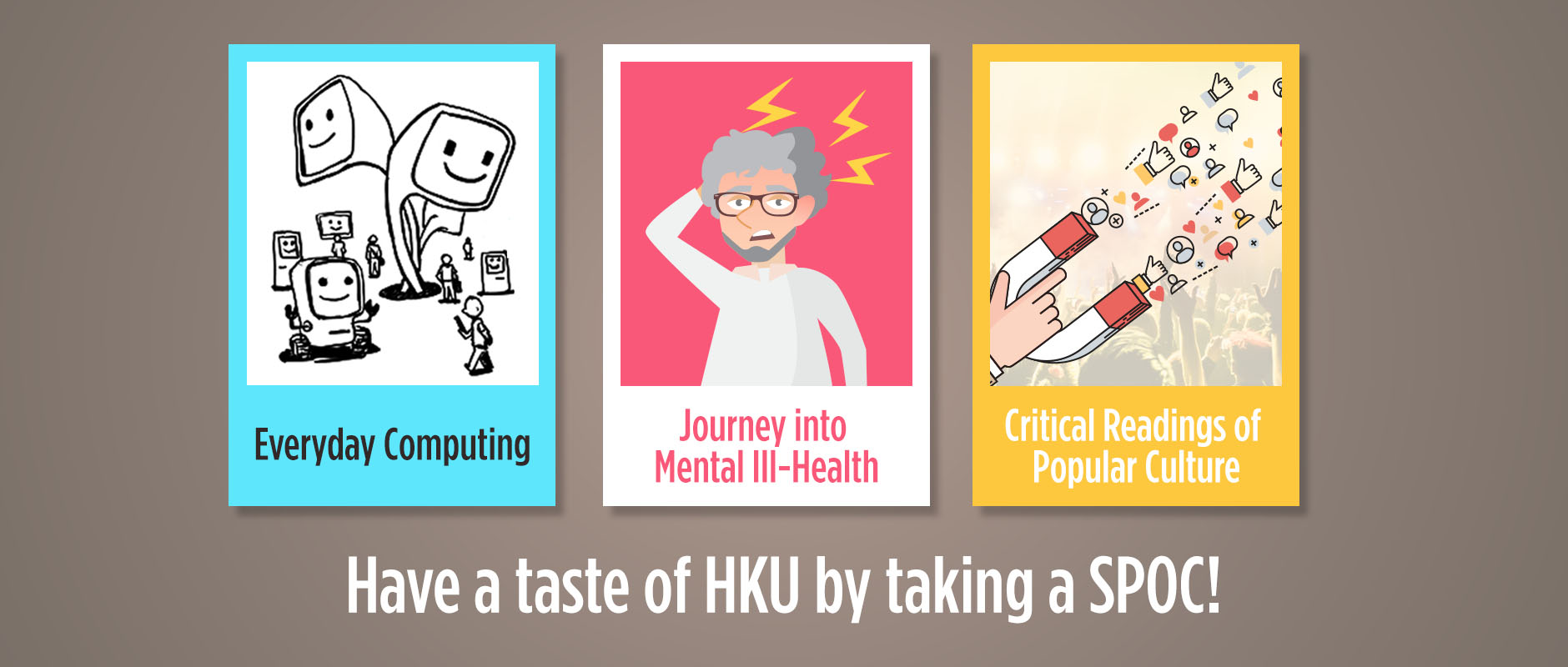 Are you a prospective university student? Have you thought of what major you want to study in the future? Interest and ability are two key factors to consider in choosing your university major. Yet, how can you really visualize how classes in universities are like just by reading a bunch of colourful prospectus, giving only factual and static information of the courses?
Worry not! Our Small Private Online Courses (SPOCs) are here to give you a real taste of university courses which will help you make a better informed choice.
HKU is now providing three SPOCs taught by our very own Professors and lecturers:
Now on Offer: Critical Readings of Popular Culture
Registration
Register for this course at http://bit.ly/hku_spoc and get a taste of your university life to-be!
The course begins on 2 December, 2016. Registration is open until 16 December, 2016.

About the course
This four-module online course is designed to help you take a fresh, critical look at what seems familiar and ordinary. By drawing on various theories and analytical tools, you will become a sharp decoder of hidden messages in entertainment media.
Throughout this course, we will examine the following genres and topics:
Commercials: How do producers use film to convey the meaning they want to make?
Movies: What is the secret to Hollywood success?
TV dramas: Why are Korean TV Dramas so popular?
Print advertisements: Did you ever buy something because of an attractive advertisement? Why did you do that?
Assessment criteria for certificates
A Certificate of Completion will be issued upon completing the following tasks:
Attempt all quizzes in the course, and get at least 60% correct.
Participate in discussion forum by posting at least 1 meaningful post.
Submit the final assignment before

2nd Jan, 2017, 23:59

.
A Certificate of Excellence will be awarded to learners who get higher than 80% correct of the quizzes, and receive a Grade A for the final assignment. More details about the final assignment will be introduced during the course.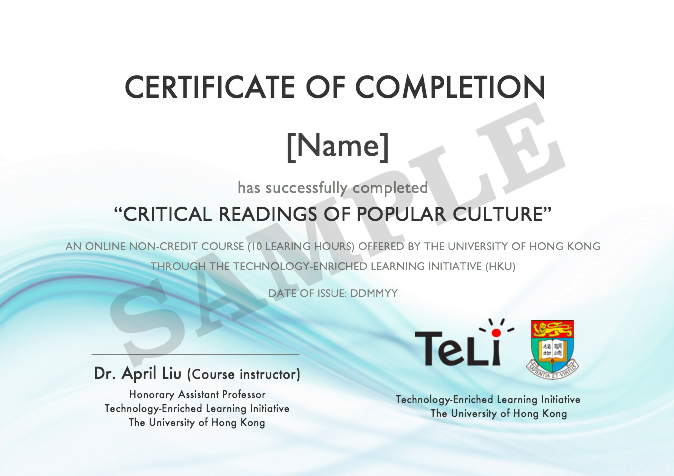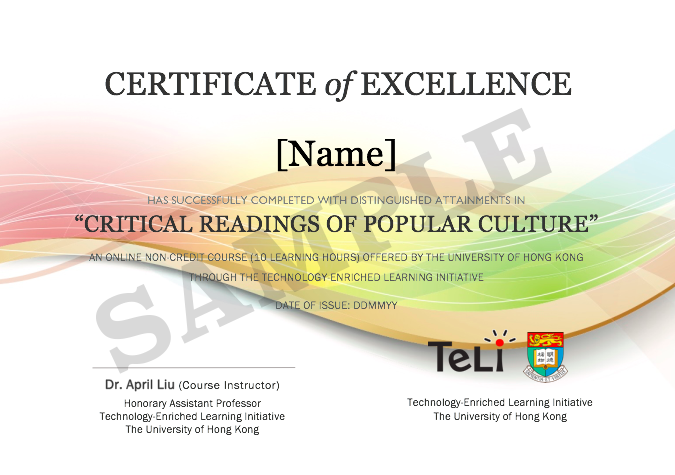 Stay tuned for these upcoming SPOCs:
Everyday Computing
Are computers outsmarting human beings? This course will help you to develop a "computational" mindset to analyze and formulate solutions for problems encountered in everyday life. We will investigate into how these problems are related to the Internet and the impact of computing technologies to humankind.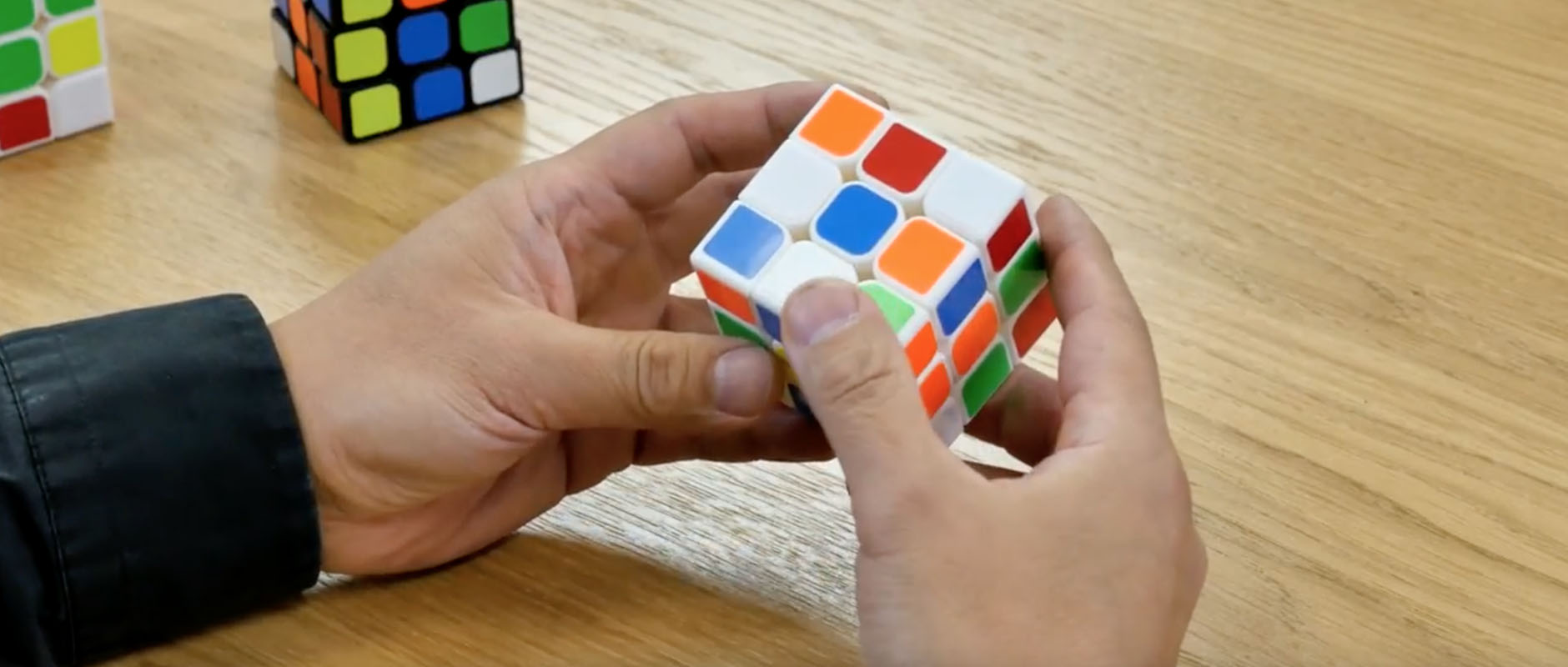 Journey into Mental Ill-Health
Mental illness is often portrayed by mass media as a threat. This is hardly the complete story. With the use of experiential exercises, case studies, and film viewing, this course will guide you to understand more about mental health issues through reflecting on your daily life and learn to co-inhabit with people with mental illness.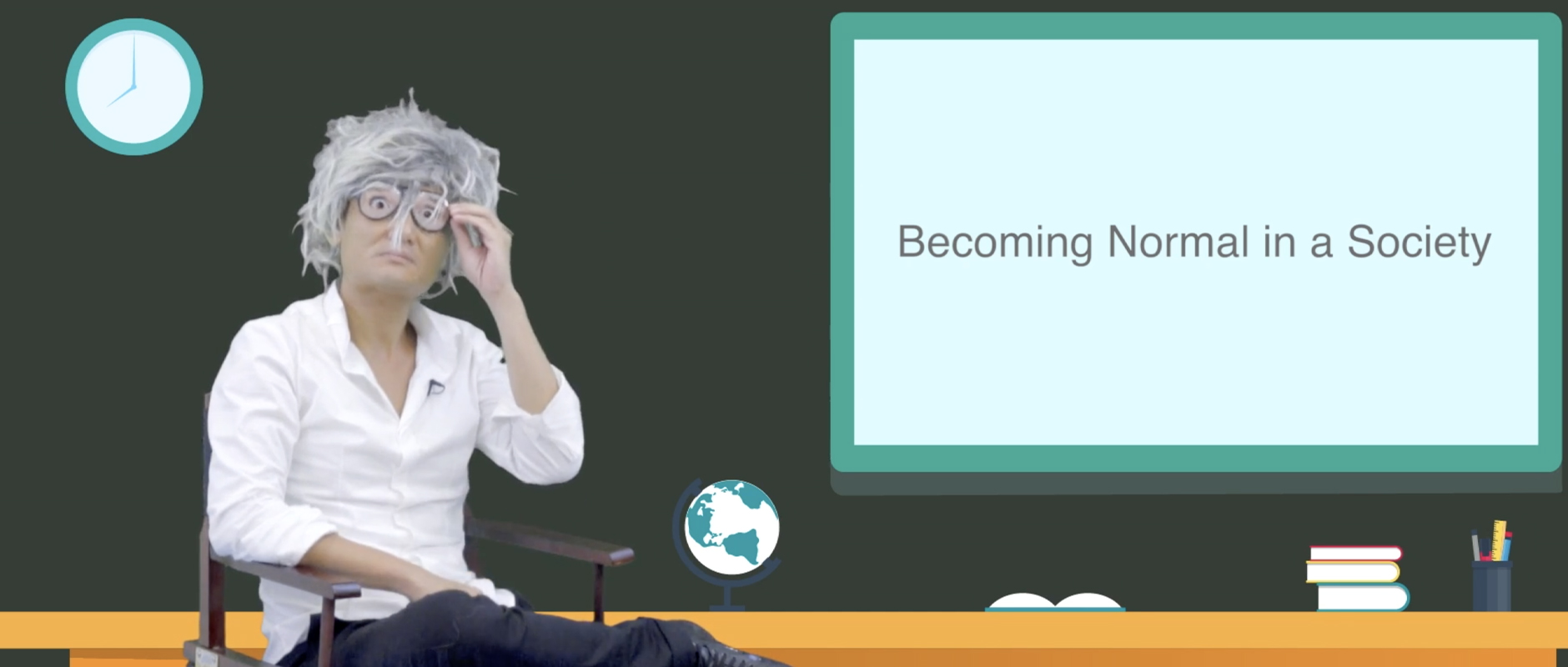 Like our Facebook page to receive more information on The University of Hong Kong Online Learning: https://www.facebook.com/hkuonlinelearning/

What was it like being a dinosaur? Where did they live? Who did they live with? Were things anything like they are today? How do we even know all this?
Find out the answers to these questions and more in our upcoming Massive Open Online Course (MOOC) on Dinosaur Ecosystems! Starting from February 8th 2017, Dr. Michael Pittman of the University of Hong Kong's Department of Earth Sciences, together with Professor Xu Xing of the Institute of Vertebrate Paleontology and Paleoanthropology (Chinese Academy of Sciences), will lead you on an expedition to the Gobi desert to unveil a famous ancient ecosystem!
In this course, we will take you to Erlian, Inner Mongolia, and leading museums and institutions to explore:
dinosaur biology
how palaeontologists reconstruct ancient ecosystems using fossil and modern evidence
the traits and significance of a Late Cretaceous dinosaur ecosystem.
Don't forget to follow us on Facebook and Twitter to get the latest updates!
Further reading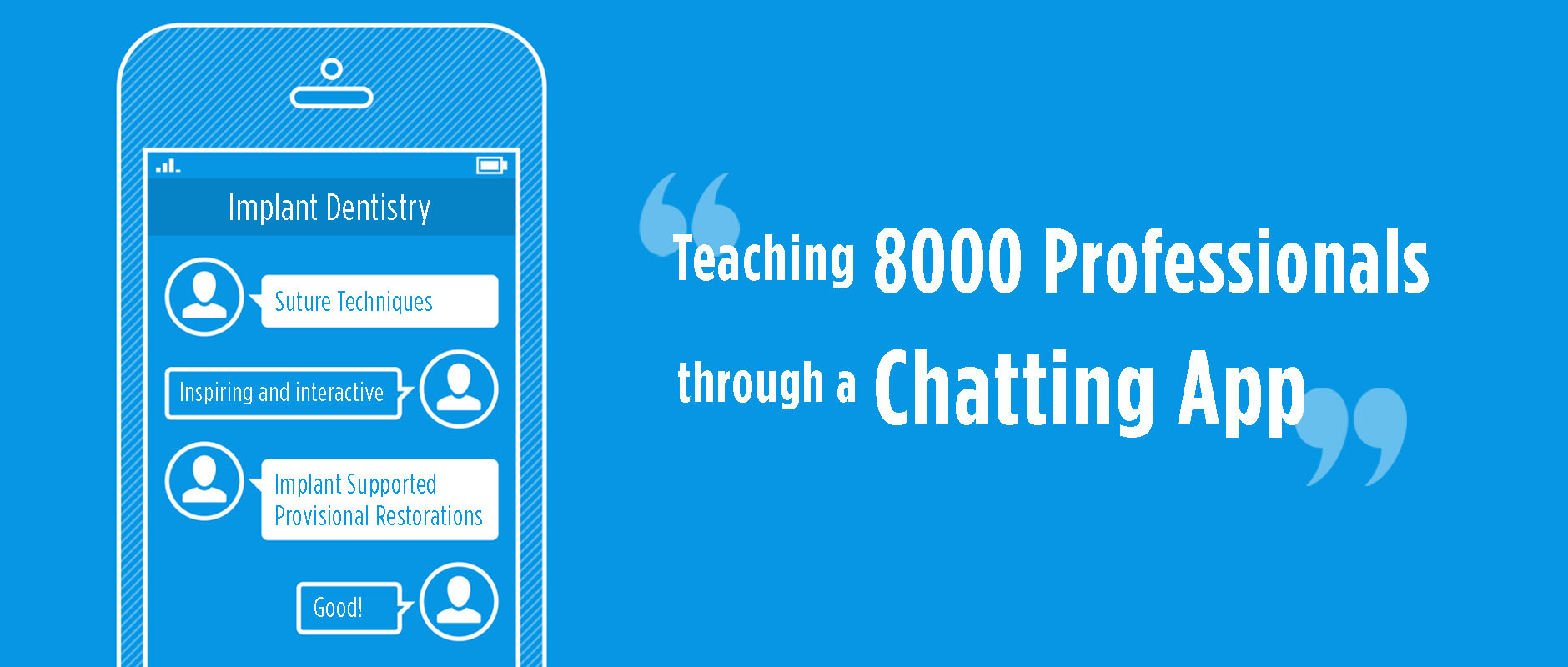 The Faculty of Dentistry recently launched a MOOC which targets pre-professionals and dentists in the world – particularly those in China where formal programmes in this area are rare. The question for the course team is: how to reach this group of audience? The answer: one powerful friend, and your smartphone.
In order to reach out to the dental community and create bigger impact for the MOOC, the course team established a partnership with an online dental training platform, Myake. Founded by a few experienced dentists, the platform's vision is to provide free quality education and knowledge sharing. With more than 10,000 registered users, it has established an active and mature learning community among practising dentists.
The featuring promotional event was for the MOOC instructor, Dr. Nikos Mattheos, to give a live webinar through the platform. Dr. Mattheos addressed a key topic under implant dentistry, and took the chance to invite learners to join our MOOC.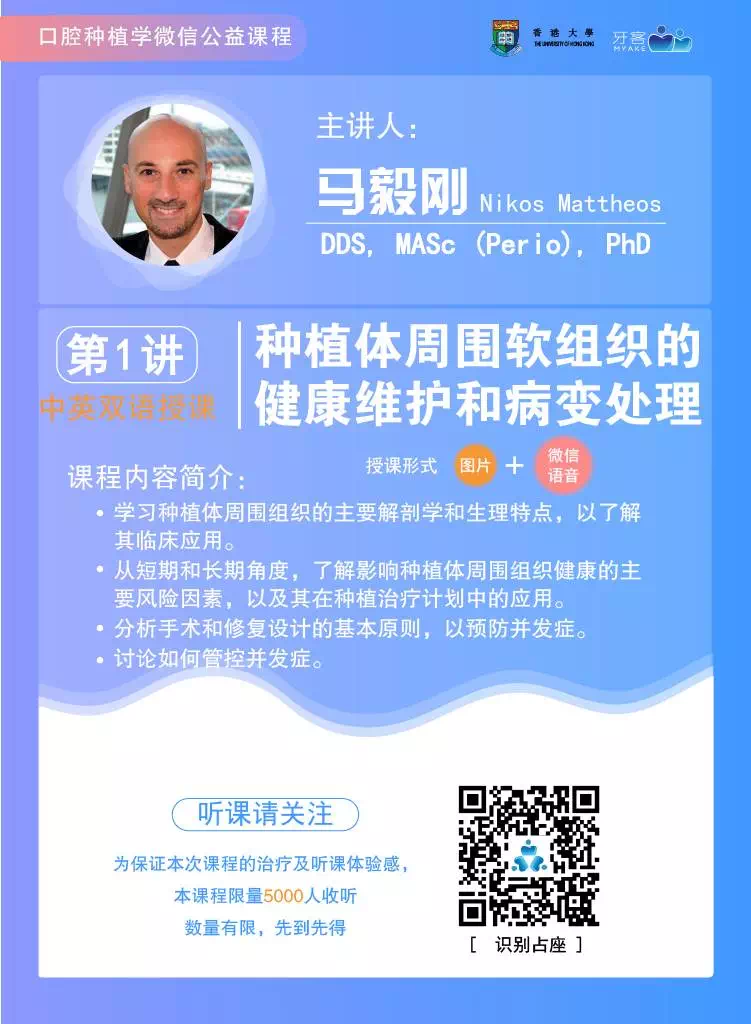 What came as a surprise to the course team, was that the tool being used to deliver the webinar, was a simple chatting app, which is so popular that almost everyone in Mainland China is using. Without a webcam, a laptop, or any other sophisticated gadgets, the only device needed for delivering and participating in the webinar, was a smartphone. The instructor simply presented screenshots of lecture slides, and supplemented them with voice messages. Throughout the 90-minute webinar, the number of live learners kept growing, eventually reached over 8000.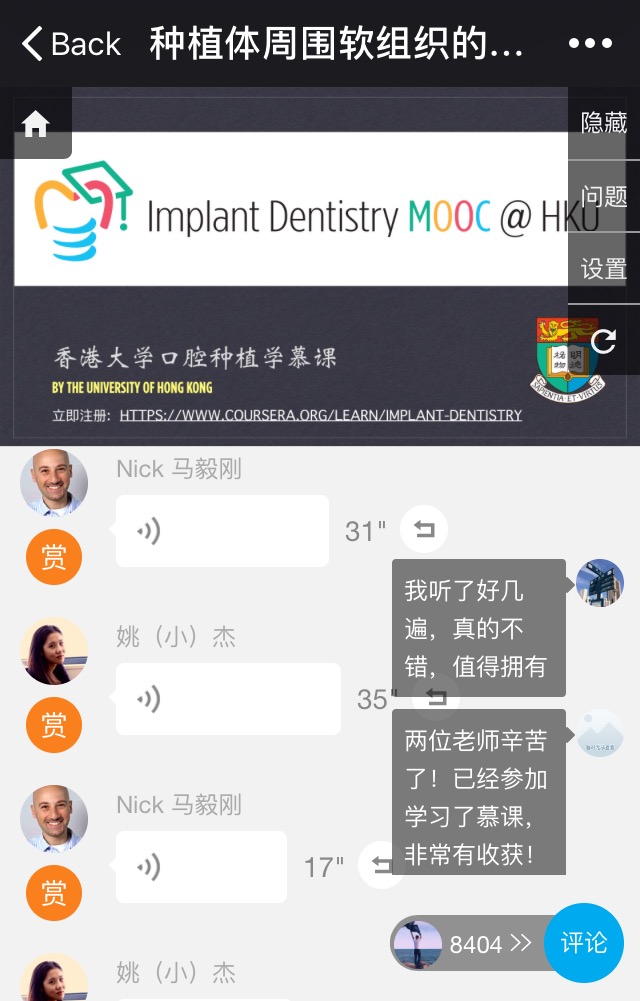 How do we make high education more accessible? Clearly one efficient way is to adopt tools that is available and familiar to our target audience. Making use of this day-to-day communication app, the implant dentistry course team was able to bring the knowledge straight to the front-line practising dentists.