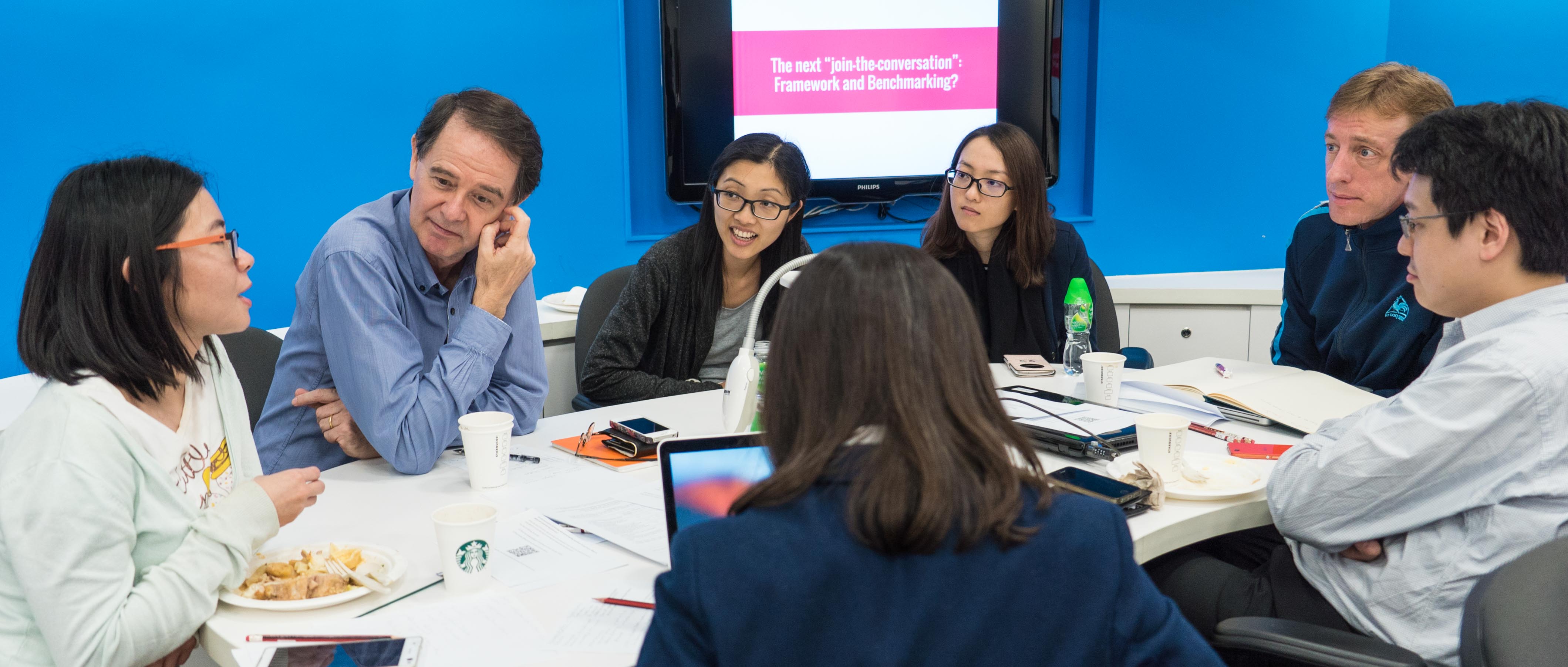 Digital and virtual learning tools create new possibilities in internationalizing our learning environment. In a seminar on 20 Apr 2016, Professor Ricky Kwok was invited to share his ideas on how technology broadens the concept of internationalization.
What is internationalization?
Ricky began the conversation by brainstorming with participants some characteristics of "internationalization":
Internationalization = intention + interaction + intensity
The intention of internationalization is to create an environment where students must interact with people from different cultures. The intensity of interactions is a major area to consider when evaluating students' international experience. The intensity of intercultural experience correlates to the willingness to interact with local people, such as using the local language and being involved in community projects.
Internationalization at Home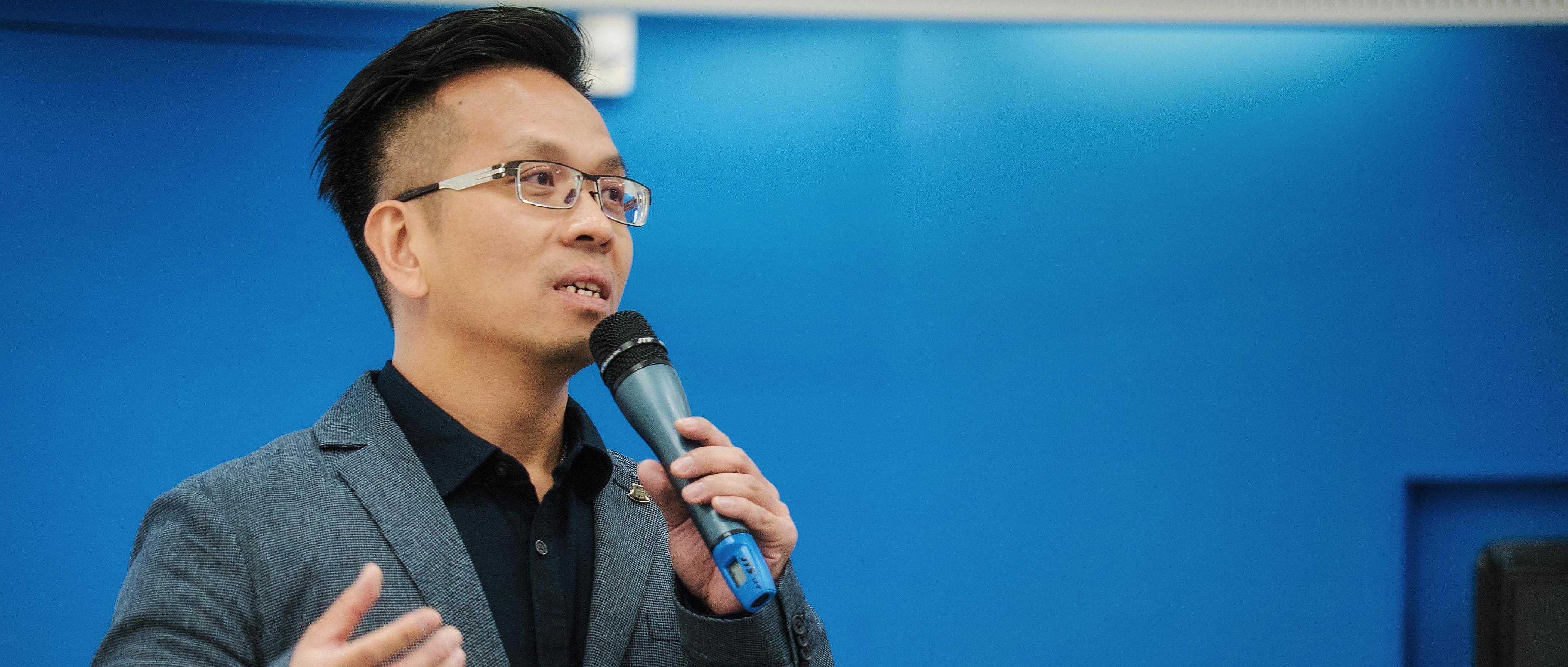 We can intensify the process of internationalization at HKU using technology. With digital and virtual learning tools, we can bridge the distance among learners and institutions. Digital learning has made it possible for us to connect learners worldwide through Massive Open Online Courses. For example, in HKU02.1x The Search for Vernacular Architecture of Asia, Part 1, students from all over the world were invited to analyze their local living environments using key concepts from the course. In HKU03x Humanity and Nature in Chinese Thought, a synchronous online debate on a global scale was organized.
Virtual learning also allows us to replicate our learning environment for overseas students to explore without needing to be here. Currently, we are planning to build a 3-D virtual tour of buildings on the HKU campus in collaboration with the Google Cultural Institute. If more tertiary institutions worldwide offer similar virtual tours, more students can "visit" universities overseas without travelling.
HKU is a focal point of multiple ethnicities and cultures. With technology, we can expand our web to reach international students in a more innovative way. What are your views on this? What digital and virtual tools would you like to try in enhancing internationalization? Share your ideas with us.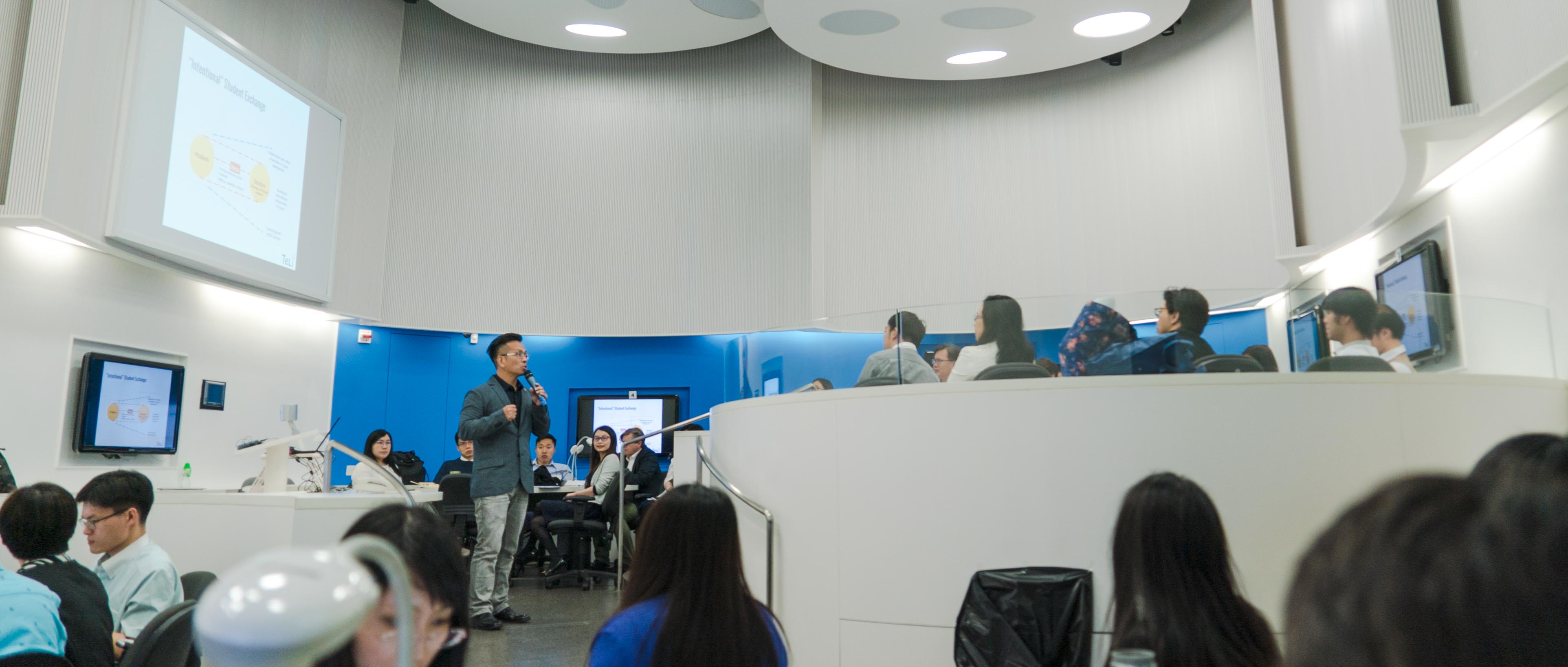 Further reading
Join-the-Conversation3: Enriching international learning experiences in your course: What can digital and virtual learning do for you?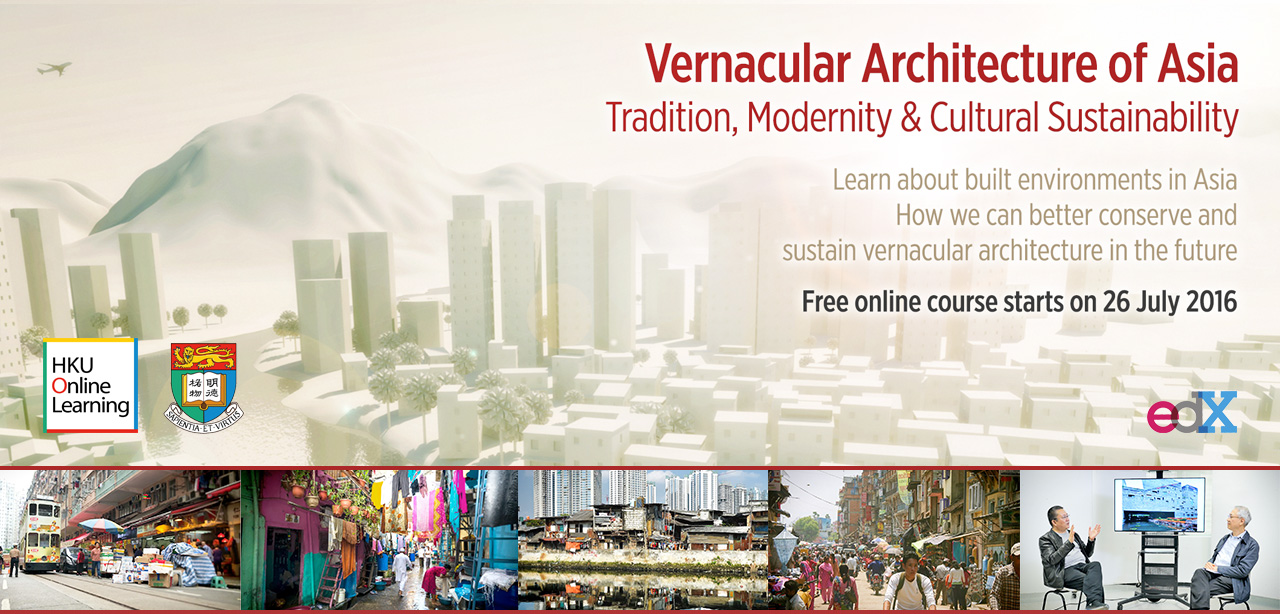 Can urban environments also be vernacular? In Week 2 of the Search for Vernacular Architecture of Asia, we will examine the broader and more complex issues in the urban built environment. Register for the course for free and join learners from around the world on July 26, 2016.
Sneak Preview ( Week 2 )

Course Trailer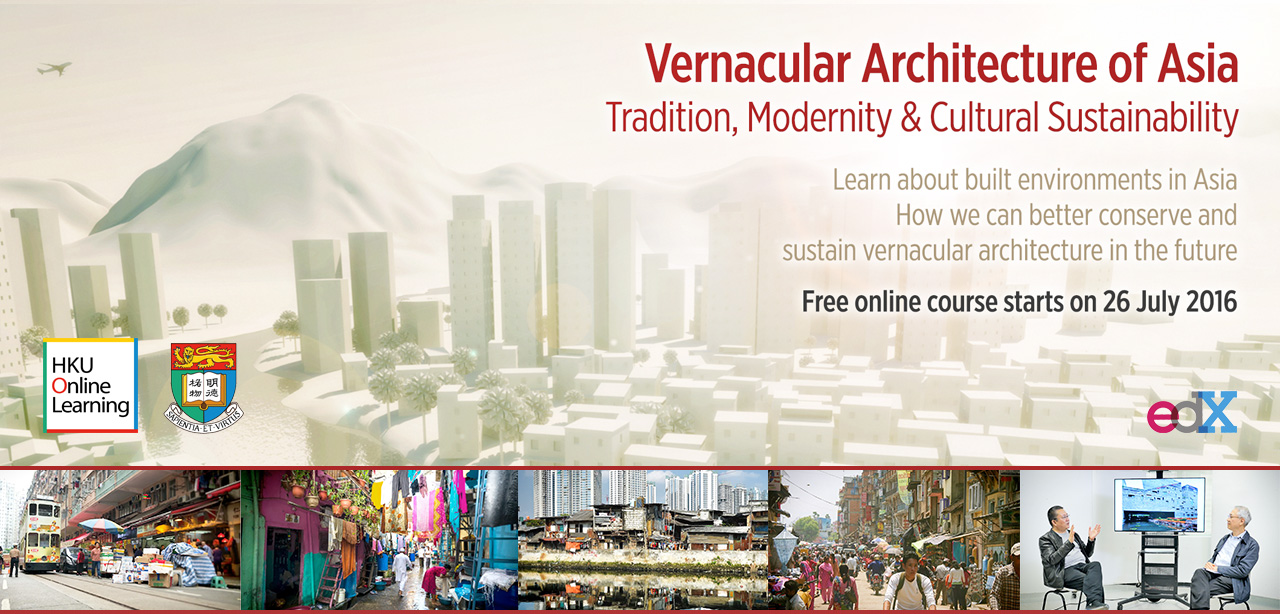 We begin the Search for Vernacular Architecture: Tradition, Modernity & Cultural Sustainability with a look at the rural vernacular. In the first pisode, we will focus on the different aspects of the rural vernacular environment in Asia, and the ways in which these environments communicate meaning. Register for the course for free at http://tinyurl.com/architecturemooc and join learners from around the world on July 26, 2016.
Sneak Preview ( Week 1 )

Course Trailer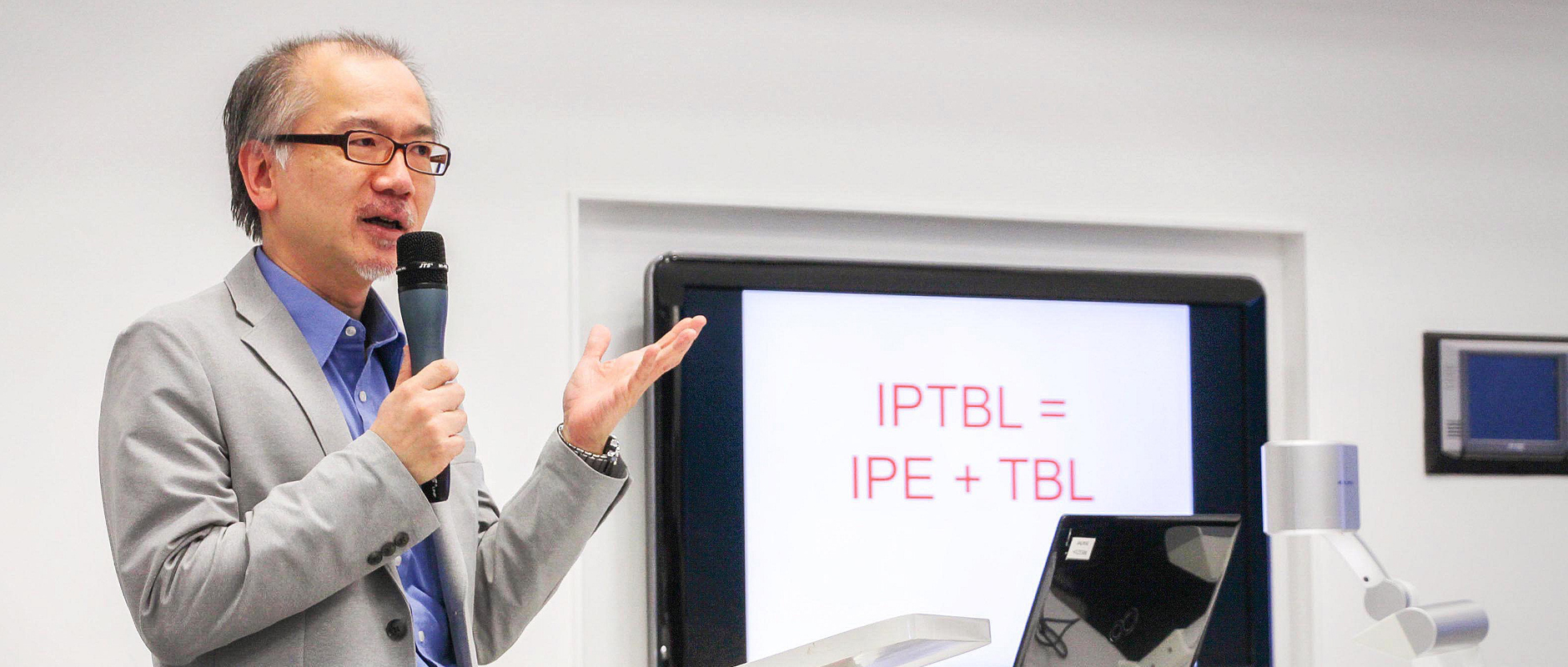 IPTBL is a pioneering effort in conducting interprofessional education (IPE) using team-based learning (TBL).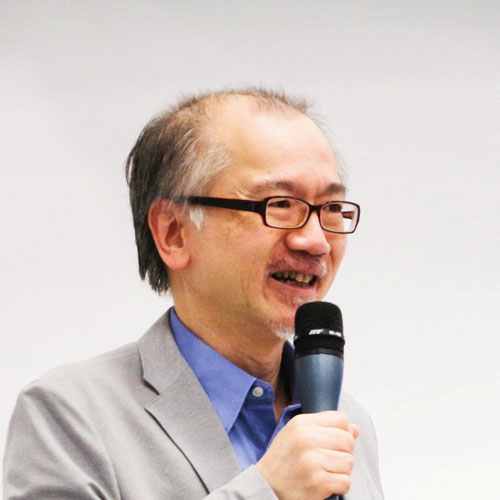 "In running this type of events, technology is tremendously important," said Dr. Chan in the seminar.
We all need to learn to collaborate, and through collaboration, we learn more. With technology, it is now easier to create new collaborative grounds for students. Having a firm belief that "collaborative work will lead to better patient outcome," Dr. Lap Ki Chan (Li Ka Shing Faculty of Medicine) initiated Interprofessional Team-Based Learning (IPTBL), a technology-facilitated project, with a team of pioneers, including Dr. Charlene C. Ho, School of Biomedical Sciences; Dr. Fraide A. Ganotice, Jr., Bau Institute of Medical and Health Sciences Education; Dr. Veronica Lam, School of Nursing; Dr. Ming Fai Law, Department of Social Work and Social Administration; and Dr. Gordon Wong, Department of Anaesthesiology. The team shared their experience in a seminar on 6 June 2016.
IPTBL – How does it work?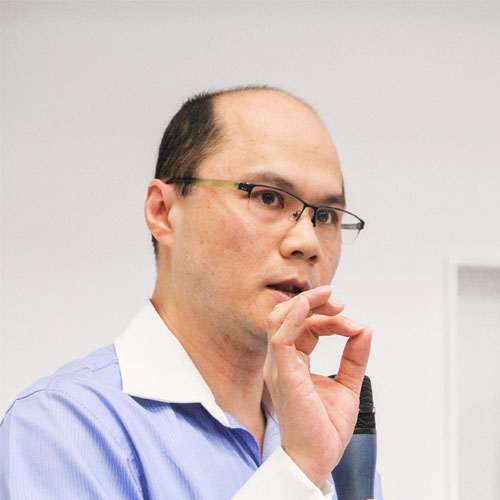 "The future is bright I think. TBL is the way to go in healthcare," said Dr. Gordon Wong in the seminar.
Collaborative learning is nothing new in education. But what makes IPTBL special is that it is a pioneering effort to promote interprofessional education (IPE) across healthcare disciplines using team-based learning (TBL) and ed-tech. Students from multidisciplinary silos teamed up to tackle clinical cases, debate on questions and appeal to facilitators regarding the answers. So far, the project has successfully broken down the silos of 7 different programmes and engaged 600 students from HKU and PolyU.
The use of ed-tech
It would be impossible to engage such a large number of learners simultaneously without the help of technology. To enable effective class management, an e-platform called the Learning Activity Management System (LAMS) was utilized. It allowed teachers to track the progress of all students through the different stages of TBL.
Technology makes collaboration easier in the classroom. Contact us if you want to create new collaborative opportunities for your students.
More photos of the seminar can be found on our Facebook and Twitter.
Further reading:
Larry Michaelson, L. (2009). The Essential Elements of Team-Based Learning. Adapted from Chapter 1 of Michaelsen, L., Sweet, M. & Parmalee, D. (2009). Team-Based Learning: Small Group Learning's Next Big Step. New Directions in Teaching and Learning, 7-27.
Download here