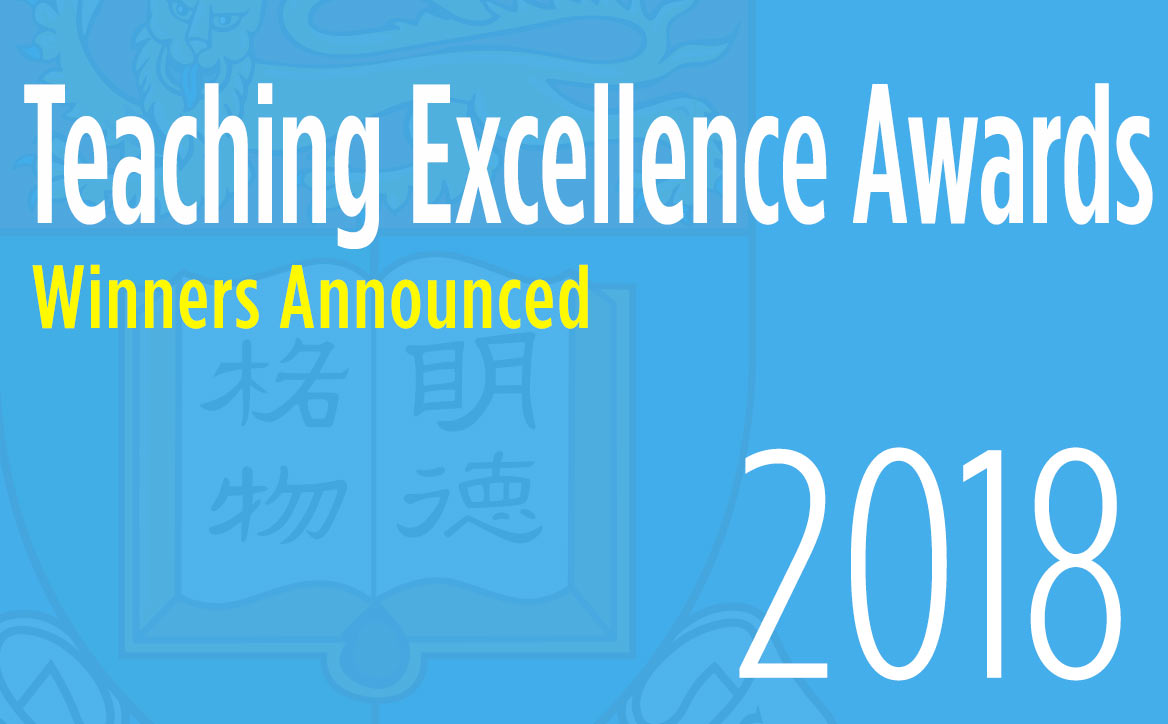 Message from Vice-President and Pro-Vice-Chancellor (Teaching and Learning)
Dear Colleagues and Students,
I am very pleased to announce the recipients of the University's Teaching Excellence Awards 2018. The Selection Panel was deeply impressed with the awardees' dedication to teaching, their tireless and creative efforts to make learning enjoyable and challenging, and the impact that they have made on their students' learning.
University Distinguished Teaching Award
Dr. Michael G. Botelho, Faculty of Dentistry
Outstanding Teaching Award
Individual awards
Dr. Janet L. Borland, School of Modern Languages and Cultures, Faculty of Arts
Ms. Tanya J. Kempston, Faculty of Education
Professor Alice S.T. Wong, School of Biological Sciences, Faculty of Science
Professor Daniel F.K. Wong, Department of Social Work and Social Administration, Faculty of Social Sciences
Dr. Patcy P.S. Yeung, Faculty of Education
Team awards
Dr. Gary J. Harfitt (Leader), Ms. Jessie M.L. Chow and Ms. Candace W.F. Mok of the Faculty of Education for Nurturing today's students and tomorrow's teachers through experiential learning (EL)
Professor Gray M. Kochhar-Lindgren (Leader) of the Common Core Office, Professor Gina Marchetti of the Faculty of Arts, Mr. Mathew R. Pryor of the Faculty of Architecture and Dr. Julian A. Tanner of the LKS Faculty of Medicine for Transdisciplinarity in Action: Creating Multiscalar Teaching and Learning Platforms in the Common Core
Early Career Teaching Award
Dr. Elizabeth A. Barrett, Faculty of Education
Mr. David S. Lee, Faculty of Business and Economics
Dr. Tom McDonald, Department of Sociology, Faculty of Social Sciences
Dr. Dirk Schnieders, Department of Computer Science, Faculty of Engineering
Teaching Innovation Award
Dr. Michael G. Botelho, Faculty of Dentistry
I would like to thank our external assessor Professor Anthony Smith (Vice-Provost (Education & Student Affairs) of the University College London) for providing us with expert advice in situ during the final selection process. I would also like to thank the other Panel members: Dr. Shahla Ali, Professor Grahame Bilbow and Mr. Daniel Lei (student representative) for their assistance in this important exercise.
Please join me in congratulating the awardees. I look forward to seeing you all at the Award Presentation Ceremony on Monday March 25, 2019.
Professor Ian Holliday
Chair
Selection Panel for Teaching Excellence Awards 2018