Message from Medical Ethics and Humanities Unit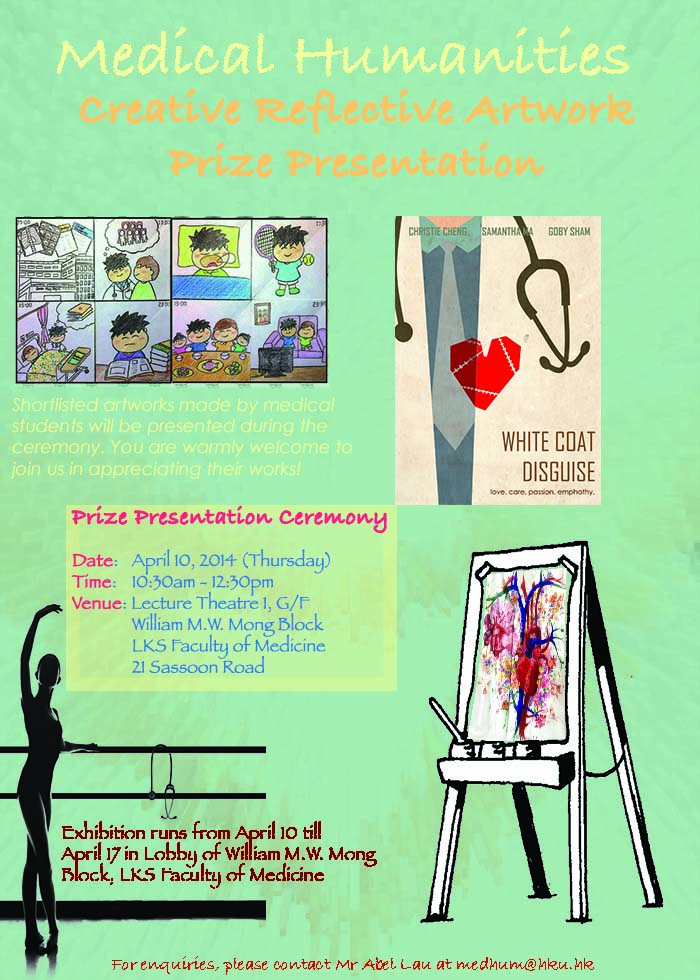 You are cordially invited to join and appreciate some shortlisted creative reflective artwork exhibition, featuring the year-end works made by year 1 medical students who reflect on their understanding on the medical journey in creative art forms. Videos, paintings, clay-work, installation, paper cutting and poem; some even use white-coat as canvas.
Medical Humanities (MH) Curriculum is a curriculum compulsory to all newly admitted medical students, aiming at enabling students to have a deeper understanding of the human condition, and to explore the person within the patient as well as the person behind the white coat. This exhibition is a part of the assessment of the MH curriculum.
Exhibition, Student Presentation and Prize Awarding Ceremony
Date: April 10, 2014 (Thursday)
Time: 10:30am – 12:30pm
Venue: Lecture Theatre 1, G/F William M.W. Mong Block LKS Faculty of Medicine 21 Sassoon Road
Audience can cast their vote to their most favourite artwork that contributes to a prize!
All are welcome and no registration is required.
Should you have any query, please feel free to contact Mr Abel Lau at abellau2@hku.hk