Message from Information Technology Services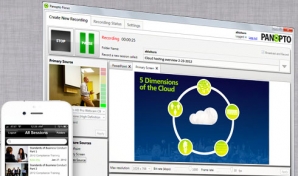 The University has adopted the Panopto system as the platform for recording lectures and events for subsequent viewing by students over the network.  All lecture theatres and about half of the classrooms in the Centennial Campus have been equipped with video cameras for recording of lectures, presentations, screencasts, events, and meetings. The system is seamlessly integrated with the Moodle Learning Management System. Teachers may simply login Panopto using their HKU Portal UID/PIN to start the recording; and on completion, the recorded lectures will then be uploaded and associated with the relevant Moodle courses automatically for viewing by students.
In March 2013, with the help of Panopto International Company, three training sessions on the use of the Panopto platform were conducted on campus, one for ITS staff supporting the platform and the other two for teachers and teaching support staff. Sixteen teachers and 56 teaching support staff attended the training.
Pilot Operation
We put the Panopto system into pilot operation in April 2013, to enable interested teachers to try out this new service and at the same time allow us to gather some real-life usage experience and feedback for fine-tuning the service before the large scale deployment in the coming academic year. Some staff in the Faculty of Engineering and the Faculty of Science have already recorded some video clips using Panopto. We welcome more teachers to participate in this pilot run.
Panopto Training and Useful Resources
ITS has designed the following two training courses in support of Panopto:
The two courses were offered the first time on April 10, 2013; and were attended by 27 staff in total. They will be offered regularly starting from May 2013.
We are gradually building up a library of resources on the use of Panopto in the e-learning support website (http://moodle-support.hku.hk/). The following are now available:
(a) Panopto User Guides for Teachers:

(http://moodle-support.hku.hk/cms/?q=teachers/panoptouserguides)
Install and configure Panopto recorder
Record video in classroom/theatre
Edit Panopto video
Share video with external users
Duplicate a Panopto video
(b) FAQs on Panopto:

(http://moodle-support.hku.hk/cms/?q=teachers/panopto_faq)
General FAQs
FAQ on Recordings
FAQ on Video Editing
FAQs on Broadcast
If you are interested in participating in the Panopto pilot run or having questions on the use of Panopto, please send an email to e-learningTeam@hku.hk.
Kenneth Siu
Tel: 3917 8708
Email: sky168@hku.hk