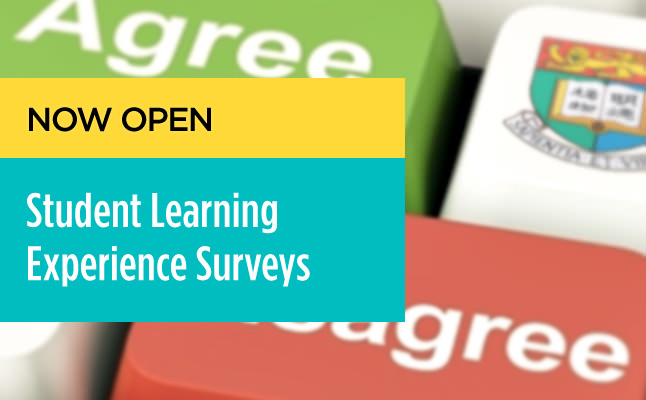 HKU conducts institutional surveys on students' learning experiences for undergraduates and taught postgraduates on a regular basis to yield information for analysis and renewal of curriculum and pedagogy. These analyses help ensure and enhance the quality of learning experiences.
We now invite all first and final year undergraduate students to complete the University of Hong Kong Student Learning Experience Questionnaire (HKUSLEQ), and all final year taught-postgraduate students are invited to participate in the Taught Postgraduate Experience Questionnaire (TPgLEQ). Both surveys are conducted on-line. All target students should have received an e-mail invitation, and we are pleased to announce that students can now access the on-line survey more easily by using either of the following pathways:
(1) Simply clicking the generic survey link
https://www2.cetl.hku.hk/cas/survey.php
.
By clicking the above link, students will be redirected to the on-line survey after successfully logging in to HKU Portal.
(2) Clicking the survey link under the "My e-learning" tab in HKU Portal.
Students could log in to HKU Portal and then go to the "My e-learning" tab, under which a survey link is available directing to the on-line survey for the students who have not yet responded to the survey.
Each questionnaire should take about 10 – 15 minutes to complete. All answers will remain anonymous and the personal information will be kept strictly confidential.
Faculties or students are welcome to contact the Survey Team at survey@cetl.hku.hk or 3917- 4787 for any technical problems. The Survey Team very much appreciates the students' participation.