Dr Susan Bridges, Associate Professor, CETL/ Faculty of Education, HKU
Dr Michael Botelho, Associate Professor, Faculty of Dentistry, HKU
Professor Claire Wyatt-Smith, Executive Dean, Faculty of Education, Australian Catholic University (virtually via skype)
Date: 14th February (Friday)
Time: 12:45pm – 2:00pm
Venue: Room 321, Run Run Shaw Building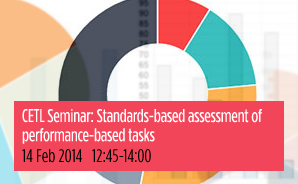 Abstract
Assessment of performance-based tasks such as live presentations or clinical skills-based activities require sophisticated assessment practices. Skills-based activities require assessment and feedback processes for summative progress determination and/or formative advice for ongoing student learning. While these have traditionally been impression based or utilizing a rubrics approach to assessment/feedback, these may have been based on unclear, implicit or ill-defined characteristics that make understanding and implementation of the process incomplete and possibly lacking rigor. A key factor in determining student achievement in such tasks is examiner judgment.
In this seminar, we elaborate the process undertaken to induct performance-based examiners into standards-based assessment practices through a process of eliciting latent expertise and task performance criteria and their justifications. The overarching goal is to make these judgment practices explicit to students and peer evaluators for rigorous and transparent processes and feedback. Funding support from the HKU Teaching Exchange Fellowship Scheme for this work is acknowledged.
About the Speakers
Michael Botelho is the Faculty of Dentistry 5th year Course Director, a member of the Curriculum Development Committee and has coordinated the design and implementation of the competency based, Key Skills exercises.
Susan Bridges is with the Centre for the Enhancement of Teaching and Learning and the Faculty of Education. She works on innovation in learning and teaching. Her work with the Faculty of Dentistry supported implementation of OBASL focusing on curriculum alignment with standards-based assessment.
Professor Claire Wyatt-Smith is Dean (Academic) for Arts, Education and Law at Griffith University. She has worked on a number of projects, primarily in literacy and assessment, with particular focus on teacher judgment, evaluative frameworks and the literacy-curriculum-assessment interface.
For information on registration, please contact:
Ms Ivy Lai , CETL
Phone: 3917 8996; Email: laichun2@hku.hk.