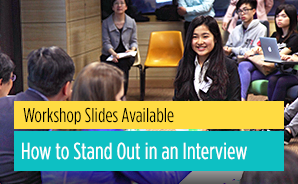 Please click HERE to register!
Are you thinking about exchange, internship, or scholarship?
Are you about to graduate and are applying for a postgraduate programme?
If yes, interviews are often part of the application process and this workshop will show you:
how to prepare for an academic interview
how to present your strengths and address difficult questions
what scholarship donors are looking for
what postgraduate admission panels are considering
Who is it for?
All undergraduate students
What is it about?
This workshop will provide tips and dos and don'ts on how to prepare for academic interviews for scholarships, exchange, internship and postgraduate studies. Experienced teaching / administrative staff will share practical advice.
Who will speak?
Professor Patrick Y. K. Chau, Director of the School of Business, HKU
(Experienced panelist in undergraduate scholarship and internship interviews)
Dr Vera S. Yip, Faculty of Medicine, HKU
(Seasoned interviewer in various scholarship and exchange selection panels including the HSBC Overseas Scholarship)
Dr Amy Lewis, Academic Adviser, Academic Advising Office, HKU
(Trusted adviser in scholarship selection panels such as Fulbright and overseas study interviews)
Mock Interview (FULL)
There will be a mock interview in the workshop. If you are interested, please sign up when you register for this event. Don't miss this chance to polish your interviewing skills and receive immediate personal feedback from our experienced interviewers. (Spaces are limited. AAO reserves the right to select students from different Faculties—only in EMS)
Enquires:
22194686