Message from Cultural Management Team
Lunchtime Lecture–Recital
Mostly Debussy
From Five to Eight Fingers: Pour le 'Gradus ad Parnassum'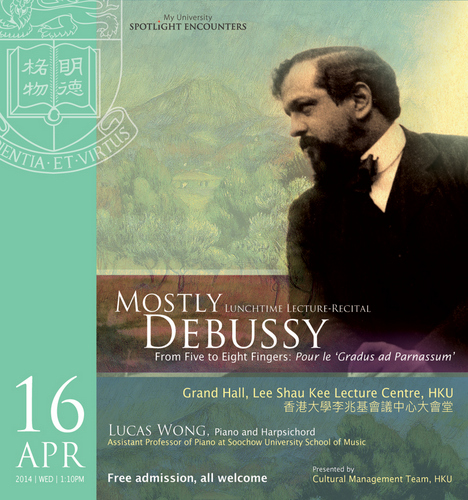 'Mostly Debussy' is a series of piano lecture-recitals that leads up to year 2018, which will mark the 100th anniversary of Claude Debussy's death. This first presentation is inspired by the first volume of Debussy's Douze Etudes, which is bookended with the opening Pour les cinq doigts (For Five Fingers after Mr. Czerny), and the concluding Pour les huit doigts (For Eight Fingers).
PROGRAMME
Couperin
Clementi
Debussy
Debussy
Debussy
Rameau
Debussy
Rameau
Debussy
Debussy
Rameau
L'art de toucher le claveçin: Premier Prélude
Gradus ad Parnassum, Op. 44, No. 16: Veloce
Children's Corner: Doctor Gradus ad Parnassum
from La boîte à joujoux
Pour les cinq doigts
Les Tourbillons
Pour les huit doigts
Gavotte from Gavotte et doubles
Suite Bergamasque: Prélude
Pour les agréments
La Poule
LUCAS WONG
As Assistant Professor of Piano at Soochow University School of Music in China, pianist Lucas Wong is earning a diversified career as a soloist, chamber musician, teacher, and repetiteur. He has performed in Carnegie Hall, Steinway Hall in New York, the Canadian Broadcasting Company, the Banff Centre, and the Chan Centre in Vancouver, to name a few. As a vocal pianist and assistant conductor, he has been on the roster of the New York City Opera, Opera America, the Opera Theater of Connecticut, and the Hugo Kauder Society. Wong has been a guest lecturer on Debussy at the Juilliard School, and has given masterclasses and performances at the 2009 Shanghai International Piano Festival, and as well as other institutions, such as the Xinghai Conservatory and Pre-College Division.
FREE ADMISSION, ALL WELCOME
No registration required
ENQUIRIES

3917 7754 | museinfo@hku.hk
 | Event Details
For ages 6+

The presenter reserves the right to change the programme and artists