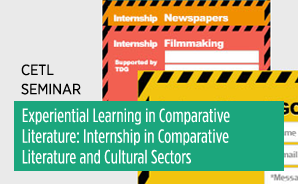 Organized by Centre for the Enhancement of Teaching and Learning (CETL)
Thank you for your interest. The seminar is postponed. New date will be notified later.
Speakers: Dr Esther CHEUNG and Dr Jason HO,
Department of Comparative Literature, HKU
Date : 7 May 2014 (Wednesday)
Time : 1:00 pm – 2:00 pm
Venue : Room 321, Run Run Shaw Building
Abstract:
This lunchtime seminar will present the department's unique internship program supported by the Teaching Development Grant (TDG). The internship programme places students to workplaces related to various cultural sectors like publishing houses, newspapers and magazines, filmmaking companies, and non-government organizations. Ever since its first launch in 2011, the internship programme has placed more than 60 students in different cultural sectors, among them some have received full-time offers from the host organizations upon graduation. Colleagues and students across different faculties are welcome to join this lunchtime seminar and share their experiences with the speakers.
About the Speakers:
Dr Esther CHEUNG is currently Chairperson of the Department of Comparative Literature and was the PI of the TDG. She has been dedicated to experiential learning practices at HKU since 2005. She pioneered the filmmaker-in-residence scheme which was first set up in the Department of Comparative Literature and later adopted by the university as the University Artist Scheme (UAS) administered by the Faculty of Arts. She is now leading the department to enhance the pedagogical approaches to internships and experiential learning, which can be expanded to other programmes in the university. She was the recipient of the 2011 Outstanding Teaching Award (OTA) at the University of Hong Kong.
Dr Jason HO is lecturer in the Department of Comparative Literature, was the Co-PI of the TDG. He co-teaches with the PI on the internship course since its trial run in the summer of 2011. He has built up a strong network with different people and key figures in the cultural field of Hong Kong. He has worked closely with Broadway Cinematheque, Edko, CNEX, Ming Pao, Elle Magazine, and Viva Blue House etc, fostering connections with students and alumni from different walks of life.
For information on registration, please contact:
Ms Ivy Lai , CETL
Phone: 3917 8996; Email: laichun2@hku.hk.