Organized by Centre for the Enhancement of Teaching and Learning (CETL)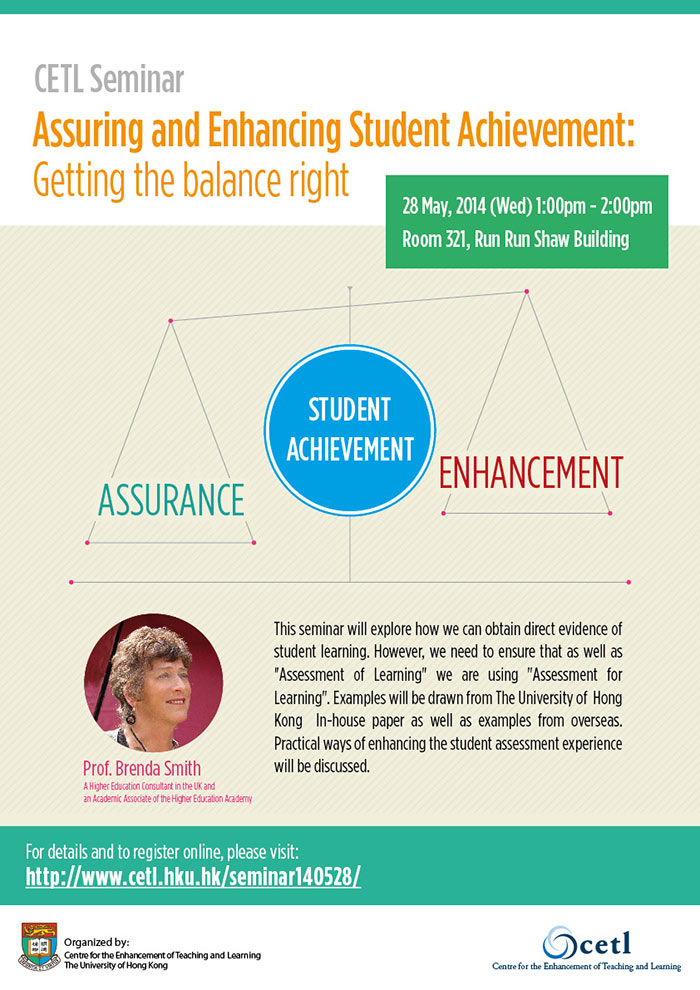 Speaker: Professor Brenda Smith, a Higher Education Consultant in the UK and an Academic Associate of the Higher Education Academy
Date : 28th May, 2014 (Wednesday)
Time : 1:00pm – 2:00pm
Venue : Room 321, Run Run Shaw Building
Abstract:
This seminar will explore how we can obtain direct evidence of student learning. However, we need to ensure that as well as "Assessment of Learning" we are using "Assessment for Learning". Examples will be drawn from The University of Hong Kong In-house paper as well as examples from overseas. Practical ways of enhancing the student assessment experience will be discussed.
About the Speakers:
Brenda is a freelance Higher Education Consultant in the UK and an Academic Associate of the Higher Education Academy. Prior to this she was Assistant Director at the Higher Education Academy and former Head of the Generic Centre of the Learning and Teaching Support Network (LTSN).
Across the UK and at national level, Brenda has been actively involved in assessment and feedback, the Scottish Quality Enhancement agenda, the Centres for Excellence in Teaching and Learning initiative (CETLs), change management, student engagement and the analysis of the Welsh institutional Learning and Teaching Strategies. She was also one of the first National Accreditors for the Institute for Learning and Teaching in Higher Education (ILT) and was the originator of the Change Academy programme for the Higher Education Academy.
Brenda has been actively involved with over 70 Universities across the UK. She has run conferences, given keynote presentations and organized 24-hour events for universities that have included both staff and students.
She has been an external examiner for six UK University Post Graduate Certificate Programmes for new academic staff and has been a member of many Validation Degree Panels.
She is an editorial member for the journal "Assessment and Evaluation in Higher Education" and a past Executive member of the Professional and Organizational Development Association (POD) in America.
Brenda has acted as a consultant in many different countries including Sweden, Switzerland, South Africa, Singapore, the Philippines, Hong Kong, Poland, Taiwan, Azerbaijan, America, Lithuania, Colombia, the West Indies, Ethiopia and Malaysia.
Brenda has written widely on learning, teaching and assessment.
For information on registration, please contact:
Ms Ivy Lai , CETL
Phone: 3917 8996; Email: laichun2@hku.hk.