Dear Colleague,
On behalf of the Conference Organising Committee, it is my pleasure to warmly invite you to take part in our International Conference – Assessment for Learning in Higher Education 2015, which will be held on 14-15 May 2015 at the University of Hong Kong (HKU).
We are also delighted to have confirmed internationally renowned educational experts – Prof. John Biggs (Formerly University of Hong Kong), Prof. David Boud (University of Technology Sydney), Prof. Royce Sadler (University of Queensland), Prof. Dai Hounsell (University of Edinburgh), Prof. David Carless (University of Hong Kong), and Prof. Rick Glofcheski (University of Hong Kong) as keynote and plenary speakers of the conference.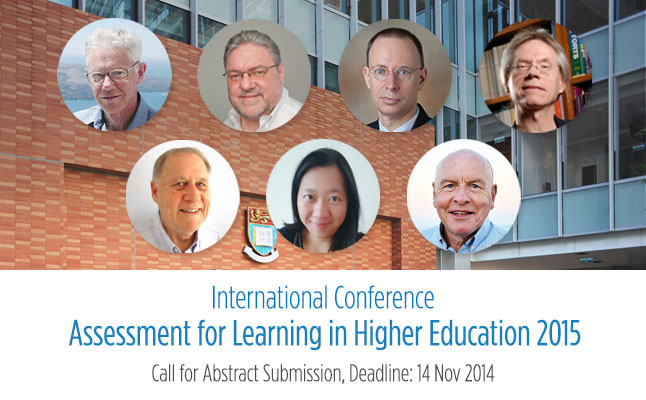 Assessment for learning has attracted the interest of higher education institutions worldwide. Hosted by the Centre for the Enhancement of Teaching and Learning (CETL) at HKU, the programme of the upcoming event is carefully designed to incorporate a wide range of topics that reflect the conference theme of 'Assessment for Learning', which is outlined on our website http://www.cetl.hku.hk/conf2015/ alongside the six sub-themes grouped as the following:
1. Innovative Assessment Approaches
2. Students' Responses to Assessment
3. Assessment and Feedback
4. Institutional Initiatives in Assessment
5. Assessing Professional Competencies
6. Other Issues in Assessment for Learning
Please note that call for abstract submission is now officially open and submission deadline will be the 14th of November 2014. Abstract submission is free of charge. For submission guidelines, please click on the following hyperlink: http://www.cetl.hku.hk/conf2015/online-abstract-submission/
We would be most grateful if you would inform staff and students in your institution who may share interest in assessment for learning. Should you have any questions regarding the conference, please do not hesitate to contact our Conference Secretariat, Mr. Robbie Ho, on +852 3917-8994 or by email to conference2015@cetl.hku.hk.
We look forward to meeting you at this exciting event!
Yours Sincerely,
Dr. Cecilia Chan
Chairperson, Conference Organising Committee
Associate Professor, Centre for the Enhancement of Teaching and Learning, University of Hong Kong
Conference Website: http://www.cetl.hku.hk/conf2015/
Assessment Website: http://ar.cetl.hku.hk/