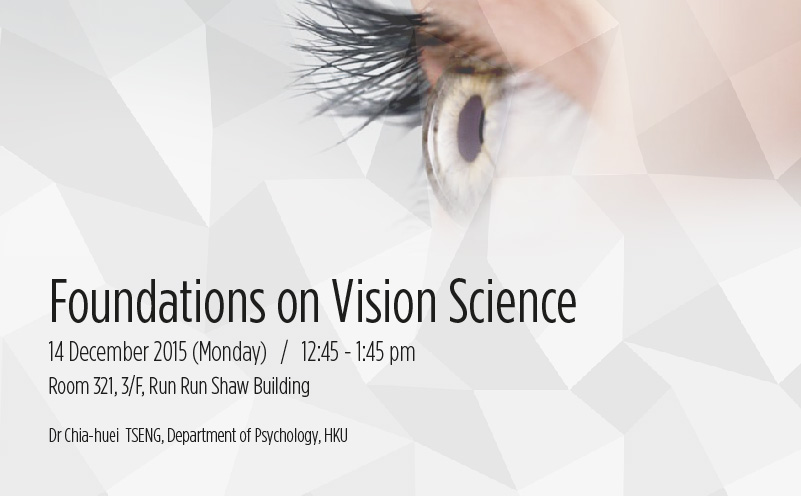 Organized by Centre for the Enhancement of Teaching and Learning (CETL)
Date : 14 December 2015 (Monday)
Time : 12:45 – 1:45 pm [Sandwiches will be served with coffee and tea.] Venue : Rm 321, Run Run Shaw Builiding
Speakers: Dr. Chia-huei Tseng
Abstract:
This seminar will present a foundation course of Vision Science, a recently strategically developed area in the Department of Psychology at HKU. This course development was supported by HKU's Teaching Exchange Fellowship Scheme to develop students' coherent views before receiving more specialised training by individual faculty members in the Psychology Department. The course covers the whole functional visual systems from retina to cortex and our current understanding from neuronal responses to behavioural measurements. It enables students to become more appreciative of ideas, experiments, and results in vision research, to become independent in their thinking, and to be ready for active participation in ongoing research.
About the Speaker:
As a visual scientist by training, Dr. Chia-huei Tseng co-developed this foundation course together with a visiting visual scientist Professor Lothar Spillsmann with the support of HKU Teaching Exchange Fellowship Scheme. She has embraced various teaching innovations such as collaborative learning and gamification in assessments.
For enquiries, please contact Ms Janice Leung by email janiceleung331@hku.hk.