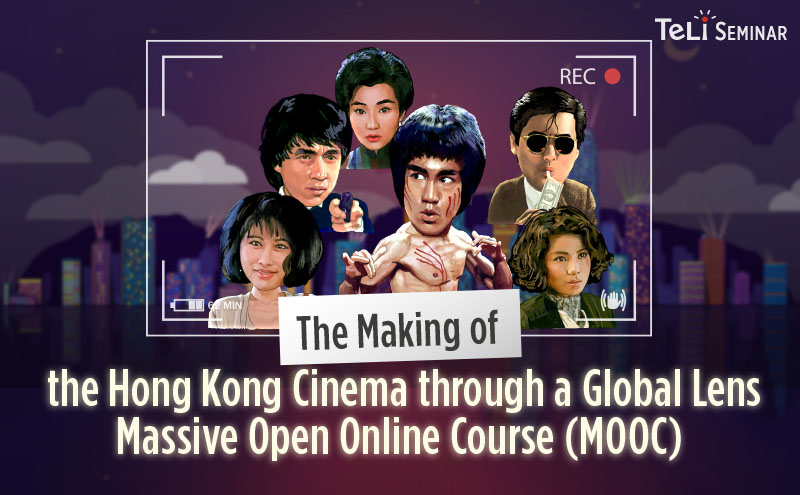 "In this case, it's not just Hong Kong films, but I'm hoping that people will have a better appreciation of processes of globalization and all of the ways in which globalization changes our lives in a dramatic way, and Hong Kong film is one example of that." – Profession Gina Marchetti at a public talk.

Hong Kong Cinema Through a Global Lens, as the title suggests, is about cinema. To answer the call, the teaching team, Professor Gina Marchetti, Dr. Aaron Magnan-Park and Dr. Stacilee Ford, moved our classroom to the Broadway Cinematheque in Yau Me Tei on February 4, 2017 to reach cinema goers, because movie "is a very important part of the cultural life of Hong Kong," Gina remarked.
Given the wide variety of audience involved in a MOOC, it's never easy to decide on what to include and what not. So the course team asked themselves two questions: What are people genuinely interested in around the world? And what is extremely significant but people may not be so interested in? The answers helped them to construct a learning environment that allows people to reflect on what they already know as well as expand their horizons.
Among our audience were many International Baccalaureate (IB) students who are particularly interested in Wong Kar Wai's In the Mood for Love. In the Q&A section, one student asked, "What do you think was the director's intent when filming the film?" While Gina explained that she cannot get into any director's head, she was pretty sure that "Wong Kar Wai had Cannes on his mind." But more importantly, Aaron reminded students who are studying films that "your interpretation based on your insights on the film is in some ways more important that what the director intended to do."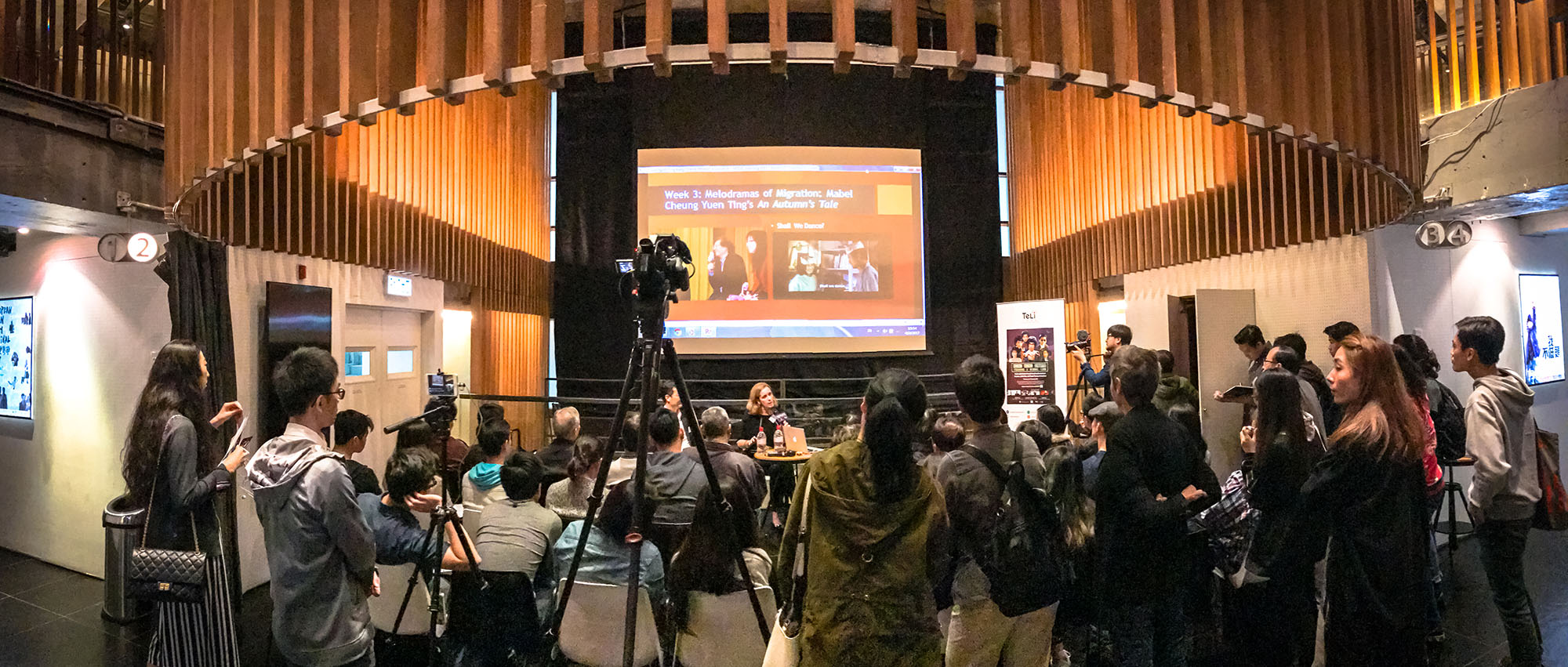 We were joined by an audience of over 40.
Given that MOOCs are open to all and free of charge, one of the audience members wondered where the funding comes from. It was a wonderful occasion to let the public know that MOOCs are now an important initiative for all universities. Many of them, including this course, are funded by the university because, as Gina put it, "it's part of our educational mission to do researches that are significant to the public, and to make it available to the public."
So what does the course team want to tell everybody via this MOOC? In short……
Week 1: Jackie Chan
"Pushing the boundaries of what was going on in world cinema at that time, pushing the boundary of what people were conceiving in terms of action in the Hollywood."
Week 2: Bruce Lee and the Global Kung Fu Craze
"Shattering the image of China as the sick man of Asia" and "creating an image of a successful and popular Chinese masculinity that broke away from Confucian tradition of just being the brainy smart guy."
Week 3: Melodramas of Migrations: Mabel Cheung Yuen Ting's An Autumn's Tale
Busts all the Hollywood stereotypes that still exist today – "the ways in which often times Chinese men are ignored, or feminized, or seen as only about Kung Fu; The ways in which women are seen as exotic, or available, or passive, or dragon ladies."
Week 4: John Woo's Heroic Bloodshed Films: Hong Kong vs. Hollywood
The Killer as a contract to John Woo's Hollywood movies reflects that Confucian Brotherhood as a core concept is replaced with American selfhood when John Woo moves on to the Hollywood.
Week 5: Hong Kong on Postmodern Screens: Infernal Affairs
The movie relates to "certain aspects of global society in terms of consumerism, technology, different aspects of identity, split identities, changes in Hong Kong, allegorical changes relating to politics."
Week 6: Hong Kong Cinema as World Cinema / In the Mood for Love
Its strong emphasis on Room 2046 expresses the fear of returning to China in the 1997 handover. Yet, the movie is a lot more than just about the handover. "If Wong Kar Wai made films only about 1997 in Hong Kong, he wouldn't be at Cannes."
Missed the seminar? No worries. Sign up for the course here to learn more or have a look at the event photos here.