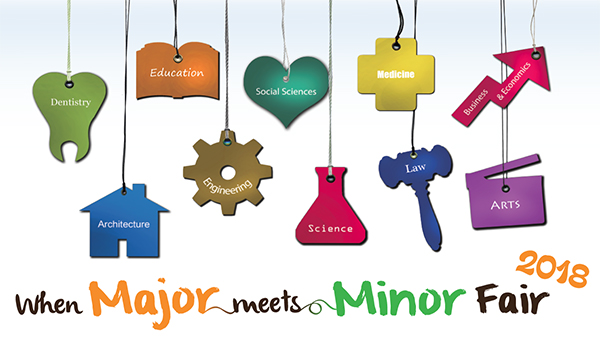 Dear Student,
Happy 2018! The second semester is coming and the Add / Drop period will be from January 15 to January 29, 2018. It is now a good time for you to think about your future major / minor plan —– one of the most important study decisions in your university education.
If you are a first-year student, it is timely to explore the wide spectrum of major / minor options and select courses of your potential major(s). If you are a non-final year student, you might need to declare / review your major / minor options.
To help you make informed choices, AAO is organizing the "When 'Major' Meets 'Minor' Fair 2018" with details as follows:
DATE: January 18, 2018 (Thursday)
TIME: 11:00 am to 4:00 pm
VENUE: Ground Floor, Chi Wah Learning Commons, Centennial Campus
---
Main Activities:
Merry Christmas and See you at the Fair!
Academic Advising Office (AAO)