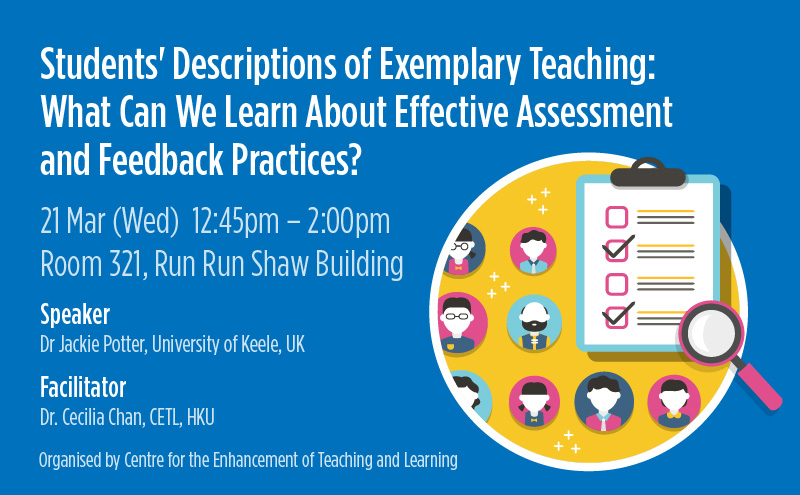 Organised by Centre for the Enhancement of Teaching and Learning (CETL)
Details of the workshop:
Date : March 21, 2018 (Wednesday)
Time : 12:45 pm – 2:00 pm
Venue : Room 321, 3/F, Run Run Shaw Building (Main Campus), HKU
Speaker : Dr Jackie Potter, Head of Learning and Professional Development, University of Keele, UK (@jac_potter)
Facilitator : Dr. Cecilia Chan, Head of Professional Development, Associate Professor, HKU
Abstract
This seminar explores what we know about effective assessment and feedback practice by studying students' nomination statements for staff in a teaching awards scheme. Published work on student conceptions of teaching excellence (Bradley et al 2015; Moore and Kuol 2007) has looked at award nomination statements however it has not focused on assessment practices. We know that assessment and feedback practices can drive approaches to learning and my work, exploring valued and impactful assessment and feedback practice, has been used to provide practical guidance to lecturers. The session explores the themes emerging from the data and compares these to core principles of good assessment and feedback practice (for example, Nicol and MacFarlane-Dick, 2006) and current literature on what students want from feedback. Participants will be asked to explore their own feedback repertoire by considering and further developing a 'feedback phrasebook' that will be shared.
About the Speaker
Jackie Potter has led academic development at Trinity College Dublin and then at Keele University for 10 years. She leads the MA programme for new academic teaching staff at Keele as well as undertaking research. Her most recent research includes two, collaborative, national studies to define and support the scholarship of teaching and learning in UK HE (for the Higher Education Academy) and on leading change together in UK HE (for the Leadership Foundation in Higher Education). She is a Fellow of the Staff and Educational Development Association and a Principal Fellow of the Higher Education Academy. In May 2018 she will take up the position of Professor of HE Learning and Development at Oxford Brookes University.
For information, please contact:
Ms. Noranda Zhang , CETL
Phone: 3917 4729; Email: noranda@hku.hk​