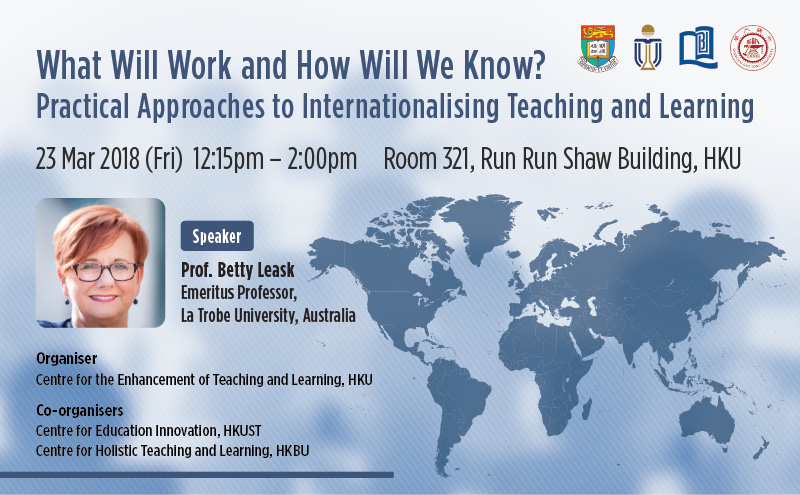 Organised by Centre for the Enhancement of Teaching and Learning (CETL)
Details of the workshop:
Date : 23 March 2018 (Friday)
Time : 12:15pm – 2:00pm
Venue : Room 321, 3/F, Run Run Shaw Building (Main Campus), HKU
Speaker : Prof. Betty Leask, Emeritus Professor, La Trobe University, Australia
Facilitator : Dr. Tracy Zou, Assistant Professor, Centre for the Enhancement of Teaching and Learning, HKU
Abstract
Much has been written and said about the internationalisation of teaching and learning in higher education at HKU and beyond. However, this endeavour is still very much a work in progress. In this workshop, Prof. Betty Leask will focus on practical approaches to the internationalisation of teaching and learning. Following discussion of examples of innovation and intervention to improve teaching, learning and internationalisation from a range of places, workshop participants will identify possibilities to internationalise the experience of their students in class and/or on campus. Individuals and teams of teachers will begin the process of designing their own pilot projects and identifying criteria by which they will measure the success of their project.
As part of a series of events, this workshop is organised by CoP – ITL (https://www.cetl.hku.hk/cop-itl/). All are welcome. Members of CoP – ITL may find this workshop particularly relevant to idea development for their potential pilot projects.
About the Speaker
Prof. Betty Leask is an Emeritus Professor in the Internationalisation of Higher Education at La Trobe University, Melbourne, Australia. Betty is an internationally renowned researcher and thought leader on internationalisation of the curriculum and higher education whose work bridges theory and practice in unique ways. She has a broad range of experience in universities, most recently as Deputy Vice-Chancellor Academic at La Trobe University. She has been a Senior Australian Teaching Fellow since 2010. In 2015 she was awarded the IEAA Excellence Award for Distinguished Contribution to International Education and in 2016 the European Association for International Education (EAIE) Tony Adams Award for Excellence in Research. Betty is also Editor-in Chief of the Journal of Studies in International Education, the leading journal in the field, an Honorary Visiting Researcher at the Centre for Higher Education Internationalisation at Universita Cattolica del Sacro Cuore Milan. Prof. Leask is an international advisor to CoP – ITL.
For information, please contact:
Ms. Noranda Zhang , CETL
Phone: 3917 4729; Email: noranda@hku.hk​