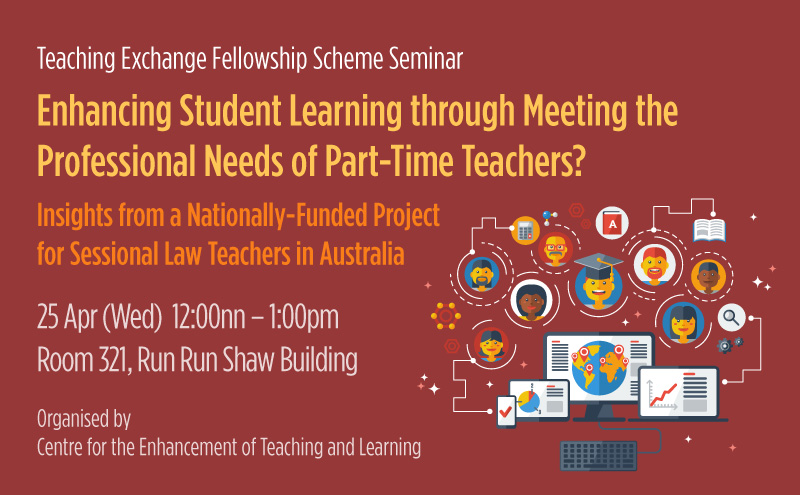 Organised by Centre for the Enhancement of Teaching and Learning (CETL)
Details of the workshop:
Date : April 25, 2018 (Wednesday)
Time : 12:00 nn – 1:00 pm
Venue : Room 321, 3/F, Run Run Shaw Building (Main Campus), HKU
Speaker : Ms Vicci Lau, Senior Lecturer, Department of Professional Legal Education, Faculty of Law, HKU
Facilitator : Dr Luke Fryer, Associate Professor, CETL, HKU
Abstract
Do you need assistance from part-time teachers for your course? Have you ever thought about their professional needs in teaching and learning? With the increasing use of part-time teachers in universities, how can we ensure that they will have the resources and professional support to enhance student learning, especially with the growing diversity of students? The presenter learned about a nationally-funded project in Australia called Smart Casual, which is a collaboration of academics from five Australian law schools, producing a suite of free, professional development modules online for part-time law teachers. The presenter made a trip to the University of Western Australia, which is one of the law schools in the Smart Casual project team. The presenter attended and observed a live training workshop delivered by the Smart Casual project members to some new part-time teachers from the five law schools in Western Australia. Drawing on such experience and meetings with some of the core team members of this project, the presenter will share her experience and insights gained from her visit, and she will also discuss the feasibility of organizing similar workshops for local part-time teachers in the seminar.
About the Speaker
Vicci Lau is a senior lecturer of the Department of Professional Legal Education, Faculty of Law at the University of Hong Kong. She is the co-course coordinator of Drafting Commercial Agreements and Listed Companies of the Postgraduate Certificate in Laws (PCLL) programme. She has spoken in various seminars sharing her teaching and learning practices. Vicci was given the Faculty of Law Outstanding Teaching Award in 2017. Before joining the University in 2012, she was a practising solicitor in a leading investment bank in Hong Kong.
For information, please contact:
Ms. Noranda Zhang , CETL
Phone: 3917 4729; Email: noranda@hku.hk​