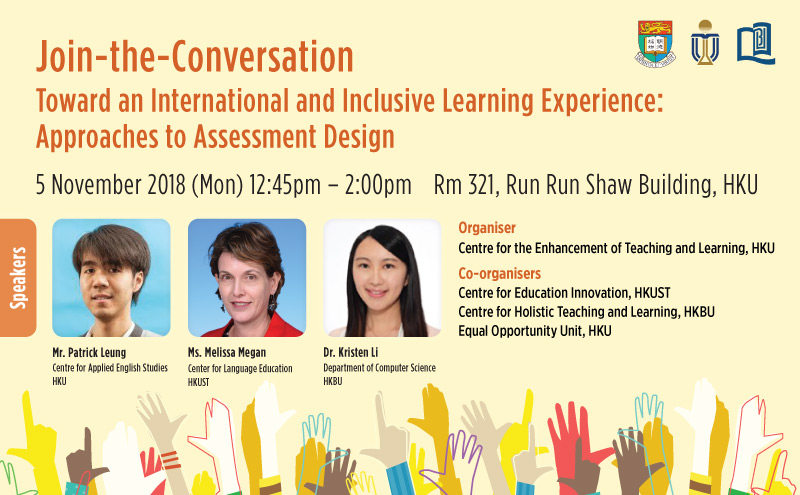 Organised by Centre for the Enhancement of Teaching and Learning (CETL)
Details of the Join-the-Conversation:
Date : 5 November 2018 (Monday)
Time : 12:45pm – 2:00pm
Venue : Room 321, 3/F, Run Run Shaw Building (Main Campus), HKU
Speaker : DMr. Patrick Leung (HKU), Ms. Melissa Megan (HKUST), Dr. Kristen Li (HKBU)
Facilitator : Dr. Tracy Zou (HKU), Dr. Beatrice Chu (HKUST), Dr. Lisa Law (HKBU)
Organiser : Centre for the Enhancement of Teaching and Learning, HKU
Co-organisers : Center for Education Innovation, HKUST; Centre for Holistic Teaching and Learning, HKBU; Equal Opportunity Unit, HKU
Staff and invited guests only.
Abstract
The ultimate purpose for internationalisation of the curriculum is to enhance students' overall learning experience (Leask, 2015). This will not be achieved without taking aspects of learning, teaching and assessment into consideration. In particular, many students seem to see assessment as the sole purpose of learning and tend to focus on what will be tested. Working on assessment design, therefore, will have a significant impact on student learning. In this Join-the-Conversation event, colleagues from HKU, HKUST, and HKUST will share with us their wise practices on assessment design in internationalisation of teaching and learning. Following discussion of these wise practices, participants will identify possible approaches to adapting pedagogical strategies to meet the needs of a diverse group, and reflect on how assessment design becomes a critical step to an equal and inclusive learning environment for students at all levels.
About the Speaker
Mr. Patrick Leung is Assistant Lecturer at the Centre for Applied English Studies at HKU teaching English for academic and specific purposes courses. Over his years of teaching, he has worked with students from different cultural backgrounds and tried out different practices and strategies to help make student learning experience more international and inclusive.
Ms. Melissa Megan is Senior Lecturer in the Center for Language Education at HKUST where she has worked since 1999. She has taught many of the courses offered by the Center. She is currently coordinator of the two biggest courses in the Center – the Common Core English courses. Melissa grew up and started her teaching career in Australia. In the early 1990's she was part of a taskforce for the implementation of the NSW Department of School Education's Multicultural Education Policy, and she lectured on this policy and anti-racism education at the University of New England, NSW. She now calls Hong Kong home but also regularly visits Cambodia where she helps manage the education programmes of an NGO in Siem Reap.
Dr. Kristen Li is Lecturer and Associate Master Programme Director at HKBU. She holds PHD degree in Computer Science. Dr. Li is a professional Design Thinking facilitator. She is actively promoting Internationalisation in Education, including coordinating exchange/internship programmes and designing curriculum which enhance students' global competitiveness.
Contact Information
Should you have any enquiries, please feel free to contact Joza Kot by email at jozakot@hku.hk.