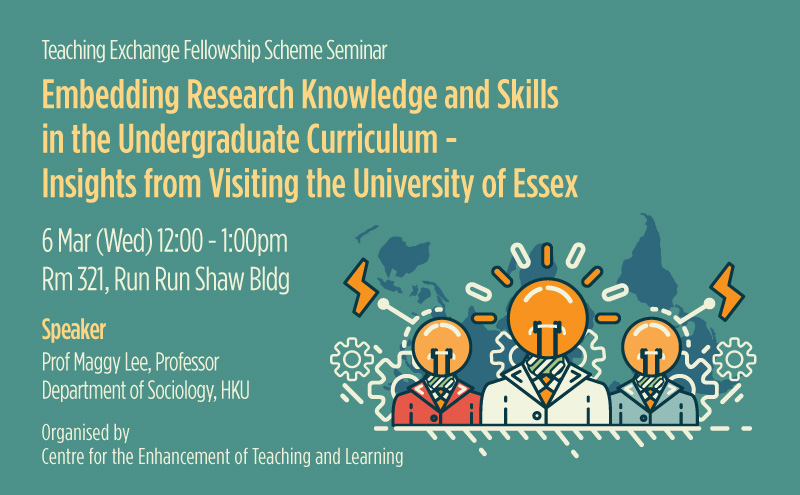 Organised by Centre for the Enhancement of Teaching and Learning (CETL)
Details of the workshop:
Date : 6 March, 2019 (Wednesday)
Time : 12:00nn – 1:00pm
Venue : Room 321, 3/F, Run Run Shaw Building (Main Campus), HKU
Speaker : Prof. Maggy Lee, Professor, Department of Sociology, HKU
Facilitator : Dr. Luke Fryer, Associate Professor, CETL, HKU
Abstract
Many world-leading universities have developed innovative strategies to promote excellence in both education and research and to embed research knowledge and the pursuit of a research mindset and skills in the curriculum. The speaker spent over a month as a Teaching Exchange Fellow at the University of Essex, one of the dual intensive universities in the UK which has also won the University of the Year at the Times Higher Education Awards 2018. Drawing on her discussions with staff, community partners and students especially in social sciences and in-class observations, the speaker will share her experience and insights gained from the Fellowship. How does the research-based education strategy work at Essex? Does it work? The speaker will draw on two specific examples for illustration – 'Essex Challenge' which encouraged students and local community partners to tackle some of the pressing socio-economic issues in the city, and the THINK seminar series which won the Guardian University Award for Student Experience.
About the Speaker
Professor Maggy Lee teaches sociology and criminology and has played a leading role in the review and development of UG and TPG curriculum and experiential learning in the Department of Sociology at The University of Hong Kong. She has served as the Coordinator of the Bachelor of Criminal Justice degree programme and the Convenor of the Teaching and Curriculum Committee in the department, and as an Internal Panel Member on a number of degree programmes at HKU and an External Panel Member for the Hong Kong Council for Accreditation of Academic and Vocational Qualifications and the HK Research Grants Council. One of her current community-based research and public education projects looks at the experiences of ethnic minorities in Hong Kong through music-making and walking tours.
For information, please contact:
Mr. Thomas Lau, CETL
Phone: 3917 4807; Email: kanclau@hku.hk​