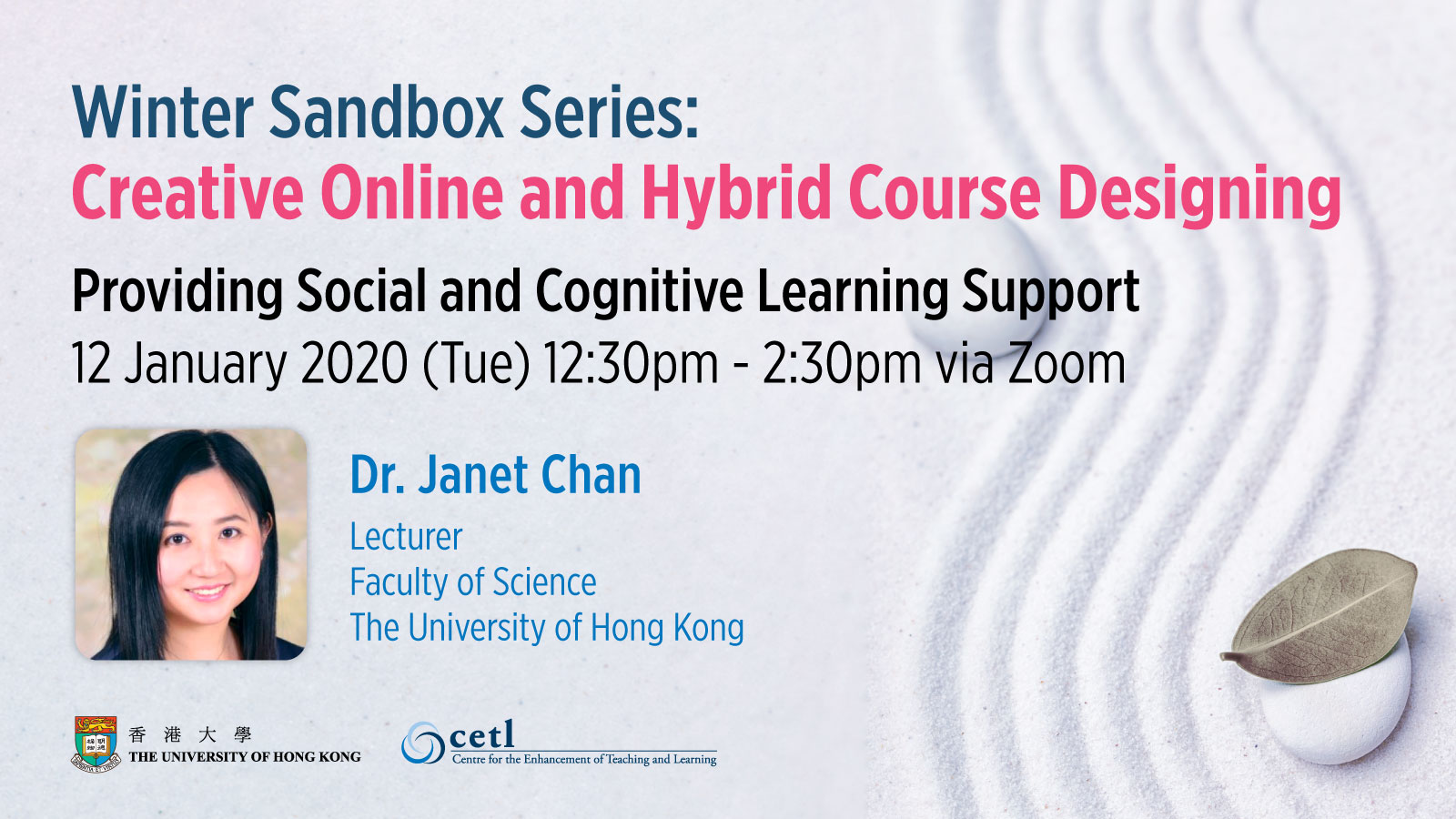 Date : 12 January 2021 (Tue)
Time : 12:30pm – 2:30pm
Venue : Zoom
Speaker : Dr. Janet Chan, Lecturer, Faculty of Science, The University of Hong Kong
Abstract
Virtual teaching and learning has become a mainstream instructional delivery system during the pandemic nowadays. Without physical face-to-face presence, students may feel isolated or disconnected from their peers and teachers. This may discourage students from learning. When designing online/hybrid/hyflex courses, how can the teachers help students to engage? In this session, I will share my teaching experience of building learners' sense of community and providing learning support through various components embedded in the course design, including assessment and in-class or out-of-class activities.
About the Speaker
Dr. Janet Chan is a Lecturer of School of Biological Sciences and the Programme Coordinator of Master of Science in Environmental Management at HKU. She is the recipient of the 2020 University's Teaching Award and the Award for Teaching Excellence 2019-20 of Faculty of Science. Her teaching approach seeks to enhance student learning by using a holistic approach for science education and ensuring teaching and learning are truly international. Being a professional in higher education and environmental industry, she is a Fellow of HEA (Advance HE) and a Professional Member of the Hong Kong Institute of Qualified Environmental Professionals. Her teaching and course design, therefore, embed the attributes of an environmental professional. She has been teaching in HKU for over 10 years, coordinating and teaching over seven Master's courses and one UG biostatistics course consisting of more than 300 students. Apart from teaching, she supervises more than 10 students' research or action projects a year and mentors RPGs. She also coaches colleagues in teaching and learning.