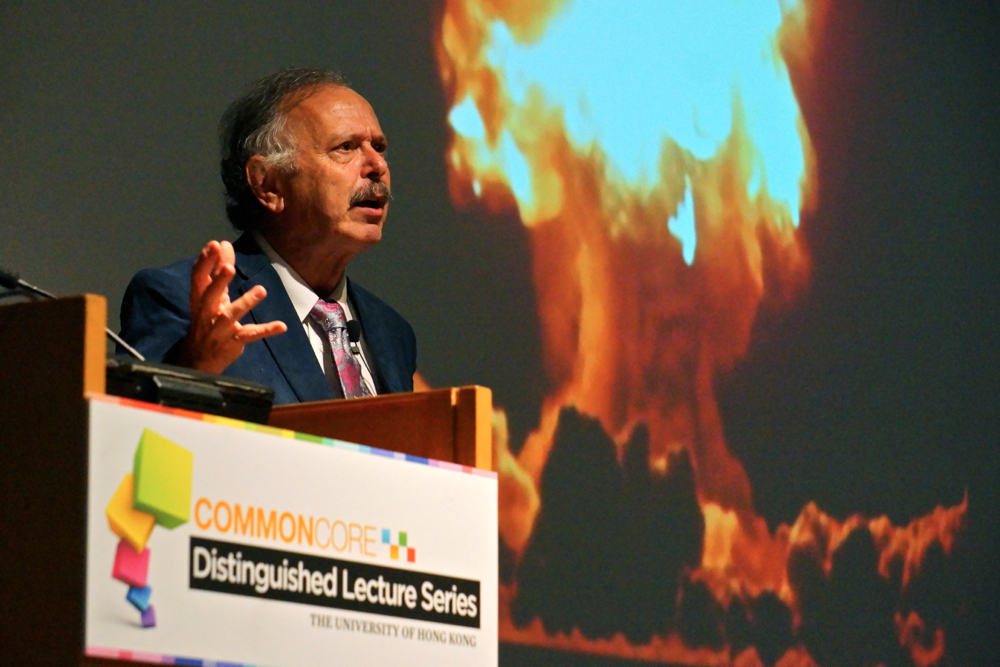 Physics Professor Richard Muller from the University of California, Berkeley, gave an intensive version of his highly regarded course "Physics for Future Presidents" on October 24, 2012 to about 230 students and teachers at the Rayson Huang Theatre as the second lecture in the Commnon Core Distinguished Lecture Series.
In his presentation "Science for Future World Leaders", Professor Muller covered four main issues that are evidently important of our time, namely terrorism, nuclear power, energy and climate change. Not only that he shared his science knowledge and insights on these topics, he also reminded students how important it is to carefully and critically examine the (mis-)conceptions, claims and arguments that we encounter in everyday life with an objective and scientific approach.
The lecture resonated well with the aim of the Scientific and Technological Literacy AoI, which is to enable students engage critically with knowledge and discourse on science and technology and to respond actively and appropriately to issues surrounding scientific and technological advancements.
A post-lecture conversation session with the distinguished speaker was held on October 25, 2012 and has attracted over 30 attendees to enjoy an open discussion on topics ranging from aliens, the US presidential election, to how students should spend their time at the university.
---
| | | |
| --- | --- | --- |
| | | |
| 230 attendees gathered at Rayson Huang Theatre | Prof. Muller demonstrated how heat could affect the strength of materials | Prof. LS Chan (middle; Convenor of STL AoI) moderated the Q&A session |
| | | |
| Student raised a question about electricity cars | Students at the post-lecture conversation | Prof. Muller shared on current research approaches to important world issues such as global warming |
---
Abstract
We live in a world in which many issues, possibly most, have a technological component.  It is no longer sufficient for world leaders to master the traditional areas of politics, economics, business and diplomacy; they must understand science.  The lecture will describe a new way to teach science to future world leaders based on emphasis of issues that are evidently important. These will include the physics of terrorism and counter-terrorism; nuclear weapons, nuclear accidents, and cancer; space and satellites, energy and alternative energy, and global warming. This is not diluted science, but tough top-level science, science that can and must be mastered by not only our leaders but by the people who elect them.
About Professor Richard Muller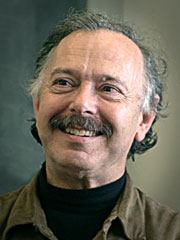 Professor Richard Muller is professor of physics at University of California, Berkeley. His proudest achievements: discovery of the non-uniformity of the radiation from the Big Bang; invention of AMS, now adopted around the world as the most sensitive method of radioisotope dating; Nemesis theory of a companion star to the sun; creation of a supernova discovery program that led to the discovery of dark energy; lunar soil analysis; author of a technical book on glacial cycles and climate change. His course "Physics for Future Presidents" was twice voted "Best Class at Berkeley" and has been watched on YouTube in ninety countries. He is currently leading the "Berkeley Earth" study making a new evaluation of global warming.
Professor Muller has been awarded the MacArthur Prize, the NSF Waterman Award, the Texas Instruments Founders Prize, and numerous teaching awards. He is a fellow of the American Physical Society and the American Academy of Arts and Sciences.  His most recent book is Energy for Future Presidents.
Presentation Powerpoint
[bsbutton size="large" style="default" icon="icon-play" iconcolor="black" text="Download here" link="http://intraweb.hku.hk/reserved_1/tlearn/ccdls/l2.pdf" target="This page"] (HKU Portal Login required)