Experiential Learning
The Faculty of Business and Economics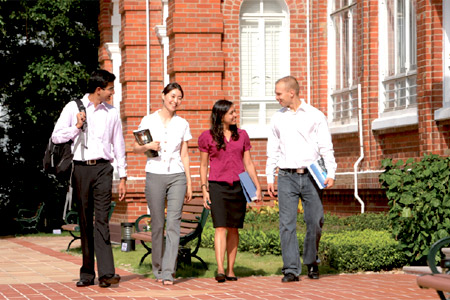 Overview
The Faculty of Business and Economics was created through the amalgamation of two schools — the School of Business and the School of Economics and Finance. Students can choose from a rich set of cross-disciplinary studies offered by both institutions.
The Faculty is committed to producing graduates who are destined to become world-class business leaders and outstanding global citizens. It also strives to nurture graduates who understand local business culture, but at the same time, are equally aware of global business concerns. In this regard, students are exposed to a global perspective when they participate in the exchange programmes with major international universities or attend summer workshops taught by visiting faculty members from leading institutions abroad. The Intensified Learning Opportunity Programme (ILOP), which engages outstanding students in experiential learning activities, also designed to contribute to their personal, interpersonal, and social development.
Through the arrangements of International Exchanges, Internship Programmes, Mentorship Programmes and the Intensified Learning Opportunity Programme (ILOP), students are able to experience valuable exchanges with the outside world of business and academics.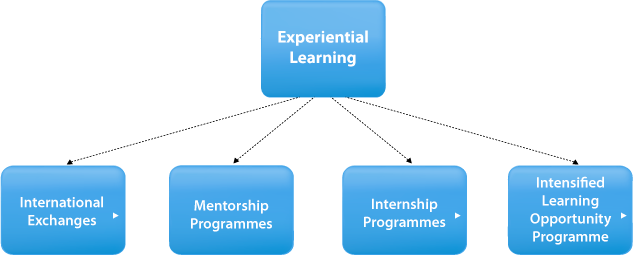 ---
I. International Exchanges
Students are highly enncouraged to study abroad through the Faculty's Student Exchange Programme and the University's Worldwide Exchange Programme with connections to over 80 institutions around the world.
II. Internship Programmes
Summer internship and one-year sandwich internship programmes, either local or overseas, provide students with professional, real life experiences during their university years. Through these internships, students can broaden their horizons, enrich their learning experiences and receive first-hand knowledge at how these successful companies operate on a day-to-day basis.
Case: Internship
Yr 2 Summer internship
Herman Chan

Task Performed
I worked as a consultant for a clothing company located in the Mainland and it had one of its branches stationed in Hong Kong. The firm consisted of 7 different companies and our client mainly wanted to have us looked into the feasibility of merging and acquisition. Since its business was stationed in the Mainland, therefore we had to go up to study the productivity line in there. We spent one week interviewing different people. The project was complex for it involved different modes of business trademarks. We had to solve a lot of difficult problems for systems in the Mainland were either very bureaucratic or went by a different system under the table. I had learnt and understood more about this aspect as well as the mode of taxation back in China.

I have learnt how to communicate with others. I have learnt the skill to interviewing clientele. Able to do business consultation is a very valuable experience to me. From our client's perspectives, we were using a very scientific approach to help analyze the structure of his/her company and business, and such an approach was highly valued by him/her.

Reflection
In the past, during our "Corporate Finance" class, we had to do a lot of calculations especially with discount and cash flow, never had I imagined that we had to use it in reality. But during this internship, we were able to apply and use different models, and when we were to apply such models, we encountered a lot of unexpected problems such as how to orient the financial growth rate, and such orientation involved a lot of different aspects. Never had we thought of such aspects in class but since we had to do this project, we were forced to consider every aspect thoroughly.

The theories that we have learnt were all spread out, not related and coherent; now, I have the chance to exert all theories that I have learnt onto this project, no matter they are theories from Management, Marketing or Finance.

---

Yr 2 Summer internship
Cathy Chow

Task Performed
I worked in a Social Enterprise Centre responsible for helping a jewel factory. The jewel company wanted to establish its business in the Mainland and to establish an E-business for entry into the Mainland market, therefore we did a lot of research and at the end, we submitted our report to them. Hardly do I have the opportunity to work for a private organization, so this has been very positive to me. I was able to learn a lot of skills on group discussions, consultation and project for we could hardly learn from it by doing course assignments.

Since our client was often changing his/her idea, we didn't know how to adapt to doing our work. Finally had we known how to deal with our client by asking what was his/her final expectation so as to settle down with a "fixed" goal for doing our work. On the other hand, we had a lot of arguments within our group, most likely due to the differences of our cultural background. Finally had I come to realize that discussion was very important. I had learnt a lot of interpersonal skill when dealing with our client and between my group-mates.

Reflection
I was able to observe my own strengths and weaknesses. If I were to do a project in the future; if I were to work with my client in the future, I think I know what I ought to do. We encountered a lot of conflicts in our project, it was through much reflection were I able to come to understand the importance of such skill. Also, I will be better prepared (psychologically) for any problems arisen for not all projects will run smoothly in reality for it is possible that your client may fail to support or provide enough info for you to work on.

Team work and spirit is important. Even though we had encountered a lot of conflicts and quarrels, none of us had abandoned their roles and duties; we still sticked together at the end. Through this internship, I have learnt a lot of soft skills which will be very useful if I were to work in the near future.

---

Yr 2 Summer internship
Elsie Han

Task Performed
For the business consulting practicum, I had "Jackeline Beauty". There were 4 of us and we went there as student consultants. We had to study its business such as skin care but we weren't given a lot of info by the company. The company was hoping that with such a limited amount of info, we might be able to see things from another perspective providing valuable insights to them. This practicum lasted for 6 weeks. We have to work 8 hours everyday as required by the university, so it was just like working full time. This was the first time for us to deal with a real client. Being a student, we had to be professional enough to complete the job and to communicate with the client, which was very challenging to me.

Reflection
The manager was nice for s/he guided us how to do things and ways of doing better, such as how to set a timeline monitoring the progress of work; how to follow-up on meetings; etc. I can always apply this knowledge if I'm to work in the future.

Earning experience is very important, the more people you meet, the better it will help polish your communication skill. Prior preparation is important, if the manager challenges you, you still have solid info to back up your arguments. Prior preparation tells the manager that we have indeed prepared for the meeting, that we are serious even though we may not be able to answer her question. Having a positive attitude is always important.
III. Intensified Learning Opportunity Programme
This is organised by the University, engaging outstanding students in experiential learning activities with an overseas internship programme designed to contribute to their personal, interpersonal, and social developments. The programme aims to develop a crop of outstanding graduates for the 21st Century.