Announcements
The application closing date is extended to noon, February 26 (Friday) for projects to be conducted at HKU, University of Leeds or University of St Andrews. Apply now!
The UCL project list for HKU students (except for project #4) is available at https://www.ucl.ac.uk/laidlaw-scholarships/projects.
Details on Change the Code as one of the immersive leadership programme choices in summer 2022 are now available.
A briefing session took place at 4-5pm, November 26. To view the recording, please click here.
Students from the Faculty of Social Sciences can fulfil the 12-credit Global Citizenship graduation requirement upon successful completion of research projects hosted by the UK partner institutions (including virtual supervision).
The Laidlaw Scholars Programme
The Laidlaw Scholars Programme is made available to HKU students (HKU Laidlaw Scholars) by the generous funding support from Lord Laidlaw of Rothiemay. As a prestigious scholarship programme embedded at the Universities of Leeds, Oxford, UCL, York, to name just a few, the Laidlaw Programme equips students with research and leadership skills to help them pursue their academic and professional aspirations beyond their current course of study.
To learn about the exciting stories of the Laidlaw Scholars within the Laidlaw Network, please visit https://laidlawfoundation.com/undergraduate-scholars/.

Programme Details
Eligibility and Funding
Full-time undergraduate students in their first or second year of study are eligible to apply. The programme is not open to visiting students.
The scholarship shall be awarded on the basis of academic merit (normally with a Cumulative GPA of 3.0 or above) and demonstrated commitment to conducting a research attachment independently and the viability of the proposed research project.
The selection criteria are as follows:
Academic Assessment (50%)

Research proposal

Why the project is important
Outputs and outcomes
Impact i.e. benefits beyond the immediate academic community
Interdisciplinary aspects of the initiative and International dimension

Leadership Potential and Ambition (40%)

Motivations for applying
Career aspirations beyond their studies
Evidence of leadership/potential
Suitability as a scholar

Interview Performance (10%)
Successful applicants (HKU Laidlaw Scholars) will receive a stipend of up to $5,000 (overseas) per week for 6 weeks / $2,000 (local) per week for up to 8 weeks to facilitate their research attachment. Students may also claim up to a further $10,000 towards laboratory related expenses that cannot be covered by the host institution. A travel stipend of up to $15,000 will be provided to support the immersive leadership development programme and other travel.
The selected students will cover the expenses incurred from the leadership training and research attachment, which may include:
International airfare
Accommodation in the host country
Living expenses in the host country
Visa application fee
Health/travel insurance
Other fees charged by the host institution, if any
Key Dates
The entire programme will last for two academic years. All components listed below are compulsory.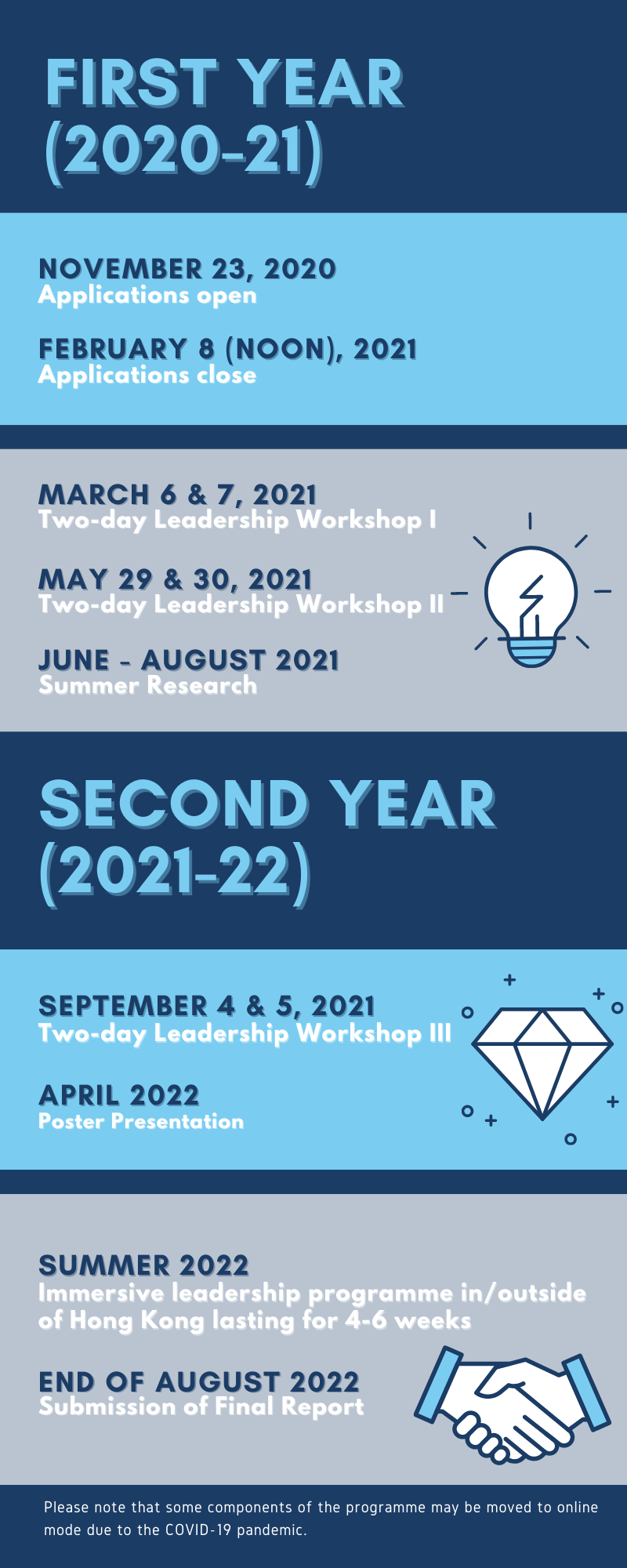 *Please note that some components of the programme may be moved to online mode due to the COVID-19 pandemic.
Choosing a Research Project
The programme enables scholars to develop, pursue and report on a research question, with a research supervisor, alongside a bespoke leadership development programme completed within two years. The research project should be clearly identified with objectives and the outputs appropriate to the duration and level of your study.
Applicants shall prepare a research proposal, preferably of an interdisciplinary nature, by following the guidelines below:
Identify a project of your choice and discuss the topic with your academic supervisor at HKU.
You may choose a self-initiated project or choose a project from the lists below.

At the time of application, students are NOT required to contact the potential host supervisors at UCL, St. Andrews and Leeds.
For HKU: You are free to approach professors inviting her/him to serve as your supervisor, or identify one from our project list.
***Upon receiving your application, HKU Horizons Office will serve as a coordinating office to match your proposal to a host supervisor by communicating with the responsible unit(s) at UCL, St. Andrews and Leeds.***
View project lists:
Immersive leadership programme in/outside of Hong Kong (Summer 2022)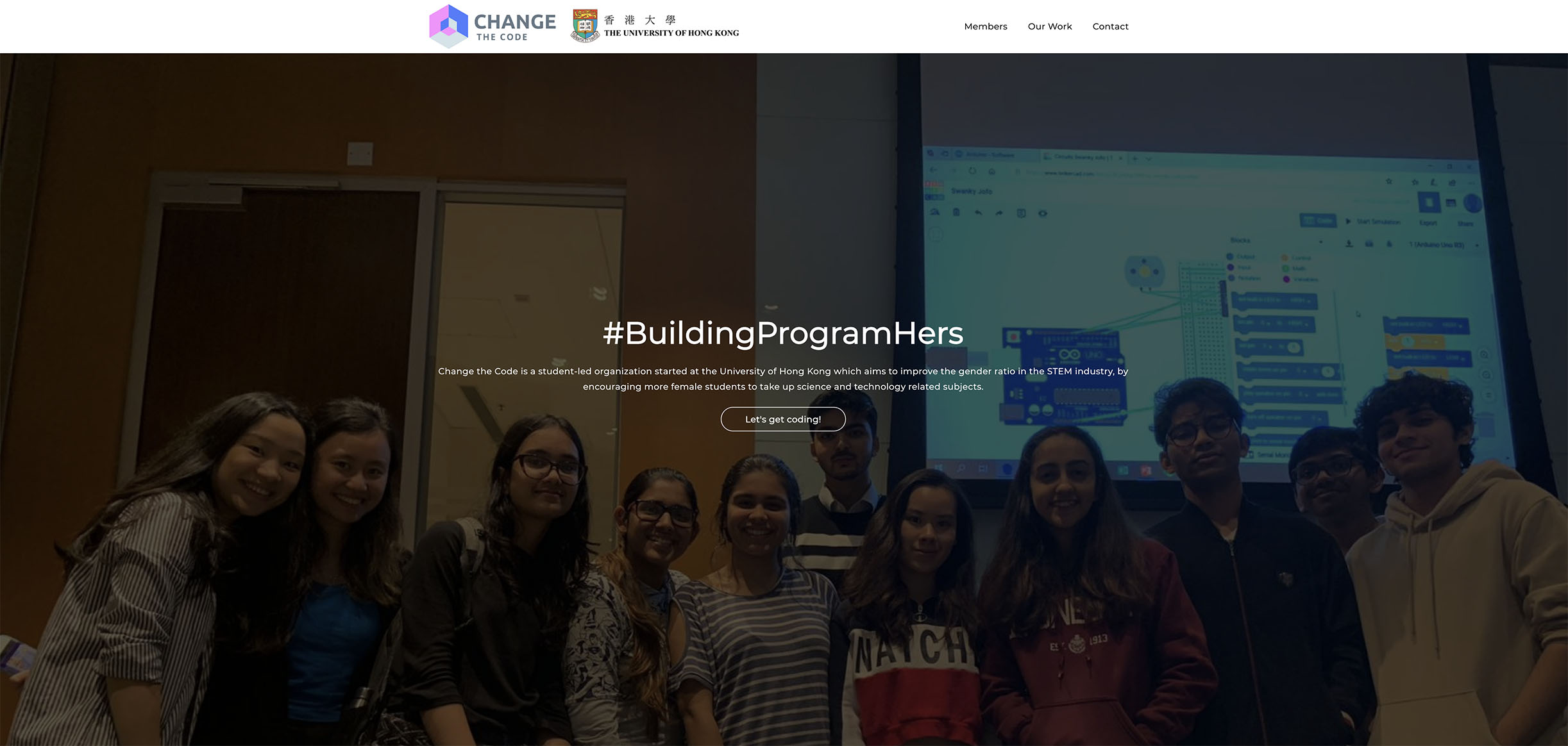 Change The Code is a student-led organisation non-profit organisation that aims to improve the gender ratio in the STEM industry, by encouraging more female students to take up science and technology related fields.
Download the project brief here.
For more details, please visit https://changethecodehku.github.io/ or email to changethecodehku@gmail.com.
Application
The application closing date is extended to noon, February 26 (Friday) for projects to be conducted at HKU, University of Leeds or University of St Andrews.
For enquiry, please contact us at laidlaw@hku.hk.