A virtual HKU-Common Purpose Leadership Development Programme will be launched this winter to enable you to gain insights into
how businesses are run during the turbulent economic environment
and to
propose solutions to a community-based organization/non-profit organization/a commercial organization through project execution
. You will have the opportunities to attend guest talks from industry leaders in one of the three destinations of your choice:
Kuala Lumpur in Malaysia, Manila in the Philippines or Phnom Penh in Cambodia
. Participants will be issued a certificate by Common Purpose upon successful completion of the programme.
The programme will enable up to 120 HKU students to:
work in groups of 10 across boundaries
devise, plan and implement group projects
gain access to leading organizations in the host destinations
boost their cultural intelligence
develop their leadership skills
learn about the UN's 17 Sustainable Development Goals.
The programme will feature a series of thought-provoking and reflective, compulsory events running from December 2020 to March 2021:
Stage 1: Monday 21 December 2020 – Welcome & City Introduction
Stage 2: Tuesday 22 – Thursday 31 December 2020 – 21st Century Leadership
Stage 3: Tuesday 5 January 2021 – Collab
Stage 4: Thursday 7 – Wednesday 13 January 2021 – Organisational Raids
Stage 5: Friday 15 January 2021 – Looking ahead
Stage 6: Monday, 15 March 2021 – Jamboree
Application period: October 21 – November 16 (noon)
*For those who register by October 26 (11:59pm), you will have a free pass to join the Global Leadership Forum Asia-Pacific scheduled on Thursday, 29 October 2020.*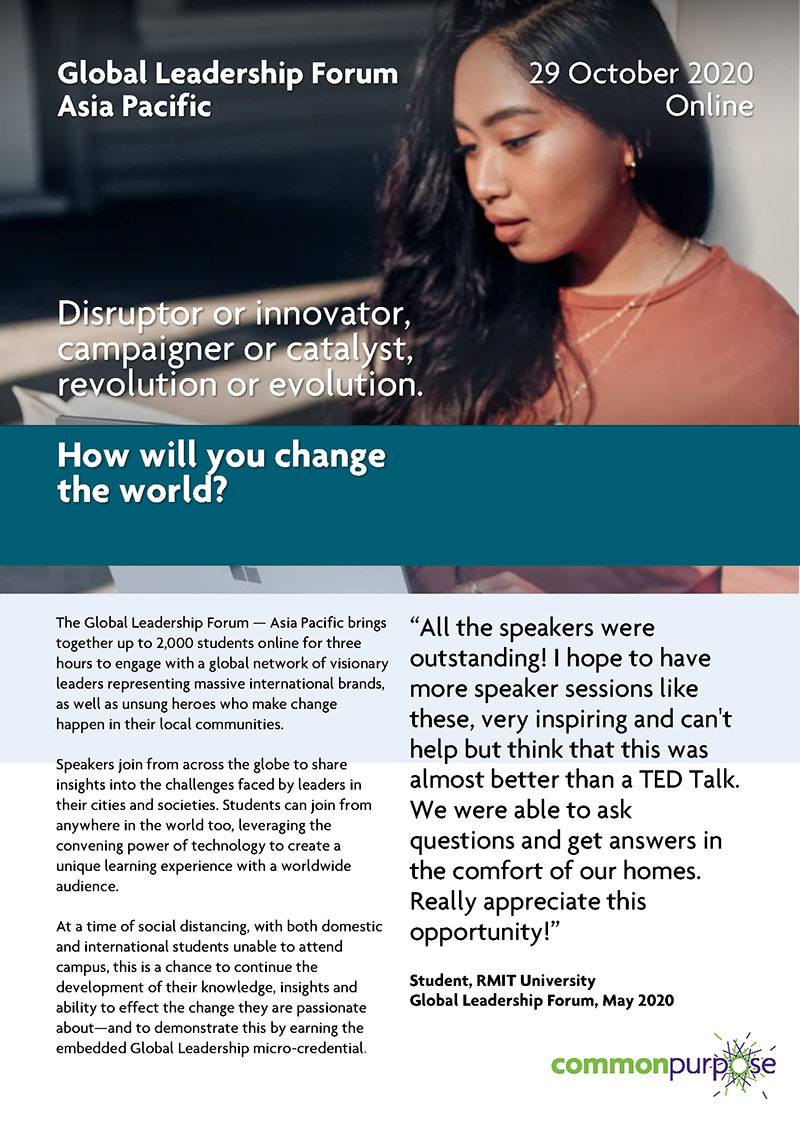 Registration: please complete this online form
For enquiries, please contact us at holdp@hku.hk.
---
About Common Purpose (http://commonpurpose.org/)
Founded in 1989, Common Purpose is a leadership development organization that specializes in cross-boundary leadership. It is runs programmes in over 70 cities worldwide, with over 4,000 participants becoming Common Purpose Alumni every year. Common Purpose leadership development programmes aim to inspire and equip participants to work across boundaries, enabling them to solve complex problems in organizations and in society.
Common Purpose's extensive alumni network across the Asia Pacific region enables access at senior levels of organizations, large and small, across the public, private and NGO sectors.
Common Purpose partners with world-class universities and runs leadership programmes for their students, including the top 30 universities globally:
Harvard | Oxford | National University of Singapore | University of Nairobi | University of the Witwatersrand | University College London | IIT Bombay | New York University | King's College London | Edinburgh | University of Chicago | IIM Bangalore | University of Johannesburg
Common Purpose partners with organizations in the field of student leadership, including:
Fulbright | AIESEC | National Youth Council of Singapore | All-China Youth Federation | China Youth Daily | Commonwealth Youth New Zealand