Teaching and Learning @ HKU
Teaching Development Grants (TDG)
Applications for Teaching Development Grant (TDG) 2022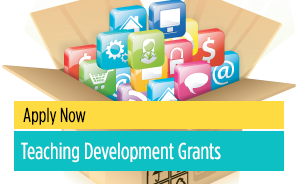 Applications are now invited for the Teaching Development Grant (TDG). TDGs are intended to support projects and activities that will have an impact on the strategic development and promotion of Teaching and Learning (T&L). To ensure alignment of TDG proposals with T&L strategies at Faculty level, Faculties are required to provide matching fund equivalent to one-sixth of the total project cost for a successful TDG proposal submitted by their Faculty members. For priority areas and more details, please refer to Vice-President and Pro-Vice-Chancellor (Teaching and Learning)'s invitation circular (document 157/222, https://intraweb.hku.hk/reserved_2/cdqa/doc/TDGS/TDG_2022/TDG_List_A.pdf).
All applications should be submitted online via the TDG system, which is accessible through HKU Portal > Manager Self Service > Teaching Development Grant (TDG) > TDG System or through the link below:
A video guide is available here.
TDG applications will be processed in batches according to the following cut-off dates in 2022:
1st round – Friday, April 1, 2022
2nd round – Friday, October 14, 2022
3rd round – Wednesday, December 28, 2022
General enquiries may be directed to Ms. Cynthia Wong (email: cynwong@hku.hk; tel: 2241 5535) in the Curriculum Development and Quality Assurance Section (CDQA) of the Registry.
Questions on technical matters of the TDG system may be sent to Mr. Cyrus Chan of the Technology-Enriched Learning Initiative (TELI) team (email: tdg@teli.hku.hk; tel: 3917 1110).
---
TDG Resources Hub
To facilitate sharing of information and deliverables of TDG and Common Core TDG projects at the University, TELI has developed a TDG Resources Hub for colleagues to retrieve information of ongoing and completed projects. The Resources Hub could be accessed via https://tdg.hku.hk/hub/
---
Progress & Final Report Forms
Completed forms should be sent to Miss Alison Lai of CDQA. Enquiries may be directed to her at tdgs@hku.hk or 2219 4832.