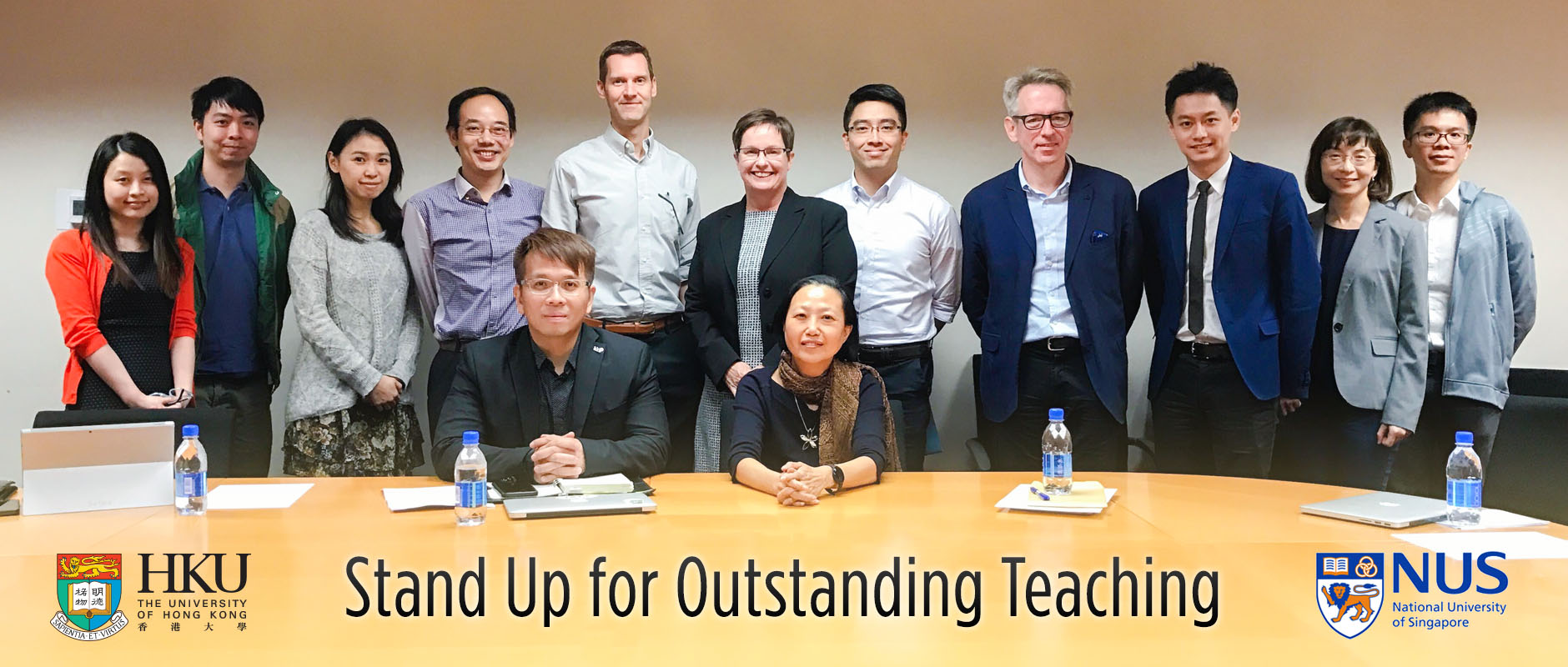 Pedagogical innovation is one of the major focuses of TELI. By way of technology, we aim to enhance the quality of teaching. We are delighted to learn from our friend Dr. Chng Huanghoon, Associate Provost (Undergraduate Education), that they are doing the same in The National University of Singapore (NUS). In a fruitful sharing session on November 8, 2016, Dr. Chng and HKU members from different faculties exchanged ideas on new pedagogical initiatives and current developments in advancing teaching excellence.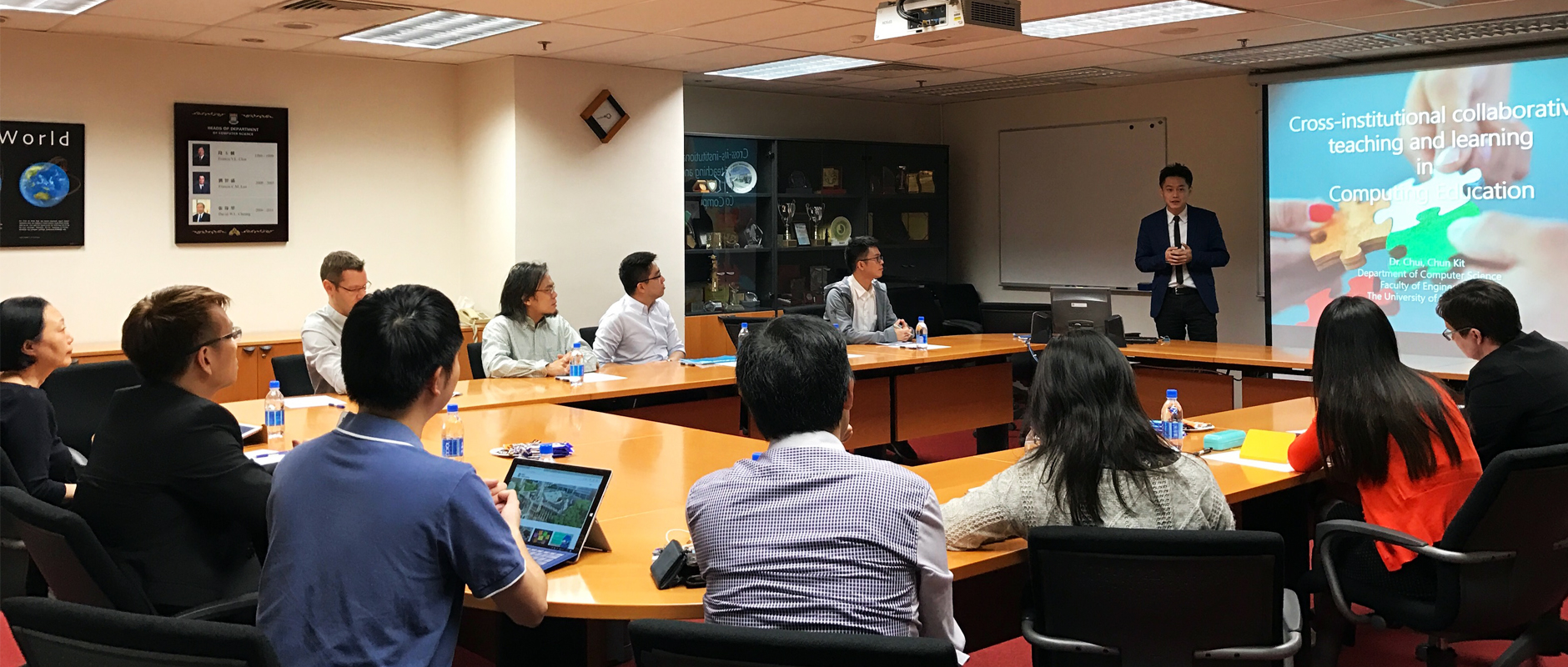 To kick off, Dr. C.K. Chui from the Department of Computer Science shared about his project with NUS on cross-institutional collaborative learning alliance. In order to enhance students' collaboration skills and international exposure, the Department of Computer Science is partnering with the School of Computing from NUS to build an online collaborative teaching and learning platform for students to co-write computer programs. The platform also serves as a teacher knowledge hub for assessment resource, learning analytics and learning materials. If the initiation is successful, other universities will be invited into this alliance.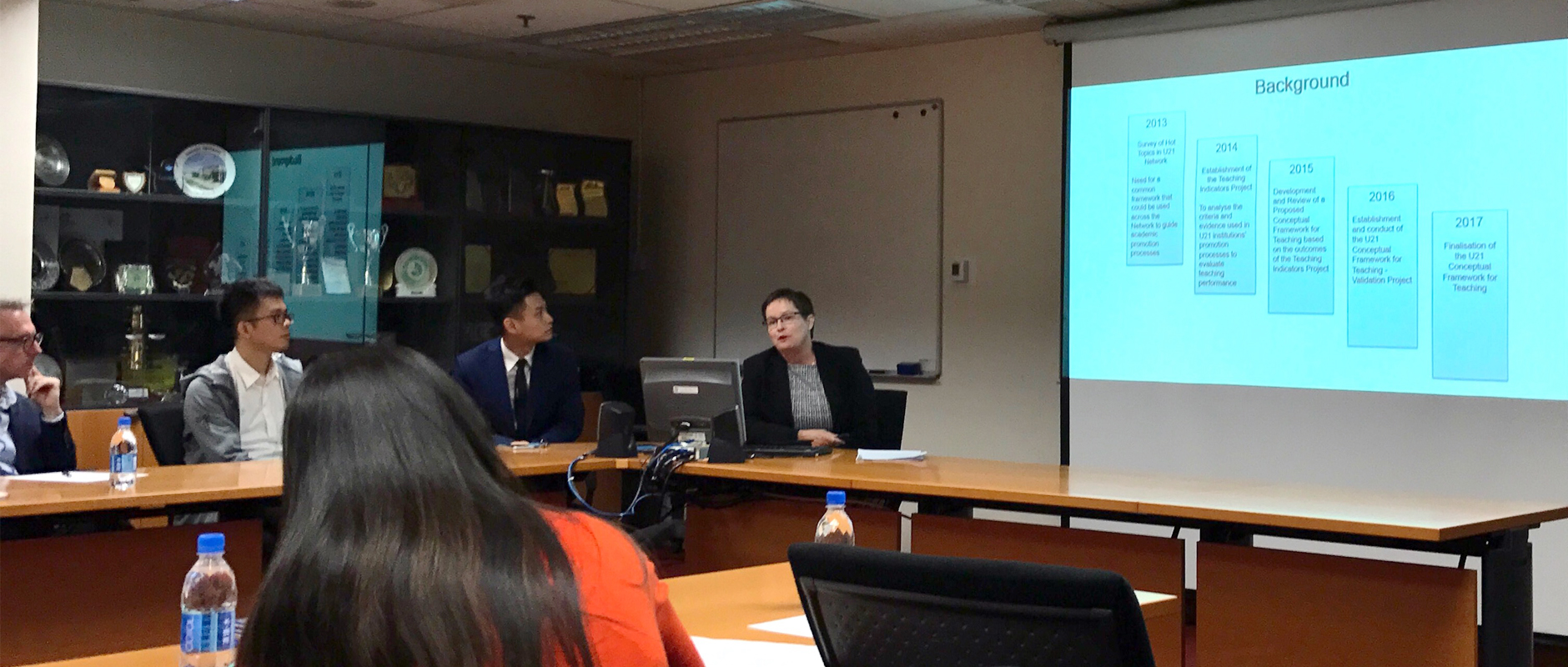 In terms of recognizing teaching achievements, Dr. Susan Bridges from the Centre for the Enhancement of Teaching and Learning gave us an update on U21's progress towards building a Conceptual Framework for Teaching to define, recognize and reward teaching quality so as to guide academic promotion processes across the U21 Network. Having just returned from the U21 Educational Innovation Conference 2016, Dr. Bridges reported that a draft framework was tabled for comments. It is set to be finalized in 2017.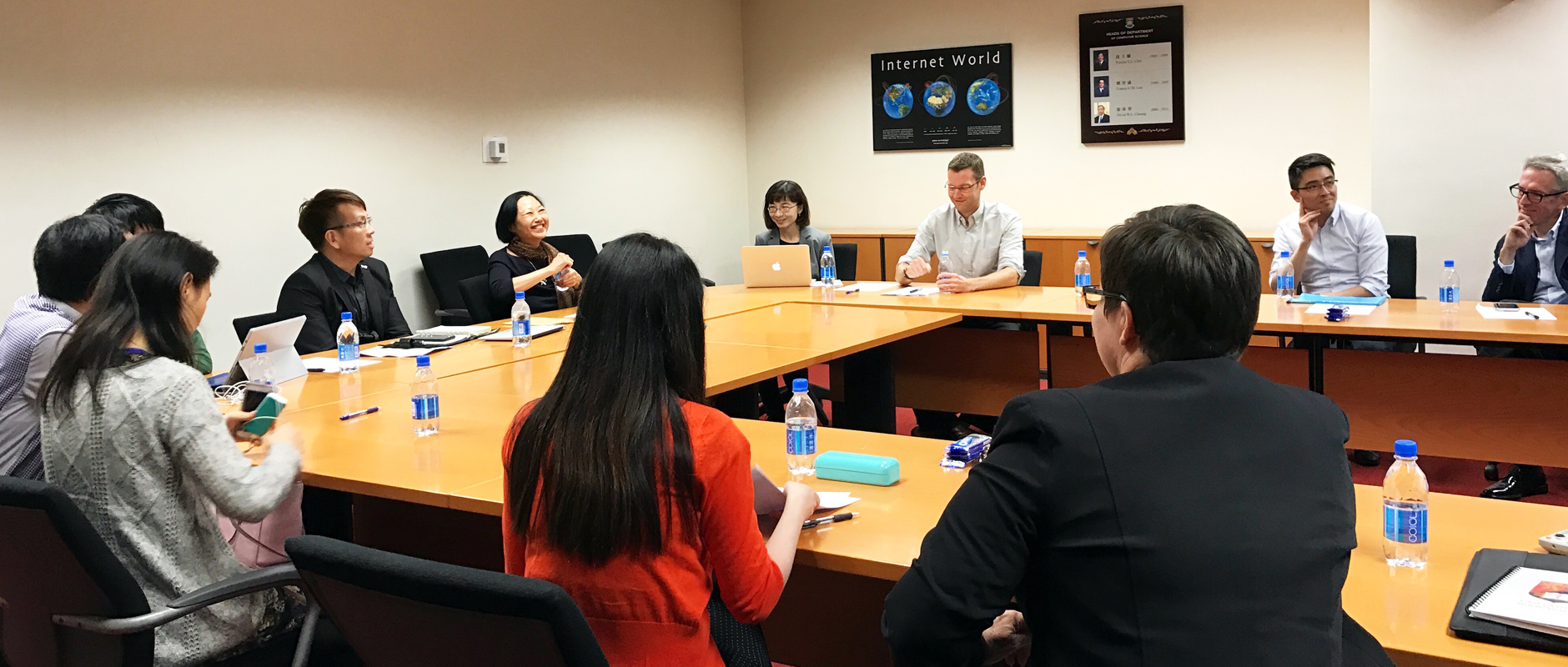 Shifting the focus to Asia, Dr. Chng is also leading an initiative to build a framework for teaching excellence, beginning with forming a core group of committed teachers who would share their good practice in teaching. Through the establishment of a Scholarship of Teaching and Learning (SOTL) Asia in NUS, they aim to develop an academy of scholarly teaching and work towards achieving universal recognition. The initiation sparked exciting discussion around the table who generally agreed that teaching excellence is not getting enough recognition as it should. It is hoped that the exemplars could serve as a framework to achieve a top-down effect and motivate teachers to try new approaches in their teaching.
We'd love to collaborate with you in trying out new technology and pedagogy. Contact us now at enquiry@teli.hku.hk!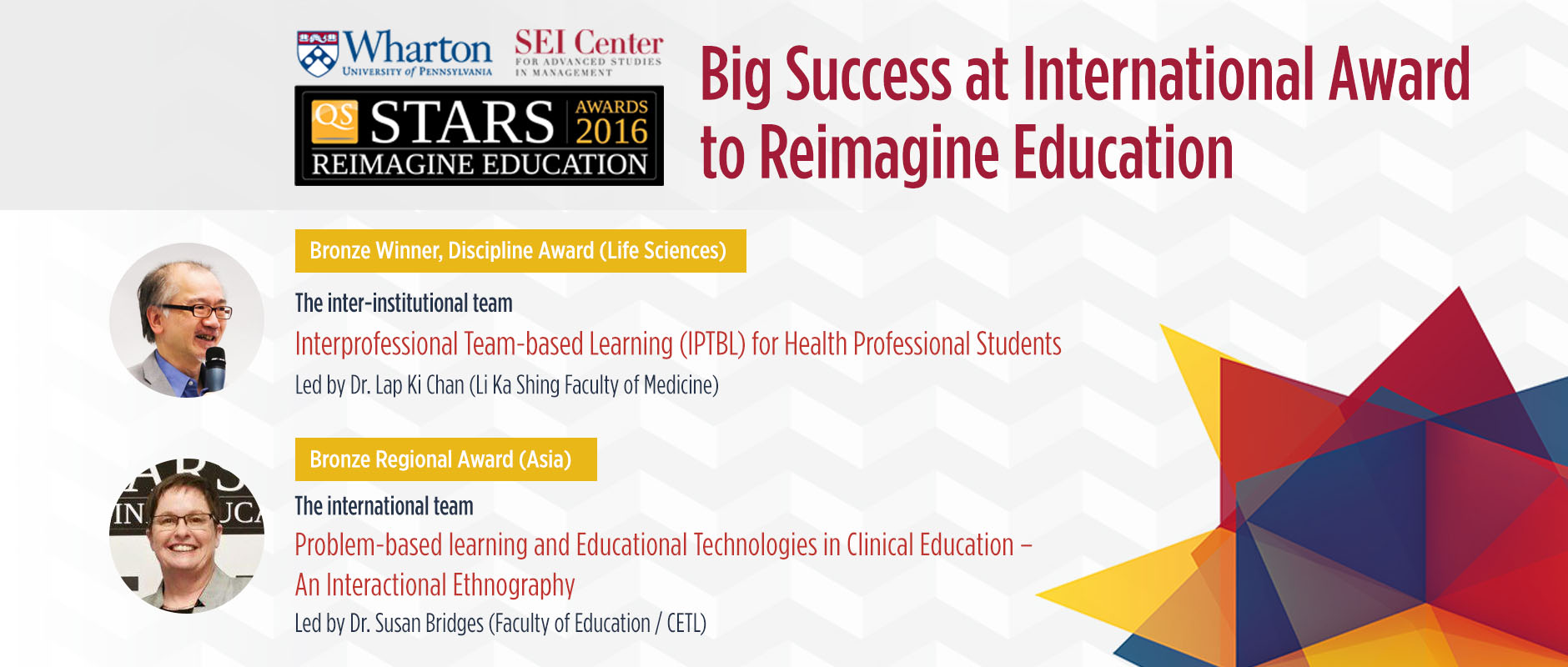 Two HKU collaborative projects are being recognized at the prestigious QS Stars-Wharton Reimagine Education Awards. The inter-institutional team, "Interprofessional Team-based Learning (IPTBL) for Health Professional Students", led by Dr. Lap Ki Chan (Li Ka Shing Faculty of Medicine) is the Bronze Winner for Discipline Award (Life Sciences). The international team, "Problem-based learning and Educational Technologies in Clinical Education – An Interactional Ethnography", led by Dr. Susan Bridges (Faculty of Education/ Centre for the Enhancement of Teaching and Learning) won the Bronze Regional Award (Asia).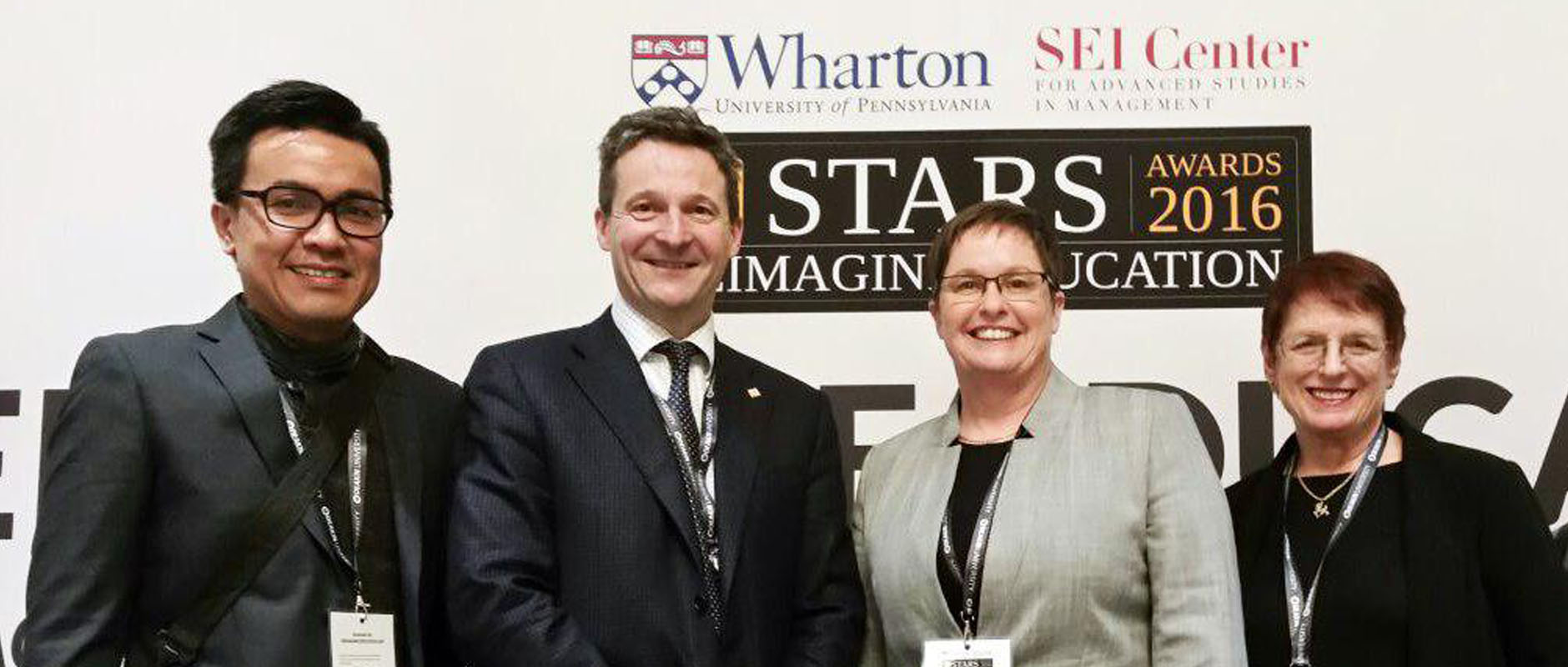 From Left to Right:
Dr Fraide A. Ganotice, Jr., Mr. Nunzio Quacquarelli (CEO and founder of Quacquarelli Symonds Ltd.), Dr. Susan Bridges, Prof. Judith Green
Shortlisted candidates from around the world gathered in Philadelphia on Dec 5-6, 2016 to showcase their projects in this "Oscars" gathering for innovative higher education pedagogies. From over 500 projects, the panel of judges selected all submissions from HKU to be among the 120 that are shortlisted for the final contest.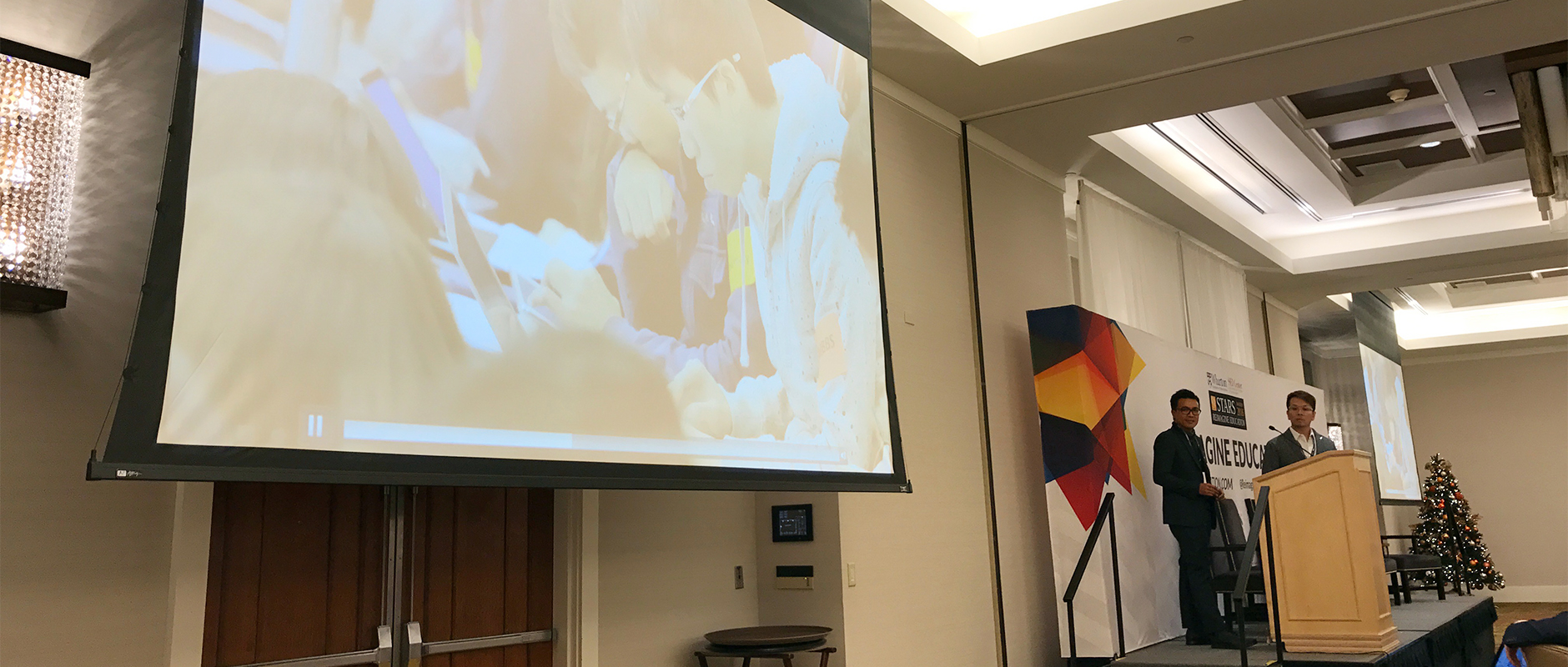 Prof. Ricky Kwok and Dr Fraide A. Ganotice presenting at the Reimagine Education Awards

Dr. Susan Bridges presenting at the Reimagine Education Awards
Both projects have the vision in realizing how technology should be infused in teaching across multiple scales, including: student numbers, time (e.g., learning cycles) and disciplines. The improvements in outcomes are supported by quantitative and qualitative research data. TELI is proud to have been particularly involved in the IPTBL project on various fronts, including the development of the Learning Activity Management System (LAMS) electronic platform, the implementation and connectivity that are all crucial in the development of the IPTBL.
Further reading:
(大公報 Tai Kung Pao) 港大兩個項目獲國際創意教育獎項
(文匯報 Wen Wei Po) 港大奪全球教學創新兩銅

HKU Dentistry is ranked No. 1 in the World in 2016. Known for its world-class quality undergraduate and postgraduate and research programmes and clinical dental specialties, HKU Dentistry moves to the forefront in using creative technology in teaching and learning. On 25 October this year, it launched the World's 1st MOOC (Massive Open Online Course) in Implant Dentistry on the Coursera platform.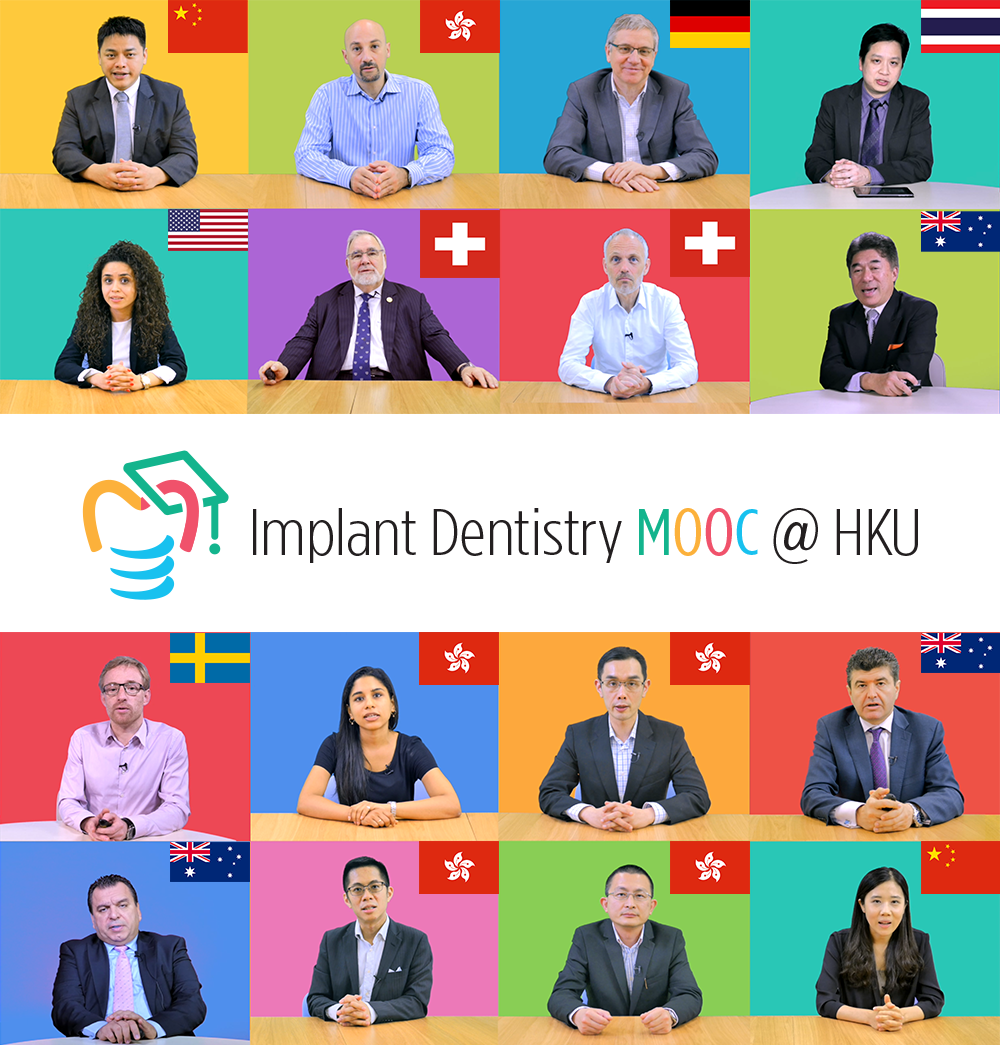 Up-scaling learning and teaching, from solo to global endeavor
The Implant Dentistry MOOC successfully captured 7000+ enrollees who are practicing dental practitioners and dentistry graduates and students from more than 50 countries around the world. The MOOC gives students more than an option and convenience to a self-paced curriculum on an individual device; students are engaged in lively forum discussions with instructors, TAs and fellow online peers anytime, anywhere.
Engaging students in an interactive MOOC learning experience is not the work of one but many instructors – the course is taught by a dream-team close to 20 renowned international experts in dental implants and reconstructions led by HKU's Dr. Nikos Mattheos, Clinical Associate Professor in Implant Dentistry. Each teacher on the team contributed specialized knowledge and evidence-based best practices on the same platform to multiple-levels of dental professionals and multi-national learners.
The vision and mission
Why an Implant Dentistry MOOC? According to the chief course instructor, Dr Niko Mattheos,
"Implant Dentistry is one of the most dynamic and rapidly developing areas within oral health care, but is still a rather new discipline in dental education and is not quite often taught in undergraduate dentistry curricula."
Earlier this year, researchers from the Department of Oral Rehabilitation conducted a small-scale survey on postgraduate dental education to practicing dental practitioners in Europe, Asia, North America, Oceania and South America. The study showed that the most frequent period that dental practitioners placed the first dental implant was 3-5 years after dental school graduation and 82% of the respondents reported the need for further education, however, among the group, only 29% actually pursued further education in an academic setting, i.e. post-graduate 2-3 year full-time programs in accredited universities.
HKU Dentistry, with the vision to provide a top-notch dental education programme to the training of future dental professionals, endeavored to bridge the gap of knowledge in Implant Dentistry and diligently worked with HKU's TELI team to produce a world-class MOOC in Implant Dentistry to offer an opportunity for dental practitioners and dental students to learn about this specialized subject.
Creating impacts to international communities
The MOOC has reached beyond national borders, language and professional boundaries. We are excited to see that the MOOC has gained endorsement not only from universities and dental schools, but also from other professional communities. Among them are Ukrainian Academy of Periodontology and Canadian Dental Association. There are also strong incentives among learners in building learning communities in Implant Dentistry. Enthusiastic Arabic learners started a Facebook group, where they translated the course materials to Arabic and shared notes with their peers. There are currently 900+ learners and counting. We are also delighted to have established strong connections with professional organizations in mainland China that bring us 1500+ Chinese learners.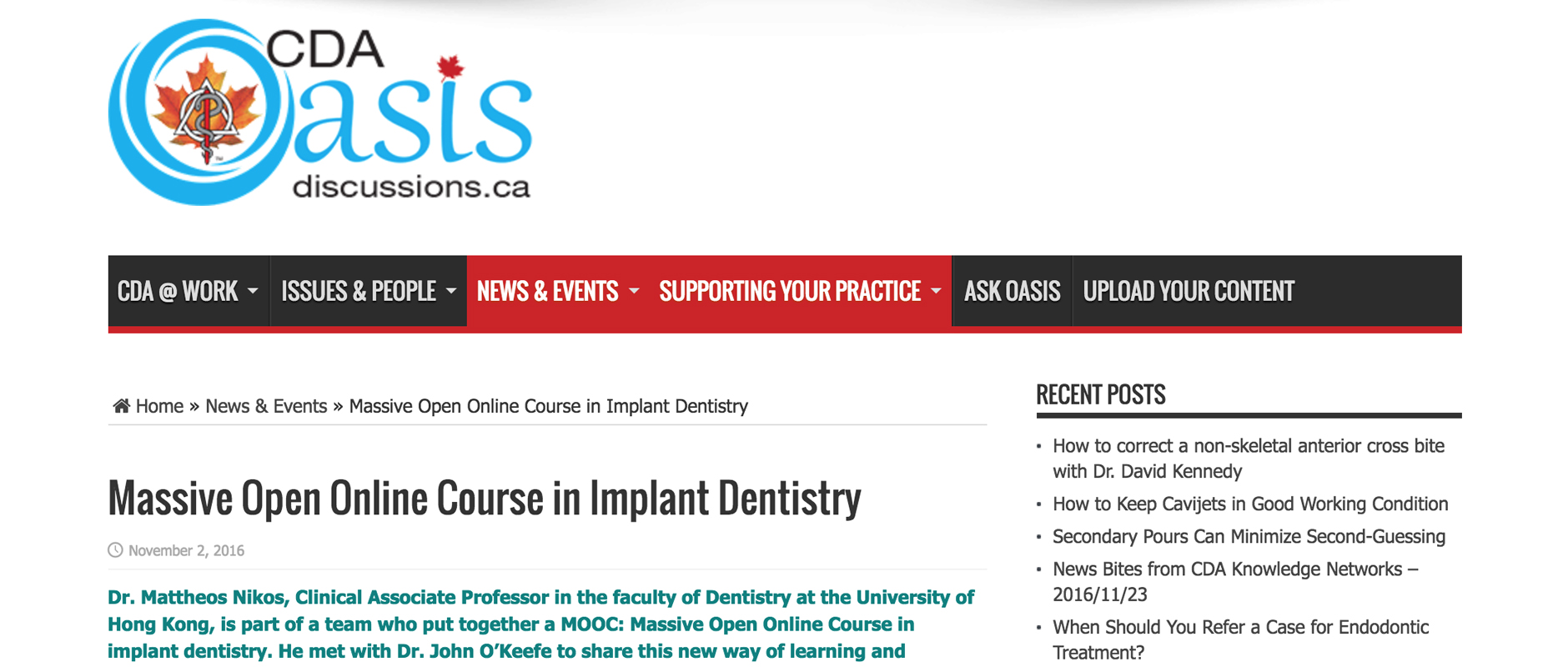 Learners' stories
Here are some testimonies and learners' sharing from the MOOC: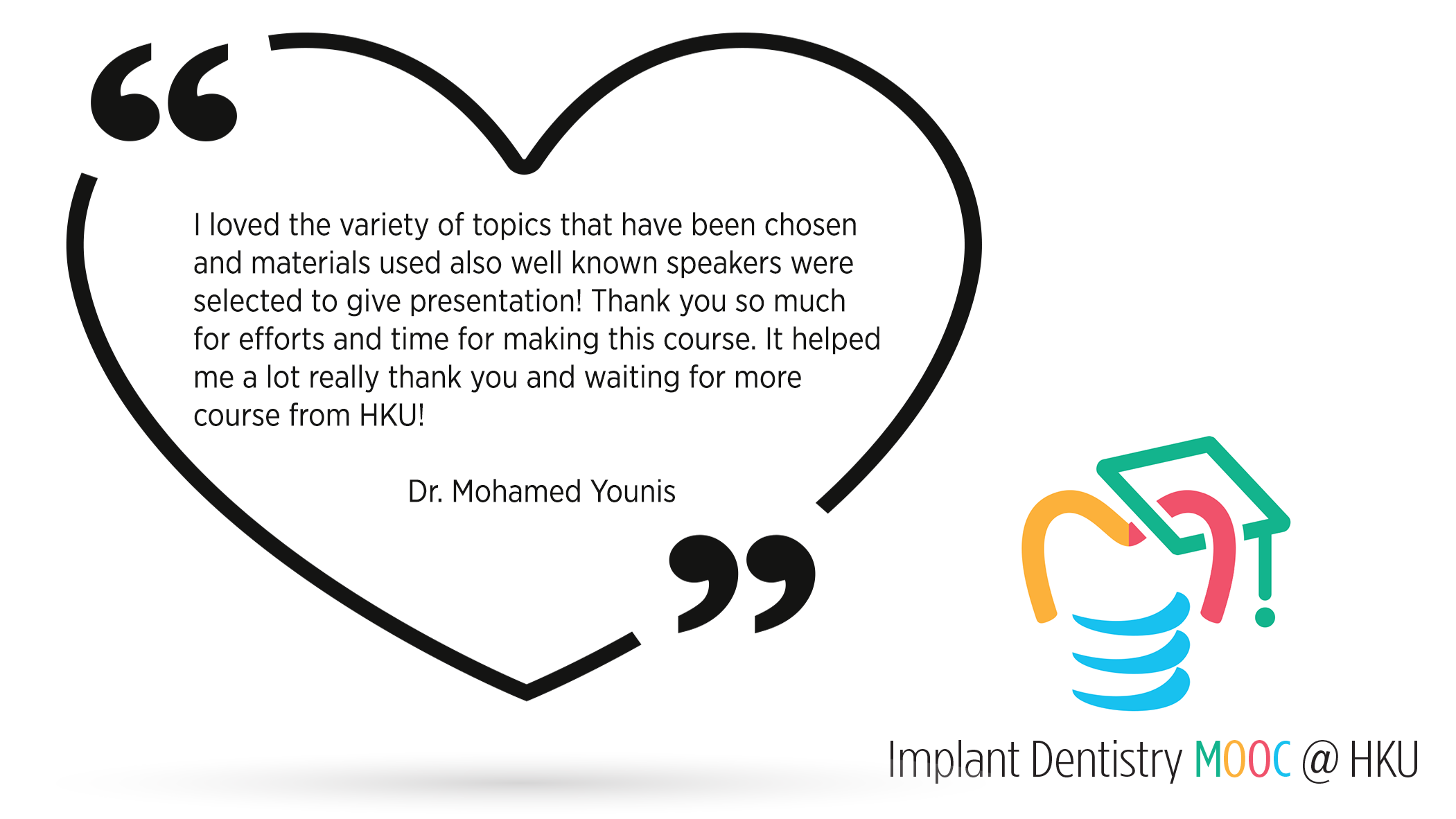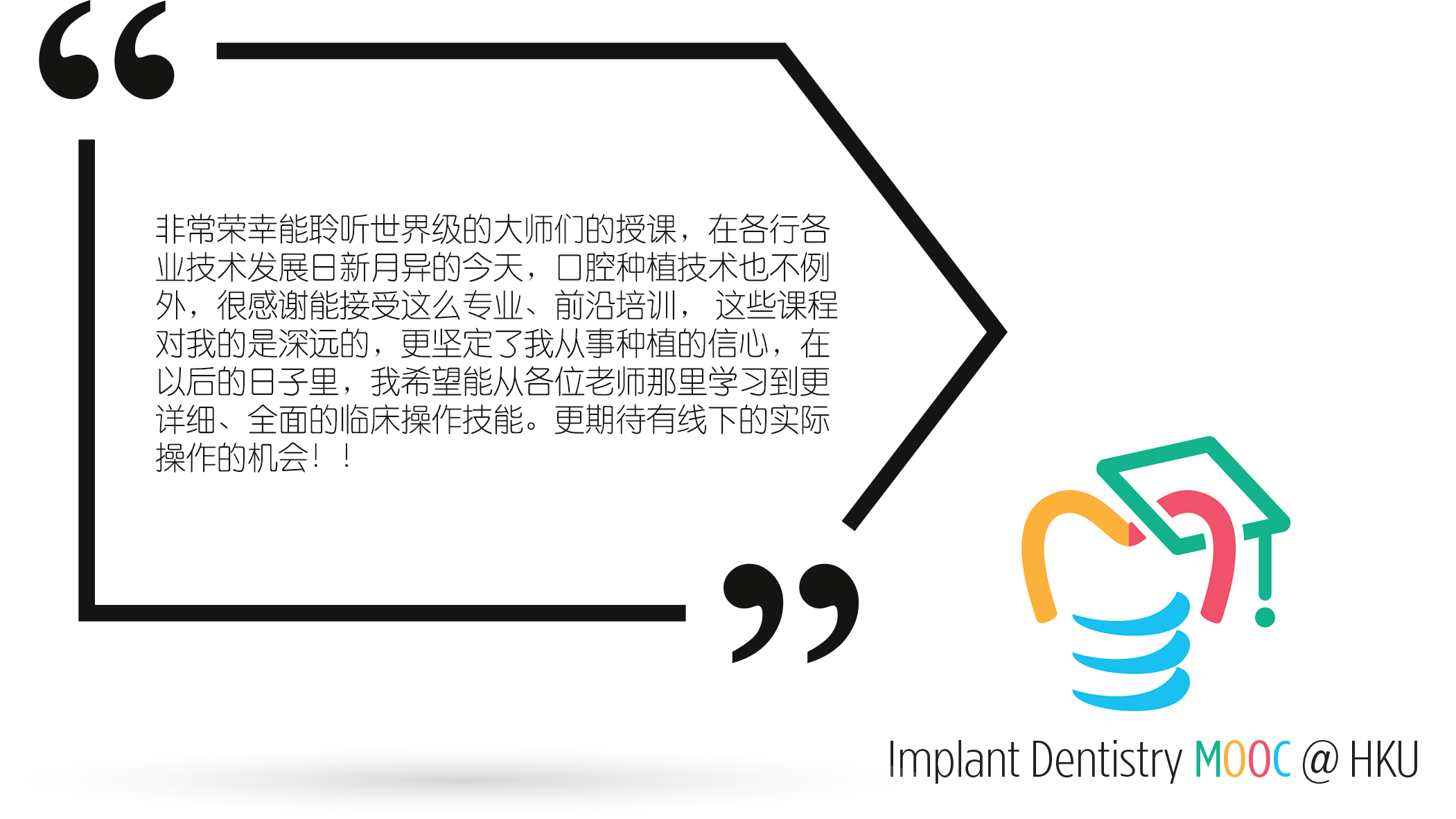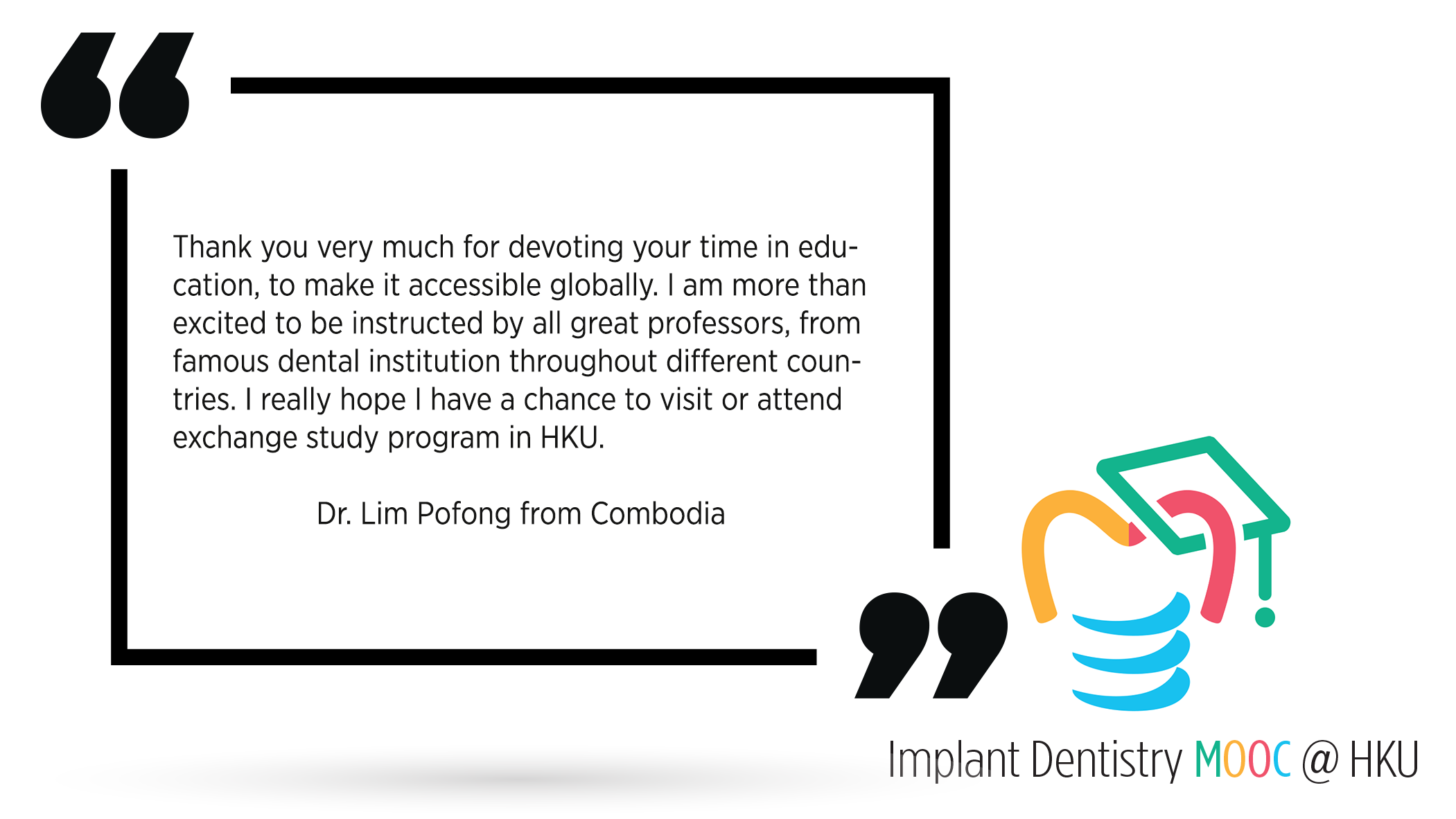 The course will be completed by 4 December 2016, but the second round will start soon from 27 February 2017. Join us now, to experience the world-class MOOC brought by the world-class dental school!
Further reading: