Explore the "secrets" of dental materials and digital dentistry together in the Materials in Oral Health MOOC offered by the best dental school in the world.
Click here if you cannot access Youtube.
We all need healthy teeth, don't we? Have you ever wondered why titanium, ceramics and some synthetic polymeric materials are the "materials of choice" in oral health care? What are the "secrets" that make these materials so special for dental implants and other restorative procedures?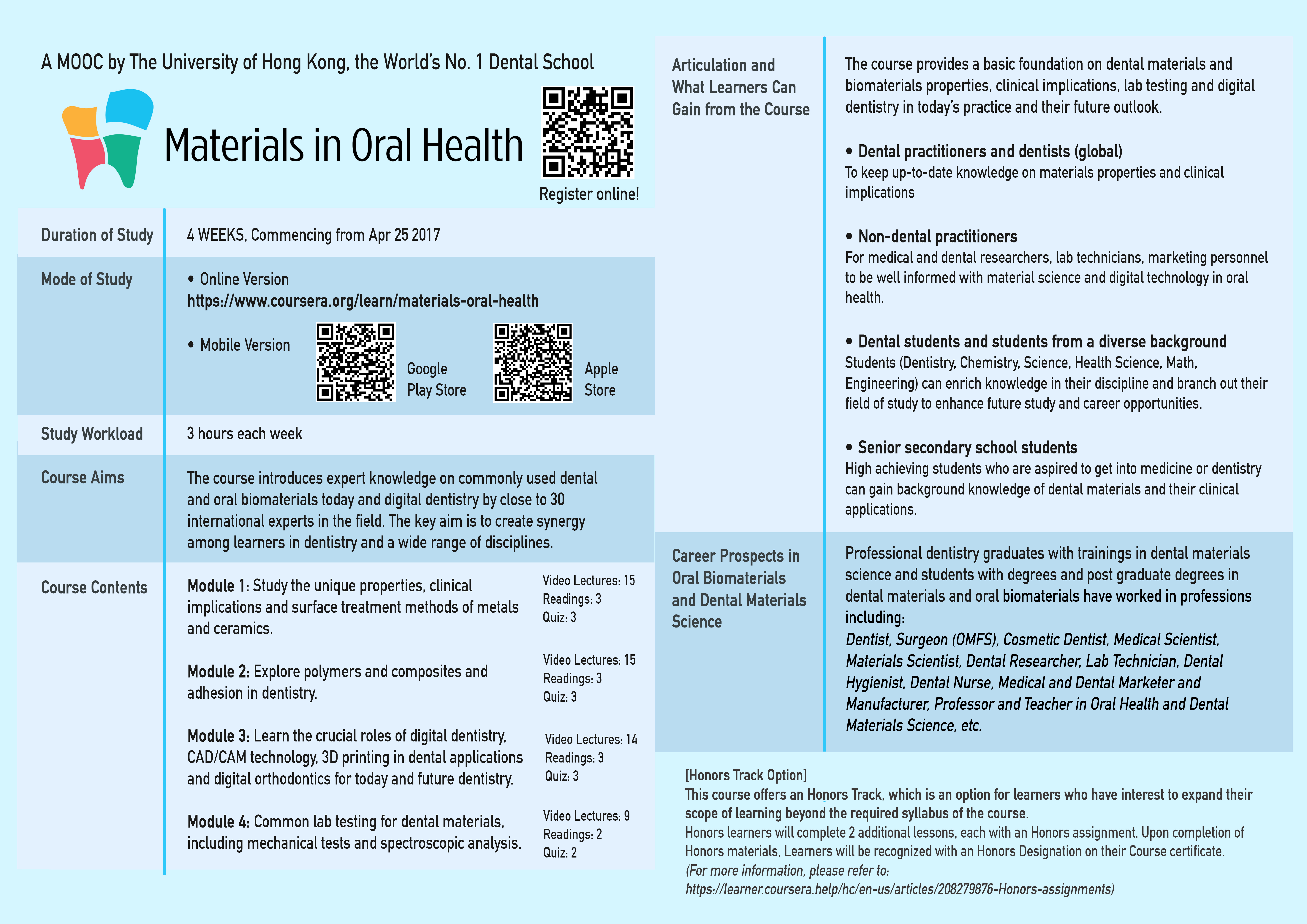 In the Honors track, a special Best Essay Award is running to provide an opportunity for learners to expand their horizon and scope of learning in this course. The winner will have the opportunity to publish alongside the chief instructors, Professor Matinlinna and Dr. Tsoi.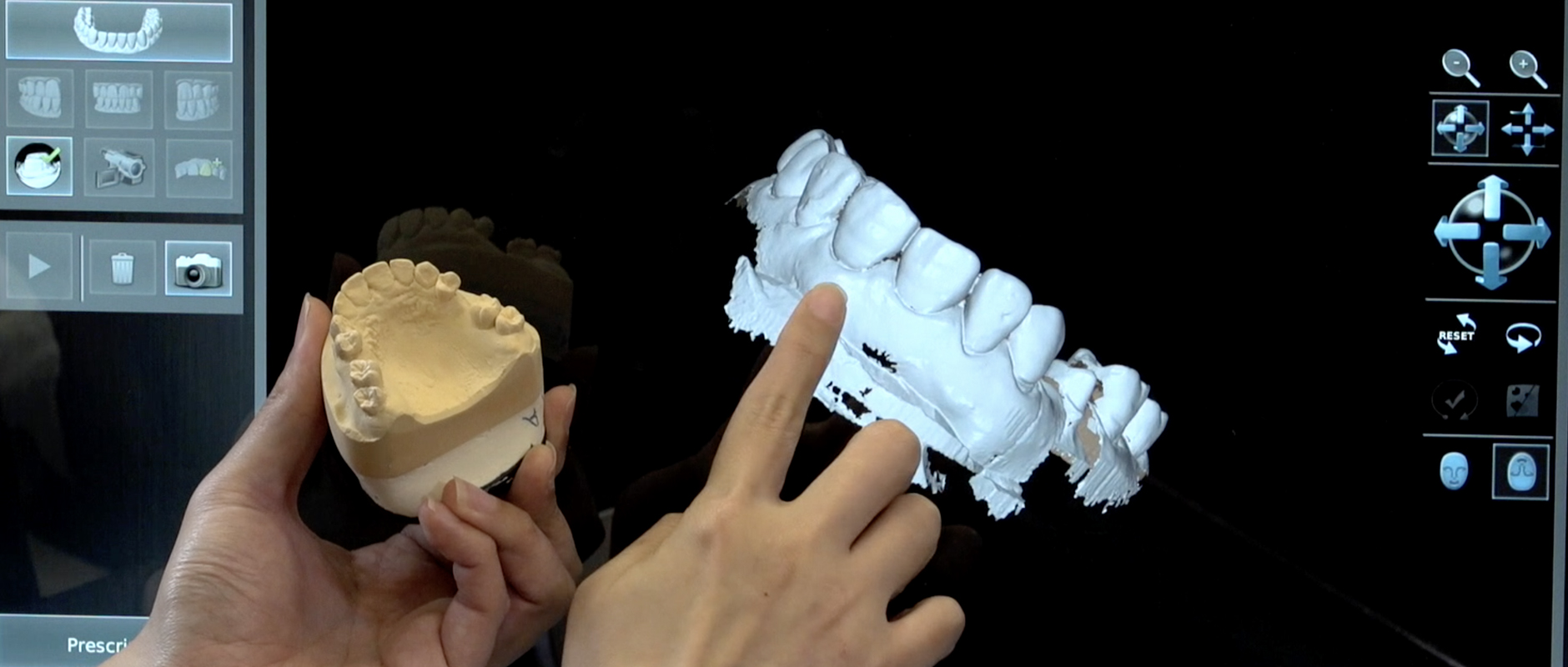 HKU Dentistry ranking No. 1 in the World has the vision to bring together the expertise and best practices in dental materials and biomaterials in its upcoming MOOC Materials in Oral Health. The course is taught by a professional team of 30+ local, regional and international dentistry professionals and experts in dentistry and dental materials. What does this course cover? This 4-week Oral Biomaterials course unveils the exciting and unique properties and clinical implications of some state-of-the-art dental materials, including titanium, zirconia and modern synthetic polymer-based composites. We are also going to look at the crucial roles of CAD/CAM technology and 3D printing in dental application and digital orthodontics.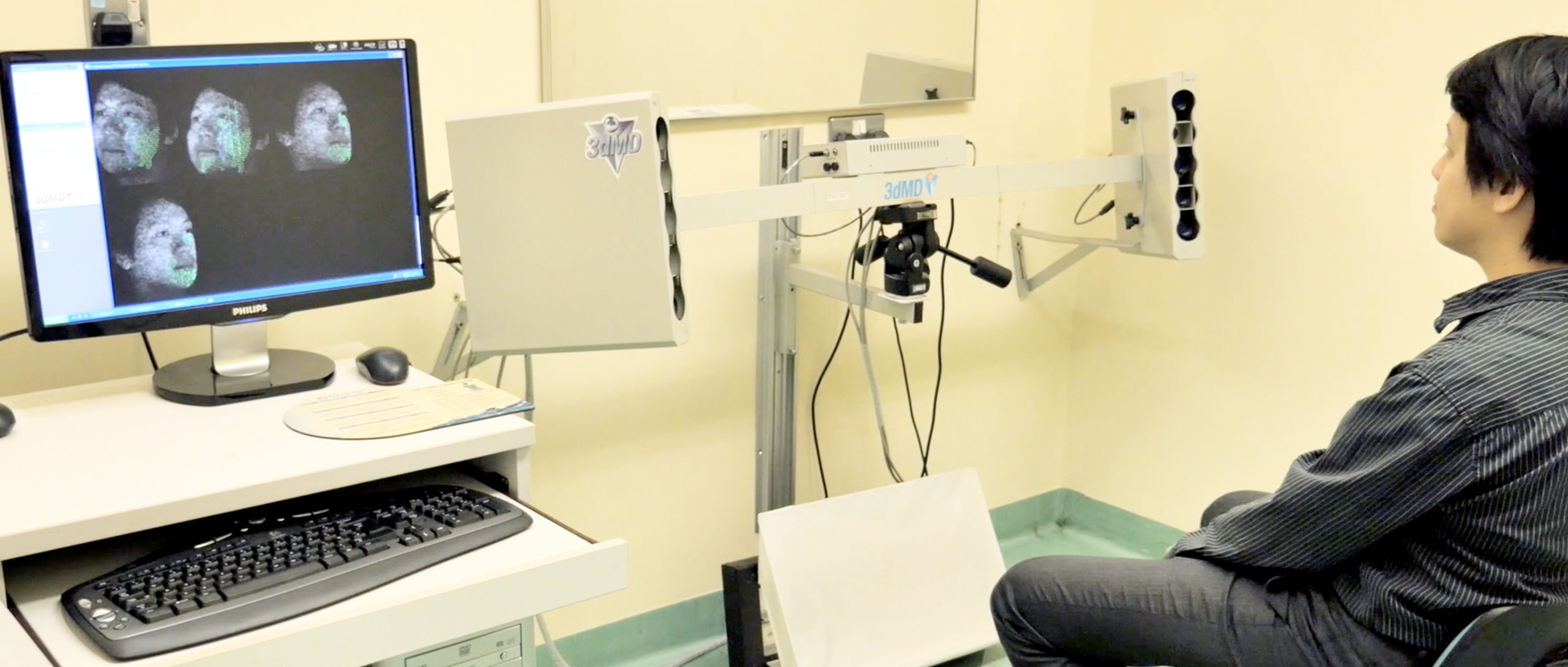 Oral biomaterials today is an exciting area encompassing contributions from professional dentistry to biology, chemistry, physics, material science, mathematics and engineering. Whether you are dental practitioners and dental technicians, non-dental practitioners, dental students, university students from various disciplines, or senior secondary school students – this course will open your eyes to the magic of dental materials science. If you are a prospective university student, this course can open up new and exciting opportunities possibly leading to new career paths.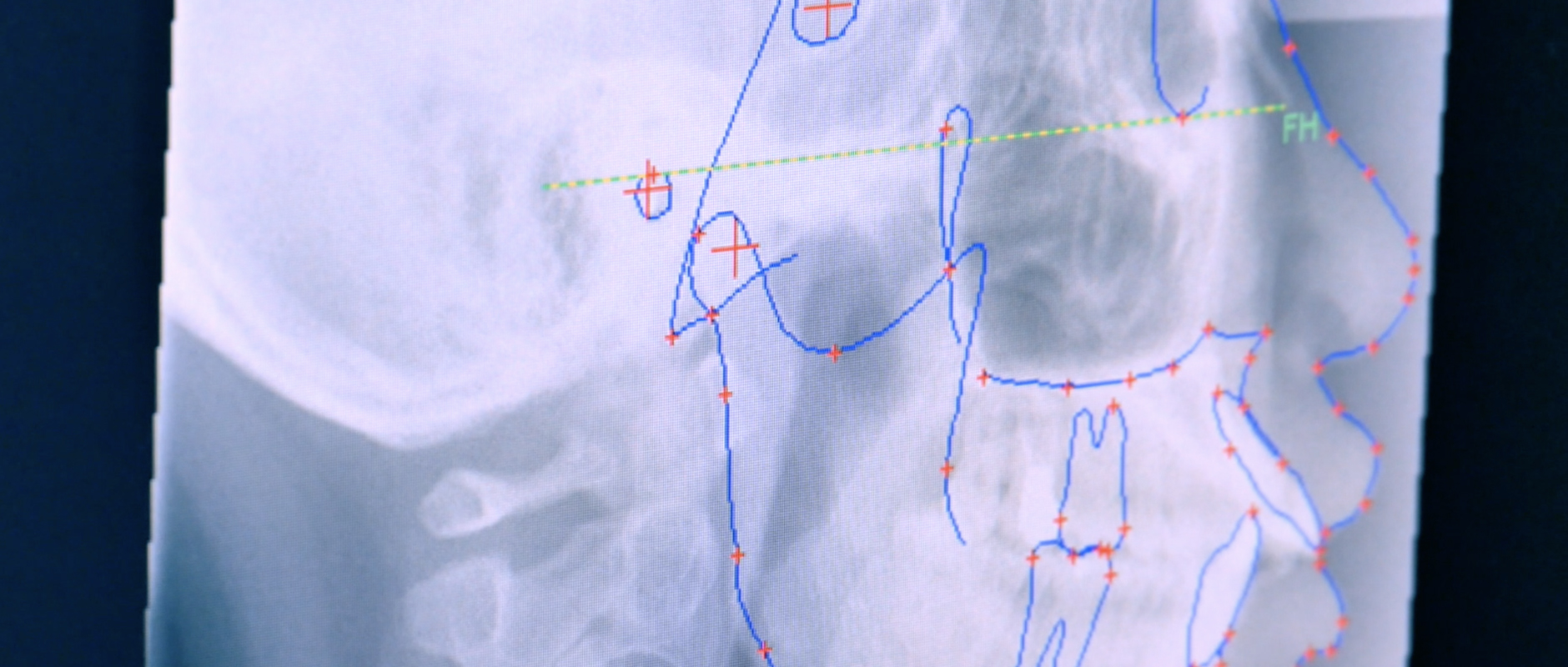 Join us in the upcoming Materials in Oral Health MOOC on April 25 2017!
Follow our Facebook pages: HKU Online Learning and Dental Materials Science, Faculty of Dentistry, HKU!
Sneak Previews
Have a taster of what will be taught in this course!
(Sneak preview playlist here.)
The Application of Silicon and Silicon Compounds in Dentistry – Prof. Jukka Pekka Matinlinna
- "Silicones find a wide range of biomedical applications…"
Dental Material Choice: Zirconia vs Titanium – Prof. Niklaus P. Lang
- "Shortcomings with titanium are mostly aesthetic in nature…"
What is Digital Dentistry? – Dr. James Tsoi
- "Digital dentistry is one of the emerging fields in dentistry…"
Materials used in Implants – Dr. Nikos Mattheos
- "Osseointegration is a remarkable story of scientific discovery…"
More sneak previews here.
Stay tuned for more details!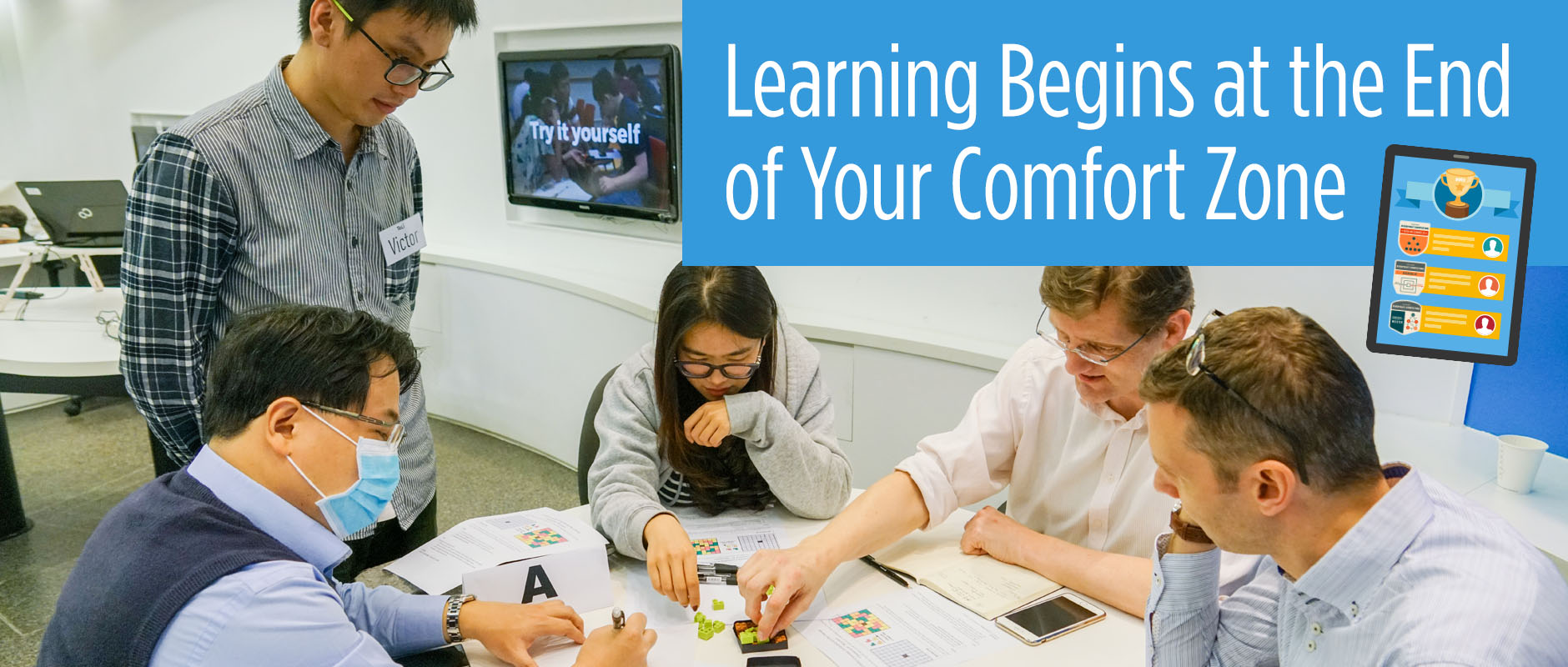 "[The] place where knowledge formation occurs is right at that edge where you do not know what's going to happen. If you did, it would just be repetition, it wouldn't be discovery […] students get very excited at that moment," said Professor Gray Kochhar-Lindgren, Director of Common Core (CC), after Professor Ricky Kwok's sharing on March 7, 2017 about his experience of flipping the course CCST9003 Everyday Computing and the Internet.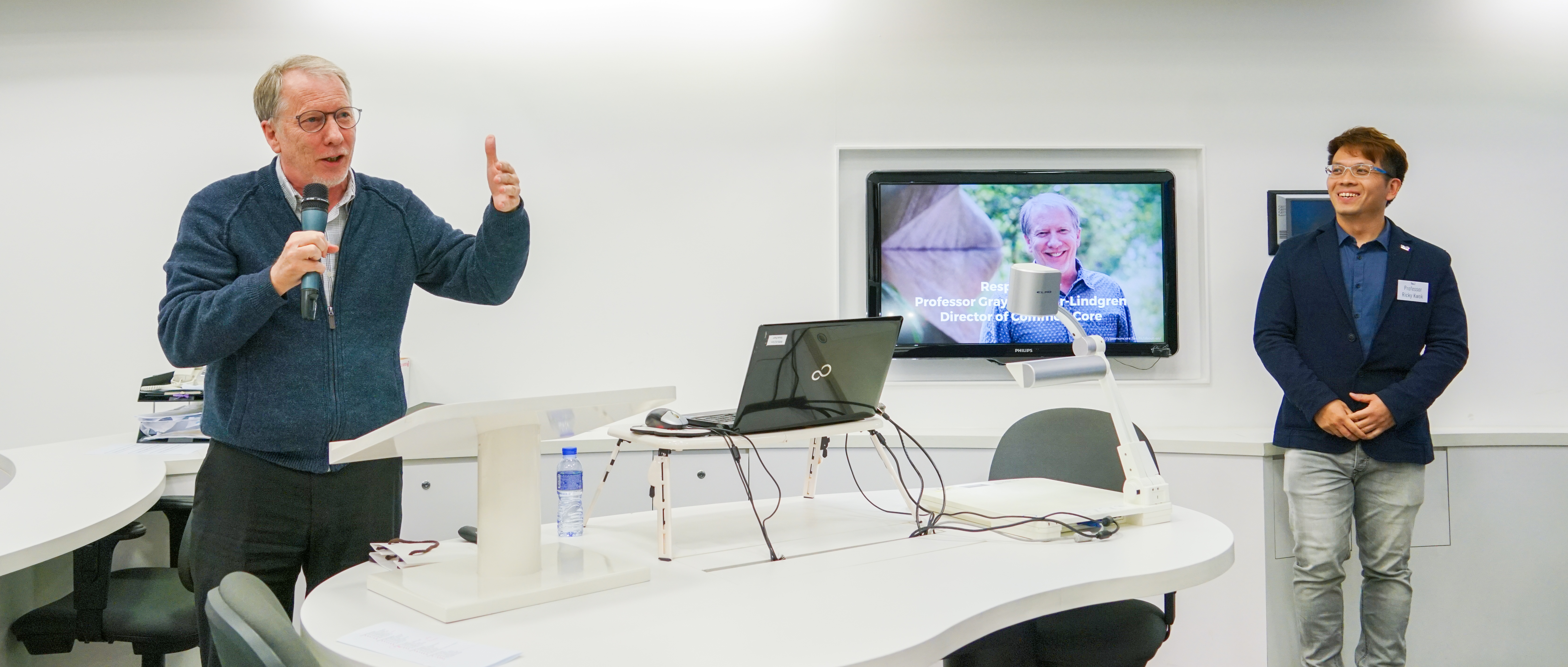 Last semester, Ricky and his course team began a new teaching and learning experiment. They have developed a series of videos to replace traditional lectures; and delivered 5 game-based workshops for students in their CC class (e.g., solving the Rubik's cube, defusing bombs in a computer game, and solving encrypted codes). The main driver of the flipped approach was the dissatisfaction with the low energy level observed in lectures. "We (teachers) are just sending out sound waves that nobody cares to receive," Ricky said.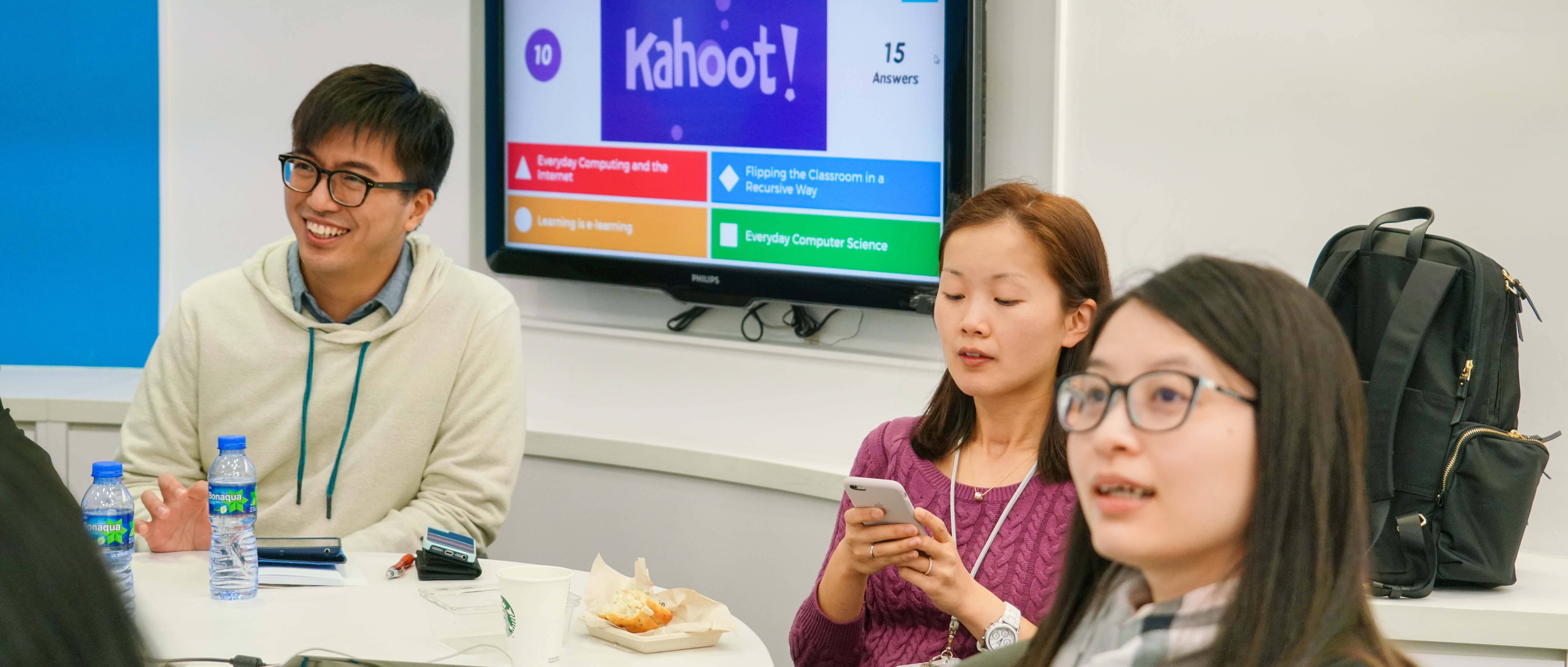 Participants of the sharing session had to experience this new way of learning first-hand. Prior to the meet-up, they were asked to watch several video clips on "recursion", one of the algorithms that Ricky taught in his course. When they came in, they had to "compete" in an online game powered by Kahoot to check their preparedness, followed by a team-based, hands-on activity of solving a recursion problem with lego pieces. While groups of students in the actual CC course need to produce a video on the solution by the end of the two-hour class as a deliverable, our teacher-participants were asked to explain their solution to Teaching Assistants within 10 minutes. Feel the adrenaline? That's what Ricky meant by "learning begins at the end of your comfort zone".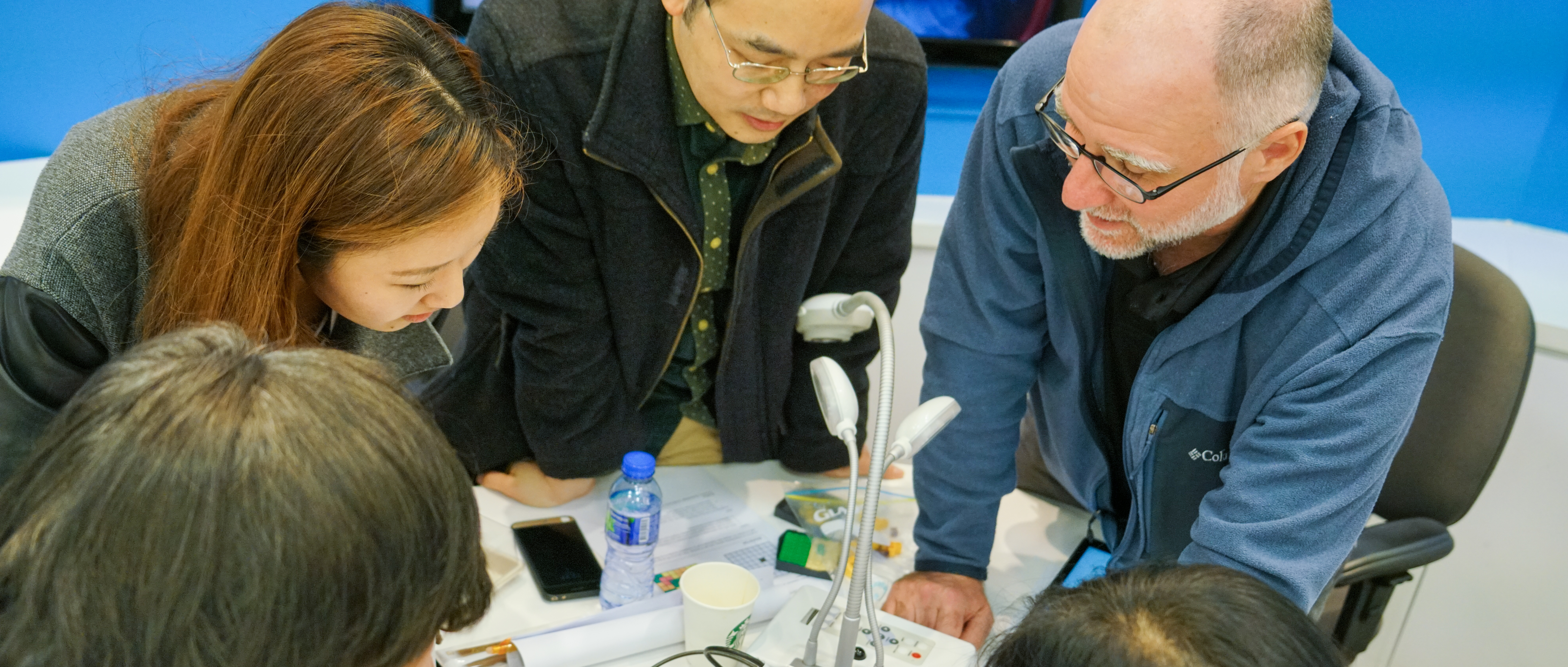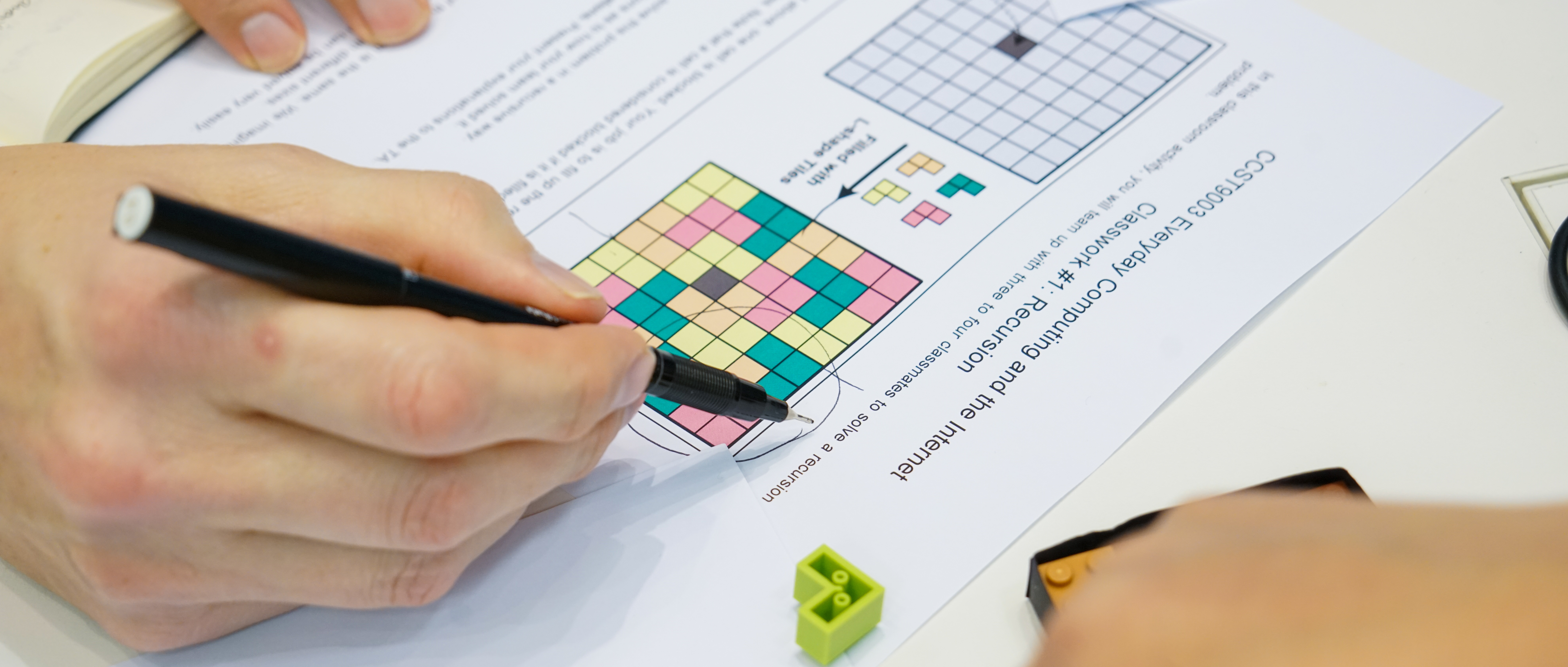 Ricky learnt from his own experience that the 4Cs – credit, collaboration, competition, and co-creation – were important in providing the motivation that students need. Here is his recipe:
Application in CCST9003
Advantage
Credit
All classwork activities counted towards students' final grade.
Students had the incentive to participate in the first place.
Collaboration
It is one of the criteria in the grading rubrics. Every group member needs to participate and demonstrate collaboration.
Creates room for dialogue and peer-to-peer learning; where stronger students are motivated to help weaker students.
Competition
Each group competed with the 29 other groups in the class.

Competitive elements, e.g., the fastest and most accurate team wins, students can leave the class once they completed the task.

An essential element to push for and maintain a high energy level, competition is a good motivator for an individual to strive for the better.
Co-creation
A video had to be produced on the spot at the end of each class, showing how the solved the problem.
Learning by teaching is encouraged; students can have solid take-aways and a sense of satisfaction when leaving the classroom.
"Just enjoy that learning and don't care about the marks," one of the CCST9003 students said in the video interview done after the last classwork activity. Perhaps this is great testimony that all the hard work of Ricky and his team paid off at the end.
The Common Core continued to be a sandbox of experimentation of new pedagogies. This semester, Mr. Matthew Pryor is also flipping his CCHU9001 Designs on the Future: Sustainability of the Built Environment.
Last but not least, feel the beat of CCST 9003 through this video.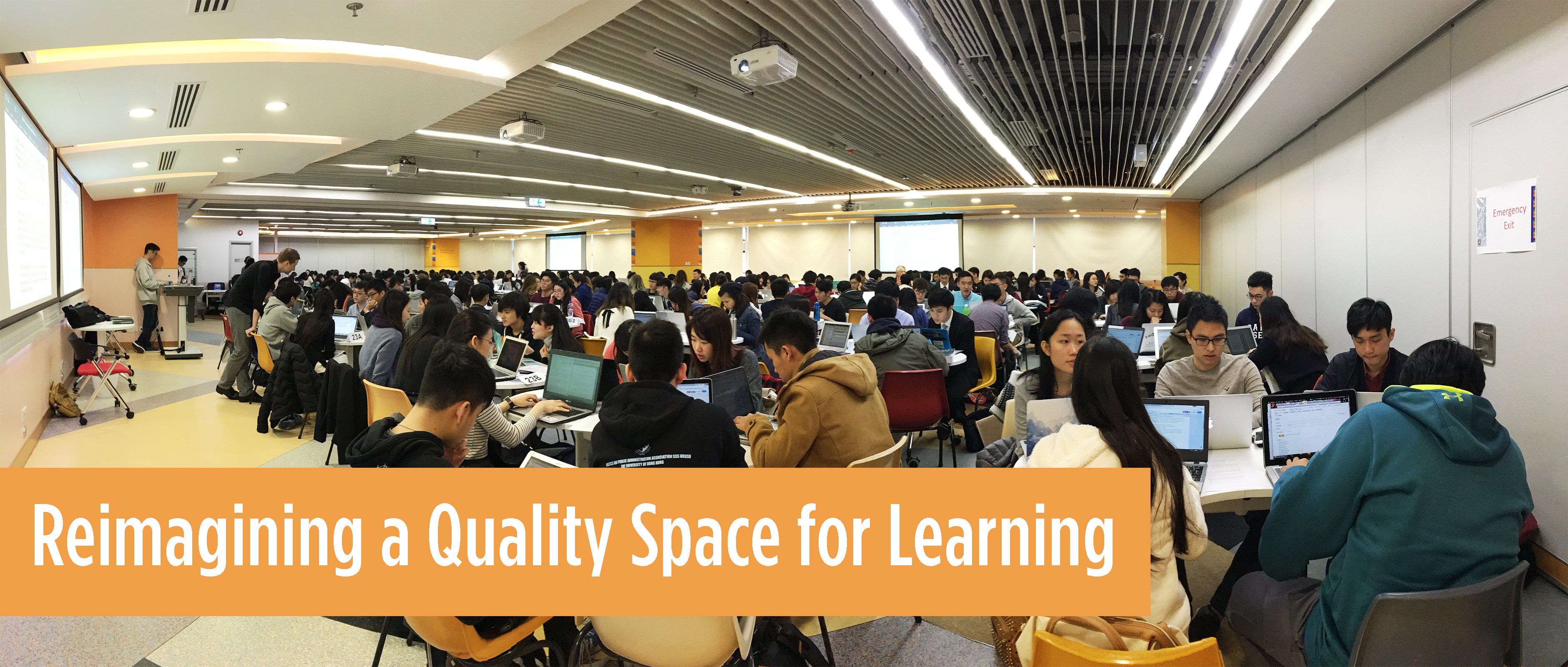 TELI recently worked with The Libraries to turn Level 3 of the Main Library a quality space for conducting the Tort Law flipped class. Student feedback was largely positive, commending Level 3 as an ideal place for interactive learning. Learn more about the success story here (extracted from FOCUS, The University of Hong Kong Libraries, Feb 2017).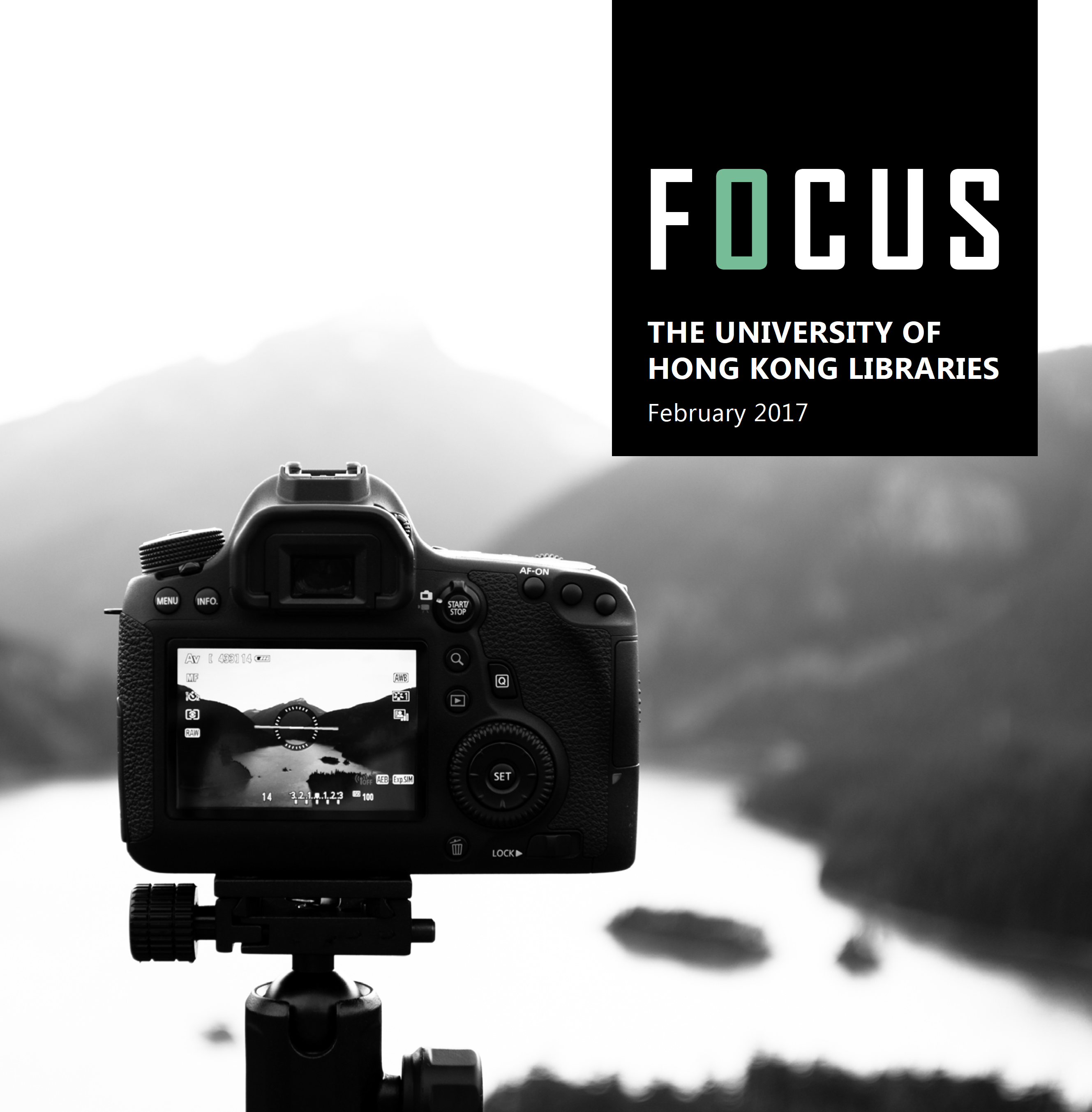 TELI looks forward to envisioning the use of space for teaching and learning with the Libraries and other members of the University. Please get in touch via enquiry@teli.hku.hk if you want to start a conversation.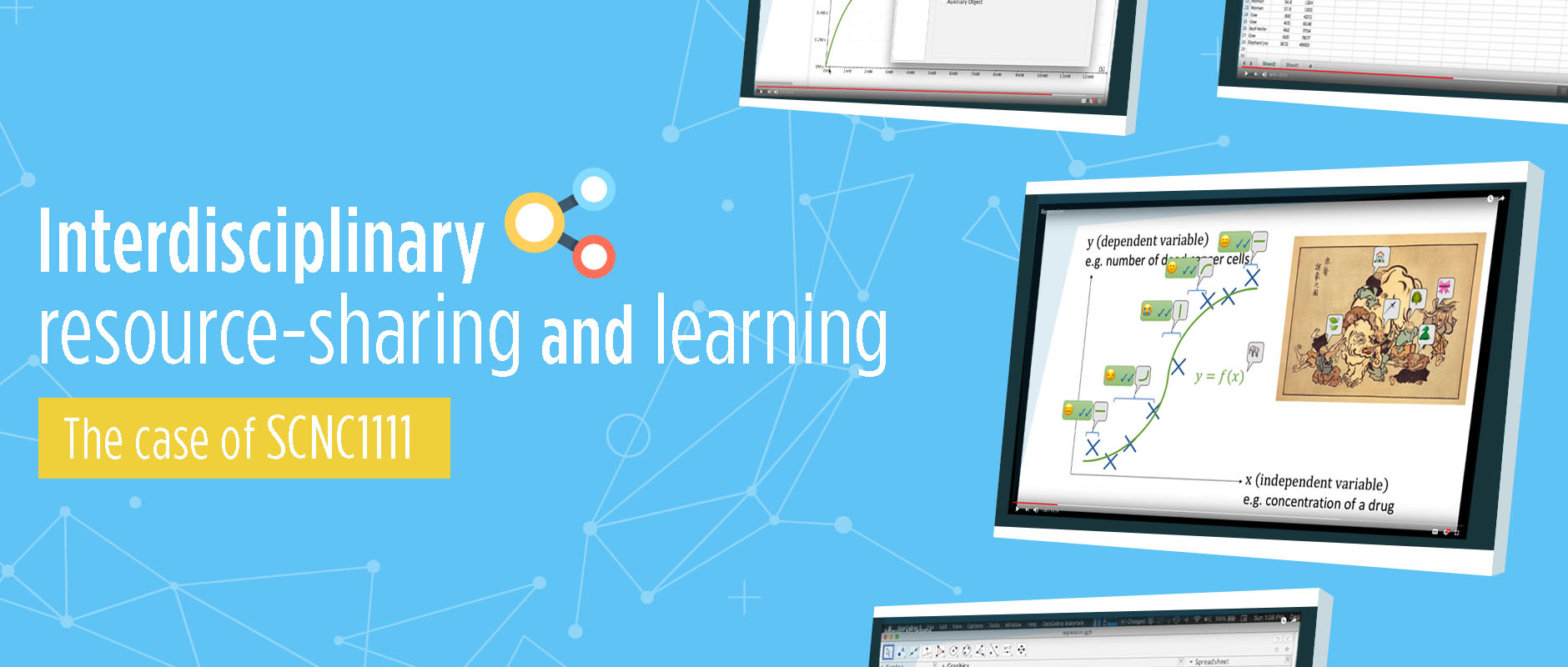 Have you been in situations where your students lack knowledge on how to present and analyze data but your course contents are so packed that there's no extra time to teach or elaborate further on how to use statistical tools? Yet, data analysis skills should not be overlooked, as it plays an important role across many disciplines.
The case of SCNC1111
The Science Foundation Course SCNC1111 Scientific Method and Reasoning encountered this situation. As part of their group project, the students of SCNC1111 have to make their own investigations into how Mathematics and Statistics can be or have been applied to daily life and scientific inquiry. Over the past years, the teaching team observed that while most students were good at data collection, some of them seemed to be at a loss on what to do with the data: What can the data help us to do?
Seeing that some students lack proper training in handling, interpreting or analyzing data, the SCNC1111 teaching team found it essential to fill the gap:
"As there is not enough time to cover all these in class time, [we] took the initiative to produce videos to introduce data analysis in a convenient and low-cost way. The animations in the videos can help to vividly illustrate the concerned points, and the University can keep a database of resources for students to use at their convenience." – Dr. Eddy Lam, Dr. Rachel Lui and Dr. William Cheung, SCNC1111 Course instructors
As a result, several useful and efficient instructional videos have been developed on how to use free online resources to plot nice graphs and do basic statistical analysis. Students' skills and learning experience can both be enhanced. With the hope to incorporate students into the process of teaching, the SCNC1111 teaching team has previously recruited senior undergraduates as Senior Tutors for the course and one of the Senior Tutors, Mr. Dag Wong, was in charge of the video production. The team believes that "students can be our resourceful partner in developing high quality teaching materials and videos."
Interdisciplinary resource-sharing
These videos can prove to be useful not only in science, but also in different disciplines such as economics, psychology, engineering, sociology, to name a few. In the long run, such productions can initiate synergy among different faculties in developing and sharing educational resources in common areas of inquiry. As students are expected to learn a wide spectrum of skills, creation and utilization of interdisciplinary materials will be highly beneficial.
Here are some typical data analysis questions asked by students across the campus, to which the SCNC1111 team has responded through the videos. Please feel free to share these links with your students!
What if I have an equation and I simply want to plot a nice-looking graph?
What if I have gathered some data and I wonder if there is any relationship between them?
How does regression work?
How does linear regression work with excel?
Let this be a start to knowledge sharing across disciplines!
Contact us if you are interested to learn more.