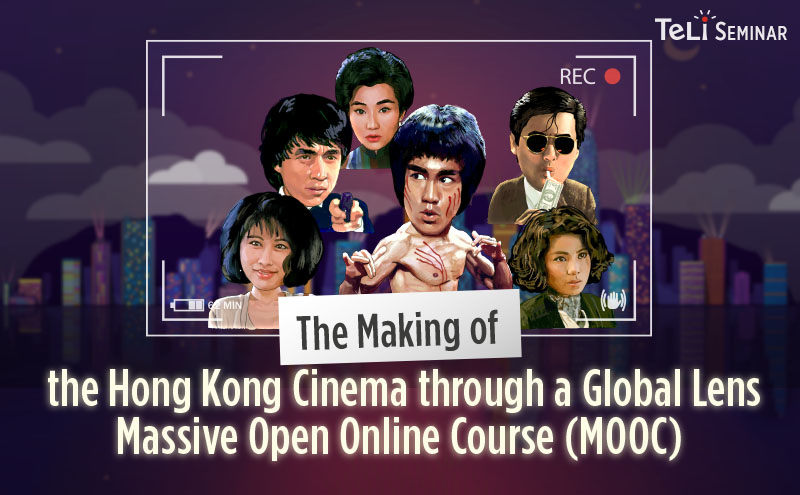 "In this case, it's not just Hong Kong films, but I'm hoping that people will have a better appreciation of processes of globalization and all of the ways in which globalization changes our lives in a dramatic way, and Hong Kong film is one example of that." – Profession Gina Marchetti at a public talk.

Hong Kong Cinema Through a Global Lens, as the title suggests, is about cinema. To answer the call, the teaching team, Professor Gina Marchetti, Dr. Aaron Magnan-Park and Dr. Stacilee Ford, moved our classroom to the Broadway Cinematheque in Yau Me Tei on February 4, 2017 to reach cinema goers, because movie "is a very important part of the cultural life of Hong Kong," Gina remarked.
Given the wide variety of audience involved in a MOOC, it's never easy to decide on what to include and what not. So the course team asked themselves two questions: What are people genuinely interested in around the world? And what is extremely significant but people may not be so interested in? The answers helped them to construct a learning environment that allows people to reflect on what they already know as well as expand their horizons.
Among our audience were many International Baccalaureate (IB) students who are particularly interested in Wong Kar Wai's In the Mood for Love. In the Q&A section, one student asked, "What do you think was the director's intent when filming the film?" While Gina explained that she cannot get into any director's head, she was pretty sure that "Wong Kar Wai had Cannes on his mind." But more importantly, Aaron reminded students who are studying films that "your interpretation based on your insights on the film is in some ways more important that what the director intended to do."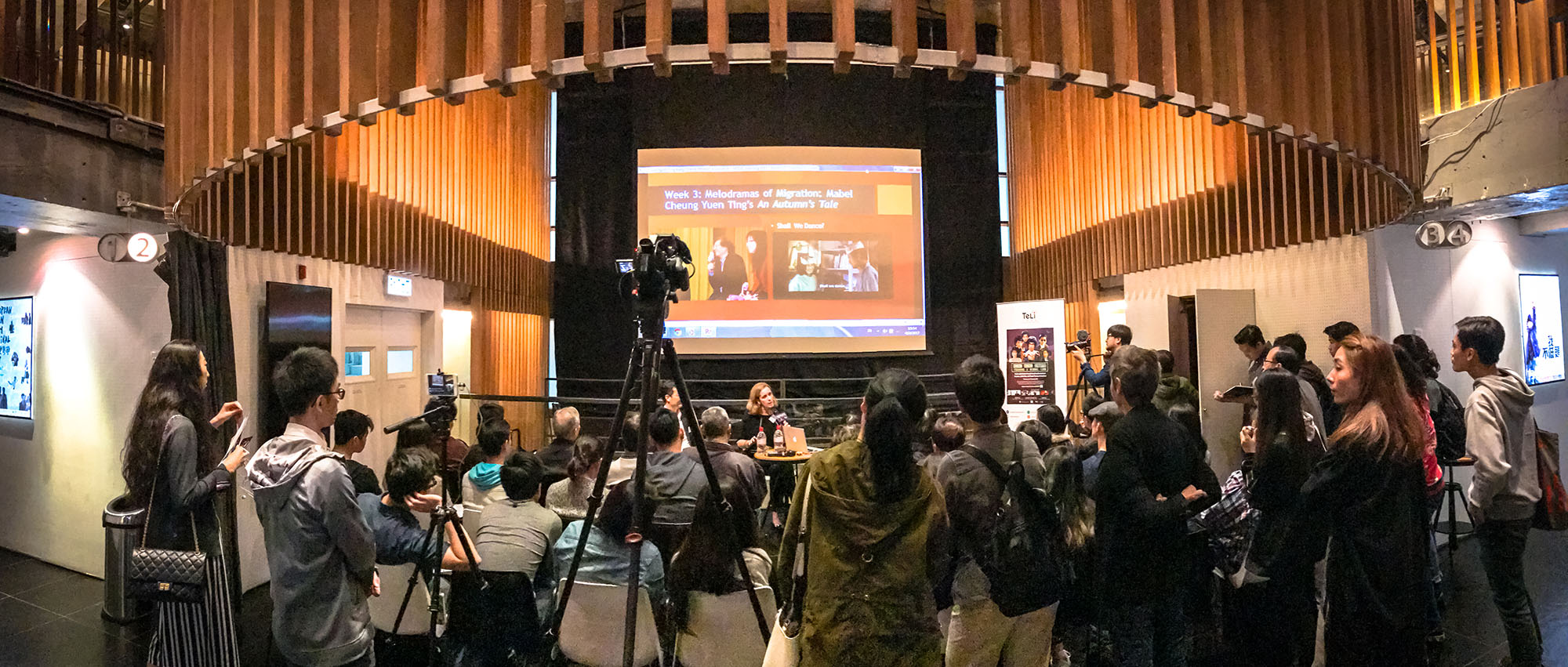 We were joined by an audience of over 40.
Given that MOOCs are open to all and free of charge, one of the audience members wondered where the funding comes from. It was a wonderful occasion to let the public know that MOOCs are now an important initiative for all universities. Many of them, including this course, are funded by the university because, as Gina put it, "it's part of our educational mission to do researches that are significant to the public, and to make it available to the public."
So what does the course team want to tell everybody via this MOOC? In short……
Week 1: Jackie Chan
"Pushing the boundaries of what was going on in world cinema at that time, pushing the boundary of what people were conceiving in terms of action in the Hollywood."
Week 2: Bruce Lee and the Global Kung Fu Craze
"Shattering the image of China as the sick man of Asia" and "creating an image of a successful and popular Chinese masculinity that broke away from Confucian tradition of just being the brainy smart guy."
Week 3: Melodramas of Migrations: Mabel Cheung Yuen Ting's An Autumn's Tale
Busts all the Hollywood stereotypes that still exist today – "the ways in which often times Chinese men are ignored, or feminized, or seen as only about Kung Fu; The ways in which women are seen as exotic, or available, or passive, or dragon ladies."
Week 4: John Woo's Heroic Bloodshed Films: Hong Kong vs. Hollywood
The Killer as a contract to John Woo's Hollywood movies reflects that Confucian Brotherhood as a core concept is replaced with American selfhood when John Woo moves on to the Hollywood.
Week 5: Hong Kong on Postmodern Screens: Infernal Affairs
The movie relates to "certain aspects of global society in terms of consumerism, technology, different aspects of identity, split identities, changes in Hong Kong, allegorical changes relating to politics."
Week 6: Hong Kong Cinema as World Cinema / In the Mood for Love
Its strong emphasis on Room 2046 expresses the fear of returning to China in the 1997 handover. Yet, the movie is a lot more than just about the handover. "If Wong Kar Wai made films only about 1997 in Hong Kong, he wouldn't be at Cannes."
Missed the seminar? No worries. Sign up for the course here to learn more or have a look at the event photos here.
Click here if you cannot access Youtube

The world-class quality Implant Dentistry MOOC will be launching its re-run on 28 February 2017! During its first run in October 2016, over 7000 learners from 50+ countries enrolled. Launched by the HKU Faculty of Dentistry, ranked No.1 in the world in 2016, this MOOC is the 1st of the world in Implant Dentistry, offering an important supplement for dental professionals, practitioners and students.
Why study an Implant Dentistry MOOC?
According to the chief course instructor, Dr Niko Mattheos,
"Implant Dentistry is one of the most dynamic and rapidly developing areas within oral health care, but is still a rather new discipline in dental education and is not quite often taught in undergraduate dentistry curricula."
This MOOC, led by Dr. Mattheos, is taught by a stellar dream-team of almost 20 international experts in dental implants and reconstructions. Each week offers specialized knowledge and evidence-based practices for learners to engage with.
What are the contents covered in the course?
The MOOC includes 5 modules and runs over a period of 5 weeks. We will begin the journey of Implant Dentistry by exploring how discoveries in biology and technological developments lead to the current practice of dental implants. Then, we will examine clinical cases, diagnose our patients' needs and expectations and learn the principles of treatment planning. We will learn step-by-step surgical procedures for placing implants and various restorative techniques, directed by current evidence and best practices. Finally, we will investigate major threats and complications of implant procedures and ways to ensure successful treatments and long serving implants.
International Impact
The first run created ripples of impacts to international communities, at not only universities and dental schools, but professional communities alike. Passionate learners in the Arabic community even formed a Facebook group, with over 900 members, where members shared notes with peers and translated the materials to Arabic. We also had a large proportion of Chinese learners, as professional organizations in mainland China spread our MOOC.
This impact continues even after the end of the first run – where there are currently three volunteer groups translating the entire course into Chinese (supplementary materials), Russian and Arabic.
Seminars and Events
Colgate seminar on peri-implant tissues in health and disease (October 2016)
Community event in Bangkok (November 2016), conducted by two of the instructors, Dr. Chatchai Kunavisarut, Mahidol University, and Dr. Nikos Mattheos
The event was broadcast through Facebook live: Part 1, Part 2, Part 3, Part 4
Learner Feedback
Here are some testimonies from the learners: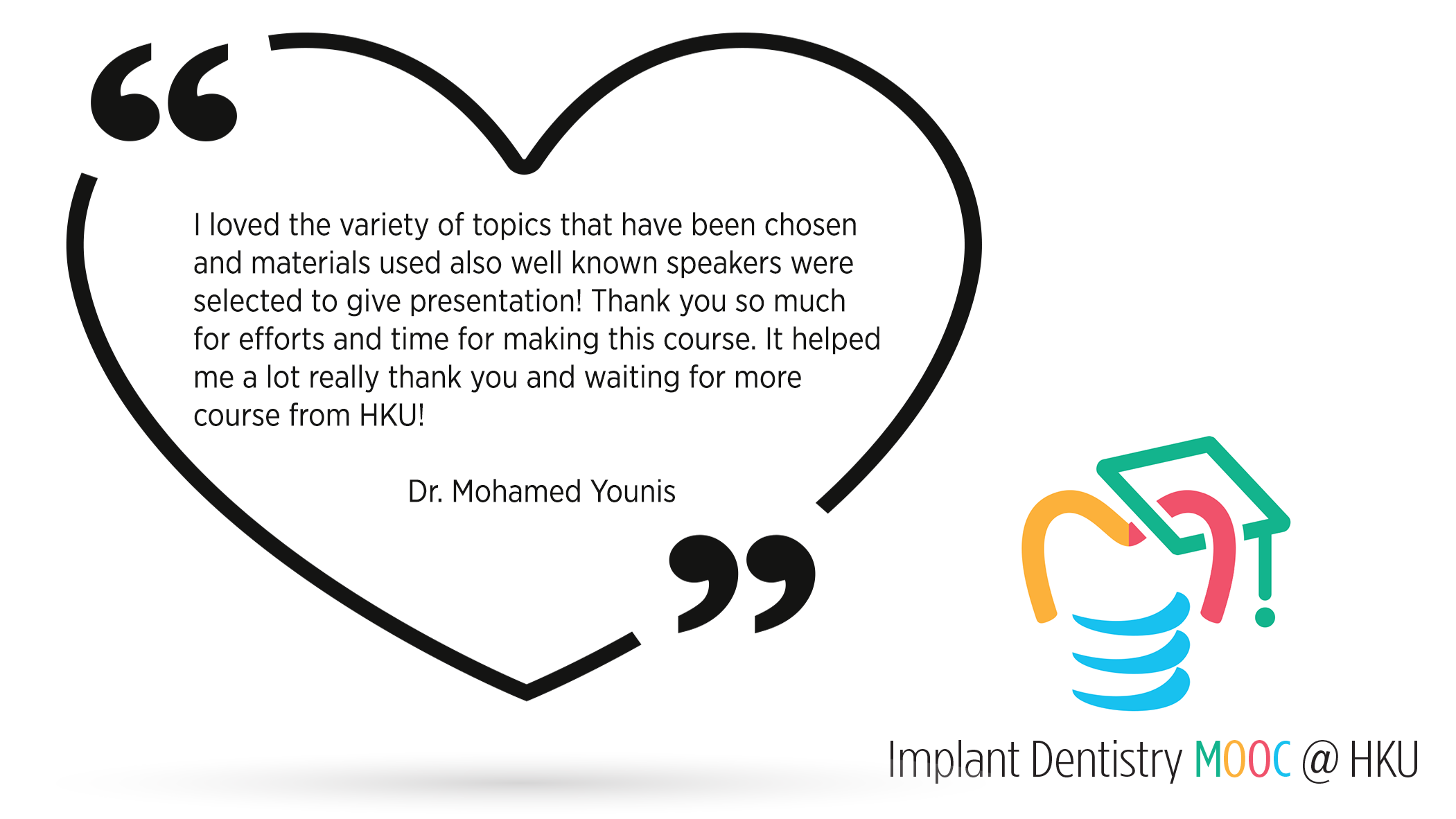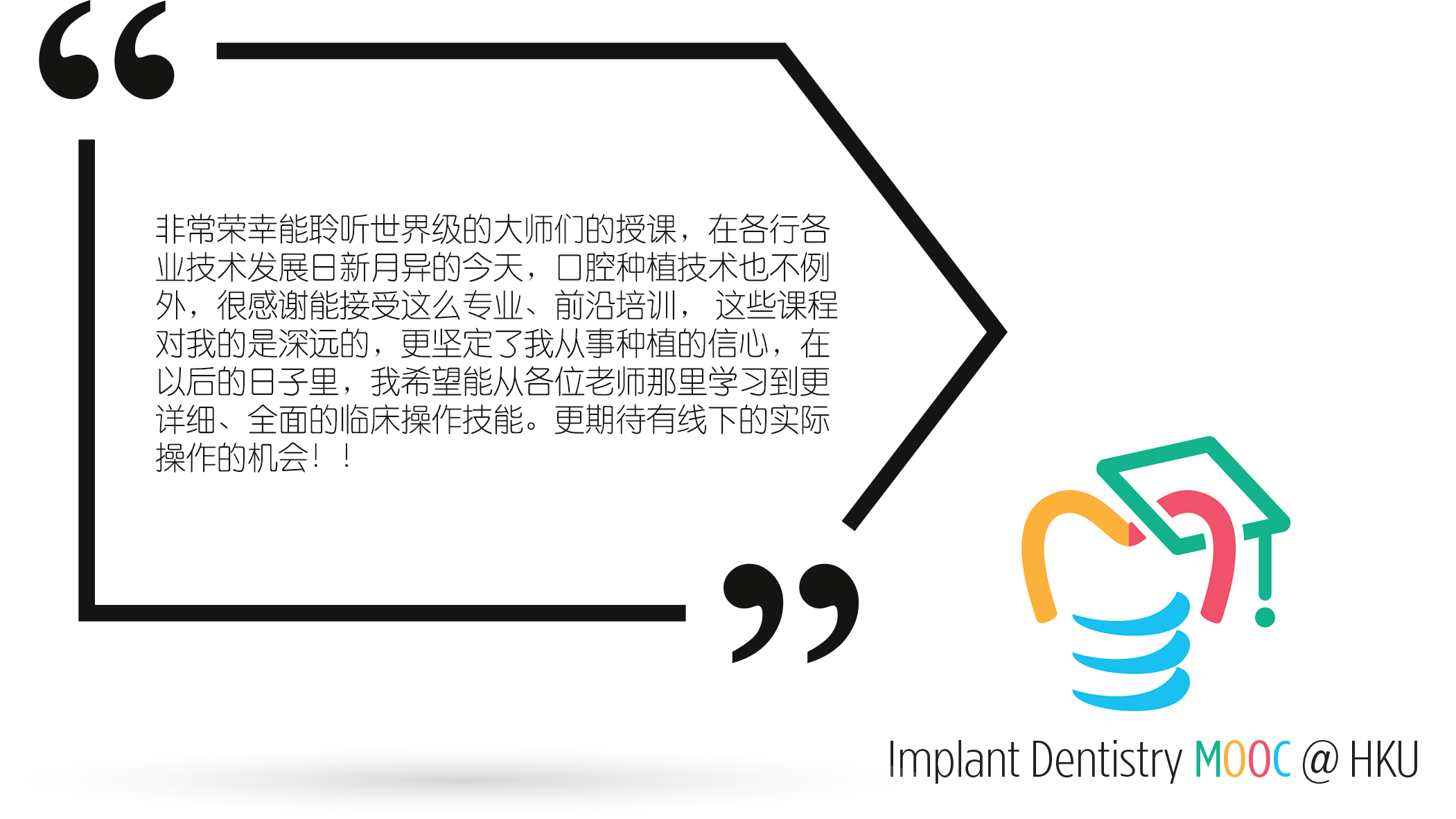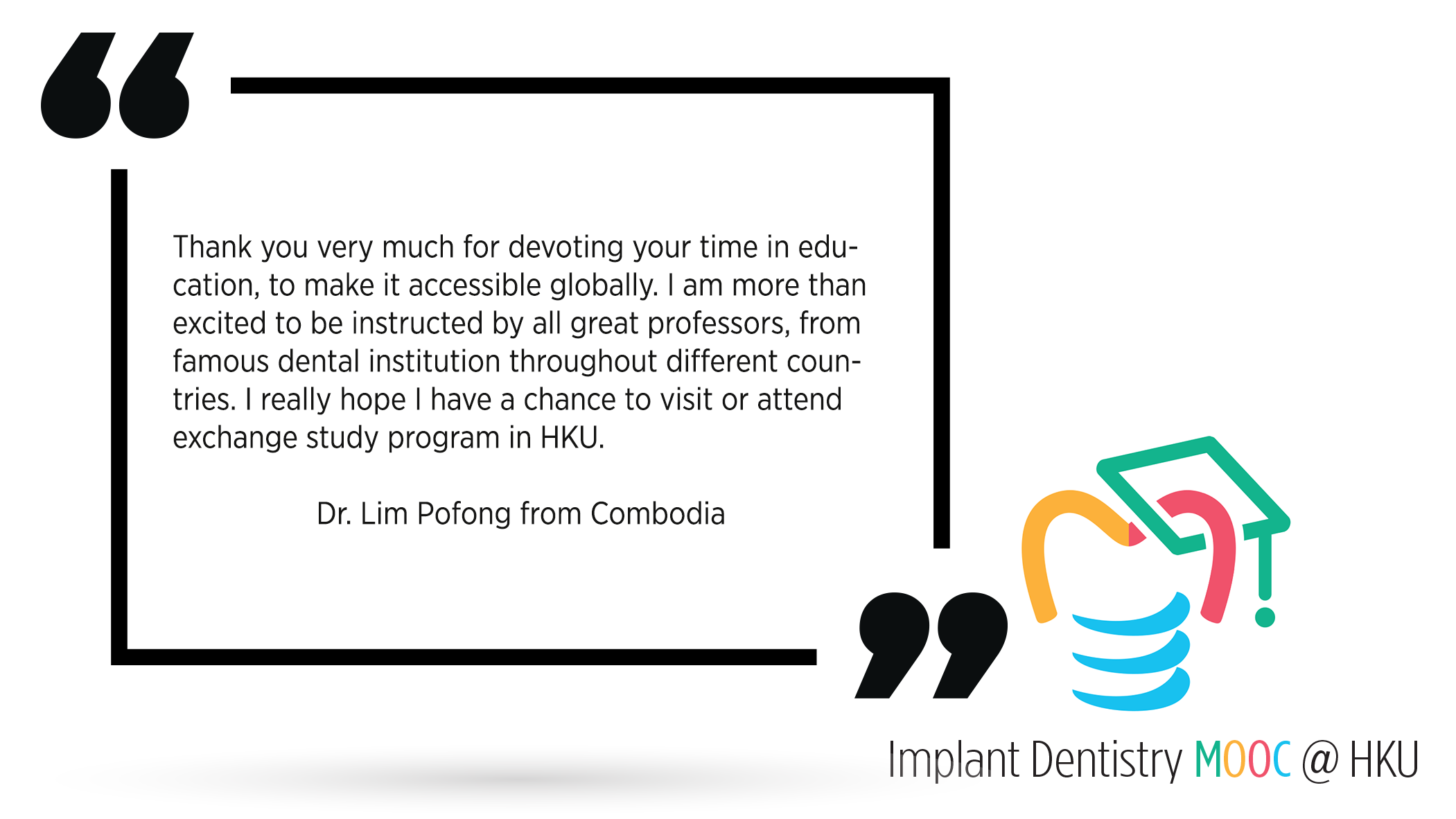 Listen to our students and find out how they like our course!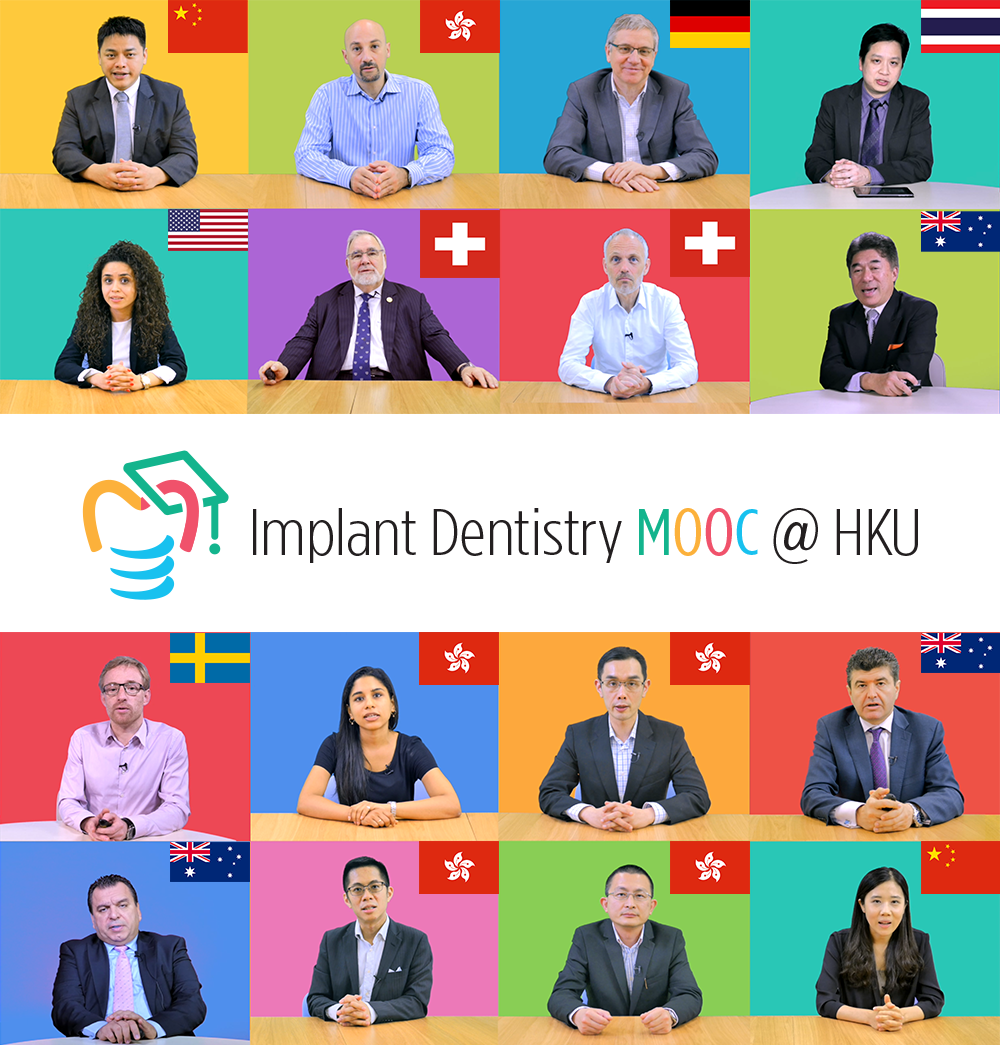 Sneak Previews
Below are some teasers of what you may expect in the course:
| | | |
| --- | --- | --- |
| How to become an Implant dentist | Minimally Invasive Surgery | Micro Surgery Instruments |
| The 3 main pathways | Suture Techniques | Implant Supported Provisional Restorations |
Register today to experience world-class Implant Dentistry education! Re-run begins on 28 February 2017.
Follow us on Facebook and Twitter to get the latest updates!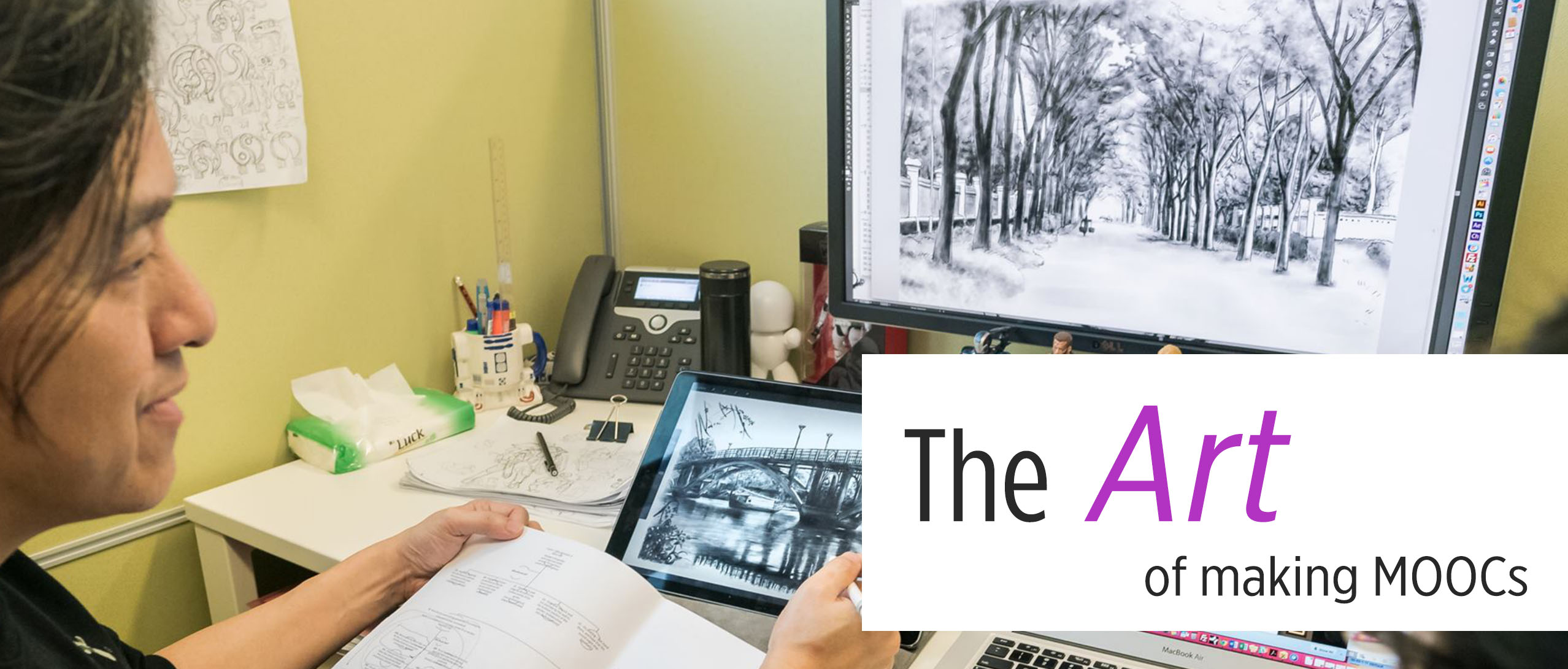 Among your five senses, what triggers your learning the most?
You and I will probably agree that visuals would be a popular answer.
Artwork, or visual aids, are most definitely a key component of learning. When creating online content that reaches learners of different cultures, visuals speak a thousand words and can boost the learning experience. Good visuals make learning simple and direct.
Let's take making a MOOC as an example. From small course logos to big posters, short trailers to illustrations in videos, we strive to take care of every artistic detail to create the most enjoyable learning experience. Our in-house artist, Ray, is here to share with you the artistic journey of crafting MOOCs.
The first rule of drawing for MOOCs is to ensure the accuracy of the illustrations, says Ray. "Always remember that you are drawing for an academic purpose, which is different from leisure drawing." Academic drawings are more than just decorations. Students learn from these visual aids consciously or subconsciously.
For instance, take a look at this course logo designed by Ray for our Dinosaur Ecosystems MOOC.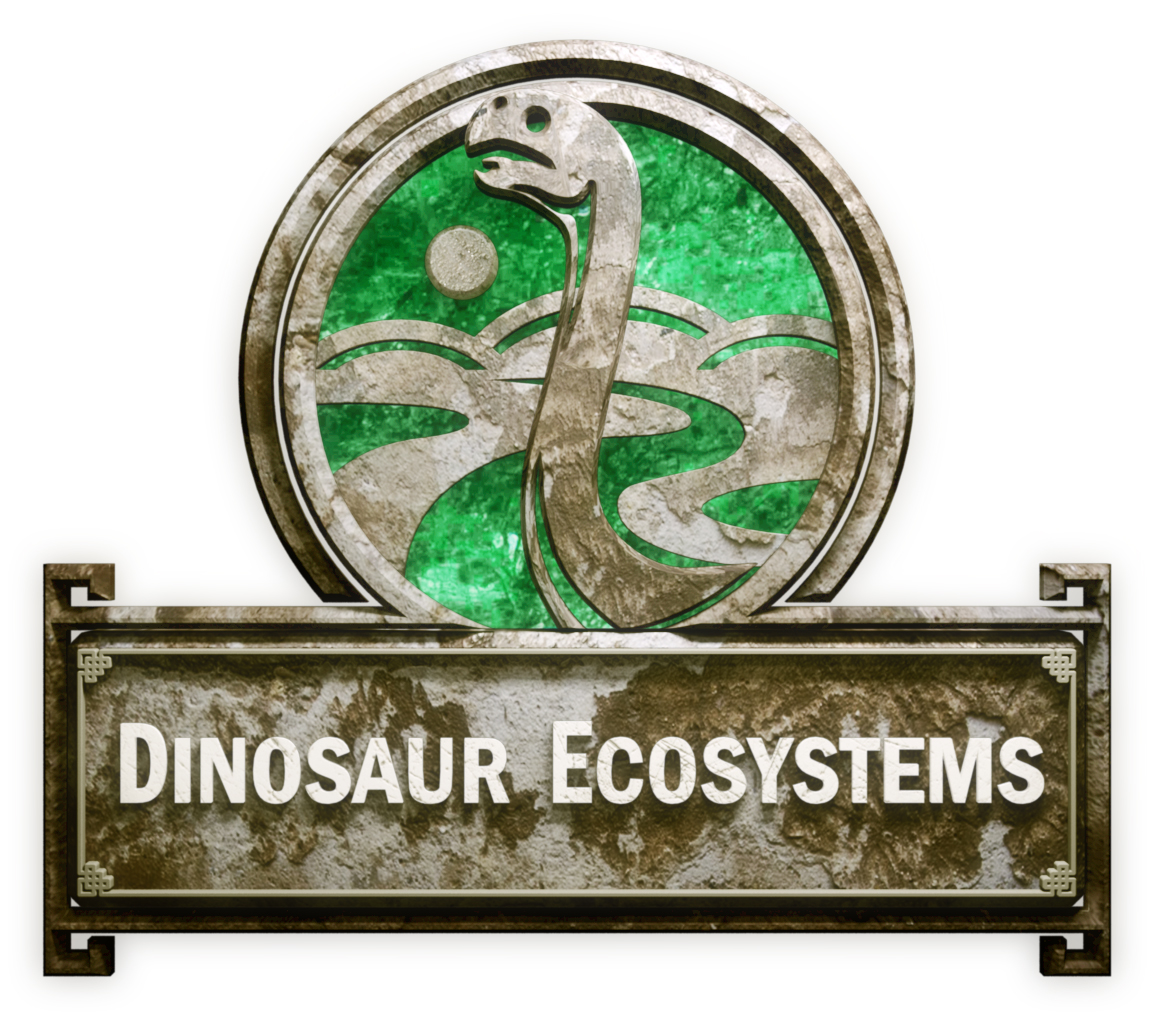 It may appear as an easily drawn dinosaur, yet in fact, the design went through several rounds of modifications as the dinosaur neck in the original design did not align with archaeological findings. Sometimes the artist may have to negotiate with the course instructor so as to strike the right balance between visual appeal and accuracy. As MOOCs serve a global audience, artists may sometimes need to use examples and visual elements that speak a common message to learners of different cultures as much as they can.
For example, take a look at the illustrations below, can you tell what it is portraying and which MOOC it was used in? What would be your choice:
or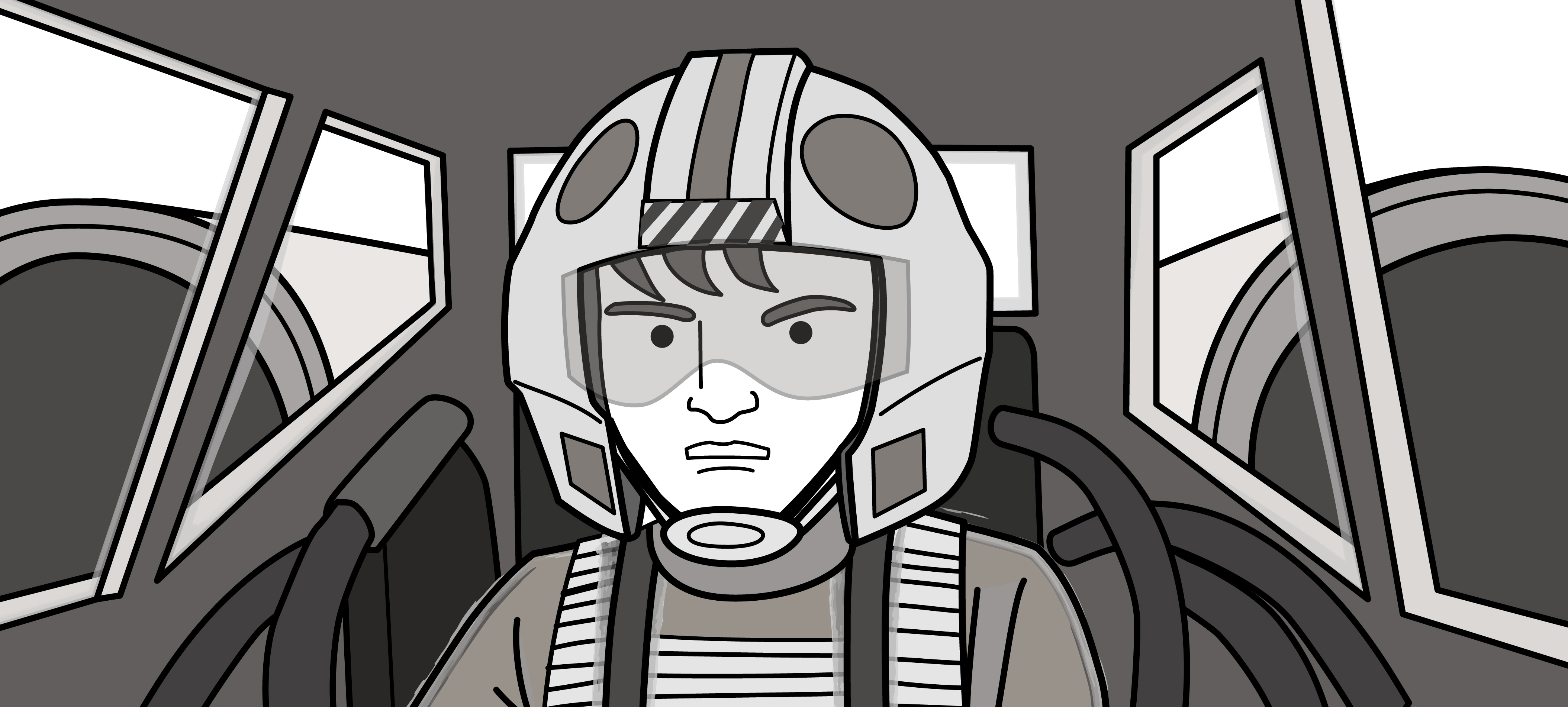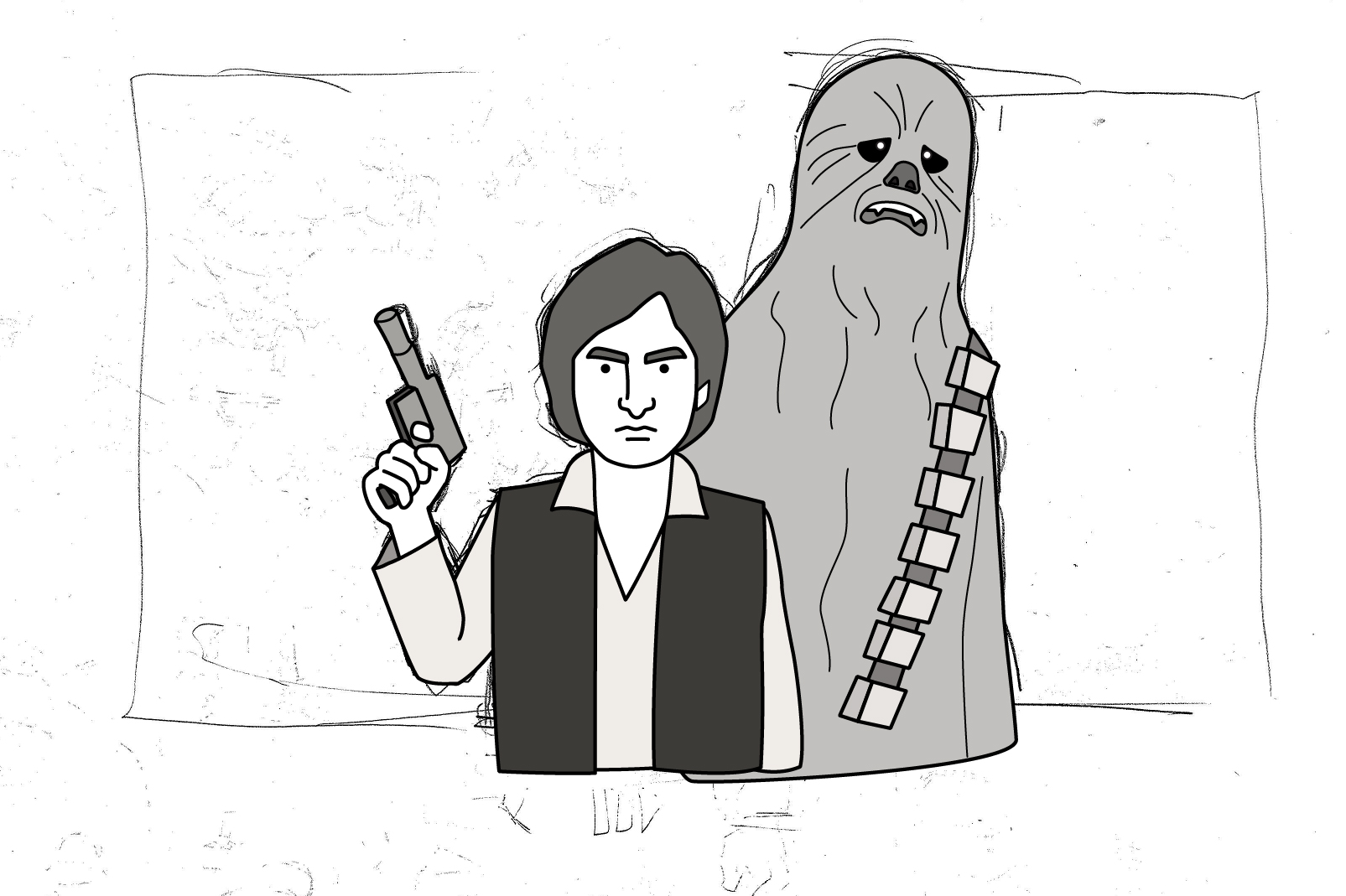 The correct answer is Humanity and Nature in Chinese Thought! Ray and the course team chose Star Wars, a worldwide known movie, as an example to illustrate abstract Chinese philosophical concepts to the audience. Did you guess the correct answer?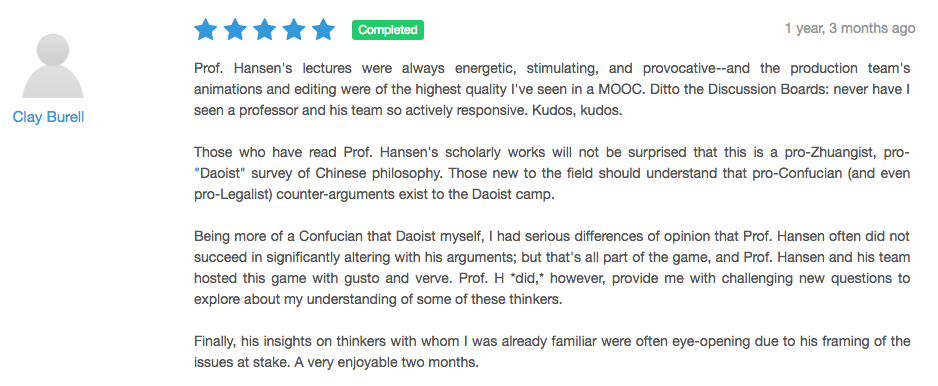 Our students commented positively on Ray's animations.
These are just some examples to illustrate the flexibility and creativity of visual aids that can enhance learners' participation. Thanks to Ray, our elearning journey has been made more colourful!
A glimpse into our artist's working process:
Ray working on the banner of our new MOOC Hong Kong Cinema through a Global Lens.
You can now purchase Ray's design at HKU Visitor Centre.