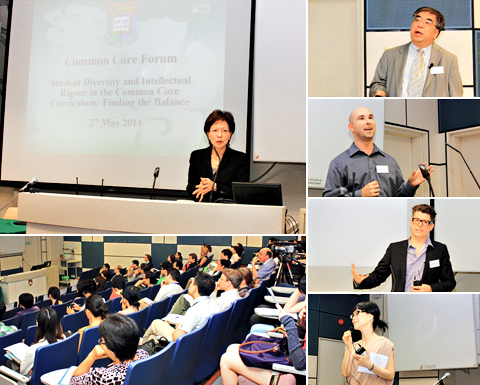 Following two successful forums held in May and December 2010, a new Common Core Forum has been held on May 27, 2011 for teachers and tutors to share experiences and discuss issues arising from teaching and assessing Common Core courses. The overall aim of this forum is to explore the challenge of maintaining academic rigour in the Common Core Curriculum while teaching large and diverse groups of students. Approximately 80 participants, including over 70 teachers and tutors plus some students, attended the event.
Professor Amy B.M. Tsui, Pro-Vice-Chancellor (Teaching and Learning), opened the forum and thanked all teachers and tutors for their great efforts in teaching Common Core courses. Having observed a number of Common Core lectures in the past semester, Prof Tsui told the audience how impressed she was with the delivery of those courses and the alignment exhibited between the Common Core goals and the University's six educational aims.
The forum consisted of a review presented by Mr Gwyn Edwards, Director of Common Core Curriculum, and four sharing sessions presented by Common Core teachers representing the four Areas of Inquiry. In Mr Edwards' review, 2010-2011 Student Evaluation of Teaching and Learning (SETL) scores and qualitative comments were presented. Overall, improvements in the SETL scores of Common Core courses from semester 1 to semester 2 are very encouraging.
In the sharing sessions, exemplar courses from all four Areas of Inquiry were presented and participants were eager to share their views at the end of each session. To access presentation slides used at the sessions, please click the links below.