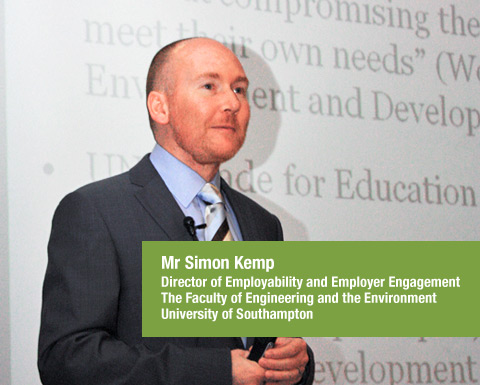 The Steering Committee on 4-Year Undergraduate Curriculum and the Centre for the Enhancement of Teaching and Learning (CETL) jointly organized a seminar entitled "Embedding Experiential Learning into the Curriculum and Linking to Extra-Curricular Activities" on Oct 24, 2011. Mr Simon Kemp, Director of Employability and Employer Engagement from the Faculty of Engineering and the Environment, University of Southampton, was invited as the speaker.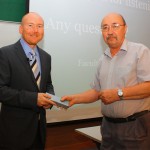 At the seminar Mr Kemp defined the meanings of experiential learning, employability and education for sustainable development in universities. It is pointed out that most employers find 1) the ability to work well in a team, 2) the ability to adapt to new situations, 3) communication skills, and 4) work experience to be the important attributes of graduates. In order for experiential learning to be effective, learners must be actively involved, they must reflect on the experience, apply their analytical skills to conceptualize the experience, and use new ideas gained from the experience. Quoting the examples of experiential learning activities in the University of Southampton, Mr Kemp highlighted the beneficial outcomes for graduates, institutions, employers and the society, though there may be possible barriers that need to be paid attention to, such as lack of resources, professional accreditation, and risk of ruining well established contacts.
Click here to see the presentation
About the Speaker

Mr Simon Kemp is the Director of Employability and Employer Engagement, Faculty of Engineering and the Environment, University of Southampton where he has worked since 1996. He has been recognised as an innovator in pedagogical theory and case study practice through the award of a National Teaching Fellowship from the UK's Higher Education Academy. His teaching and research interests lie in Environmental Management Systems (EMS), Carbon Footprinting, Environmental Law, Waste Management, and Education for Sustainable Development. He has coordinated over a hundred sustainability projects with industrial partners for teaching and assessment projects in sectors such as construction and demolition, retail, freight handling, energy, waste, and health care taking some to ISO14001:2004. One of his main current projects is leading the University of Southampton in a national 'Green Academy' project to embed sustainability across the institution.