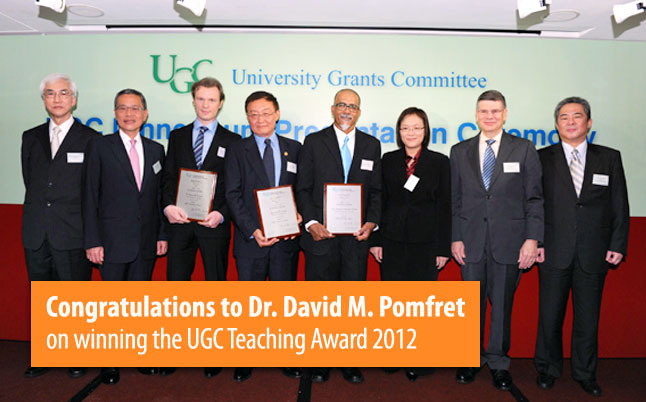 Dr. David M. Pomfret, Associate Professor of the Faculty of Arts, was honored with the University Grants Committee (UGC) Teaching Award 2012. He received the award in recognition of his outstanding teaching performance and achievements, as well as his leadership in and scholarly contribution to teaching and learning.
Since joining the University in 2001, Dr. Pomfret has distinguished himself as a teacher, a pioneer and a leader within HKU, and beyond. The depth of Dr. Pomfret's engagement with students and reflections on their learning processes, the thoroughness with which he choreographs his teaching, the tirelessness with which he pursues perfection, and his remarkable record of sustained teaching excellence mark him as a highly unusual, talented and charismatic teacher. Dr. Pomfret was awarded the University's Outstanding Teaching Award in 2010.
Our colleagues have been honoured with the Award in two consecutive years since its inception. This is clear evidence showing the excellent quality of teaching and learning at the University.
[bsbutton size="large" style="default" icon="icon-play" iconcolor="black" text="Read on" link="https://tl.hku.hk/staff/ugc-teaching-award/ugc-2012-david-pomfret/" target="This page"]