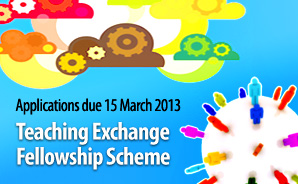 Applications are invited for the Teaching Exchange Fellowship Scheme, which was introduced by the Teaching and Learning Quality Committee in 2010-11.
Objectives
The Scheme aims to enhance the scholarship of teaching at the University through enabling academic staff members to share experience and to collaborate on teaching and curriculum development initiatives at reputable universities where excellent pedagogical practices or curriculum innovation are being implemented, and to facilitate reciprocal visits to the University by academic staff of these institutions. The Scheme is a measure also to ensure that our curriculum and pedagogy are benchmarked against international best practice.
Eligibility
All full-time teaching staff with a minimum of two years of service at the University are eligible to apply.
Deadline for Application
Interested colleagues are encouraged to attend the CETL Teaching Exchange Fellowship Scheme Workshop at January 25, 2013, which will provide an overview of the Scheme and advice on the preparation of the application. All applications and supporting documents should reach Ms. Synthia Chau, Secretary of the Teaching and Learning Quality Committee (c/o Academic Development and Quality Assurance Section of Registry) on or before March 15, 2013. Enquires may be directed to Ms. Synthia Chau at 2859 2440 or via email to schau@hku.hk.
Applicants will be notified of the results in April/May 2013.
For more details, please read the circular below.
Announcement circular from the Chairman of TLQC (document 139/1112) (HKU Portal login required)
Teaching Exchange Fellowship Scheme Workshop
Organized by Centre for the Enhancement of Teaching and Learning
Facilitator: Dr. Gayle Morris, CETL, The University of Hong Kong
Date: 25 Jan, 2013 (Fri)
Time: 1.00pm – 2.00pm
Venue: Room 321, Run Run Shaw Building
Abstract
This workshop provides an overview of "Teaching Exchange Fellowship Scheme." This workshop is open to all teaching staff who are interested in finding out more about the Teaching Exchange Fellowship Scheme. Staff will be provided an overview of the scheme, the key objectives, eligibility and advice in preparing an application. Staff who are thinking about applying in the next round are strongly encouraged to attend. Staff who are not sure, or would simply like to know more about the scheme, are most welcome.
For registration, please contact:
Ms Ivy Lai , CETL Phone: 3917 8996; Email: laichun2@hku.hk.