Learn more and Download the Presentation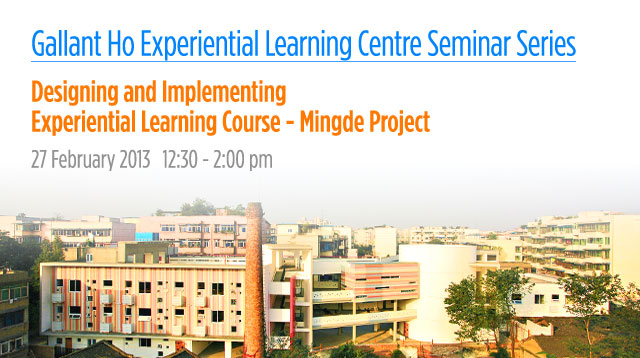 Message from Gallant Ho Experiential Learning Centre
The GHELC seminar series offers faculty members valuable information on experiential learning, providing fundamentals of various key components of experiential learning, its practice and implementation. Through these seminars, the benefits for faculty members will be: intellectual stimulation; developing working relationships, especially interdisciplinary relationships; building a greater sense of intellectual community; learning new teaching and research methods; and learning about new opportunities.
The first seminar will be held with the following details:
Title: Designing and Implementing Experiential Learning Course – Mingde Project
Date: 27 February 2013 (Wednesday)
Time: 12:30 p.m. – 2:00 p.m.
Venue: Run Run Shaw Room321, The University of Hong Kong
Speaker: Professor L. G. Tham (Associate Dean, Faculty of Engineering, HKU)
Abstract
Basic principles of experiential learning will be reviewed and perspectives on experiential learning experiences from faculty, students, and community partners will be provided. Speaker will also share his experience in setting up experiential learning courses and the specific challenges and rewards of experiential learning
About the Speaker
Professor George Tham is the Associate Dean (Teaching and Learning) of the Faculty of Engineering at the University of Hong Kong. He is also a member of the Senate, Academic Board, Curriculum Development Committee, Steering Committee on 4-Year Undergraduate Curriculum. His interests cover foundation engineering, rock engineering, slope engineering and engineering education. His outstanding achievement in teaching has been recognized in the field and he has been awarded the University Distinguished Teaching Award (Team Award) for the Mingde Projects.
Learn more about the GHELC seminar series at Gallant Ho Experiential Learning Centre
Registration: http://hkuems1.hku.hk/hkuems/ec_hdetail.aspx?guest=Y&ueid=21564
For enquiries, please email to Gallant Ho Experiential Learning Centre at ghelc@hku.hk