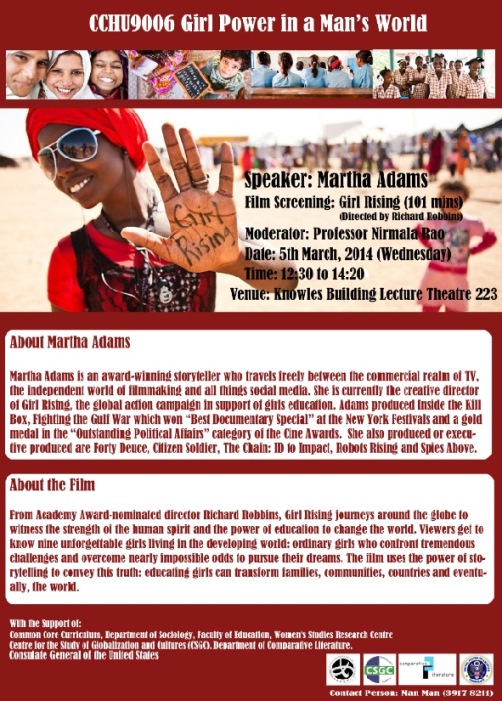 Speaker: Martha Adams
Moderator: Professor Nirmala Rao
Date: 5th March, 2014 (Wednesday)
Time: 12:30 to 14:20
Venue: Knowles Building Lecture Theatre 223
About Martha Adams
Martha Adams is an award-winning storyteller who travels freely between the commercial realm of TV, the independent world of filmmaking and all things social media. She is currently the creative director of Girl Rising, the global action campaign in support of girls education. Adams produced Inside the Kill Box, Fighting the Gulf War which won Best Documentary Special?at the New York Festivals and a gold medal in the Outstanding Political Affairs?category of the Cine Awards. She also produced or executive produced are Forty Deuce, Citizen Soldier, The Chain: ID to Impact, Robots Rising and Spies Above.
About the Film
From Academy Award-nominated director Richard Robbins, Girl Rising journeys around the globe to witness the strength of the human spirit and the power of education to change the world. Viewers get to know nine unforgettable girls living in the developing world: ordinary girls who confront tremendous challenges and overcome nearly impossible odds to pursue their dreams. The film uses the power of storytelling to convey this truth: educating girls can transform families, communities, countries and eventually, the world.
With the Support of:
Centre for the Study of Globalization and Cultures (CSGC)
Common Core Curriculum
Consulate General of United States
Department of Comparative Literature
Department of Sociology
Faculty of Education
Women's Studies Research Centre
Contact Person: Man Man (39178211)