Message from School of Modern Languages and Cultures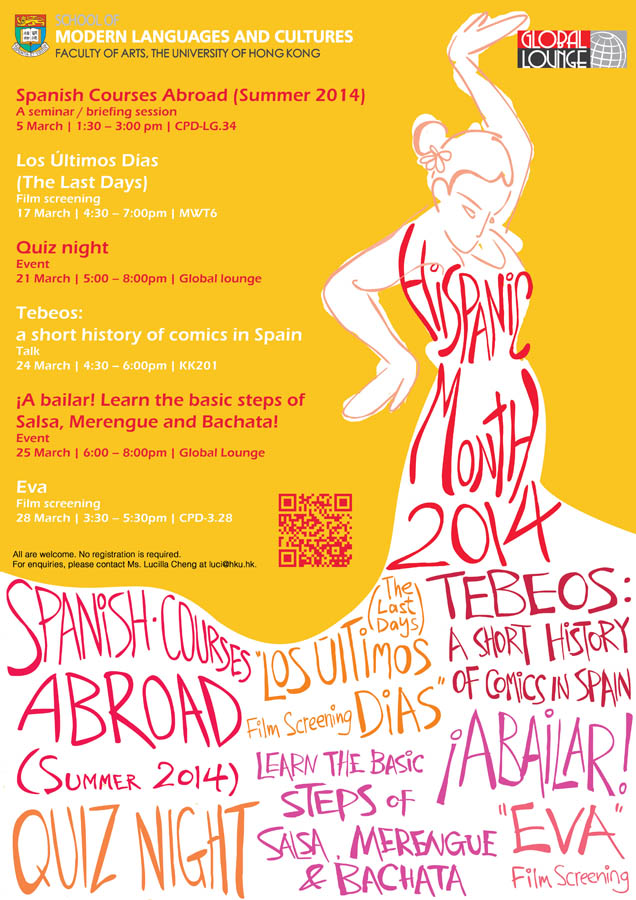 Hispanic Month 2014
"Spanish Courses Abroad (Summer 2014)"
A seminar / briefing session
5 March, 1:30 – 3:00 pm
CPD-LG.34, Centennial Campus, HKU
This seminar is aimed mainly at students of Year II Spanish courses who are thinking about travelling to Spain in the summer for an intensive course. In the seminar we will look at general information about travelling to Spain, choosing a location, a course and other information of interest. The seminar will also serve to inform students about procedures to apply for The Consulate of Spain Award for 2014.
Screening: Los Últimos Días (The Last Days)
Film screening
17 March, 4:30 – 7:00pm
MWT6, Ming Wah Complex
Title: Los Últimos Días (The Last Days)
Directors: David & Alex Pastor
Country: Spain
Synopsis: A mysterious epidemic spreads across the planet. Humanity develops an irrational fear of open spaces that causes instant death. Soon, the world population is trapped inside buildings. As Barcelona descends into chaos, Marc sets off on a quest to find Julia, his missing girlfriend, without ever going outside.
PG-13
Quiz night
Event
21 March, 5:00 – 8:00pm
Global lounge
Do you know anything about the Hispanic World? Would you like to win a prize? If so, come to our Quiz Night in the Global Lounge, a competition which will put to the test your knowledge about the 21 countries which have Spanish as their mother tongue. Teams of 3 participants will have to answer questions about language, culture, customs, dances, festivals, etc. of Spanish-speaking countries. Places are limited.
"Tebeos: a short history of comics in Spain"
Talk
24 March, 4:30 – 6:00pm
KK201, K. K. Leung Building
The evolution of tebeos (Spanish for 'comics') seems similar, on the surface, to the one in many other Western countries: they first appeared as social satires in the late 19th century newspapers; they became an immensely popular, and populist, media in the mid 20th century (a period, however, in which they tended to be despised as infantile and disposable entertainment); and they came to be regarded a minority art form by the early 21st century. However, in a closer look, the history of comics in Spain reveals many particularities that reflect the radical changes that the Spanish society has gone through in the XX Century. In his presentation, Martin Juaristi will provide a general overview of this history, focusing on the particularities that make Spanish tebeos something a unique as French BD, American comics or Japanese manga.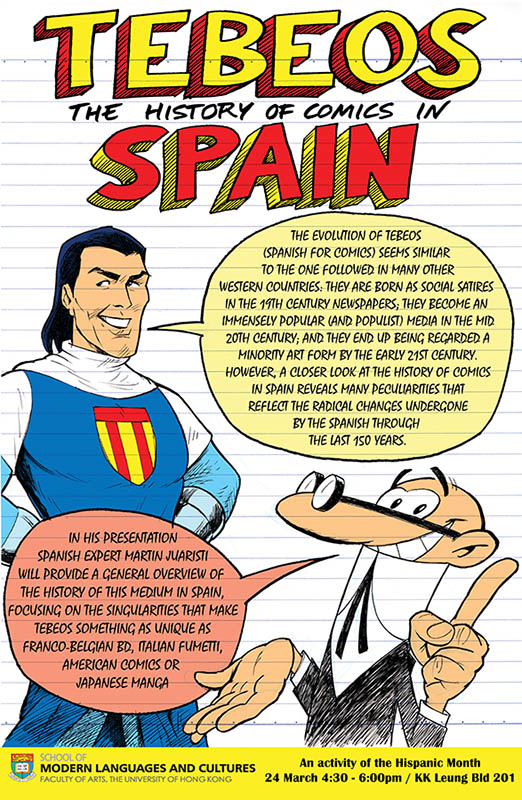 "¡A bailar! Learn the basic steps of Salsa, Merengue and Bachata!"
Event
March 25th, 6:00 – 8:00pm
Global Lounge
The Spanish-speaking world is well-known for its music and dances, which have become famous around the world. For all those budding dancers who would like to try their hand at some Latin American rhythms here is their chance. Come to this workshop and learn the basic steps of three of the most famous dances: Salsa, Merengue and Bachata. After you learn the steps we'll put your skills into practice with some dancing. We will also have some Spanish snacks and sangría.
Screening: Eva
Film screening
28 March, 3:30 – 5:30pm
CPD-3.28, Centennial Campus, HKU
Title: Eva
Director: Kike Maíllo
Country: Spain
Synopsis: Álex, a renowned cybernetic engineer, returns to Santa Irene to create a child robot for his former University. During his ten–year absence, life has moved on for his brother David and for Lana, who married David after Álex's departure. Álex's routine is altered in an unexpected way by Eva, Lana and David's charismatic daughter, with whom he has a special connection from the moment they meet. They ultimately set out on a journey together, which will bring them to a revelatory end.
Suitable for all ages