Message from Department of Comparative Literature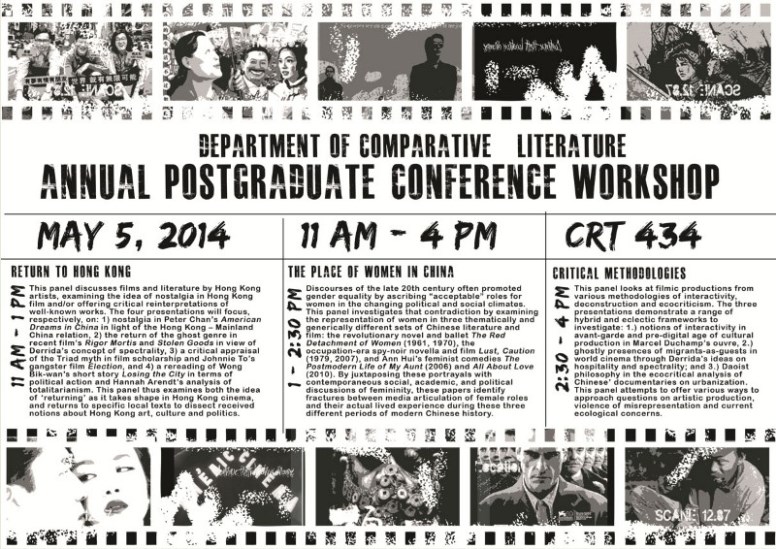 On Tue, Apr 29, 2014 at 3:42 PM, Piocos, Monteza Carlos III wrote:
The Research Postgraduates of Comparative Literature invites you to the:
First Annual Postgraduate Conference/Workshop
May 5, 2014
11 am – 4 pm
CRT 434
Return to Hong Kong (11-1 PM)
This panel discusses films and literature by Hong Kong artists, examining the idea of nostalgia in Hong Kong film and/or offering critical reinterpretations of well-known works. The four presentations will focus, respectively, on: 1) nostalgia in Peter Chan's American Dreams in China in light of the Hong Kong – Mainland China relation, 2) the return of the ghost genre in recent film's Rigor Mortis and Stolen Goods in view of Derrida's concept of spectrality, 3) a critical appraisal of the Triad myth in film scholarship and Johnnie To's gangster film Election, and 4) a rereading of Wong Bik-wan's short story "Losing the City" in terms of political action and Hannah Arendt's analysis of totalitarianism. This panel thus examines both the idea of 'returning' as it takes shape in Hong Kong cinema, and returns to specific local texts to dissect received notions about Hong Kong art, culture and politics.
The Place of Women in Modern China (1 – 2:30 PM)
Discourses of the late 20th century often promoted gender equality by ascribing "acceptable" roles for women in the changing political and social climates. This panel investigates that contradiction by examining the representation of women in three thematically and generically different sets of Chinese literature and film: the revolutionary novel and ballet The Red Detachment of Women (1961, 1970), the occupation-era spy-noir novella and film Lust, Caution (1979, 2007), and Ann Hui's feminist comedies The Postmodern Life of My Aunt (2006) andAll About Love (2010). By juxtaposing these portrayals with contemporaneous social, academic, and political discussions of femininity, these papers identify fractures between media articulation of female roles and their actual lived experience during these three different periods of modern Chinese history.
Critical Methodologies (2:30 – 4 PM)
This panel looks at filmic productions from various methodologies of interactivity, deconstruction and ecocriticism. The three presentations demonstrate a range of hybrid and eclectic frameworks to investigate: 1.) notions of interactivity in avant-garde and pre-digital age of cultural production in Marcel Duchamp's ouvre, 2.) ghostly presences of migrants-as-guests in world cinema through Derrida's ideas on hospitality and spectrality; and 3.) Daoist philosophy in the ecocritical analysis of Chinese' documentaries on urbanization. This panel attempts to offer various ways to approach questions on artistic production, violence of misrepresentation and current ecological concerns.
ALL ARE WELCOME