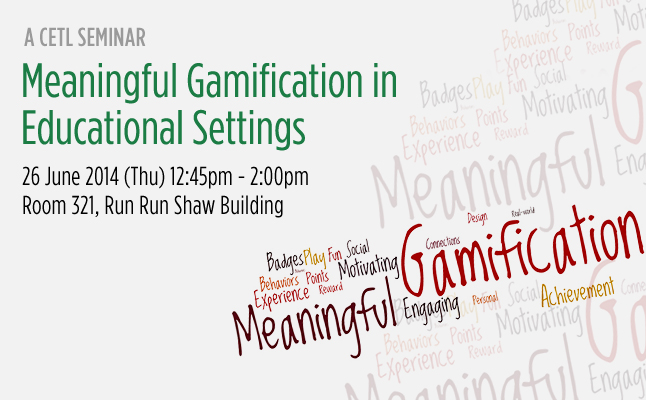 Speakers
Dr Jingli Cheng (Instructional Designer, CETL, HKU)
Dr Timothy Hew (Associate Professor, Faculty of Education, HKU)
Date: 26 June, 2014 (Thursday)
Time: 12:45pm – 2:00pm[Sandwiches will be served with coffee and tea.] Venue: Room 321, Run Run Shaw Building
Abstract
Meaningful gamification (Nicholson, 2012) aims to use game elements to provide external rewards but also help users find deeper connection to an underlying topic or issue in a non-game context. This seminar will explore implications of meaningful gamification for educational settings by discussing the theoretical background and examining a few practical examples. The goal is to introduce the notion of meaningful gamification to HKU educators so as to help broaden the range of tools they can employ to further enhance their teaching practice.
About the Speakers
Dr Jingli Cheng has extensive experience applying instructional design theories and best practices in various organizational settings to help learners improve their knowledge and skills. Before joining the HKU's e-learning Pedagogical Support Unit, he worked as Instructional Designer at Stanford University, the Hewlett Packard company and several other organizations in the United States. His research interests include motivation for knowledge sharing in online communities and informal learning in organizational settings.
Dr Timothy Hew is an Associate Professor with the Faculty of Education at HKU. He earned his Bachelor and Master degrees from the Nanyang Technological University in Singapore and his PhD from Indiana University, Bloomington in the USA. His research interests include e-learning and blended learning strategies, and computer-supported interactions. Dr Hew has more than 10 years teaching experience involving e-learning environments in Singapore and the USA.
For further details and to download the presentation file, please visit: http://www.cetl.hku.hk/seminar140626/
EPSU Website: http://epsu.cetl.hku.hk/26jun2014/
For enquiries, please contact Ms Ivy Lai by email at laichun2@hku.hk.