Message from Gallant Ho Experiential Learning Centre
Dr. Scott Sherman's talk: How You Could Change the World – University Students as Agents of Social Transformation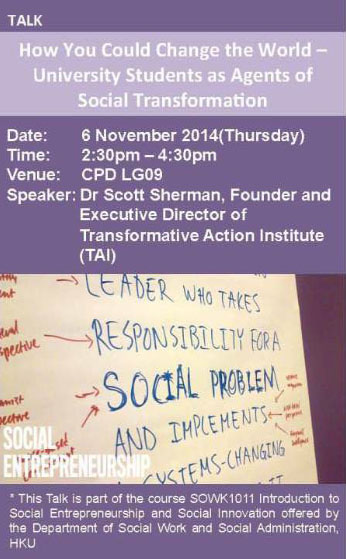 About the Speaker:
Dr. Scott Sherman is the Executive Director of an award-winning social enterprise, the Transformative Action Institute (TAI). The mission of TAI is to train the next generation of social entrepreneurs, innovators, and change makers for the 21st century.
Sherman is an expert on the most effective ways that people succeed in their attempts to change the world – whether working for public health, the environment, or economic prosperity. Over the last decade, Sherman has taught courses on social entrepreneurship and social innovation at numerous universities, including Yale, Princeton, and Johns Hopkins.
In 2005, Sherman won the international Echoing Green competition, which recognized him as one of the world's "best emerging social entrepreneurs." Sherman has also won awards from Ashoka U for excellence and innovation in teaching social entrepreneurship.
Objectives of the Talk:
Enable the audience to appreciate the challenges of the changing world that they will have to serve and lead
Inspire them to equip themselves to become active change agents for a better world
Outline a blueprint for planning and actions
Share the experience and trends in other parts of the world
Contents Outline:
Be Unreasonable: Adapting to the World vs Changing the World
A Vision of Success: Making a Difference vs Making a Living
World Change 2.0 – A Blueprint for Social Transformation
Passion and Actions: Taking the Bold Steps
University Students: A New Generation of Changemakers
Registration:
https://hkuems1.hku.hk/hkuems/ec_hdetail.aspx?ueid=33179
Enquiries:
Ms. Elsie Chien (echien@hku.hk)