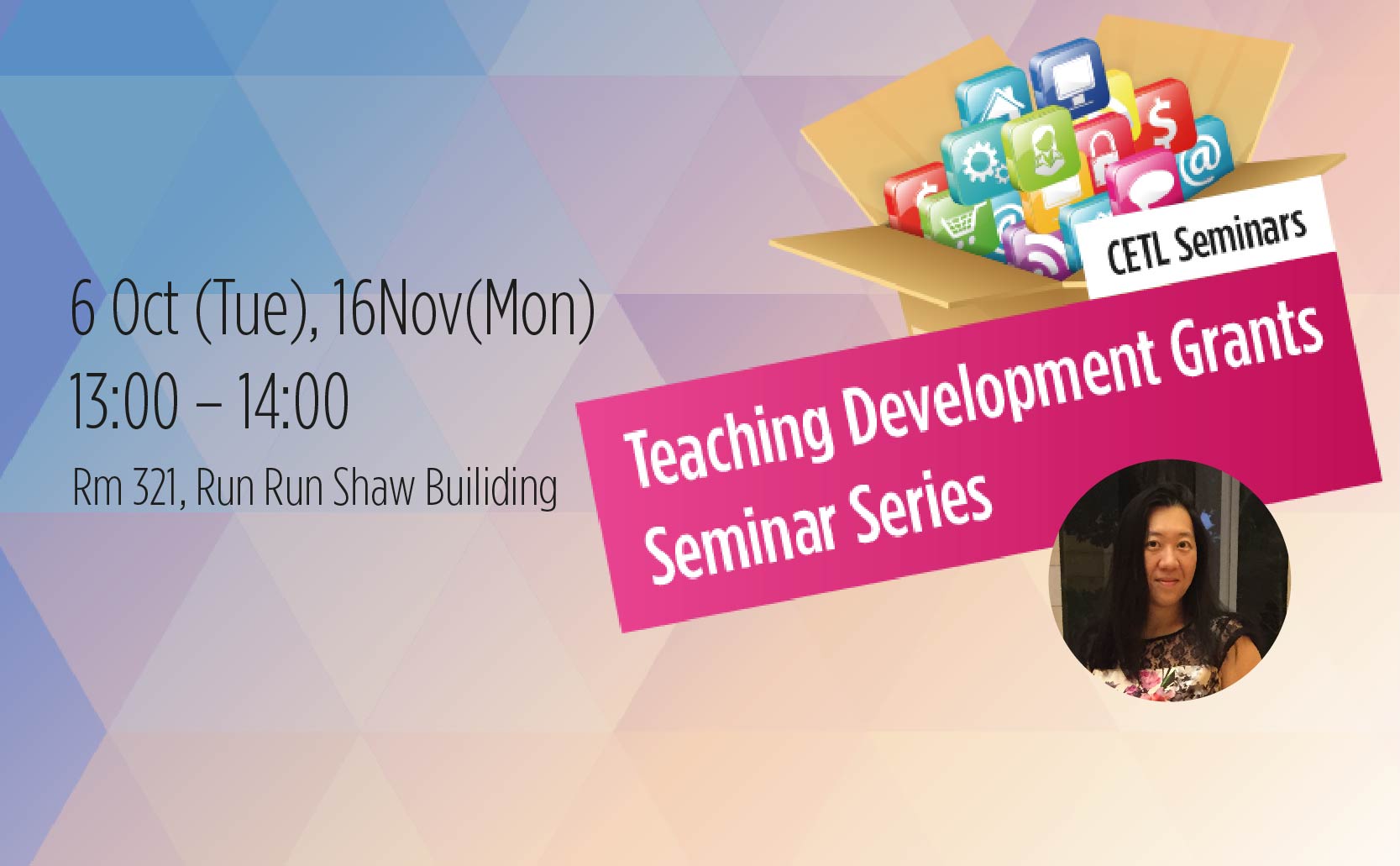 Organized by Centre for the Enhancement of Teaching and Learning (CETL)
Due to a clash with a silent march that will occur on 6 Oct, 2015 in HKU, seminar 1 will be postponed. Sorry for any inconvenience that may have been caused.
Seminar 1: Teaching Development Grants Round-table Discussion
Date : Tuesday, 6 Oct 2015 (1:00 – 2:00)
Time : 13:00-14:00
Venue : Room 321, Run Run Shaw Building
Speakers: Dr Cecilia Chan, Head of Professional Development, Associate Professor, CETL
Professor Gray Kochhar-Lindgren, Director of Common Core Curriculum
Abstract:
This roundtable discussion is open to all teaching staff who are interested in finding out more about the Teaching Development Grants funded by the University. Staff will be provided an overview of the funding scheme, the allocation criteria, priority areas and advice in preparing the application. Teachers will have the opportunities to discuss their ideas and challenges with colleagues, and for those, who are looking for cross-discipline partners or guidance, you are strongly encouraged to attend. Staff who are not sure, or would simply like to know more about the grant, are most welcome.
---
Seminar 2
Date : Monday, 16 Nov 2015 (1:00 – 2:00)
Time : 13:00-14:00
Venue : Room 321, Run Run Shaw Building
Speaker: Dr Chun-kit Chui, Lecturer, Department of Computer Science
1st part: A study on applying the self-learning paradigm in teaching advanced technical courses
Abstract:
Computer science and information technology are two fast evolving fields in the modern world. An undergraduate program in these fields must consist of two key components: (1) a training in the fundamental knowledge of the discipline and (2) a training in self-learning. The latter component is especially important for graduates to adapt to the ever-changing world of technology. This project aims at studying the effect of applying the self-learning paradigm in teaching advanced technical courses in the computer science program. We identify the key differences between a self-learning lab-based method of teaching and the traditional classroom-based method. We study these differences through a controlled experiment in which we teach the same materials to two cohorts of students under the two different modes of study. We systematically collect and analyze student feedback, and compare and contrast student progress under the two teaching schemes. We also study how Moodle can be used to support self-learning courses.
About the speaker:
Dr Chun-kit Chui received his Ph.D. in Computer Science from the University of Hong Kong. He was selected for the Faculty Outstanding Teaching Award (Individual Award) of the Faculty of Engineering in 2012-13. He has also received the Teaching Excellence Award in the Department of Computer Science in 2012-2013 and in 2011-2012, and the Best Tutor Award in 2007-2008, 2008-2009 and 2010-2011.
2nd part: Experiential learning through ultrasonography in undergraduate medical education paradigm
Abstract:
Ultrasound is an emerging tool in the undergraduate medical education to facilitate pre-clinical teaching on anatomy and physiology, and adjunct in clinical skills training. The integration of ultrasonography into undergraduate medical education has been met by constraints in limited curricular time, expensive equipment and cost of having a large number of trained faculty members to conduct such activity. This TDG aim at delivering an e-learning platform on ultrasonography, from the basis of physics to improving the understanding of human anatomy and integration in clinical management. The e-learning resource will supplement the current curriculum, in both vertical and horizontal integrations to make more efficient use of the hands-on workshop and engaging students in active learning.
---
For information on registration, please contact:
Ms Ivy Lai , CETL
Phone: 3917 8996; Email:
Email: laichun2@hku.hk.