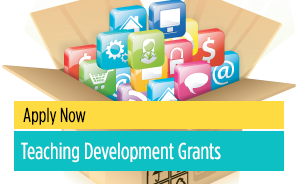 Applications are now invited for the Teaching Development Grants (TDGs). TDGs are intended to support projects and activities that will have an impact on the strategic development and promotion of Teaching and Learning. For priority areas and other details, please refer to Vice-President and Pro-Vice-Chancellor (Teaching and Learning)'s invitation circular dated February 3, 2016 (document 60/216, URL below):
http://intraweb.hku.hk/reserved_2/cdqa/doc/TDGS/TDG_2016/TDG_List_A.pdf
Applications should be submitted to Ms. Synthia Chau, Secretary, Teaching and Learning Quality Committee, c/o Curriculum Development and Quality Assurance Section, Registry. TDG applications will be processed in batches according to the following cut-off dates in 2016:
1st round – Wednesday, April 13, 2016
2nd round – Friday, October 14, 2016
3rd round – Friday, December 30, 2016
Enquiries may be directed to Ms. Chau or Ms. Julie Lau.