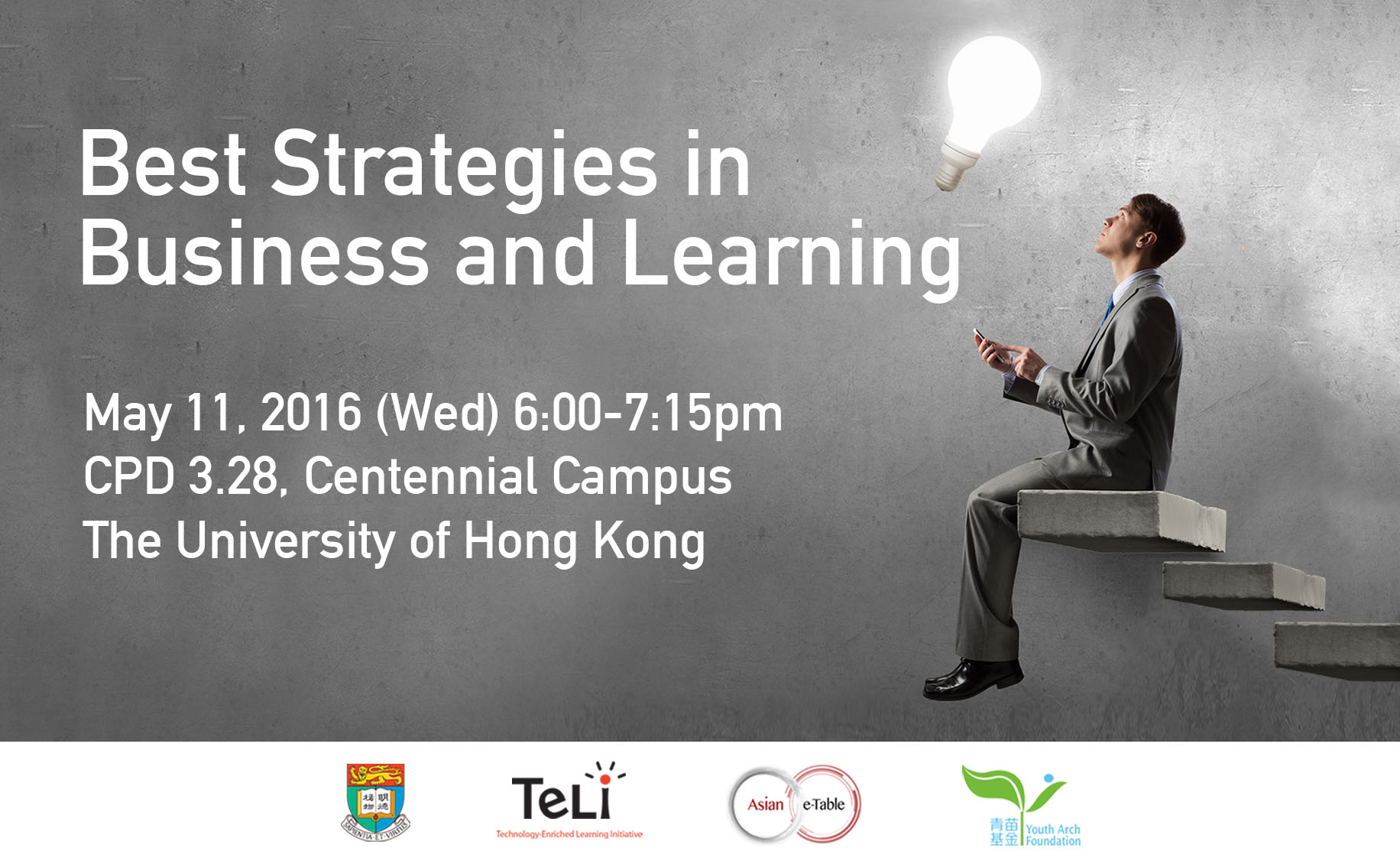 Co-organized by Technology-Enriched Learning Initiative (TELI) and Youth Arch Foundation
Date :
May 11, 2016 (Wednesday)
Time :
6:00pm – 7:15pm
Venue :
CPD 3.28, Centennial Campus, The University of Hong Kong
Speakers :
Mr. William Chan, Co-founder and Managing Director, Visual Squares Ltd
Professor Ricky Kwok, Associate Vice-President (Teaching & Learning), HKU
Mr. Alex Lau, Executive Director, Head of Digital Innovation, Institutional Banking Group, DBS Bank (Hong Kong) Limited
* To be conducted in English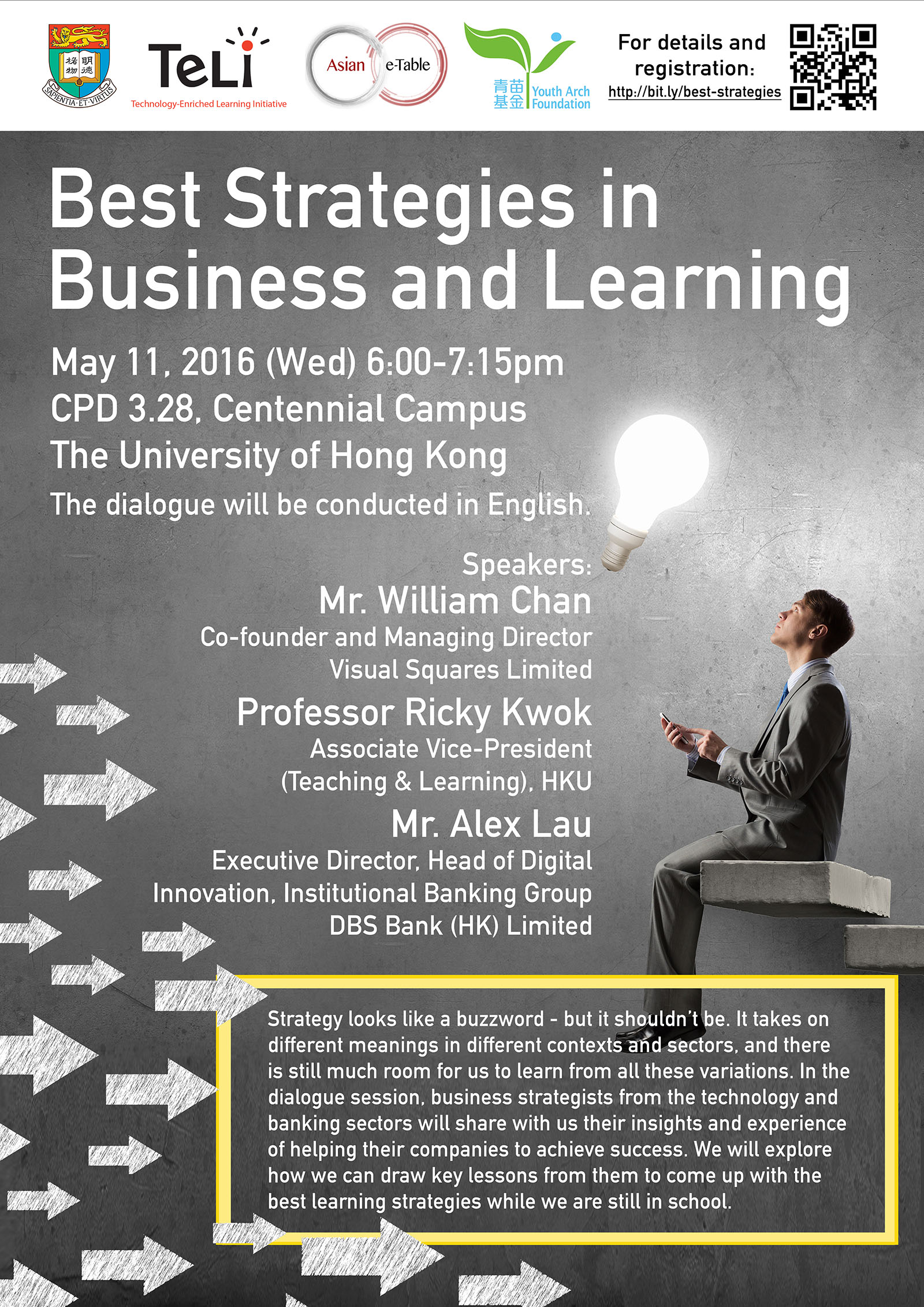 Abstract:
Strategy looks like a buzzword – but it shouldn't be. It takes on different meanings in different contexts and sectors, and there is still much room for us to learn from all these variations. In the dialogue session, business strategists from the technology and banking sectors will share with us their insights and experience of helping their companies to achieve success. We will explore how we can draw key lessons from them to come up with the best learning strategies while we are still in school.
Biographies:
Mr. William Chan is an experienced Internet and software technologist. He is currently the Co-founder and Managing Director of Visual Squares Ltd. He is also appointed as a member of the Enterprise Support Scheme (ESS) Assessment Panel under the Innovation and Technology Fund (ITF). Before returning to Hong Kong, William worked for Google and a Cisco-acquired startup in Silicon Valley for 8 years. William graduated from Stanford University with a B.S. and M.S. in Computer Science and received the Frederick Emmons Terman Engineering Scholastic Award.
Professor Ricky Kwok is Associate Vice-President (Teaching and Learning) at The University of Hong Kong (HKU), assisting the Vice-President and Pro-Vice-Chancellor (Teaching and Learning) in various projects related to e-learning (e.g., MOOCs, blended learning and gamification). Ricky is also Professor in the Electrical and Electronic Engineering Department at HKU. A computer engineer and scientist by training, he is now taking an avid interest in scaling out teaching and scaling up learning. His recent research endeavors are also related to incentive, dependability, and security issues in wireless systems and P2P applications. Ricky is a Fellow of various professional associations in engineering (IEEE, IET, and HKIE).
Mr. Alex Lau has extensive experience in the IT and banking industry. He is now the Head of Digital Innovation of Institutional Banking Group at DBS Bank (Hong Kong) Limited. Alex graduated from the Computer Science Department of Stanford University (BS '96 with distinction, MS '97). Upon graduation, he worked for Oracle Inc. and Motorola Inc. in Silicon Valley before returning to Hong Kong to head the Strategic Planning and E-banking of Dah Sing Bank. In his latest capacity, Alex is driving the digital innovations in SME banking and has captured 3 external awards for the Bank in 2015.