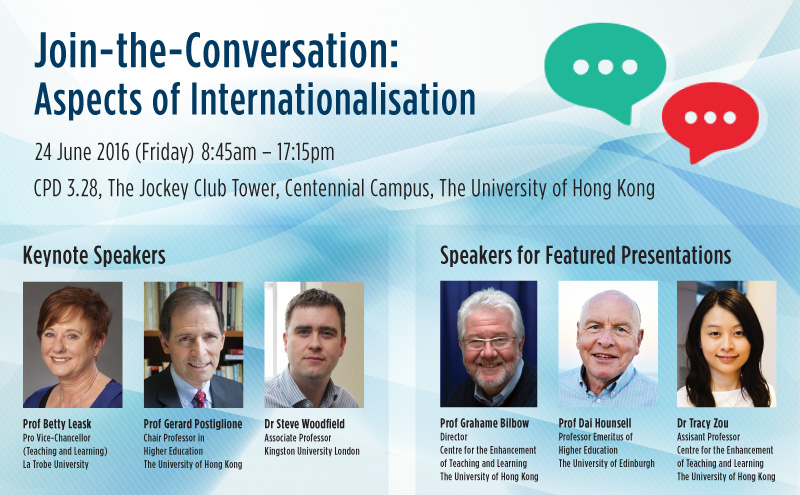 One-day Join-the-Conversation: Community of Practice – Aspects of Internationalisation
Date : 24 June 2016 (Friday)
Time : 8:45 a.m. – 5:15 p.m.
Venue : CPD 3.28, The Jockey Club Tower, Centennial Campus, The University of Hong Kong
Keynote Speakers:
Professor Betty Leask, Pro Vice-Chancellor (Teaching and Learning), La Trobe University
Professor Gerard Postiglione, Chair Professor in Higher Education, The University of Hong Kong
Dr. Steve Woodfield, Associate Professor, Kingston University London
Abstract
This year, the University of Hong Kong was ranked the third most international university in the world. Indeed, as part of the University's vision for this triennium, we proclaim ourselves Asia's Global University.
This event acts as a showcase of what we know and value about the internationalisation of teaching and learning at the University of Hong Kong, and what we can learn about trends in internationalisation globally. The programme focuses on three key aspects of internationalisation in relation to students, academic staff and the curriculum, and explores how, collectively, they help to shape an international university. As is only fitting for an event focused on internationalisation, we have invited renowned scholars from around the world to share their insights and experiences with us.
This event is taking place under the aegis of CETL's Community of Practice Project, which has resulted in collaboration with staff from across the campus with the intention of fostering a community of practice in teaching and learning – collaboration which has already resulted in a creation of a large bank of teaching and learning resources based on case studies at the University of Hong Kong and internationally.
Programme
Time
Section
Speaker/Panellist
08:45 – 09:10
Registration and Refreshments
09:10 – 09:15
Opening Remarks
Prof. Ian Holliday
09:15 – 09:30
Overview of the Event
Prof. Grahame Bilbow
09:30 – 11:00
Internationalisation of Teaching and Learning (1):
the Curriculum
Prof. Betty Leask
11:00 – 11:30
Tea Break
11:30 – 13:00
Establishing and Fostering a Community of Practice on Teaching and Learning: the HKU Community of Practice Project
Prof. Grahame Bilbow,
Prof. Dai Hounsell and
Dr. Tracy Zou
13:00 – 14:00
Lunch
14:00 – 15:00
Internationalisation of Teaching and Learning (2):
Academic Staff
Prof. Gerard Postiglione
15:00 – 16:00
Internationalisation of Teaching and Learning (3):
Students
Dr. Steve Woodfield
16:00 – 16:15
Tea Break
16:15 – 17:00
Panel Discussion – Internationalisation of Teaching and Learning: Ways Forward?
Discussant:
Prof. Dai Hounsell
17:00 – 17:15
Closing
Dr. Tracy Zou
For information, please contact:
Ms. Noranda Zhang , CETL
Phone: 3917 4729; Email: noranda@hku.hk​